Now in operation for 11-years, and more than 1100 boats later, Sealegs can comfortably be regarded as a Kiwi success story. Freddy Foote checks out their very special Sealegs 6.1m Sport RIB.
Back in 2005, I was the first journalist to test a Sealegs, at the time their very first 6.1m model. Since then and over 1000 boats later, you'll find Sealeg's vessels in nearly every corner of the globe, from rugged workboats for government agencies to highly spec'd tenders for superyachts.
A growing number of Sealegs Amphibious craft are being supplied to the super yacht market. Motoryacht A, designed by Philippe Starck, was given amphibious capabilities in the form of a Sealegs 6.1m RIB, while Phoenix II received a heavily personalised Sealegs 7.1m RIB both of which customised marine audio systems from Fusion.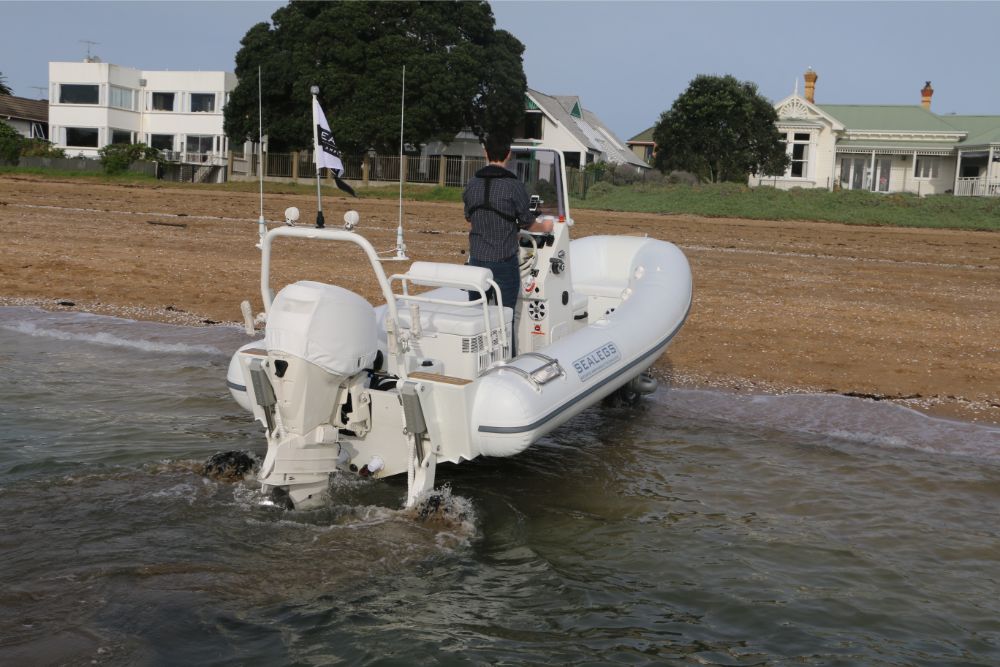 Each Sealegs craft delivered to its superyacht client is tailored to meet the requirements of the accommodating yacht, its owner and crew. Some of these include; custom Fusion audio system, custom paint and tube designs, specialised fuel reservoirs to meet range requirements, re-engineered lift points to accommodate various cranes, custom stainless and folding ski towers, removable windscreens for storage and reinforced cleats for bracing in strong seas.
"The discerning superyacht owner wants the best of everything, and the ability to offer the premium marine audio from Fusion adds to the unique pleasure of owning an amphibious craft from Sealegs. Each of these deliveries underscores the advantages that Sealegs and its partners like Fusion provide," says Sealegs CEO, David McKee Wright.
The vessels are primarily produced in-house at their Albany factory, but there are some key partnerships that Sealegs enjoys. One such partnership is their relationship with Fusion Electronics.
"Sealegs was our first OEM partner in the marine industry," explains Glen Orr, Director of Sales for Fusion Entertainment.
"Early on, I said to Maurice Bryham (Sealegs Co-founder), wouldn't it be perfect for a kiwi manufactured boat to be partnered with a kiwi electronics company? More than 10-years on, we're doing some great things together, and every Sealegs leaves the factory with Fusion products onboard."
"Together, Sealegs and Fusion provide the ultimate unique marine experience.  They allow luxury yacht owners and their guests to transition seamlessly ashore from their larger vessels while listening to their personalised playlists. This gives super yacht owners unrivalled access to the most remote and secluded beaches without sacrificing the pleasure of their yacht."
The layout on this 6.1m is quite traditional as far as a RIB goes. Helm seating doubles as housing for the onboard Honda engine which drives the hydraulic wheels. There is enough room for two people to sit at the helm, with standing room behind with handrails to aid passenger safety.
There is further seating immediately in front of the helm console, while an aft facing seat is also located in the bow. Handrails are close by, built into the tubes for passenger comfort.
Aft there is a ski arch over the top of the outboard. The arch comes complete with a towing eye, as well as four adjustable rod holders, VHF aerials, and a couple of forward facing LED lights.
Speaking of LED lighting, there are further LED's built into the hull forward just above the waterline, and for extra detail, there is strip lighting along the insides of the tubes throughout the boat.
Tek Dek adorns the cockpit floor and some areas around the boat to give it that high-end finish, and the outboard also comes complete with a custom made cover.
The helm area is very well finished and has plenty of instruments to keep the skipper busy. A prominent feature is the 12" Simrad Go7 GPS chart plotter/fish finder, with the Fusion MS-UD750 head unit and Simrad VHF radio immediately below.
As with almost all RIB's, the helm console doubles as storage, with access allowed via hatches either aft, from behind, or under the seat in front. Additional storage is available up in the bow where there is a hatch providing access to an underfloor locker.
The Sealegs system works by having powerful motorised wheels, one at the front and two at the rear which gives the skipper a variable speed of 0-10km/h (forward and reverse) powered by an onboard 24hp Honda driven hydraulic power pack.
Once in the water, the Sealegs wheels are quickly retracted into the 'Up' position and are completely out of the water. The boat is then driven and used as normal. When approaching land, the Sealegs wheels are lowered into the 'Down' position while still moving in the water.
Our test boat was powered by an Evinrude 115hp ETEC outboard and it performed well. The Sealegs craft isn't a light boat for their type, with a lot of extra weight distributed throughout the boat. The forward wheel and hydraulics, the Honda engine centre, and the two rear wheels aft for example.
We achieved a top speed of 32.0 knots @ 5500rpm, using 42lph. Peg that back and you can expect to see a cruise speed of 19 knots @ 4000rpm using 22.3lph. Overall the 115hp Evinrude ETEC performed well. I think if you wanted more of a sporty boat, for watersports and increased performance you may like to opt for a 150hp engine.
The ride was very good. The aluminium hull was very quiet underway, and even tackling some rougher water, there was no hull noise or slapping. I'd say the extra weight of the wheels and hydraulics system comes into play to make the boat feel very stable and perform well.
When it comes to entertainment, there isn't much that this Sealegs 6.1m Sport RIB doesn't have and is packed with all the latest from Fusion.
Controlling sound is Fusion MS-UD750 head unit. This thing is packed full of features such as an internal UNI-Dock, which means you can charge your smart device on the go and enables playback from both Windows/Android and Apple devices.
Transporting the sound to our ears are three pairs of 6.5″ 230 WATT Coaxial Sports White Marine Speaker with LED's. These speakers are fully waterproof, and feature Dual-Colour diffused LED Lighting options that illuminate Striking Blue or Sparkling White, to either set the mood or start the party. Add to that is a single 10″ 450 WATT Sports White Marine Subwoofer located up in the bow also with built-in LED lighting. Powering this lot is a Signature Series 5 Channel Marine Amplifier.
As tested, the Sealegs 6.1m Sport RIB has a price of… wait for it… $ NZ197,905. Which I must admit, it did make my eyes water at first. However, you have to remember this is no ordinary RIB. This vessel is unashamedly targeted at the super yacht tender market where, as we know the price is not such an issue. A number of extra's are fitted to this particular 6.1m Sport RIB; they include the outboard cover, white upholstery, white ski tower, backrest, and windscreen, Tek Dek and custom steering wheel.
However, drop all the extras and more basic packages can start from $NZ167,785.   
Overall, a fantastic boat, with a lot of thought and planning going into the design and fit-out by not only Sealegs but also the audio and entertainment gurus at Fusion Marine. If you're looking to have the ultimate RIB, that can quite literally go anywhere and have as much entertainment technology packed into it as physically possible, then this is it.
Model & Model:  Sealegs 6.1m Sport RIB 
Priced from:  $167,785
Price as tested:  $197,905   
Type:  RIB                               
Construction: Alloy/Hypalon
LOA:  6.13m (wheels up)                             
Beam: 2.46m                         
Deadrise: 21 degree            
Height on trailer: N/A           
Dry weight: 1150kg 
Test Power:  115hp Evinrude ETEC                     
Power options:  Outbooards
HP Range:  90hp/115hp 
Fuel capacity: 80L   
Trailer:  N/A
| | | |
| --- | --- | --- |
| RPM | Knots | L/h |
| 1000 | 2.6 | 1.9 |
| 1500 | 3.5 | 2.9 |
| 2000 | 5.1 | 6.2 |
| 2500 | 6.2 | 10 |
| 3000 | 7.0 | 16.2 |
| 3500 | 11.5 | 20 |
| 4000 | 19.0 | 22.3 |
| 4500 | 25.0 | 35 |
| 5000 | 28.5 | 38.5 |
| 5500 | 32.0 | 42 |