If you visited the recent Hutchwilco NZ Boat Show, you couldn't help but notice a sinister looking boat on the Fusion stand, an all black Sealegs RS 7.1 adorned with strategically placed blue LEDs. The only thing missing was Darth Vader.
When the team at Sealegs decided to release the new RS version of the already very popular 7.1 onto the market they wanted to make a statement. Something that would stand out from the norm. So, not only did they give the boat a total black/grey livery, from the tubes to the consoles, seating and rails, they also got Fusion Entertainment to bling it to the max with their latest entertainment technology.
Fusion saw the boat as a great opportunity to showcase their very latest products, so nothing was left off the list. Glen Orr, Director-Sales for Fusion Entertainment says," We saw this as a great opportunity to get a whole bunch of our products onto a boat and be able to show people just how easy it all is to use and the versatility of each system".
Soon after the show we got to take the first RS 7.1 for a run from Browns Bay across to Rangitoto Island. It was one of those mirror calm winter days, with the only ripple set up by a seal basking in the sun off Browns Bay beach. So as for performance, the 7.1 ran well with the ETEC 150 and gave a top speed of 37.5 knots. It's a big RIB with a deep vee alloy hull and enough weight overall to perform well in the moderate to rough water. Being a centre console, it wasn't the warmest, but then you would expect nothing else.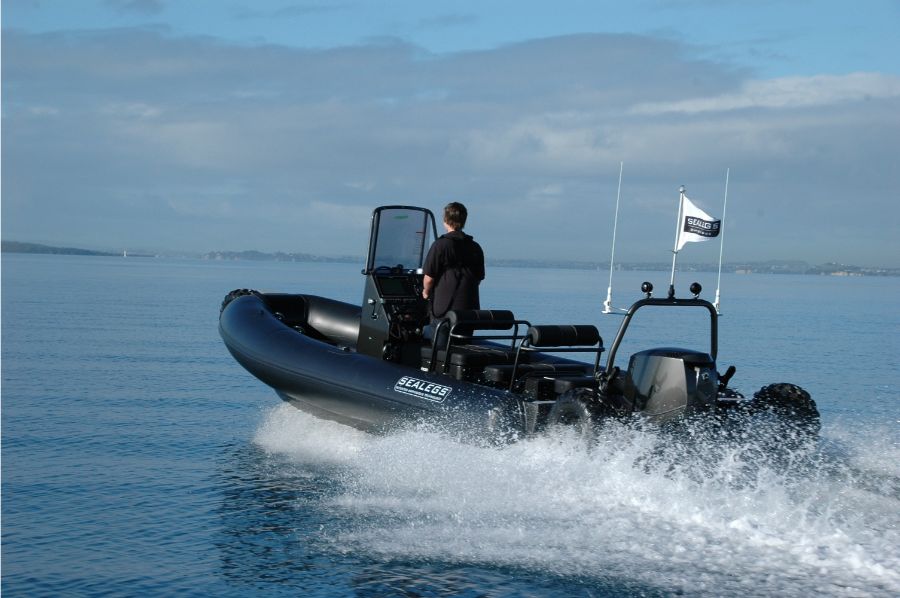 If you are into your music, then what's aboard the first Sealegs RS 7.1 will blow you away. We are talking seriously good sounds, which will find favour with those that appreciate their music.
The 'Fusion' Sealegs RS is equipped with the new 280 watts Fusion 750 Bluetooth stereo with multiple phone charger docks that will keep the music pumping for hours on end. The Fusion 750 delivers unparalleled sound performance and media integration. It features an internal Uni-Dock for charging, environmental protection and playback of the latest compatible Apple iOS, MTP Windows/Android and USB media devices. It also includes Bluetooth A2DP/AVRCP audio streaming capabilities, support for Pandora and advanced Fusion-Link NMEA 2000/Ethernet/Wi-Fi/Bluetooth connectivity.
Speaking of pumping music, the RS comes standard with four crisp 230 watt, 6.5″ Fusion Signature Series speakers (the Fusion branded boat had eight plus a 450-watt sub-woofer and 2 1600 watt amplifiers) and all with inbuilt blue back-lighting.
Fusion's Signature Series marine speakers are designed to offer unparalleled performance even when exposed to the harshest marine conditions. Combining 'CURV' Cone composite technology with a Silk Dome tweeter and fully sealed crossover components, the system is an aggressively styled solution for premium on-water listening.
One of the cool features is the dual-colour diffused LED Lighting options that illuminate Striking Blue or Sparkling White, to either set the mood or start the party.
Fusion also added an MS-NRX200 wired remote that allows you to manage the entertainment experience directly from the individual listening zone of the vessel. Most stereo functions are replicated by the remote, with full control of the volume, balance and subwoofer level at your fingertips. This can be either wired directly to the Fusion marine stereo or directly to an existing NMEA 2000 network, removing the need to run a cable back to the stereo. Plus, like all the Fusion systems onboard the Sealegs RS 7.1, it is fully sealed and rated water resistant.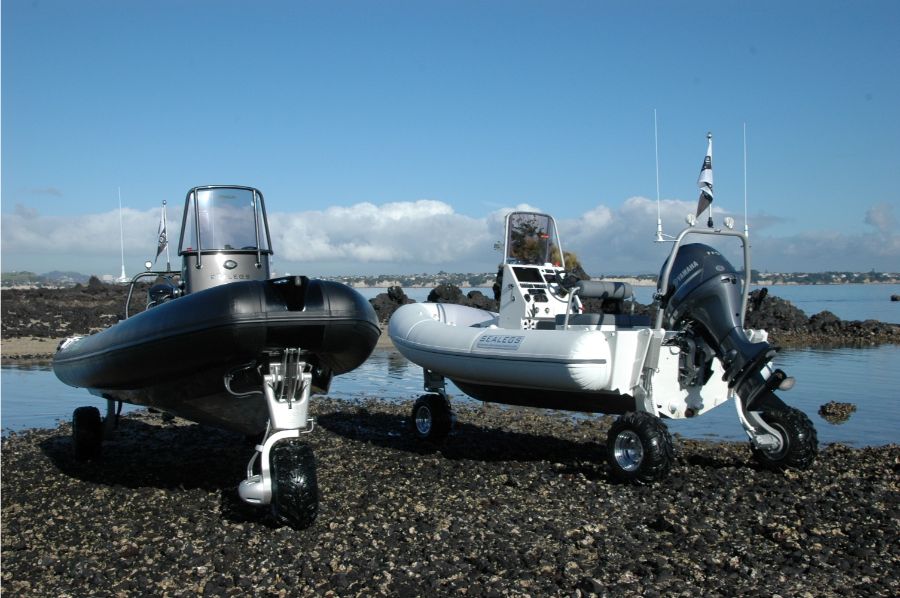 The RS is a facelift version of the popular 6.1m and 7.1m RIBs, with the main focus being the helm console. While it fits on the same footprint as the previous console, it has lost the inward taper in favour of more vertical sides, which results in larger dash space. The windscreen is also taller, offering more weather protection and is mounted on a more rugged alloy frame. Another bonus is, it is now folding, which gives a very low height when at rest off the wheels. Great if you have a vertical space issue where you store your boat.
The increased dimensions of the console now allow for up to a 12" MFD, which is a big move from the previous 7". Standard on the RS is a 12" Simrad. Plus there is still plenty of area for instruments and other accessories such as the Fusion systems and in our boat, an optional bow camera screen for increased visibility during tight manoeuvering on land.
The stainless steel ski tower aft has been replaced with an all alloy version and comes with Railblaza mounts so you can run a variety of extras such as rod or drink holders. In keeping with the rest of the boat, the powder coated silver ski tower was also painted black.
Another feature of the RS version is the tubes, constructed of 866 military grade Hypalon material, whereas the standard white is 828 recreational grade. The 866 is stronger and a little heavier than the 828 and being black is also more susceptible to expansion when hot, so built-in pressure valves are fitted. Normal tube pressure is around 2.5 psi.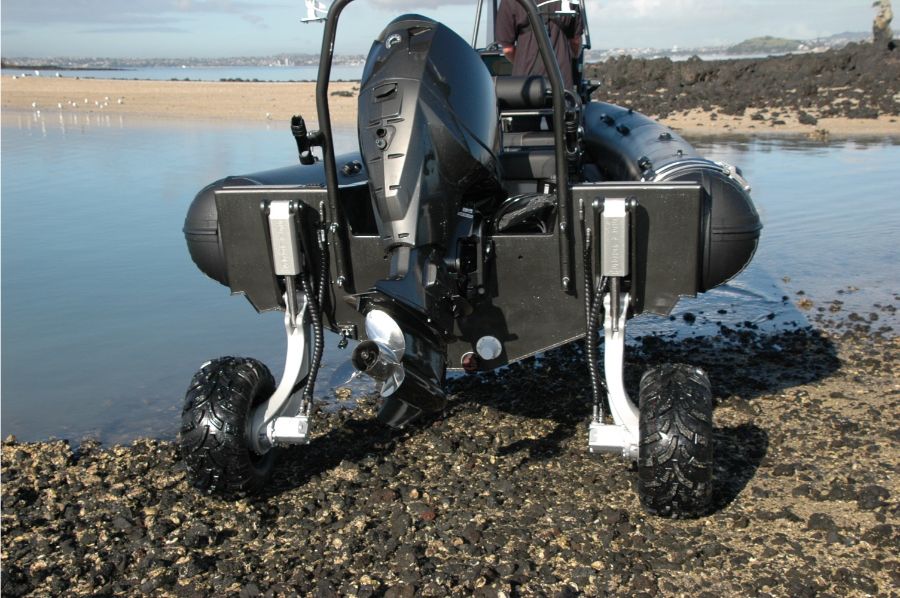 The standard seating layout of the 7.1 hasn't changed, with three rows of double seats aft of the console, plus extra seating forward. The helm seat doubles as the engine box for the Honda generator and comes complete with a soft cushion roll backrest and separate grab rail for the aft seat passengers.
The aft seat carries the same handrail and back roll but is also the auxiliary fuel tank with an extra 100 litres available. Due to the hull construction and the fact that space under the sole is all accounted for such unique components as hydraulic oil tanks, 80 litres is the max that can built-in under the floor.
However, if you think 80 litres is enough, then the extra tankage space can be used for storage instead. Or you may like to gain some extra cockpit space and not have the seating pod at all. It's your choice. In the 7.7 version, all the fuel is carried under the floor. There is also a bench seat across the transom, so there's no shortage of places to sit.
There are plenty of storage areas under the floor, aft under the transom and the forward seating of the console.
The bow section of the 7.1 offers two seating positions, one forward above the anchor locker (100 m warp capacity) and one ahead of the console. However, there is the option of a fully automatic anchoring system which means you eliminate the bow seat and in our boat the console seat storage was taken up with subwoofers.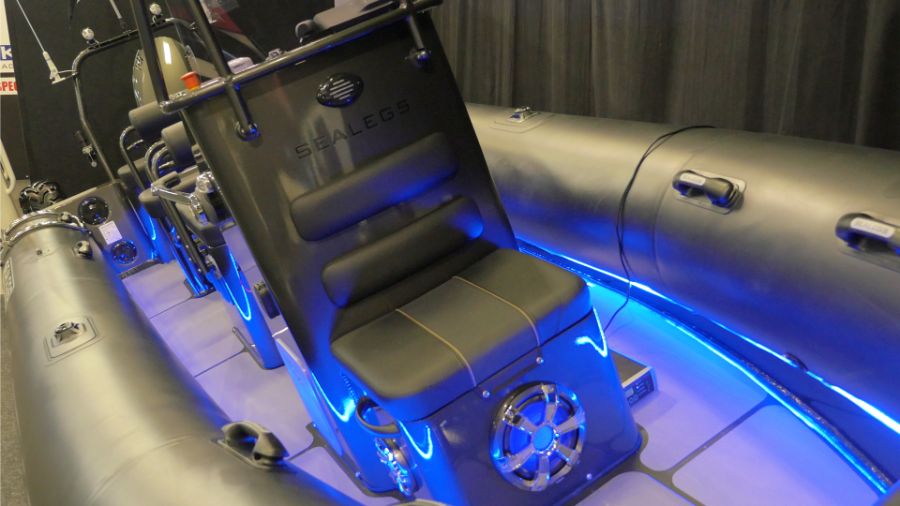 Sealegs are all about being able to perform both on and off the water and the RS 7.1 does it all with ease. It is also available with the very latest in Sealeg's technology, which makes it even safer and more practical on the land. The RS 7.1 uses Sealeg's System 60, which has a carrying capacity of 2.5 ton and is recommended for boats up to 7m. Unlike System 40 this system comes complete with all wheel drive (AWD), Automatic Braking System (ABS) and Xtended Run Time (XRT).
ABS is a land-based mechanical brake within the rear drive motors which automatically activates. This happens when the boat is parked and the inboard motor is turned off or a hydraulic transmission failure or if the operator activates the emergency stop button on the console.
To support these enhanced safety features, the leg assemblies have been redesigned for greater strength and fitted with specifically designed hubs and bearings. The emergency stop button is designed as a failsafe and should only be used if the operator has lost control of the boat while on land.
Another recent innovation is Extended Run Time (XRT) which is now standard on all models allowing each craft to operate on land for 30 minutes inside every hour.  This has been made possible due to the fan assisted hydraulic oil cooling, which reduces the engine box and exit air temperature. There is also a hydraulic hot flush valve, which sends hot transmission oil to the oil tank via a radiator and replaces it with cooler filtered oil.
Plus a 50 amp alternator gives better battery charging as well as the ability to run additional electronics. With an XRT package, Sealegs warrants a run time on the land of 30 minutes every hour with an annual recreational use of 100 land return trips to a maximum of 20 hours.
All Sealegs amphibious craft now come standard with All Wheel Drive (AWD). Each of the three wheels has its own wheel motor. This allows for maximum traction and terrain capability when encountering beach inclines of soft sand, shell, shingle and pebbles. AWD greatly increases the manoeuvrability of Sealegs craft, but if further traction is required, reducing the pressure in the tires can further increase traction on difficult terrain. Finally, diff lock is available as an option to augment the functionality of AWD. 
The diff lock option allows you to force all wheels to turn in unison, regardless of traction (or lack thereof) available to individual wheels. This, combined with AWD, will allow a Sealegs craft to overcome more extreme conditions. As a rule of thumb, Sealegs says that if you can drive a 4WD vehicle through it, then you should be able to do the same with your Sealegs. They are capable of handling approx a 1 in 4 gradient.
To add to your driving pleasure both on and off water Sealegs now come with power steering. This uses an electric hydraulic pump to provide extra pressure to the steering system. This provides the operator with fingertip control at the steering wheel for a more enjoyable experience, with far less effort when operating the craft on land.
Sealegs manufacture just about everything that's outside the boat to ensure the highest possible protection against corrosion, with the highest grade in-house castings and marine grade stainless. They even build their own hydraulic rams.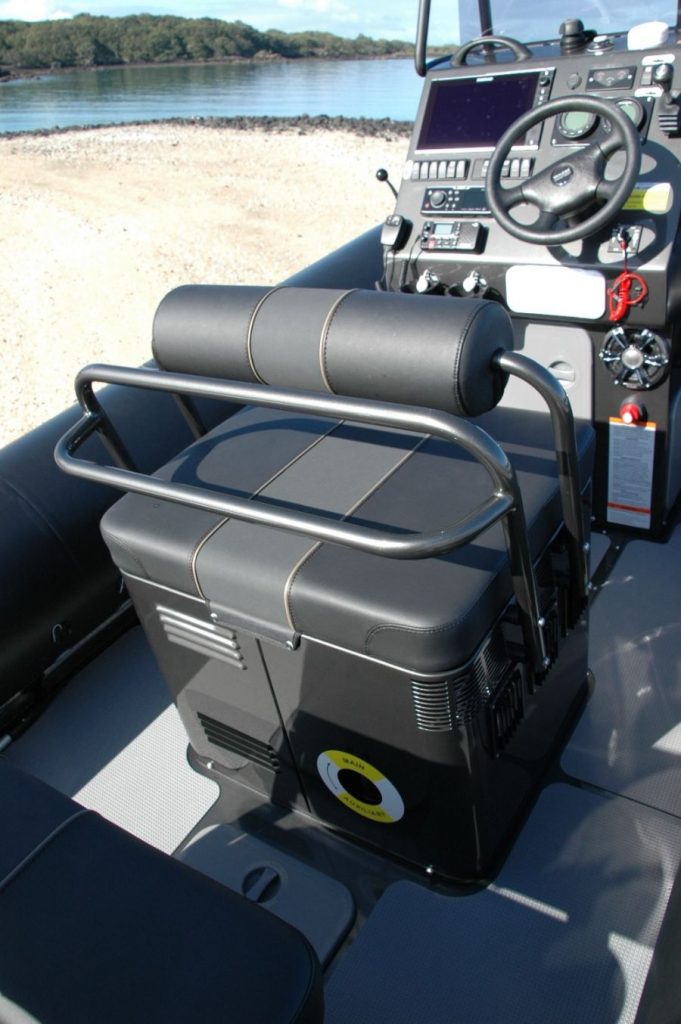 Sealegs is now in its 10th year of operation and at the Auckland On Water Boat Show was due to launch their 1000th boat. An incredible achievement for any boat builder, but more for Sealegs, who have battled long and hard over the last decade for acceptance of their amphibious concept. Now with production around 100 plus boats a year and the release of their largest technology to date, the System 100, they have unquestionably stamped their place in the Kiwi and more importantly global boating market. The first Sealegs 7.1 was released in 2009 and is the most popular model in the range, with our test boat being #313.
Make & Model: Sealegs RS 7.1
Manufacturer: Sealegs
Priced from: $
Price as tested: $
Type: Amphibious Vehicle
Construction: 5mm alloy hull / 866 Hypalon tubes
LOA: 7.13m
LOH: 6.50m
Beam: 2.61m
Deadrise: 21 deg
Height on trailer: 1600mm
Weight: 1800 kgs
Test Power: Evinrude ETEC 150
Propeller: Viper 17"
Power Options: Outboards Only
HP Range: Up to 150
Speed On Water: 37.5 knots
Speed on Land: 5 knots
Fuel capacity: 180 litres
Notable Standard Items on Test Boat
Sealegs System 60 technology, Simrad 12" MFD.
Notable Options on Test Boat
Fusion MS-UD750 entertainment system, Remote system 2X 1600 Watt amplifiers, 8X 230 watt Signature Series Speakers LED Lighting and 450 watt sub-woofer with LED Lighting
FUEL & PERFORMANCE DATA SEALEGS RS 7.1
Fuel capacity:    180    litres    
Rpm    knots   L / h    L / NM            Range  (NM)
1000    4.5       2.3       0.5                  310
1500    5.8       4.8       0.8                  190
2000    7.1       10.8     1.6                  100
2500    10.5     17.7     1.7                   95
3000    15.0     19.7     1.4                  110
3500    22.5     24.2     1.1                  140
4000    26.2     30.5     1.2                  130
4500    31.5     46.6     1.5                  100
5000    34.6     55.5     1.7                   95
5400    37.5     60.1     1.7                   95