Can't make you mind up between a PWC or a boat, then Sealver has the answer. Barry Thompson checks out this exciting and practical fun machine.
When I first heard about the Sealver boats last year, I must admit I was not quite sure what to expect. Were they just another gimmick and even if it wasn't, would Kiwis buy into it. Now 12 months later I can say with confidence that it is certainly not a gimmick and with several sales, Kiwis have definitely taken to this unique craft.
Built in France and imported into New Zealand by Rad Marine, a Mangawhai based company, the Sealver range of boats covers twelve models as either a full fibreglass hull or a fibreglass hull with tubes. Having reviewed the WB 656 pre lockdown, I was keen to get back up North and run the smaller WB 525, which according to the Rad Marine director, Kerry Radford has proven their most popular model.
"This seems to appeal to the young buyer who already has a PWC, but with a growing family finds they need more than a three-seater ski, so the concept of a wrap-around boat works", says Kerry.
"Sealever Wave Boats are a transition between a ski and a conventional boat, but they do everything and more than a 'normal' boat will do, and in one neat package you have a boat you can tow toys, fish, family cruise and have fun", added Kerry.
The Sealver WB 525 (Wave Boat) is the midsize model in the Wave Boat range and like it's bigger (WB 656), and smaller (WB 444) is based around a specifically design grp hull that wraps around a standard PWC.
All three share a similar layout profile and can be powered by virtually any PWC from 90-300hp. Each offers a variety of options so you can bling your Wave Boat up as much as you want. Rad Marine can also add other items such as stainless rails, a bow spray dodger and even rod holders. 
The WB525 comes in three modes; Sundeck, Wake or Full Wake, with the difference being what you get in the standard package. The Sundeck is the most basic with all the seating, a sun table and white hull. The Wake version (the model I tested) has the addition of a wake tower and wake gate, and the Full Wake goes a step further with the addition of a bimini and sound system.
You also can mix and match the features on any of the models. Available on all are extras such as a couple of rod holders and transport covers.  
With a capacity for six people, the Wave Boat 525 offers a surprising amount of space. Either side of the PWC is a rear lounger which also doubles as the spotter's seat when you are towing a wakeboarder, tuber or surfer. Forward is an open bow section with seating for another four people. There are self-draining storage compartments under the forward berths, as well as a reasonable size anchor locker. This is also storage for a battery if you are running electronics such as an MFD or stereo. Our boat came with the wake-tower and wake rack, which for me just lacked a couple of boom speakers. Need that sound when you're being towed out the back.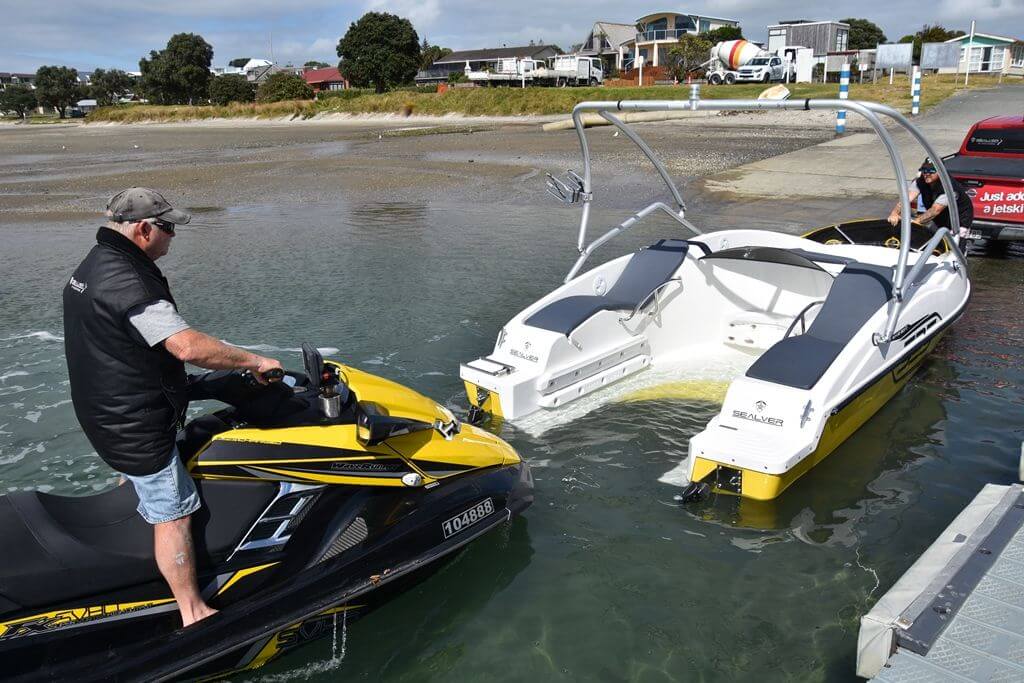 The Wave Boat 525 comes standard with a drop-in bow table which can accommodate 4 to 6 people around it. As I wrote, after reviewing the WB 656, Sealver Wave Boat allows you to enjoy the full use of a PWC or a boat. Once you are anchored or beached, you can reverse the PWC from the boat and use the PWC on its own. The Sealver WB 525, like all the models in the Sealver range, is essentially a donor platform that means you can still enjoy the benefits of a jetski but can transport up to six people, picnic equipment and fun tow toys to your destination.
A feature of the Wave Boat is that it accepts any of the three leading brands; Yamaha Waverunner, Sea Doo or Kawasaki thanks to compatibility kits that are installed either side and in the front of the rear' garage'. These make switching between jet ski models or brands achievable and effortless. So if you change brands or models of ski, but still want to retain the boat, it is merely a matter of changing the kit over. This patented system keeps the ski perfectly connected to the boat and prevents any movement.
The attachment process takes a matter of seconds, and once you're out on the water, you can detach the jet ski if desired. Locked together the Wave Boat and the PWC function as one running unit. 
I ran the boat with a Yamaha Waverunner FXSVHO which pumped out around 280hp and returned a top speed of close to 45 knots. 
However, Kerry says that the boat is also well suited to a 130-180hp rated ski and you still give enough performance and holeshot for towing toys. Acceleration is impressive, and the Waverunner reached 7500rpm so quick that I had almost run out of water alongside the sand dunes that border the eastern side of the Mangawhai Harbour. Just like the Waverunner PWC, the response and agility of the WB 525 make it an enjoyable boat to drive. 
While the Sealver WB 525 is designed for towing all many of toys in sheltered waters, it also performs well in choppy water. It will go anywhere your PWC will, but you'll do it with more comfort and stay a lot drier.  
Boat Design Name: Sealver WB 525 (Wake)
Builder: Sealver (France)
LOA: 5.25m
Beam: 2.36m
Draft: 0.30m             
Construction: GRP
Weight without PWC: 350 kg
Towing Weight: 1000 kgs
Fuel Capacity: 70 litres          
Engine Range: 90-330hp
Engine Options: PWC – Any brand       
Test Power: Yamaha Waverunner FXSVHO
Max Speed: 45 knots
Stereo: Fusion           
Priced From: $NZ37,000 – $45,000 (Less PWC)
Price as Tested: $NZ75,000 (with Yamaha  FXSHO)
Trailer: DMW