Seaswirl is back after a 10-year hiatus. Barry Thompson checked out the Seaswirl 1851 WA, the smallest boat in its range and one that has already proven a hit with local buyers, with two sold off brochures even before the first boat arrived.
When OMC (Outboard Marine Corporation) was at its peak in the 1980s its senior management people went wild and bought up as many boat companies in the US as they could. There was a battle for supremacy between OMC and Mercury Marine. The end result is history. OMC collapsed and in the wash-up six of its boat brands were sold off in 2001 for a firesale price to another marine giant, Genmar. In amongst all of that was the Seaswirl brand, which has now been reintroduced to New Zealand and Australia through Genmar's New Zealand representative, Peter Rachtman. Genmar is the world's largest manufacturer of recreational boats, offering a diverse line of boats such as Aquasport, Carver, Crestliner, Four Winns, Glastron, Hydra-Sports, Javelin, Larson, Lowe, Lund, Ranger, Seaswirl, Stratos, Triumph, Trojan and Wellcraft. Regarded as one of the more premium brands in the Genmar line-up, Seaswirl boats were brought into New Zealand by OMC from 1987 to 1991 and it was perhaps one of the most successful of all the OMC brands of that time that were brought into the Kiwi market. Having sold Seaswirl boats in the past, and personally owned one for three years, Auckland boat retailer Craig Lewis was quick to take up a dealership when it became available in late 2003.
From his retail outlet, Gulfland Marine in Whangaparaoa, Auckland, he has quickly re-stabilised the brand presence with four boats in the first shipment and more on order. "When the opportunity to get a Seaswirl franchise was first offered I had no hesitation in committing to the brand as I already had a good knowledge of the boats and knew how good they really were. Once I went to the US and tried out the 2004 models for myself, it just reinforced my belief that the Seaswirl is still today a damn good, well packaged and well finished boat that will suit the local market. If I didn't think so I wouldn't have got involved. It's that simple" said Craig. Although I was given first choice to test any of the boats from the 2901 through to the 1851, I went for the smallest in the range. What I really liked about the 1851WA (Walkaround) when I first saw it was its bullish look and the fact that Seaswirl had managed to package so much in a small boat. Although it's only 5.64m overall it has all the necessary attributes of a weekender, from a fully plumbed head to fresh water, cooker and accommodation for two.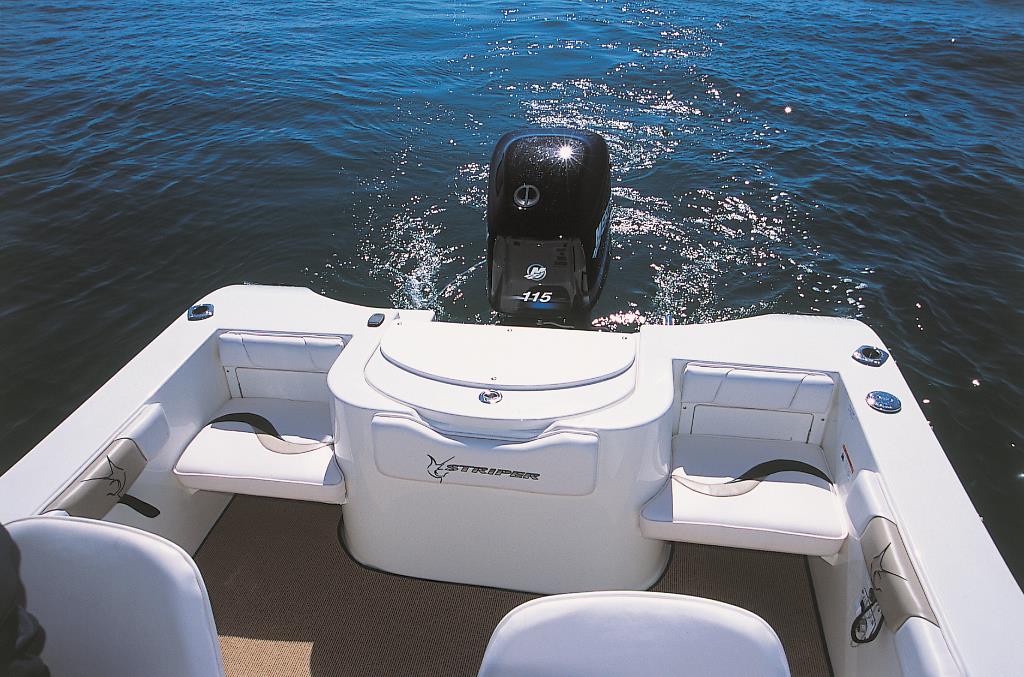 Small footrest and a fully adjustable steering wheel. I liked the steering position when seated, with the screen at a nice height to see under and although I didn't need it, a wiper to clear away any water that lands on the glass screen. With the canopy and clears fitted and the full rear canvas enclosure in place you have all round protection.
My first impression when I got aboard the 1851WA is the excellent design of the layout that has managed to encapsulate all the best fishing attributes with those of the cruising owner. For the fisherman there is a 114 litre aerated live-bait tank in the centre of the transom area, with stainless gas-strut-assisted hatch and built-in cutting board on top. If you go for the sterndrive option then this is moved over to the port side, with the sterndrive taking up no more cockpit space than the outboard alternative. Seating is provided with two swivelling forward bucket seats on moulded bases that come complete with small quarter seats aft and a pair of removable jump seats either side of the engine well.
Storage is at a premium however with no underfloor options or side trays. The moulded seat bases are fully self-draining through the hull and make a great place to keep the catch fresh on an ice slurry. Or you can just use them for wet or dry storage. There are a couple of smaller shelves forward for mobile phones, keys, sun glasses etc and the 1851 WA even comes complete with a built-in three-level tackle box. If you are going to carry rods then an optional Kiwi made rocket launcher is a must-have item, although there are four flush mounted stainless steel rod holders fitted as standard in the flat coamings. Due to the fact the cockpit is fully selfdraining with large drains and no feedback scuppers, the cockpit coaming is shallow. It's a stable boat at rest and being so low to the water it's great when you have to lean over to pull the fish aboard. The addition of high coaming rails would be a good optional extra around small children. Other features of the boat include both salt and fresh water cockpit wash-down attachments, external oil, fuel and water fillers and a large swim platform with telescopic boarding ladder. Our test boat had the Mercury OptiMax and compact perhaps but not a bad option for a couple. The high cabin profile allows for three adults to sit around a removable fibreglass moulded table, with a neat little galley to starboard complete with a single burner stove, freshwater pump and sink unit. All New Zealand models come standard with a plumbed head under the centre squab and there are full pump-out facilities included. The traditional v-berth has storage lockers beneath and this can be converted to a complete full size berth with the inclusion of a couple of infills. There is further storage in recessed side shelves and the cabin comes complete with interior lighting and a large circular overhead hatch complete with flyscreen mesh. Lockable bi-fold doors separate the cabin from the cockpit with a bulkhead on the starboard side. Seaswirl offer a very different style of dash with a deep moulded recess for the electronics (flush or bracket mounted), with the instruments and gauges on a separate raised fascia. Every Seaswirl sold in New Zealand today comes completely pre-rigged with everything except motor installation done at the factory, from installation of the gauges to fitting the toilet and trim tabs.
Acknowledging that we are not all the same size, the 1851WA Seaswirl has a fully adjustable seat base with plenty offore and aft movement, a  fold-away 115 fitted with a 16″ Vengeance three blade stainless prop. Although the specifications rate the 1851WA to 175hp outboard and 225hp inboard, Craig chose the bottom of the power range 115hp to not only keep the retail price down but also as he felt it was adequate for the boat anyway. Test conditions were light to moderate with a 15 knot breeze just lifting the tops off the 1/2m swell off Gulf Harbour. I ran the 1851WA at 4500 rpm @ 28 mph straight into the head sea for a couple of miles and then turned and ran back with the sea behind at 5300 rpm @ 37.5 mph. It's a boat that likes you to use the trim, especially in the following sea where I virtually had it to maximum trim out all the way back. It gives you the impression it's driving very flat, but there is plenty of bow lift and a full bodied bow with the volume to hold the forward sections up when you bury the boat into the back of a wave. With little wind we took no spray on the deck or screen. The ride in the following sea was exceptional and heading straight into the swells, once I got the combination of engine trim and trim tabs right, it was fine for a 20 deg hull with v-shape ski plank. Flat out, pulling 5500 rpm I got the GPS nudging a constant 38.5 mph, which was about as I would have expected for a boat of this size and weight. Seaswirls are not built light and with an all-up dry weight 1300kg, plus 200 litres of fuel (will take 235 litres) in the underfloor tank, two test crew and some extra gear, we probably were nudging closer to 1800 kg. Seaswirl construct the hull and deck with hand-laid fibercore for an optimal strength-to-weight ratio, especially in the chines and keel, where strength is needed most. They blend fibreglass cloth and composite components, like Coremat, and BOAT TEST using their innovative fibrecore stringer system also increases the integrity and strength of the hull. Every Seaswirl boat is backed by a transferable 10-year hull limited warranty and every boat carries the certification seal of the National Marine Manufacturers Association and US Coastguard. Seaswirl produce a wide range of fishing boats under the Striper name, with 22 models based on five hull sizes from 5.28m to 7.62m. Their sport boats series covers 8 hulls, with eleven different models from cabin boats to 9.08m and bow riders. The Seaswirl Striper 1851WA is designed as a luxury cabin boat with a high level of appointments, but also a serious fishing boat. I would normally say that there are very few boats under 6m that you could seriously call a weekender, but with the 1851WA I think we have found one. It's a value packaged boat that offers a hell of a lot in a small space, with everything from the stainless hinges to the interior lights being top shelf!
Price :$50,000 (Boat/motor/trailer)
Price as Tested :$61,000
Designer : Seaswirl
Builder: Seaswirl
Type : Walkaround
LOA :5.64m
Beam : 2.29m
Height on Trailer : 1.70m
Deadrise : 20 deg
Trailerable Weight : 1600 kg (approx)
Engine Capacity : 115hp-225hp
Power Options : Outboard/stern drive
Fuel Capacity : 235 litres