When it comes to finding the perfect boat, it's always going to be a personal choice as not everyone has the same needs. Well, for me I came close to finding it in the Seaswirl 2101 DC.
I have tested hundreds of boats over the years and there are some that I would love to have in my driveway and some that I was glad to deliver back to the dealer. No boat is absolutely perfect for everyone and in my case I still go for open boats, bowriders mainly in the 5.5m to 6.6m size range with outboard power. Nothing unusual about that and for me and my family it is the right style and size of boat.
Hardtops are great for fishing, cabin boats when you have a small family and runabouts if you are into your skiing. Every boat has a purpose and every boat no matter what the style will find an owner.
Being an advocate of bowriders means I have always been well aware of what the American brands have to offer and over the years have been impressed with how they have developed their boats with both innovative and practical layouts. Invariably some of the better ideas have been transposed into locally built bowriders, which has resulted in their being better and more competitive. The bowrider market in New Zealand is small by comparison, but with the input of the US brands that has certainly changed a lot in recent years.
Seaswirl is not generally known as a builder of bowriders, rather concentrating on fishing boats – even part of the company's slogan for its Striper series says Built to Fish. The entire 22-model range (10.19m – 5.64m) consists of three distinctive styles in the Striper series – Walk Arounds, Centre Consoles, Dual Consoles (Bowriders) and open Bay Boats. In the Dual Console (DC) section there are only three models, the 2301, 2101 and 1851.
The 2101 DC Striper was released in 2005 as part of the celebration of 50 years of boatbuilding. Available in a variety of hull colours, including white, the 2101 is based on the same proven hull as the 2101 Walkaround and 2101 Centre Console.
Seaswirl build its boats tough, using a fibreglass stringer system with polyurethane flotation foam under the sole and a unitised construction process which bonds the floors, stringers and hull together to form one cohesive and stiff unit. There is virtually no timber anywhere on the 2101 DC, with a fully composite transom and all stainless steel components are through bolted onto alloy backing plates.
Last year as part of a multi-boat review we went to Little Barrier in four Seaswirls, one of which was the 2101 Walkaround. I said then that I was impressed with the ride and handling of the boat and so when it came time to run the 2101DC I sort of knew what to expect.


First impression when you see the boat is its high bullish bows that look ready to tackle some reasonably mean water around the coast. The running surface features an exceptionally wide reverse chine, with a couple of hard-edged strakes either side and a 20° deadrise at the stern. Seaswirl has carried the running surface of the hull right back to the transom, using the full length of the boat for maximum efficiency.
Powered by a Mercury 175 OptiMax, the 2101DC easily rose onto the plane and maintained a reasonably low bow attitude. It tracks nicely in the turns and certainly holds on even at speed. A little down trim was needed in the more aggressive high speed turns but otherwise the hull/engine combination was a perfect set-up. Its deep freeboard provided an excellent sense of security and its full 2.59m beam offered a stable ride and stability at rest. The driving position, either seated or standing, is excellent, with all controls and instruments in the right positions.
During our test day it rained, but that was the only water that we got aboard, as the high profile bow makes this a very dry boat when underway.
Top speed on the GPS was 48 mph, with the 2101DC rated from 150hp through to 225hp. The hull is also available with diesel or petrol sterndrives, although these are only available in NZ on indent order, with all stock boats in the outboard configuration.
As part of its fishability aspect, the 2101DC has a great cockpit that is spacious and unobstructed for the dedicated fisherman. Firstly there is a non-skid self-bailing cockpit sole with massive drain holes and no hidden corners to contain messy fishing scraps when being washed down. Hit the macerator button and all the kill-bins and water storage areas under the floor are immediately emptied. Wide side decks are fitted with flush mounted stainless steel rod holders. The inner coamings are padded and there is a lockable rod storage compartment either side. Standard equipment also includes a tackle drawer, deck washdown and a central bait station with aerated livebait tank with external cutting board. This also makes a great storage area for your catch or a wet locker for divers. If you go for the sterndrive version the livebait tank is installed on the starboard side.
The 2101DC we tested was fitted with a pair of adjustable swivelling bucket seats at the companion console and the helm, with another pair of jump seats aft. A rear bench seat is optional as is a king/queen lay-flat seat on the port side. What I liked is that the rear seats and the cockpit carpet can be removed for fishing trips or left in for family cruise days. Stern lockers look after the batteries and oil tanks and a good sized 397-litre fuel tank is mounted under the cockpit sole. Sealed doors keep any water out of this area.


An extra large storage locker is located underneath the bow walkthrough and there is also storage under all three forward squabs. The helm is a clean design highlighted by a carbon fibre facia for all the necessary instruments and rocker switches and a destroyer style stainless wheel. There is a large flat area ready to take either a flush mounted or bracket mounted GPS/plotter/fishfinder. Alongside is another small storage tray and drink holder, which is duplicated on the passenger side.
One of the highlights on the 2101DC is the passenger console featuring a lockable door and space behind just large enough for adults to change in to swimwear. It can also be fitted with a chemical toilet or just simply left as a colossal dry storage area. There is also a big area behind the helm console for further storage of dry gear.
The bow area offers a U-shaped settee with deep freeboard for a safe and secure ride while underway. The storage areas under the cushions are self-draining and the upholstery is made from a heavy duty 30oz UV protected marine grade vinyl. Grab handles, drink holders and even a bow pulpit with anchor locker are other key features. It's not a large anchor locker, so soft rope would help if you require some length in your warp. There is provision alongside for a capstan or auto winch and the 2101DC comes with a big, heavy-duty bollard and fairlead.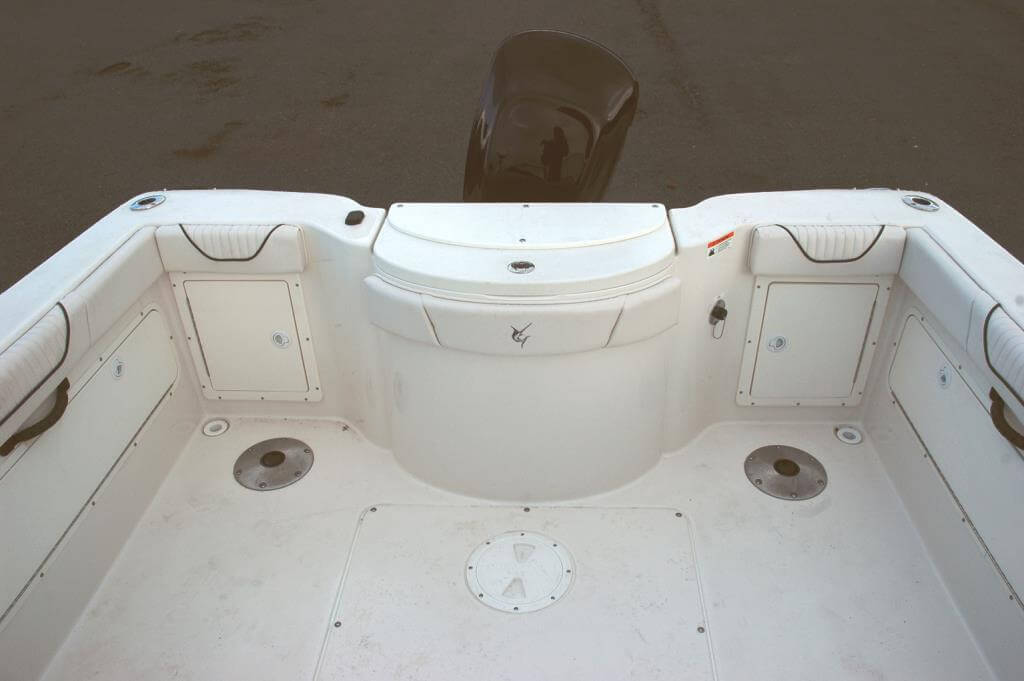 Back aft, the transom has a three-step drop-down boarding ladder which stows back into its own moulded recess in the aft deck. Fuel and oil fillers are outboard and there is plenty of antiskid on both deck areas.
What Seaswirl has done with the 2101 and also the 2301, is taken the accepted bowrider concept and modified it with a bullish new profile and layout that still allows it to retain its fishing image. It is a boat that is absolutely perfectly suited for local boating conditions. If you are in the market for a versatile family day boat that encompasses all aspects of an all-rounder – serious fishing with your mates, family day boating or towing water toys – the Seaswirl Striper 2101 can and does offer it all.


Model:  Seaswirl 2101DC
Price As Tested: $85,000
Type: Bowrider
Construction:   GRP
LOA: 6.55m
Beam: 2.59m
Deadrise: 20 degrees
Trailerable Weight: 1900kg (est)
Engine Capacity: 150hp – 225hp
Power Options: Outboard or Sterndrive
Fuel Capacity : 397 litres
| | |
| --- | --- |
| 600 rpm | 3.0 mph |
| 1000 rpm | 5.5 mph |
| 1500 rpm | 7.5 mph |
| 2000 rpm | 8.5 mph |
| 2500 rpm | 11.0 mph |
| 3000 rpm | 17.5 mph |
| 3500 rpm | 23.5 mph |
| 4000 rpm | 28.5 mph |
| 4500 rpm | 36.5 mph |
| 5000 rpm | 42.0 mph |
| 5500 rpm | 46.5 mph  |
Speeds recorded on a Lowrance GPS and rounded off to the nearest 1/2mph.
Make: Mercury
Power: 175 hp
Model: OptiMax
Cyl. Config. :V6