In the first of our two-part feature on purpose-built fishing boats, we look at centre consoles and walkarounds, plus offer an insight into what you need to know if you are looking to buy a serious fishing boat.
If your passion is fishing and you are dedicated to the lure and the rod, then a centre console or walkaround boat is the sort of boat that is going to suit you. These are not really boats for family picnics or towing water toys, although they will certainly do the job, but that's not what they are designed for.
These are blokes' boats that you take out in all weathers and you don't mind the wind and spray in your face (well, some of us do!). Their concept, design and layout are all totally focused on their being serious fishing machines.
Okay, so you can fish from anything, be it a bowrider, hardtop or cabin boat. But when you buy a walkaround or centre console your fate is sealed. However, before you do go down the track of looking at what's on offer in the centre console and walkaround market, it might pay to read on to get a better understanding of what you might consider before making your purchase.
Amongst the first things to determine is what sort of fishing boat you require, what size and probably more importantly what size your budget is. As for the style of boat there are a number of clearly defined categories that then can be broken down into small specialist groupings.
The most popular trailer boat is the traditional cabin boat. These account for the majority of all production fibreglass and aluminium trailer boats built in New Zealand and Australia. The cabin boat also comes in a number of forms, from what is referred to as the full cabin, where the cabin space allows for two berths of approx. 2m or more in length. They often have lockable cabin doors and full bulkheads and if generously equipped can be used as 'overnighters'.
One of the growing trends, especially in boats over 6m is the hardtop, which comes in either fully- or semi-enclosed layout. These are more targeted towards the serious fisho who wants a boat that can be taken offshore and offers the necessary protection in almost any weather.
A variation on the cabin boat theme is the walkaround, a style popularised by the Americans and now much favoured by serious fishers. A walkaround boat is a cross between a centre console and a cabin boat or cruiser. Like a centre console boat, it is mostly used for fishing and has a full-length primary deck or cockpit but also has a small cabin (cuddy) for berths and a head in the centre of the boat in front of the console.
If a cabin boat isn't your desire, then there is also plenty to pick from in the centre console market. Gaining popularity in certain sectors is the fibreglass or aluminium centre console option, which has undergone something of a revival with the growth in RIBs (rigid inflatable boats). The basic description of a centre console boat is a single-decked open hull boat where the console of the boat is in the centre of the boat. This is a popular style in boats designed with a fishing aspect, when workable cockpit space is more important than is somewhere to lie down.
However, some centre console boats now available are so big that there is space for a cabin, head and even a shower in the console. The boat deck surrounds the console so you can walk all around the boat from stern to bow with ease.
The console is where all the controls are located, including steering, ignition, trim control, radio and other electronic devices, switches etc. In general there is no weather protection or berths (some exceptions on larger models), making the design ill-suited to cruising.
The console may have a T-Top or bimini cover to provide limited relief from the sun and rain, but it's not always popular as it can interfere with fishermen's casting. The addition of front and side clears offers some weather protection. Generally on a bad weather day, centre consoles can be cold, wet and windy, but go out on a great sunny, warm day and it's the total opposite.
And that's where centre console boats really come into their own as casting platforms. With the huge growth in soft baiting, the centre console layout is perfectly targeted towards this style of fishing. The ability to be able to walk around the boat without the restriction of side decks and cabin tops is a real bonus.
Centre consoles by design are far more popular in the warmer climates, such as North Queensland and don't have a great following in the deep South such as Invercargill.
Another thing you need to determine early on is what construction material you favour. There are two main options, fibreglass and aluminium, but then let's not forget the inflatable RIBs, moulded polyethylene and even glassed-over plywood.
In actual numbers of trailer boats sold over 3m, aluminium reigns supreme and when it comes to non-trailerable cruisers it's generally all fibreglass. Aluminium boats have a reputation for solid construction and hull thicknesses are traditionally 3mm to 5mm and even 6mm or more depending on the boat's size. Metre for metre an aluminium boat is lighter than a fibreglass boat so has the advantage of requiring less horsepower to achieve a similar performance and is lighter to tow. Aluminium also has a reputation for being capable of handling more abuse, is stronger and requires less maintenance. Unfortunately, all that's not entirely true.
Aluminium still needs the same care and attention as fibreglass. In fact, if it's unpainted, it requires more if you want to maintain that 'as new' shine. A handy hint is if you buy an unpainted aluminium boat, coat it in Nyalic and that shine will stay on the boat for a lot longer.
Aluminium left to weather not only looks bad, it also causes hidden problems with areas under the cockpit sole, in welded joints and bonded areas. However, like fibreglass, if you make a habit of washing the boat down after use with soapy water, then you won't have a problem. Painted aluminium is now more popular than unpainted and this does require special care, especially if you scratch the hull. As for strength, well maybe if you run up on some rocks at speed you will only dent the hull and not punch a hole in the bottom, but generally a fibreglass boat will take as much punishment as an aluminium one.
GRP (glass reinforced plastic) boats vary in construction quality, but generally are of a consistent standard. In some cases, especially with high performance boats, exotic lightweight materials such as Kevlar and carbon fibre are also utilised.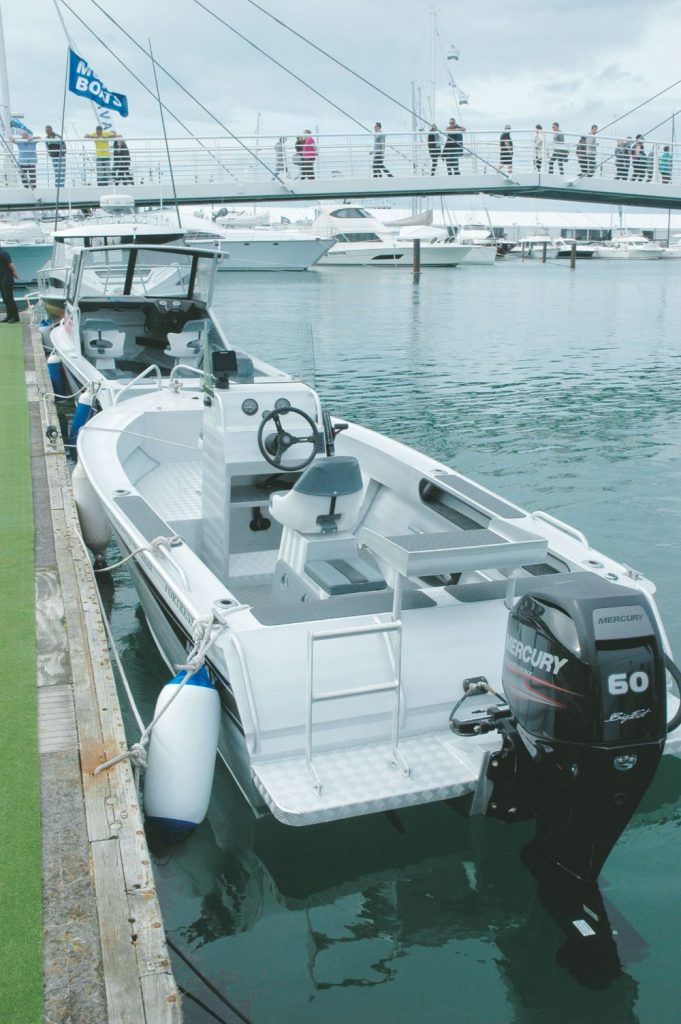 Fibreglass that's never cleaned and left to weather will lose its sheen and eventually look decidedly second-hand. However, there are plenty of fibreglass restoring compounds that will help bring back the shine, by simply washing and cleaning your boat after every outing – especially in salt water – will extend its life immeasurably.
If you want the soft flowing curves of fibreglass, but favour a plate aluminium hull under you, then there are a number of manufacturers offering a combination of fibreglass decks and alloy hulls.
Polyethylene boats are becoming increasingly popular in the smaller sizes. Built-in UV resistant compounds help resist the sun's rays. As the colour goes all the way through the material, scratches are not as noticeable as on GRP boats.
Inflatable RIBs are based on either aluminium or fibreglass hulls, with the tubes – either Hypalon or PVC – attached to the outside. While these boats started as yacht and launch tenders, the market for RIBs has exploded in recent years as manufacturers offer more diverse and larger models. They are especially popular as dive and sports boats, but are also gaining acceptance as family boats for both day tripping and overnighting. The America's Cup did a huge amount to foster the popularity of RIBs in New Zealand.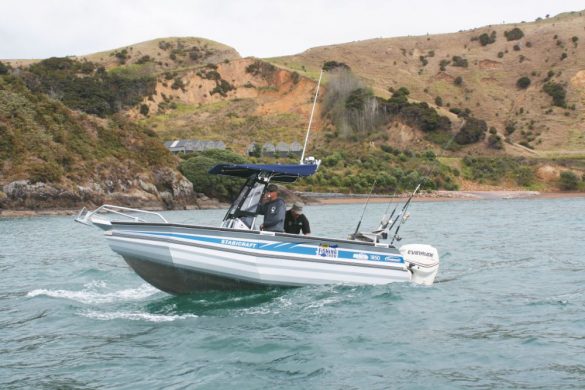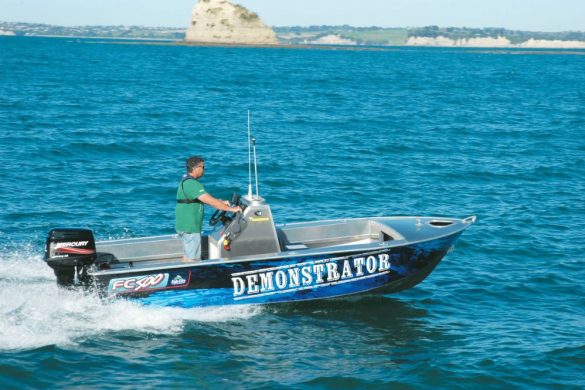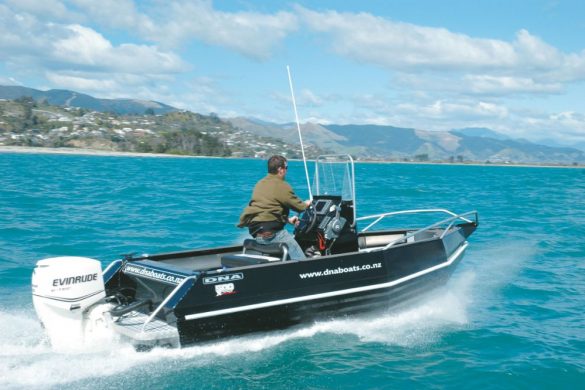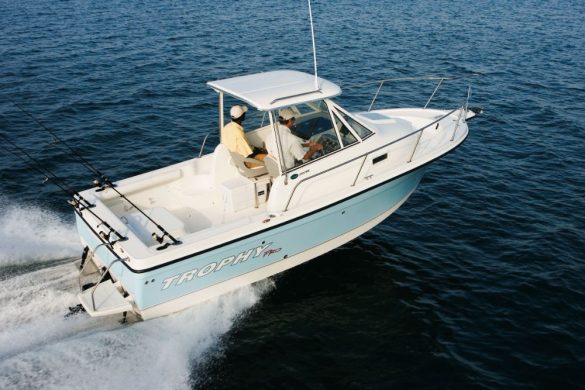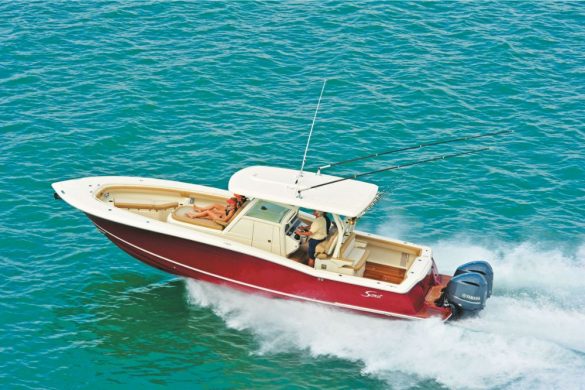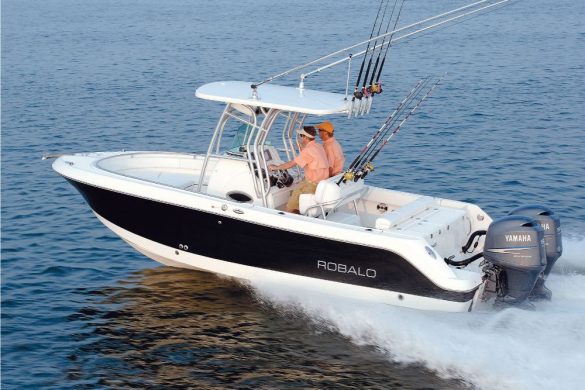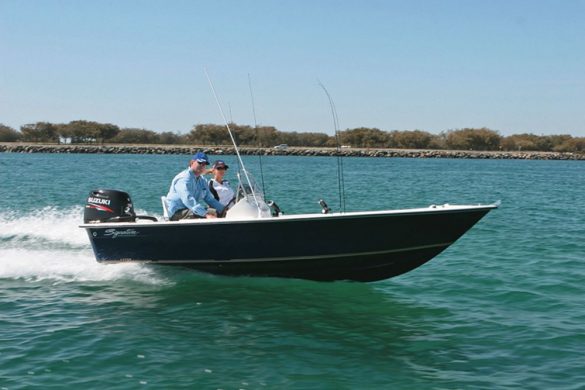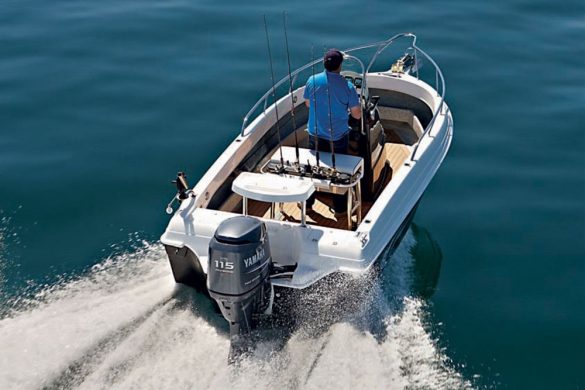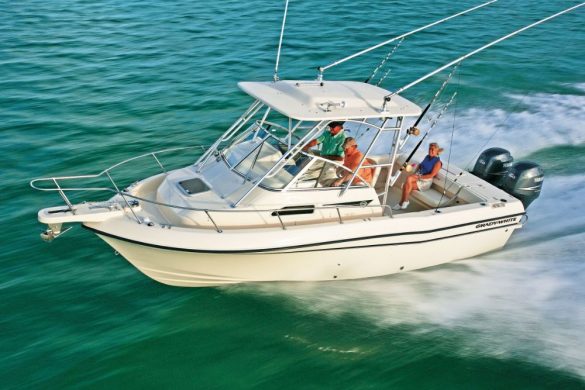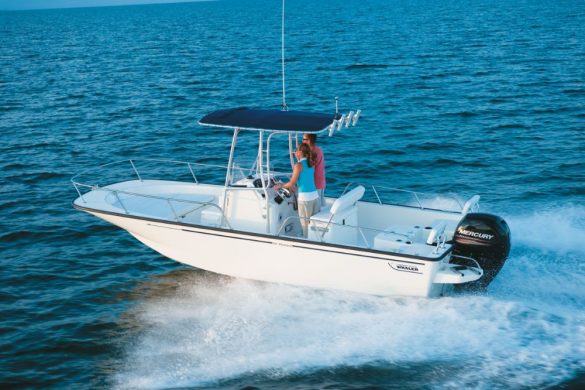 Other important considerations are the size of the boat, what you are going to do with it, where you plan to use it, where you are going to keep it and if it's a trailerboat, what you have to tow it with. If it's a moored boat then make sure you can find a marina berth of a suitable length or a convenient pile mooring.
And of course, where you are going to use the boat and for what purpose are just as important. Think of the type of water conditions in the area that you propose to use the boat in, and look only at boats that you feel would be practicable. A boat under 5m is great for inshore sheltered water boating, whereas something over 7m is ideal if you want to go more offshore and chase the big fish out wide.
Anything non-trailerable is a whole different thing, with a variety of options from sports cruisers and sedans to enclosed and open flybridge options. The choices are vast, although in recent years have been diminishing as the local production cruiser market has taken a huge hit in the GFC. While locally, brands such as Riviera, Maritimo and Caribbean still remain, there is a growing number of US- and European-based 'fishing boats' that are available. Cabo, Grady White, Robalo, Boston Whaler and Hatteras, to name but a few, produce exceptional fishing machines that are ideally suited to our local conditions.
In this issue we take a look at some of the popular centre console and walkaround brands.
It seems that just about every alloy boat manufacturer has a centre console in its range, or at least if it doesn't it will most likely build one for you. That's the beauty of building in alloy – there are no moulds to consider, and so making custom one-offs is not too difficult.
Centre console models are usually always based on standard hull sizes and in the case of alloy that means you can have just about anything you want from 4m to whatever.
However, when it comes to walkaround boats with side bulwarks you don't see too many. Although just like a centre console model, building a walkaround is something that most alloy boat builders could handle quite easily.
So because of this we have not listed brands or models, as quite honestly we wouldn't have enough pages. With over 60 alloy boat manufacturers in New Zealand alone, plus those in Australia, your choice is huge. We'll let you 'Google' them to find out what's available.
In our next issue we look at some cabin boats, hardtops and larger cruisers that fit nicely into the serious fishing category.