If you're finding yourself ever increasingly sitting at the helm of your current boat, towing water skiers and wake boarders for hours on end, you've forgotten what your fishing rod looks like, and that by the end of the day there just isn't any time fishing – then you're not alone. Freddy Foote steps aboard two of the lead contenders in the ski and wakeboarding market. 
Water skiing has always been popular in New Zealand. More recently, wakeboarding has entered the fray and with that has come specialist, dedicated vessels for such activities. The surge in popularity of purpose built ski and wakeboard boats in New Zealand has been significant over the last 10 years, with multiple options available.
Nautique, by American boat manufacturer Correct Craft, is the market leader in ski and wakeboard boats. Having tested a number of these purpose built craft over the years, I thought that they couldn't get much better. How wrong I was!
And to complicate things further, it was revealed to me that I would be testing not one, but two Nautiques. To complicate things even further, they would be entirely different beasts, one being the latest Ski Nautique 200 – the very best for the skiing enthusiast, the other a Nautique Super Air 210, the ultimate boat in the pursuit of aerial wakeboard antics.
Nautique has essentially revolutionised the water skiing market again with the launch of the groundbreaking Ski Nautique 200 – a boat that seems to be so revolutionary that every major ski park around the world has ordered one, and it has become the preferred ski boat of every major ski competition around the globe.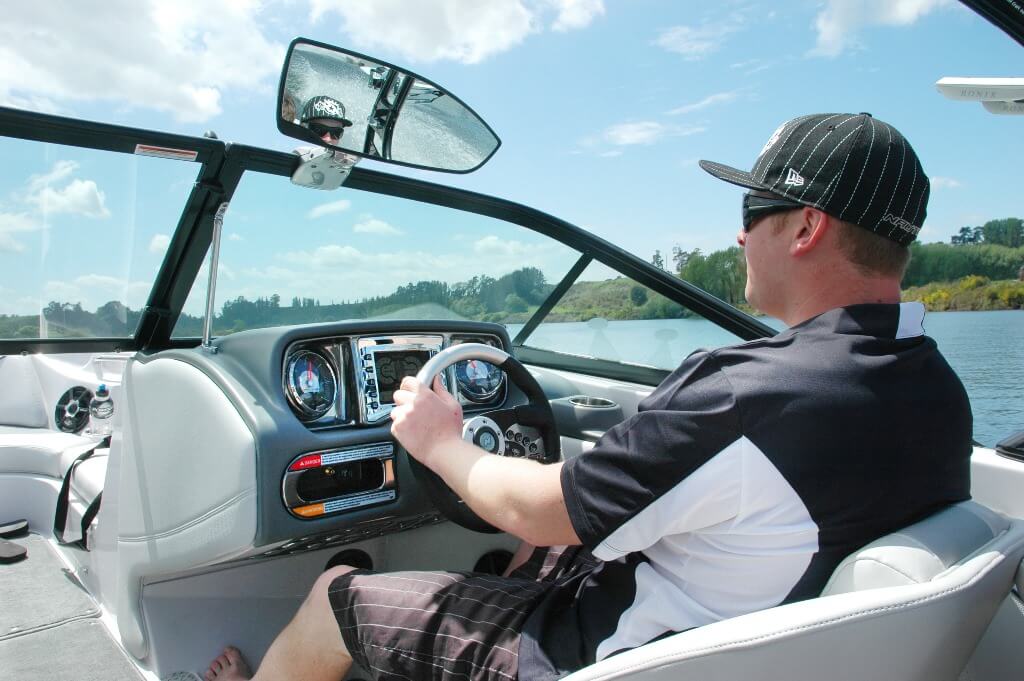 You expect a boat to get minor or major cosmetic changes for practicality and aesthetics. And you would expect once you have a hull design that is working, then there should be little need to change it. Wrong again!
Nautique has introduced some new features into its hull design. Optimal Surface Control (OSC) is designed to create superior tracking, a flatter wake, and much less spray. Basically OSC is the combination of a wider running surface and more precisely guided water flow over the innovative lines of the hull to provide added lift, reduce wake size and make the troughs flatter and easier to edge through. Since the wakes have more of a gradual entry, skiers who normally get kicked by the bumps will feel much more in control – something our skier on the day, Stacey Gilbert (NZ National Open Slalom Women's Champion), attested to. Having done a ski run on an older Nautique model, Stacey commented that the wake was much flatter and much nicer to ski on.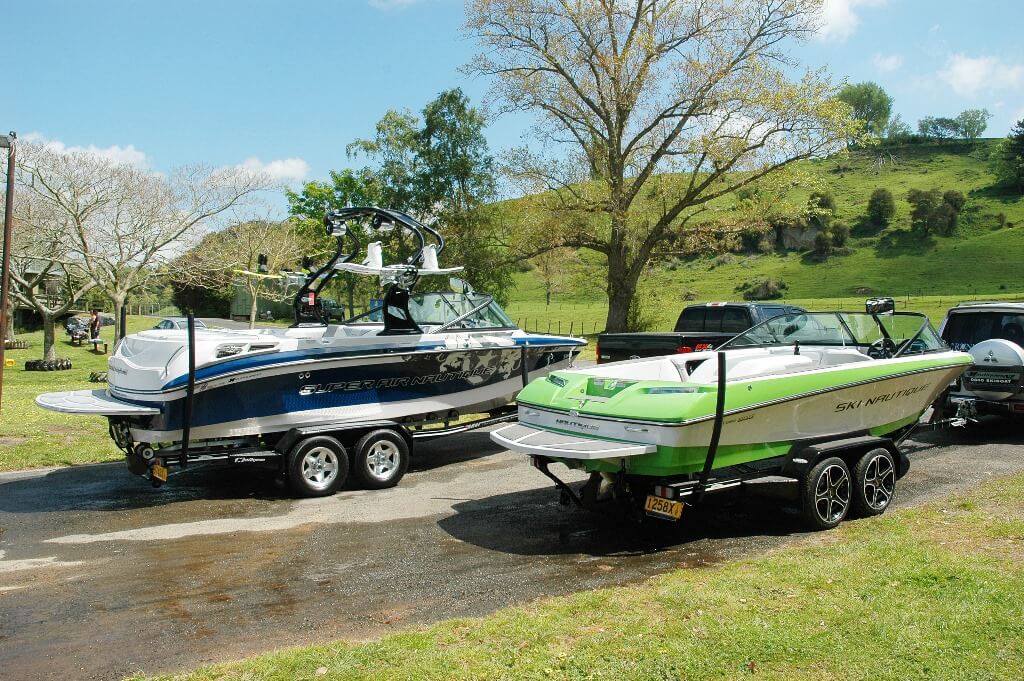 At the helm, Correct Craft took a different approach by putting the instruments to the right of the steering wheel, just forward of the throttle, rather than behind the wheel. Essentially it frees up your view for'ard and keeps all your controls and gauges in the one place.
The all-new lower instrument panel is positioned to create a superior field of vision for drivers of different height ranges. The Zero-Off speed control has been repositioned at the driver's right hand, along with the Hydro-Gate, allowing for all-in-one-hand control. In addition, the 200 Team Edition features the innovative Nautique LINC System; the most advanced digital helm display available in the watersports market.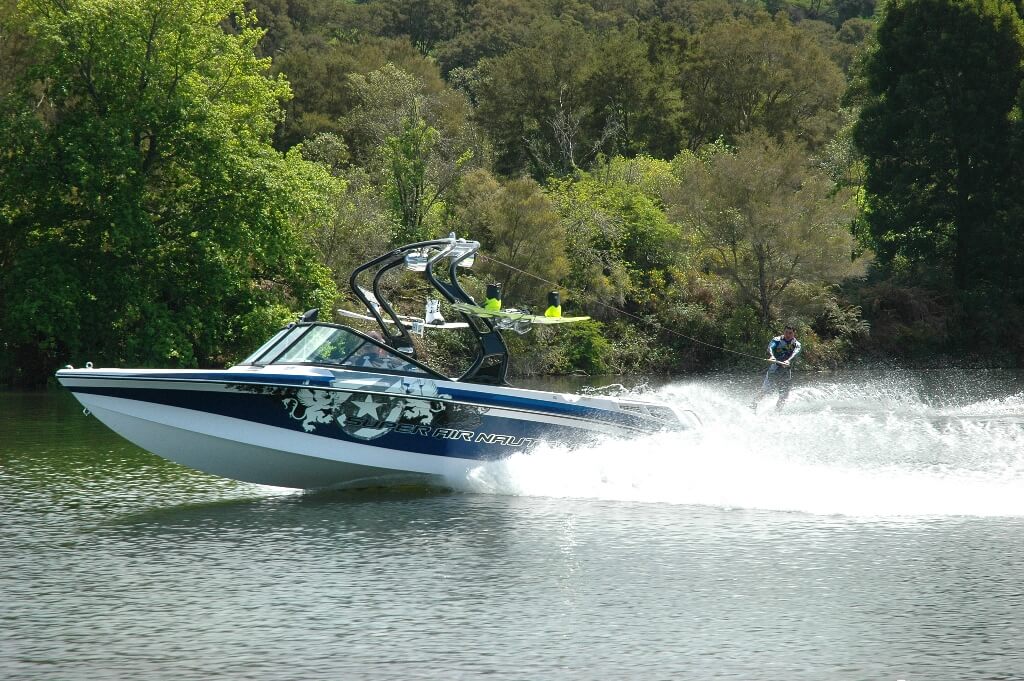 Available in closed- and open-bow configurations, the Nautique 200 comes with faux teak or grey foam inlays on the gunwales and foredeck. Beneath the gunwales on both sides, there is a carpeted ski locker – Correct Craft calls them "saddlebags" offering enough room to store 3 skis per side. There is also additional ski stowage beneath the observer seat and a rope locker under the rear bench.
There's plenty of seating throughout the boat, with seats for three in the bow, aft-facing passenger seating for two next to the driver, as well as a removable aft bench seat across the stern.
Powered by a 6.0L V8 inboard, the Ski Nautique had plenty of power on tap – 409hp to be precise! This engine is right at the extreme end of what is available; engine options start with a 343hp engine, which would provide more than enough power.
 If wakeboarding is your thing, then the Super Air Nautique 210 is where it's at. A very different beast when you step straight out of the Ski Nautique, but once aboard you notice that it's built entirely to cater for a number of people who enjoy socialising together onboard, and having the best possible vantage point to observe riders behind.
The bow section features a wrap around squab with storage underneath the sides. It's a nice area for kids to sit when underway and long enough for adults to recline back.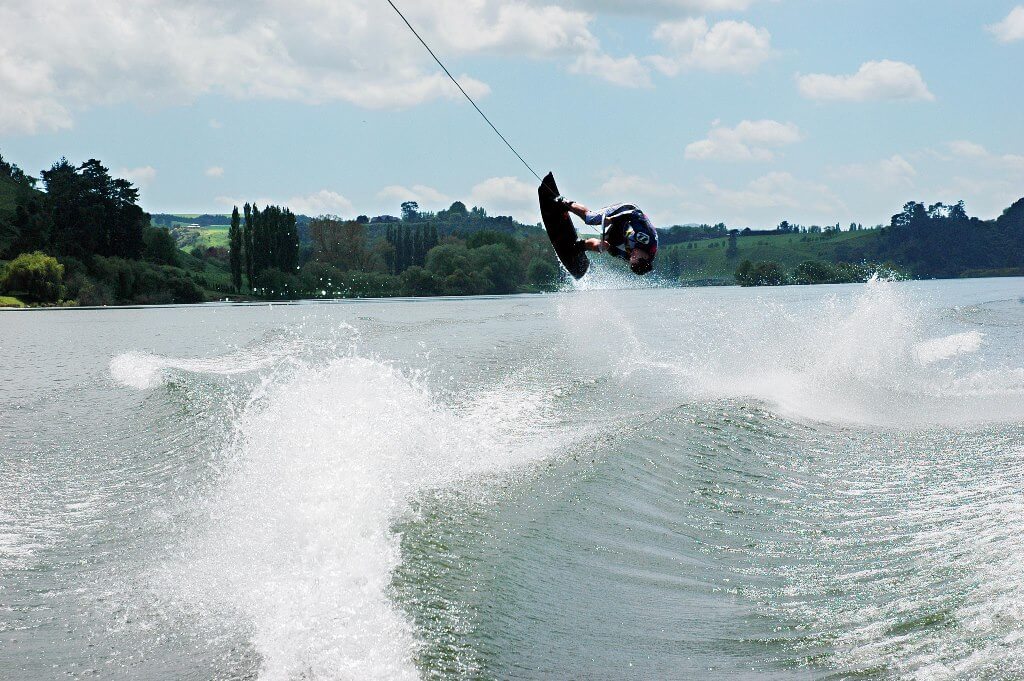 The interiors of American designed and manufactured inboard ski/wakeboard boats are second to none, and are amazingly practical. Like the Ski 200, the 210's bow offers comfortable seating for three, or two if used in the lounge position. The helm seat is an ultra comfortable bucket and holds you securely in place – you could literally drive this boat all day long without moving unless you wanted to. Convertible lounges along the port and starboard sides provide ideal seating for passengers to watch riders at play.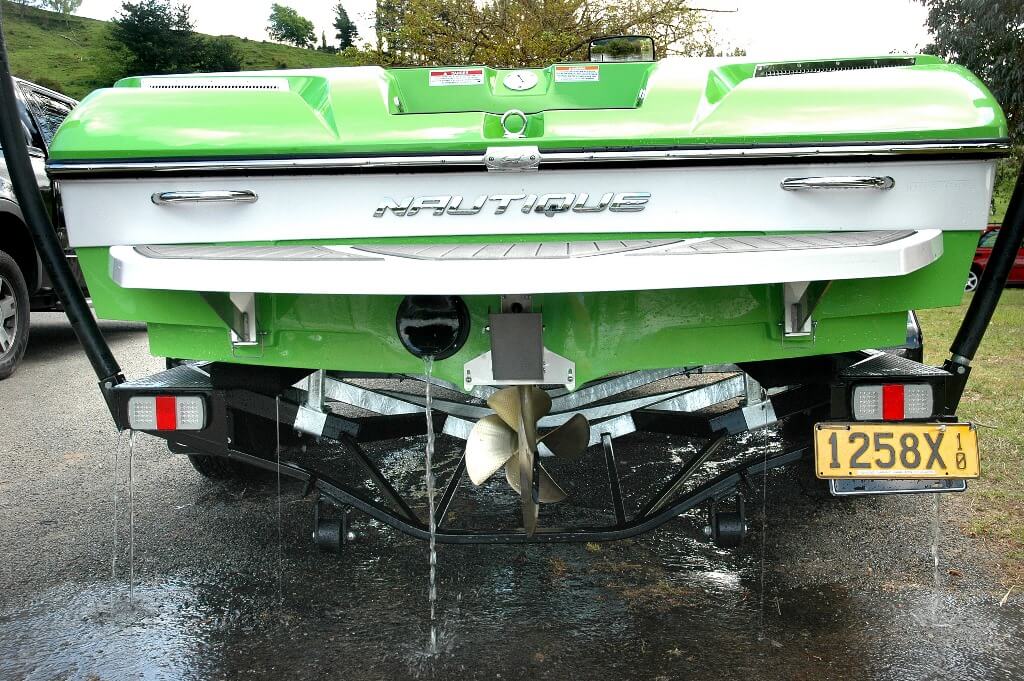 At the helm, the 210's key feature is a large tachometer and speedometer, plus the LINC display with integrated Zero Off GPS Speed Control system. This Zero Off system has superseded the perfect pass system, which was standard on nearly every Nautique model only a few years ago.
Storage is another facet of boat design that Correct Craft does exceedingly well. The Super Air Nautique 210 is loaded with storage in a number of easily accessible lockers. A large storage compartment is located under the sole, between the helm and passenger consoles. The back of the rear-facing observer's seat lifts up; essentially there is storage available under nearly every seat.
The seating configuration is standard, but it's what you can do with that seating configuration that is the truly remarkable part. By quickly moving a couple of seats you can soon have aft-facing seating complete with a backrest that stretches across the entire beam of the boat.
Ballast tanks under the sole and at the stern are capable of capable of holding 411kg of water ballast which in conjunction with the Hydro-Gate system allows you to customize the size and severity of your wake to suit.
In the down position the Hydro-Gate provides additional stern lift and softens the wake. Lift the gate and the stern settles deeper in the water and creates a larger and steeper wake.
Filling the tanks has an equally dramatic effect. I know what you're thinking… 411kg of ballast onboard, how does the thing move?
Well, our particular test boat was fitted with the 5.7L 343hp V8 inboard, which gives plenty of grunt to get the boat up and running, and a top speed of 66km/h. Though you shouldn't need them, there are other engine options up to 409hp.
On our test day we were lucky enough to have quite a sharp rider come along, to really show us what can be done behind such a boat – Sonny Wichman, New Zealand's current Men's Senior Wakeboard Champion.
The 210 has the ability to not only test the most advanced riders like Sonny, but by adjusting speed, ballast and the Hydro-Gate, you can quickly alter the wake to cater for even novice riders without fear of launching them skyward before they are ready.
Though an extreme wakeboarding machine, the Super Air will also be a more than adequate ski boat. It obviously won't be the calibre of the Ski Nautique, but dump all your ballast and adjust the Hydro-Gate and you'll have an adequate ski wake.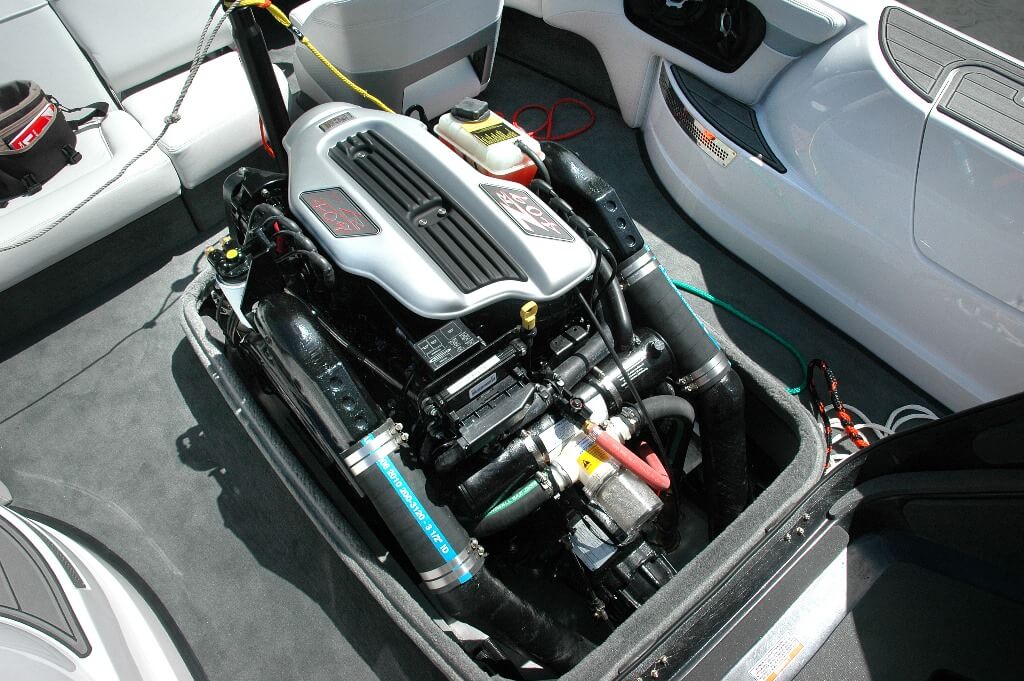 The Super Air Nautique 210 was more the social boat compared to the Ski Nautique 200. The diverse seating configuration and rear-engined set-up just made it more people friendly when a rider is in tow.
Due to the Ski Nautique's mid-engined configuration and the proximity of the ski pole in front of the engine bay, it means that no one can really be seated aft when a skier is being towed, really cutting down on the numbers of people you can have on board when underway.
An obvious and prominent feature of the Super Air Nautique is the wakeboard tower.
One neat aspect of the tower was the "spinner" board racks that swung inboard for loading, and then outboard to keep the cockpit clear – ideal for quickly accessing the boards and gearing up before you hit the water. And of course you'll notice the two big speakers mounted above, ensuring the rider will be able to listen to his favourite track while underway. Though why you would want to drown out that glorious V8 sound is beyond me!
One other addition to the boats I was pleased to see was a multi-roller trailer, custom designed and manufactured by sister company DMW trailers.
Nautiques had traditionally come into the country sitting on bunk styled tandem axle trailers. They weren't bad trailers, but given that New Zealand has a lack of deep and easily accessible boat ramps, a good multi roller trailer certainly helps with launching and retrieving.
Overall, for their intended purpose, you really can't get much better than these two craft; the level of innovation and continued research and development is quite outstanding. Every year they seem to come out with something better on the previous year, something Correct Craft has been doing now for 86 years.
Both boats were and are an absolute pleasure to drive, and as I've said in past tests I've done on other Nautique models, you could drive them all day long if you had to.
However, if you really can't decide whether you want one boat over the other, then look at one of the dual-purpose models that Nautique also makes, such as the Nautique 216V Crossover as featured in the May/June 2009 issue of Propeller magazine or for the serious skier and keen wakeboarders take a look at the all new Sport Nautique 200.
If you're seriously looking for the next step up in a ski boat or you want to further refine your aerial wakeboarding skills, then it might be time to trade the old tinnie and move into one of these.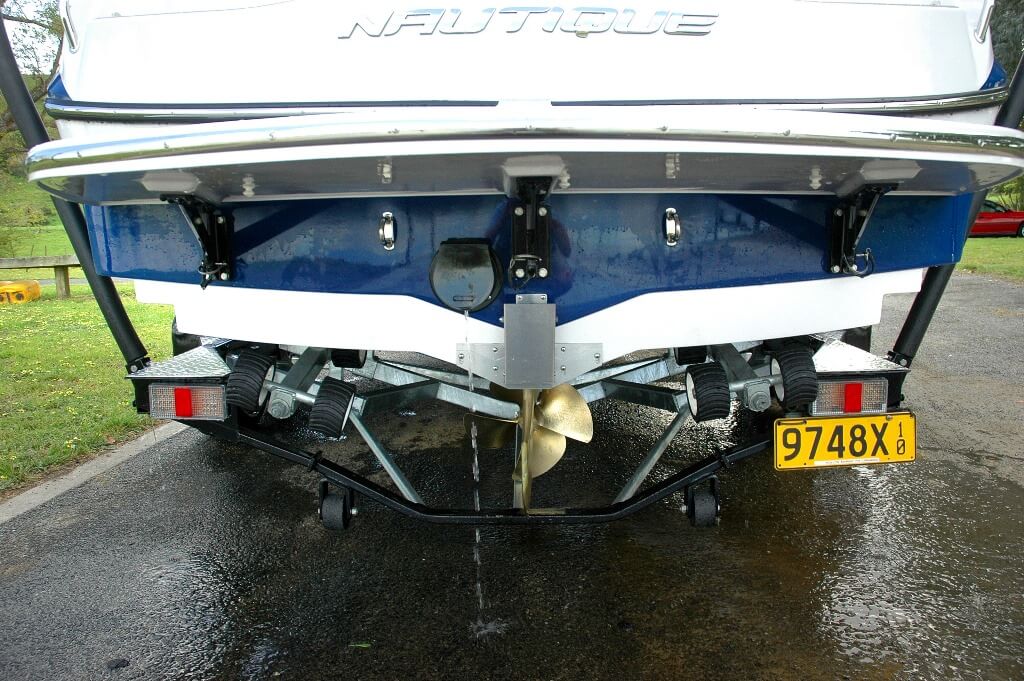 Make:Ski Nautique
Model:200 Team Edition
Price as tested: NZ $  89,000
Packages from: NZ $111,000
Material: GRP
Type:  Inboard ski boat
LOA:   6.65m
LOH:   6.10m (without platform)
Beam: 2.41m
Draft: 0.56m
Height on Trailer: 1.65Nm
Trailerable Weight: 1270kg
Engine Capacity: 343hp-409hp
Power Options: Inboard shaft drive
Fuel Capacity: 110L
Engine:  PCM 6 litre @ 409hp
Make: Ski Nautique
Model:Nautique Super Air 210
Price as tested: NZ $105,000
Packages from: NZ $127,990
Material: GRP
Type:  Inboard wakeboard boat
LOA: 7.10m
LOH:   6.40m (without platform)
Beam: 2.49m
Draft: 0.71m
Height on Trailer:   2.8m (tower up)  2.35m (tower down)
Trailerable Weight: 1725kg
Engine Capacity: 343hp-409hp
Power Options: Inboard V-drive
Fuel Capacity: 151.4L
Water Ballast: 411kg
Engine: PCM 5.7 litre @ 343hp