PPB looks at some of the specialist purpose-built inboard ski and wakeboard boats available on the market. 
There are those among us who don't want rod holders, hardtops or toilets in their boats. They don't even want rod racks, self-draining anchor lockers or fish finders. But what they do want is a boat that provides speed and performance that pumps the adrenaline with every punch of the foot throttle. They are not race boats in the true sense, although many are used for racing. They are performance recreational ski boats – hot rods on the water.
In the early days of water-skiing, inboards ruled supreme – there simply weren't any outboards with sufficient power! Practically all the boats used were general-purpose runabouts. With the advent of outboards with sufficient power, one notable example of which was the 655cc 4-cylinder 25hp Mercury Thunderbolt in the late 1940s, outboards slowly increased in popularity for water-skiing, to the stage where in the 1970s almost all the boats used for water-skiing tournaments were outboard powered, many with twin engines. Gradually, boats were designed specifically for skiing.
There is still a huge amount of skiing done behind the family runabout, cabin boat and even hardtop, and performance ski boats are still popular. In recent years, however, the ski boat market has also seen the growth of the sophisticated and purpose-built inboard American style of ski boats. These boats (now also manufactured in New Zealand and Australia) have become extremely popular and anyone who is seriously into their skiing or wakeboarding would own one by choice.Unlike the traditional recreational family ski boat, these boats are not designed to go offshore and are more user friendly in flat calm waters. They are designed for a purpose, with a shallow deadrise and have tricked bottom running surfaces. Believe it, there is a whole new science when it comes to hull design and what makes a great ski boat doesn't necessarily mean it will be a great wakeboard boat. There are crossover models that are designed to give the best average of both, but for the purist it's either one or the other.
Unlike a conventional deep-V outboard powered runabout, what hangs under the water of a specialist wakeboard or ski boat is very, very different.
However in the early days the hull was often exactly the same, such as the Malibu Sunsetter (D-drive) /Wakesetter (V-drive) , MasterCraft Prostar 205 and the 205v, Nautique Super sport/Super air and currently Nautique use the same hull for the 200 and the 200v.
The changing nature of boat design reflects how the sport has evolved over time. Skiers prefer small, soft wakes. Wakeboarders, on the other hand, want big wakes from which to launch aerial manoeuvres.
The majority of specialist ski/wake boats are inboard powered so it is important to also understand the trade-offs between inboard engine types. Also, whilst speed is not a major criterion for either discipline, keeping it constant and even is.
A direct-drive engine is located mid-boat and sends power directly from the engine to the drive shaft to the propeller. Direct drives inboards in flat bottomed hulls are preferred by skiers because they produce small wakes, and handle and track better. The flat hull, however, gives a bouncy ride on choppy water, and the engine, smack dab in the middle of the boat, uses up prime seating space.
V-drive inboards have rear-mounted engines and some have deep V hulls that cut through chop without a blink, but produce large wakes. Some feature ballast tanks that can be filled for even bigger wakes, making wakeboarders ecstatic, then drained again for skiers. The engine location allows for quieter, more sociable seating. You should also consider the available amenities, such as swim platforms and how easy it is to climb in and out of the boat with your skis or wakeboard on. True wakeboard boats have a wakeboard tower, allowing the wakeboarder to gain just that extra bit more air for jumping wakes and completing tricks. The most common difference between a regular runabout and a wakeboarding boat is the wakeboard tower, normally constructed of thick-walled stainless steel or aluminium tubing, which places the "pull point" about 2m off the water's surface. The high tow point gives the rider more control and makes it easier to jump up onto the board. Skiers need only low tow points, either off the transom or from a short ski pole.
These same wake towers are ideal for mounting wakeboards when not in use and also for mounting some very stylish speakers for all to enjoy. If you are serious about wakeboarding and would rather have boom boxes and a tower than a fishfinder and rod holders, then there are plenty of options available. In the end it's about finding the right boat that suits you. All that bling is fine, but at the end of the day it is all about the right wake and that is something that you will have to experience for yourself.
We take a look at some of the specialist boats available today for water-skiers and wakeboarders:
Custom Ski Boats are manufactured in Australia, with a range of five models based on two hull sizes and in either inboard or outboard options. The 5.4m Probe is a great all-round no-frills ski boat, which is also sold with outboard power.
The 5.7-litre inboard-powered Probe 2 offers everything you would hope to find in the traditional Aussie ski boat, with a very high level of build quality.
The Custom Protege is an all-round ski/wake boat that also features ballast capacity to suit wakeboard enthusiasts from beginners to advanced.
The Outboard version is an extension of the proven inboard hull with the addition of a pod incorporating inbuilt steps. The Probe pod forms part of the plank, in effect making the boat longer. Boarding via rear built-in steps either side of the pod with the ski loop stay, as a handle, make getting aboard easier for riders.
www.customskiboats.com.au
Built in the USA, Epic manufactures four models of wakeboard boats from the 21V through to the 232 SE. The Epic 23V is an all-round serious wakeboard boat that carries up to 1820kg of ballast, a multi-speaker transom-mounted stereo system and a MerCruiser 350 Scorpion 330hp engine with the optional GPS Smart Tow & Launch Control. The Epic 21V is loaded with the same cutting edge, common sense standard features as the 23V – it's just in a smaller package.
The Epic 232SE is the world's first all-electric sport boat. It is equipped with a touchscreen control system on the dash, and a liquid cooled brushless DC motor that makes virtually zero noise, and produces zero emissions. With 200kW (266hp) peak power and a top-speed of 64km/h (36.5 knots), it has the strength to pull you out of the hole in seconds, and the stamina to keep you at wakeboard speed for an hour. If you're just out for a leisurely cruise, chances are you'll run out of energy before the batteries do. At 8 knots, you've got 8 hours to spend on the water before having to spend as little as one hour to fully recharge.
www.epicboats.com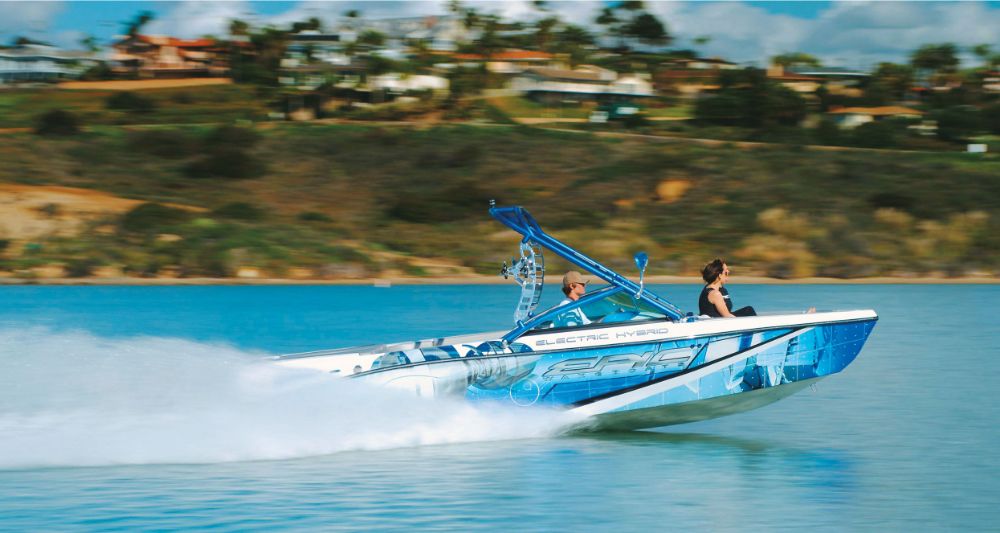 SkiCraft has been producing ski boats in Australia since 1969. The company was one of Australia's foremost developers of the V-hull at a time when other ski boat manufacturers were still producing clinker boats. Skicraft produced the first through-hull tiller box when the industry standard was quadrants.
SkiCraft produces 12 models based on four hull sizes, from the 6.1m Excel E20 ski boat through to the 6.7m Century C22, RV and Outboard models.  Five of the models are dedicated wakeboard boats with mid or rear engine inboard power. The top-of-the-line Senator C22 and RV models feature an adjustable wake plate that delivers a wide wake.
www.skicraft.com.au
Spy Boats is the joint venture, begun in July 2007, between leading ski boat specialist Peter Webb's Performance Marine, and multi-award winning boatbuilder, Whittley Marine Group. 
Within the first twelve months, Spy Boats received its first award with the contemporary Australian-designed and built SPY RX22 wake boat taking out the prestigious "Ski Boat of the Year" title at the 2008 AMIF (Australian Marine Industries Federation) Awards.
Spy Boats offers five different models on two hull lengths to cater for both the wake and ski market. Automotive design cues and the latest marine engineering technology have been integrated to give the boats a high-tech edge in both their sharp styling and the sophisticated construction. Spy Boats are powered by MerCruiser, with most having the top-of-the-range Black Scorpion.
www.skiboats.com.au
Built in Australia and distributed in New Zealand by MasterCraft New Zealand, Matrix Marine ski boats are high quality, stylish and innovative. From below the waterline, each Matrix is designed with performance in mind. Whether it is flat, soft slalom wakes you crave, huge wakeboarding launch ramps or peace of mind across rough waters with the family, a Matrix can deliver.
Inside each Matrix, interior layout configuration is designed for comfort and practicality. The unique mushroom bow and split U-shaped rear seating arrangements offer spacious comfort and easy step-over entry, while the engulfing high sides keep passengers safe from the elements, even with the high seat bases and tall driver's swivel seat.
Built with a sole purpose to send wakeboarders to new heights; the wakeboard edition MVS offers huge rampy wakes and mellow transition. This is also a party boat, with 14 drink holders, enough room for 12 passengers and ample storage for a picnic hamper, ice, drinks, extra boards and skis.
One of the more popular models is the Sorrento, which is available as the ST-X or CD-X, both of which provide smooth, small slalom wakes in an easy-to-manage size.
The 6.3m Matrix Super Sport is also aimed at the ski market and offers precise tracking, unrivalled handling, and pillow-soft tournament style wakes for serious slalom skiers. The Matrix Super Sport is an affordable all-rounder.
www.matrixskiboats.com.au
MasterCraft was founded in 1968 when it built its first ski boat in a two-stall horse barn on a farm in Maryville, Tennessee. Dissatisfied with the large wakes and pull of other ski boats, MasterCraft builders designed a hull that had the smallest wake in the industry – smooth and low at slalom and jump speeds and well defined at trick speeds.
MasterCraft is by far the largest producer of inboard ski, wakeboard and luxury performance powerboats in the world. It sells boats in over 30 different countries and has over 120 domestic and international dealers.
MasterCraft offers 24 different ski/wake models from four series. The V series has seven ski boats, from the entry-level 200V through to larger models such as the 245V and 255V. The X Series provides 13 models in the MasterCraft family and all are designed for wakeboarders, from the smallest 20ft, X1 through to the top-of-the-line X-Star.
The PS or Pro Star series offers four ski boats that are world respected as amongst the best for towing slalom, tricks or jump skiers.
All MasterCraft boats are powered by electronically fuel injected GM Vortec engines.
www.mastercraft.com
Malibu Ski Boats Australia manufactures, under licence to Malibu Ski Boats in the USA, a huge range of ski and wakeboard boats which are all engineered to a high specification. Both closed bow and open bow configurations are available for the ski boats, while wakeboard boats are all bowrider models.
Each Malibu has luxurious features such as a leather-wrapped throttle knob, sports steering wheel, personalised instrumentation, pop-up bow light, JBL stereo, an automotive-style, plushly padded helm seat with lumbar support, and generous internal space in both V-drive and mid mounted engine set-ups.
Wakeboarders will love the clean, consistent wakes that deliver the perfect pop every time and skiers will find the Response series tracks better than most and has 17 world records to prove it.
The Wakesetter range of six models provides wakeboard boats of the highest possible standard, both in finish and performance. Some are also ideally suited as crossover boats, providing flat wakes when required for skiers and steep ramps for wakeboarders.
The 21 and 23 Ride models are classic Malibu but without all the 'bells and whistles'. New for 2013, they come standard with Hi Flo pumps and hoses, which fill your ballast quicker than ever before.
If you are very serious about your skiing then the Response TXi, a dedicated ski boat, is going to be hard to beat, no matter what the discipline.
www.malibuboats.com
Lewis has been building ski boats and more recently wakeboard boats since the early 1930s and is regarded as an Australian leader in ski and wakeboard boats, with an obsession for quality and unsurpassed performance.
Lewis prides itself on the construction and strength of its boats. The floors of all Lewis boats are sealed on both sides and secured to the internal longitudinal stringer system which is totally made of wood. Fibreglass is then used to bond all joints and seams, making the Lewis hull assembly (hull and stringer system) into a single unit, which is virtually indestructible.
Lewis offers a range of both ski and wakeboard models, such as the Moomba, Prestige, Outback, Eclipse and Challenger, each one featuring an underfloor storage locker, clip-in carpet, transom grab handles, a glove box and an adjustable driver's seat.
www.lewisboats.com.au
Established is 1954, Sanger Boats has been building high quality high performance race, ski and wake boats longer than most boat brands in the business today. Built in the heart of the California central valley, these boats have the perfect weather for crafting the highest quality possible.  With five V-Drive models from 20-23' and two Direct Drive models 20 and 21' Sanger boats focuses  mainly on tow boats and has introduced the all new Surf Series models that have the most adjustable Surf Wave in the business today.  They generate a surf wave big and consistent enough that the surfer behind the boat can ride the wave without any rope for an endless period on the wave produced by the Surf system.  This is the latest watersport to take over USA. Sanger Boats has been the best kept secret of the US west coast and getting production is sometime difficult based on their specialised custom production. With Prices ranging from $65,000 to $85,000 for top of the line with all the bells and whistles. This custom builder has seven different gel-coat designs to choose from and can fully customise a boat to suit any buyer.
www.sangerboats.com
Australian designed and manufactured in Melbourne, these affordable boats are perfect for any water-skiing and wakeboarding family. With a choice between Indmar's powerful Gen III engines, or the classic 350 Chev, your Rolco Ski or Wakeboard boat will boast brutal power and fantastic fuel economy.
There are five models in the range, which cover both wake and ski. The Tsunami is a 6m family friendly wake boat with a spacious bow and plush vinyl wraparound seating for all-day comfort on the water.
The well-optioned Evolution is a brand new 21ft boat designed for both skiers and wakeboarders. Its variable-V hull has been specially modelled to create a large wake at slower wakeboarding speeds and a smooth, flat wash for slalom skiing and barefooting.
The Phoenix inboard ski boat is perfect for any wakeboarding or water-skiing family. The Nirvana is a mid-mount ski-boat that offers seating for seven.
The Paragon is a family crossover bow rider with a huge internal layout that supplies plenty of space for 10 people including an ergonomically designed driver's seat.
www.rolcoboats.com.au
Located in Hamilton, New Zealand, Saronic Boats specialises in the manufacture of inboard watersports boats. There are two models on the market, the Saronic 600V, a specialist wakeboard boat, and the Saronic SX6, a crossover model great for the whole family to enjoy.
The 6m Saronic SX6 is the perfect family crossover boat. The hull design features reverse delta technology and a fine entry bow, meaning a smooth and comfortable ride. The performance wake is versatile for everyone in the family to enjoy; offering the best of both worlds the boat achieves a flat slalom table for skiers and when the ballast tanks (standard on all models) are full the wake grows considerably in size to keep any highflying wakeboarder happy.
The SX6 has seating for seven and is spaciously comfortable with plush upholstery and engulfing high sides to keep the elements out and the younger crew members in. A step-through bowrider provides plenty of extra room.
The 6m Saronic 600V is a wakeboard boat that throws a rampy wake with a smooth transition. Perfect for all levels – the boat comes standard with underfloor ballast tanks. Pump them full for the thrill-seeking members of the family or simply ride standard for beginners.
The 600V's interior has plush wrap-around style seating for 9 adults. With a spacious walk-through bow rider there is room for everyone to spend the day on the water in comfort. Plenty of storage lockers throughout the boat make it easy to stow all water sports gear safely away.
Powered by a 315hp MerCruiser Towsport engine, this boat has no trouble pulling boarders all day long.
www.saronicboats.co.nz
Supra builds boats for riders who choose to challenge their personal best with each successive run. Supra's first hull, and every hull produced since, used a deep drop-V keel to enhance both straight-line tracking and passenger comfort. Supra was one of the first ski-boat manufacturers to offer an open bow design, dramatically expanding seating capacity, and was a pioneer in the use of a hydraulic wake plate to adjust wake characteristics for different water conditions and different sport requirements. Supra was amongst the first to develop a hull specifically designed for wakeboarding. A lot of time was also spent in developing seating designs to allow more people to comfortably watch the action behind the boats.
The Sunsport range is very family orientated, with three models. The Sunsport 21V has classic Supra features and extra deep feel, while still providing the next generation of technology and edgy styling. The Sunsport 242 is huge in space and the walk-through bow design provides everyone on board plenty of room.
This new ultimate wake boat from Supra, SA350 & SA550, provides an amazing wake, aggressive looks and a shockingly refined interior. The 22 foot 6 inch boat sports Supra's new barrage front end, which certainly makes this model stand out.
www.supraboats.com
Nautique offers eight different ski and wakeboard boats that are regarded as some of the world's top ski and wakeboard boats. The Ski Nautique series, 200Open Bow and 200Closed Bow cater for the water ski market with a boat that has already broken more world records since its introduction in 2010 than any boat in history, the popular Sport Nautique 200 and 226 for the cross over sector and the Super Air Nautique stable of four boats for wakeboarders.
The boats all feature loads of storage space, detailed finish, ballast tanks on wakeboard and crossover models, and for those who want the optimum speed control performance, Zero Off GPS speed control is fitted to all models making every run as identical as the one before.
New for 2013 are larger engine options, bimini tops for the Super Air Nautique range, new custom wheels and controls, plus two new models, the G23 and the G25 to the Super Air Nautique range.
www.nautiquesnz.co.nz
Although Tige' is an American brand, the boats are now produced in Australia under licence. Appointments include sun-loungers, esky cooler, depth sounders, wrap around seating, and split glass screens in bowrider models.
Tige' uses a unique concave hull shape that delivers an excellent wake without the need to take on board extra ballast or using drag hardware which thus decreases the hull's efficiency. Tige' simply lets the hull design do all the work.
Tige' produces a small range of ski boats that can also be utilised for wakeboarding. There are nine models in the range, starting with the serious wakeboard models in the Z and RZ Series, with the RZ4 being the flagship of the fleet. The convex V hull is shaped like the bottom of a wakeboard and curves up at the transom, which provides a full range of wake shaping capability.
The 20i and 22i are more traditional inboard ski boats. Most of the boats come with a bowrider option, which really opens up the boat, providing extra storage and seating. There is also a closed bow model available.
www.tige.com