Built in the USA, Epic manufactures four models of wakeboard boats from the 21V through to the 232 SE. The Epic 23V is an all-round serious wakeboard boat that carries up to 1820kg of ballast, a multi-speaker transom- mounted stereo system and a MerCruiser 350 Scorpion 330hp engine with the optional GPS Smart Tow & Launch Control. The Epic 21V is loaded with the same cutting edge, common sense standard features as the 23V – it's just in a smaller package.
SkiCraft has been producing ski boats in Australia since 1969. The company was one of Australia's foremost developers of the V-hull at a time when other ski boat manufacturers were still producing clinker boats. Skicraft produced the first through-hull tiller box when the industry standard was quadrants.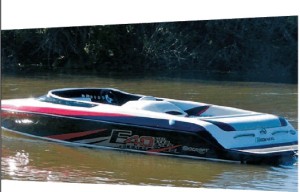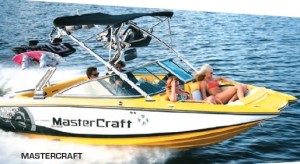 MasterCraft was founded in 1968 when it built its first ski boat in a two-stall horse barn on a farm in Maryville, Tennessee. Dissatisfied with the large wakes and pull of other ski boats, MasterCraft builders designed a hull that had the smallest wake in the industry – smooth and low at slalom and jump speeds and well defined at trick speeds.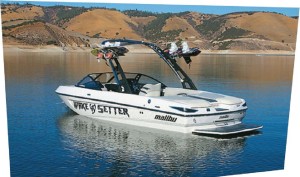 Malibu Ski Boats Australia manufactures, under licence to Malibu Ski Boats in the USA, a huge range of ski and wakeboard boats which are all engineered to a high specification. Both closed bow and open bow configurations are available for the ski boats, while wakeboard boats are all bowrider models.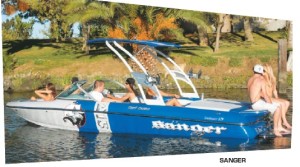 Established is 1954, Sanger Boats has been building high quality high performance race, ski and wake boats longer than most boat brands in the business today. Built in the heart of the California central valley, these boats have the perfect weather for crafting the highest quality possible. With five V-Drive models from 20-23' and two Direct Drive models 20 and 21' Sanger boats focuses mainly on tow boats and has introduced the all new Surf Series models that have the most adjustable Surf Wave in the business today.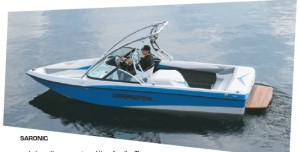 Located in Hamilton, New Zealand, Saronic Boats specialises in the manufacture of inboard watersports boats. There are two models on the market, the Saronic 600V, a specialist wakeboard boat, and the Saronic SX6, a crossover model great for the whole family to enjoy.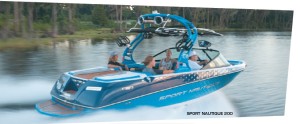 Nautique offers eight different ski and wakeboard boats that are regarded as some of the world's top ski and wakeboard boats. The Ski Nautique series, 200 Open Bow and 200Closed Bow cater for the water ski market with a boat that has already broken more world records since its introduction in 2010 than any boat in history, the popular Sport Nautique 200 and 226 for the cross over sector and the Super Air Nautique stable of four boats for wakeboarders.