What can I say? Unbelievable! Quite simply that's the best adjective to describe what I thought of the new Evinrude 250 HO ETEC Gen2 / Smuggler Strata 750 Mid Cabin package. Unique, different and, above all, cool!           
RIBs have been around for a long time and although cabin RIBs are not that common, there are still a few brands for those that want more than a simple centre console for protection. Smuggler have been building their Strata RIB range for 10 years now and have progressively increased the size of them, from tenders to sport boats and more recently adapting the Sealegs technology to their larger range. Until now the boats have almost been 100% centre console, but with the release of the Strata 750 Mid Cabin that's all changed.
David Pringle, the MD of Smuggler Marine, says that the boat is the result of customer feedback. "We had clients that loved our boats, but were looking for something that afforded better all-weather protection, be it rain and wind or the harsh sun.
"While the centre console with full wrap around clears went a long way to addressing those needs, there were still those that wanted more, so we set about looking at a totally new cabin design that incorporated all those wants", says David.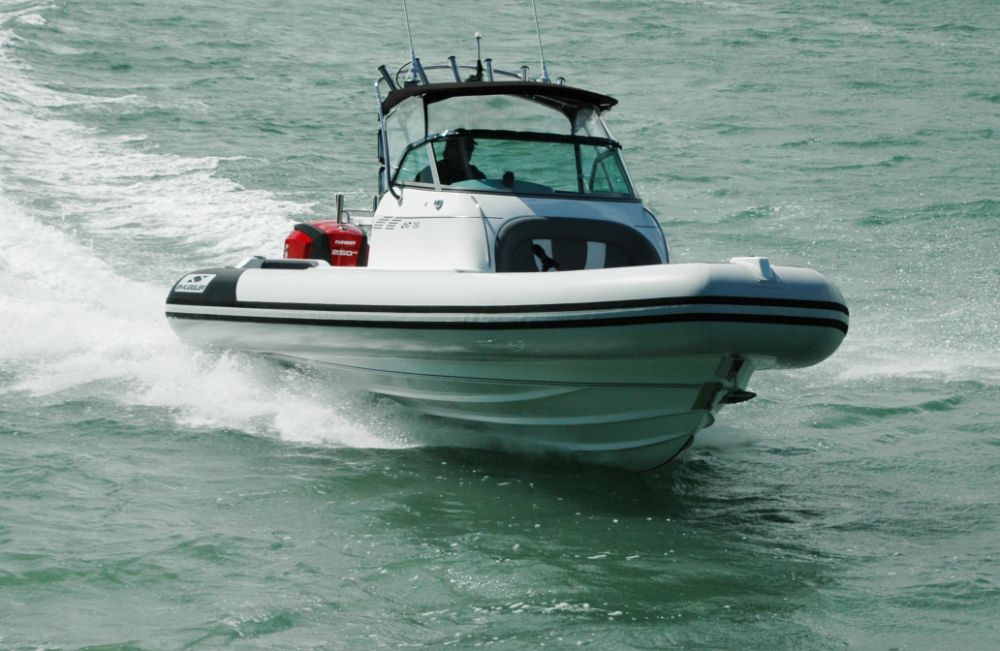 One aspect was for a toilet, the other to still have easy access forward, that was more than a precarious walk along the side tubes and a generous size bow cockpit suitable for fishing as well as a place to sit and enjoy the journey.
The result is the mid cabin design, which effectively is one main large grp mould that incorporates the forward seating, helm, enclosed space for the head and side decks.
"We wanted a boat that offered more than just all-weather protection and I think we have achieved it with the 750 Mid Cabin", says David.
The Mid Cabin is available in two models both based on the same well proven ultra deep vee Smuggler hull. The 750 is a conventional deep vee monohull and the 770 is the Sealegs adaptation. Both are single, or twin outboard powered. The only difference between the two is the 770 has the addition of three sets of wheels and hydraulics, more knobs and controls on the dash and a generator tucked away inside the mid cabin. Unfortunately that means there's no room for the head, so it's back to the 'bucket & chuck it' system. The bonus is, however, that the generator doesn't take up space in the cockpit, leaving it free and open, something that has not been possible on previous models.
Our test boat was the first out of the mould and came with the optional soft top bimini with clears on three sides. There is an optional grp hardtop that follows the same profile of the custom made Sandbrook windscreen and with a glass front panel you can also have the benefit of a windscreen wiper.
"We spent sometime making sure we got the bow design right as we wanted to make it multi-functional and practical," David points out. The 750 Mid Cabin uses the same through hull 'hidden' auto anchoring system with a deep anchor locker, Lewmar V700 winch and pop up fairlead all very neatly recessed out of sight under the front sun pad. If you do need to get access to the anchor locker, it's simply a matter of lifting the squabs.
Moulded into the mid cabin is a double forward facing seat with a built-in chilly/isky bin. The high profile tubes and uninterrupted viewing from the helm make this a safe area for kids when underway. If you are into soft baiting, then there's space for two fisherman and the raised forward sun pad doubles up as a casting deck. Our test boat had Railblaza rod holders mounted either side. There's also a massive wet locker under the sole, which David says is the ideal place to stow the dive bags.
What I liked were the moulded, wide flat side decks that provide easy and secure access to and from the cockpit. Smuggler has even gone to the trouble of adding extra steps either end in the deck mould and another glued onto the side tube. Handholds come from the bimini and rocket launcher, although with a solid hardtop there is the option of a fixed handrail.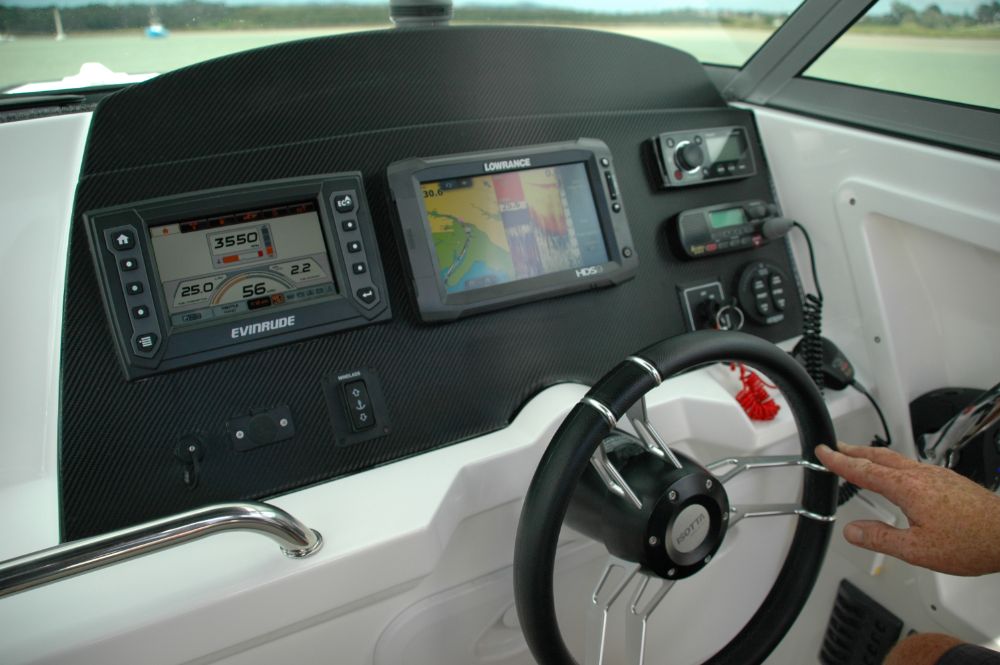 When designing the cabin, David says that while the head (toilet) was a prerequisite, he was conscious not to spoil the low profile of the cabin lines by adding too much height. While access through the Cule hatch is not generous, once you are inside, there is ample sitting headroom. The rest of the space in the cabin is used for dry storage, batteries and the Marinco battery switches. Nice and easy to reach through a large drop down hatch.
Storage outside in the helm area is provided in a lockable glovebox and side lockers, so there is plenty of spaces for keys, cell phone and sunnies.
Smuggler have certainly put a lot of thought into the design of the dash, with the carbon fibre finished display large enough for not only a couple of 12" MFD screens and all the extra coms and electronics people seem to load aboard a boat these days, but also for the extra controls and requirements of the Sealegs version.
Our dash had a Lowrance HDS9 MFD and an Evinrude Icon Touch 7 CTS display, with a Fusion Bluetooth head, Cobra VHF and Lectrotab indicator alongside. There was still plenty of room for more.
Evinrude's Icon Touch display is functional and very easy to use, providing all the information you need while out on the water. Everything from the gauges to the throttle has been completely redesigned to give you better command of your Evinrude E-TEC G2 engine.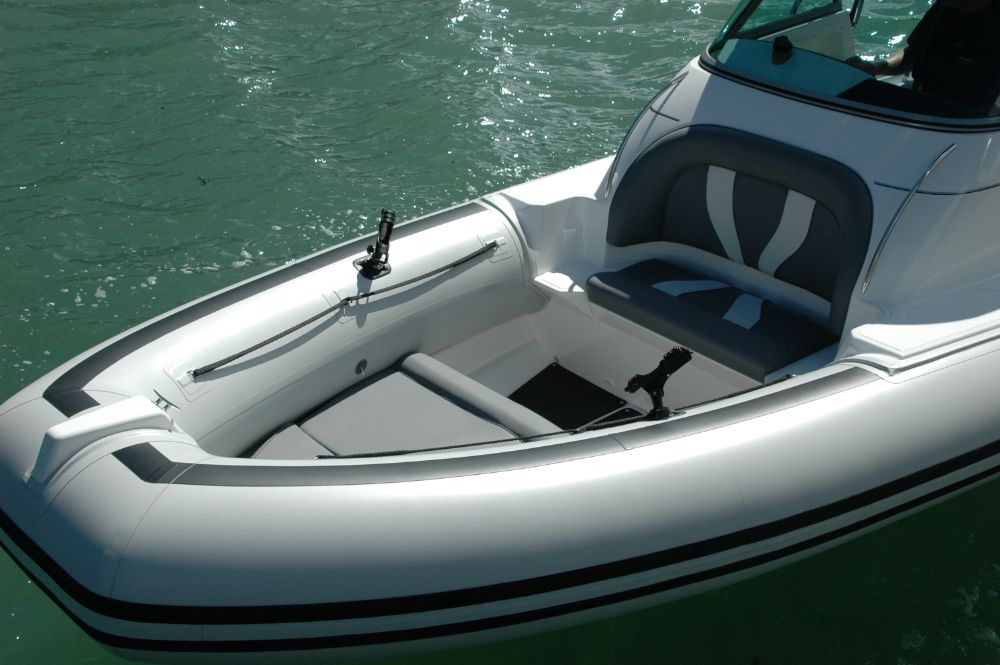 The self-draining cockpit is well designed for fishing or general cruising, with plenty of workable space. If you are into fishing, then the centrally mounted Manta bait board is at a nice height and comes with three rod holders. There's also a couple more rod holders in the aft deck as well as a six pack on the rocket launcher.
Standard seating at the helm is a large moulded unit, which doubles as dive bottle storage or simply as another massive storage space. There is also the option of a fridge unit, or small electric hob and Smuggler will build the unit to any height to make it more suitable to an owner's requirements.
The rear bolster cushion on the helm seat swings fore/aft and there are stainless footrests either side. You can have a variety of seating layouts such as single pedestals or side cantilevered seats. The choice is yours.
Across the transom, there are a pair of jump seats with a live bait tank under the port cushion and extra storage to starboard. In the centre of the sole is another cavernous wet locker. The Manta bait board between the seats can be removed and replaced with a ski pole, with an Icey Tek bin seat providing extra seating in our boat. The standard boat has seating for four in the cockpit and two forward in the open bow area.
Over the transom, you'll find a couple of small teak covered aft decks with a Manta drop down ladder to port.
With over 30 Strata 750/770 RIBs built, David and his team at Smuggler Marine have got a fair idea of how to set up a boat and from the start it was obvious they had it right on the new version. Running a 21" three blade s/s Viper propeller, the high-performance Evinrude 250 HO ETEC Gen2 pushed the Strata 750 to an impressive 52.5 knots (60.5mph). I would expect that the standard 250 ETEC Gen2 would be marginally slower although 50 knots should be still achievable.
What impressed me was the power of the high-tech, direct-injected two-stroke design. The natural two-stroke advantage paired with direct injection and the combustion system of the engine means amazing torque, making your holeshot more like a slingshot. Idle to 6000 rpm in 10 seconds. Impressive!
The new G2 are based on a 74 deg V6, 3.4 litre engine that weighs in at 244 kg. The Evinrude ETEC 250 by comparison uses a 90 deg, 3.4 litre powerhead and weighs in 14 kg less. Both run the same lower unit gear ratio of 1.85:1.
Overall through the entire rpm range the Gen2 engine is quiet and smooth. Although the Evinrude E-TEC G2 features a new, fully integrated i-Trim, which automatically provides the most optimal trim, David didn't have it fitted and like me prefers to trim a boat himself rather than be told what to do by a computer.
Evinrude's Dynamic Power Steering (DPS) makes driving the boat an effortless experience with zero feedback at the Seastar helm. Throttle controls are Evinrude's Icon II shift with a separate rpm control that allows you to increase or decrease the rpm by 50 rpm at a time.  Again smooth as silk and responsive.
Test conditions were light to moderate on Auckland Harbour, but that was fine as I already know and have reported previously on just how good this hull is in the moderate to rough water. Dry, responsive and predictable. Probably the best riding trailer boat of its size in the country.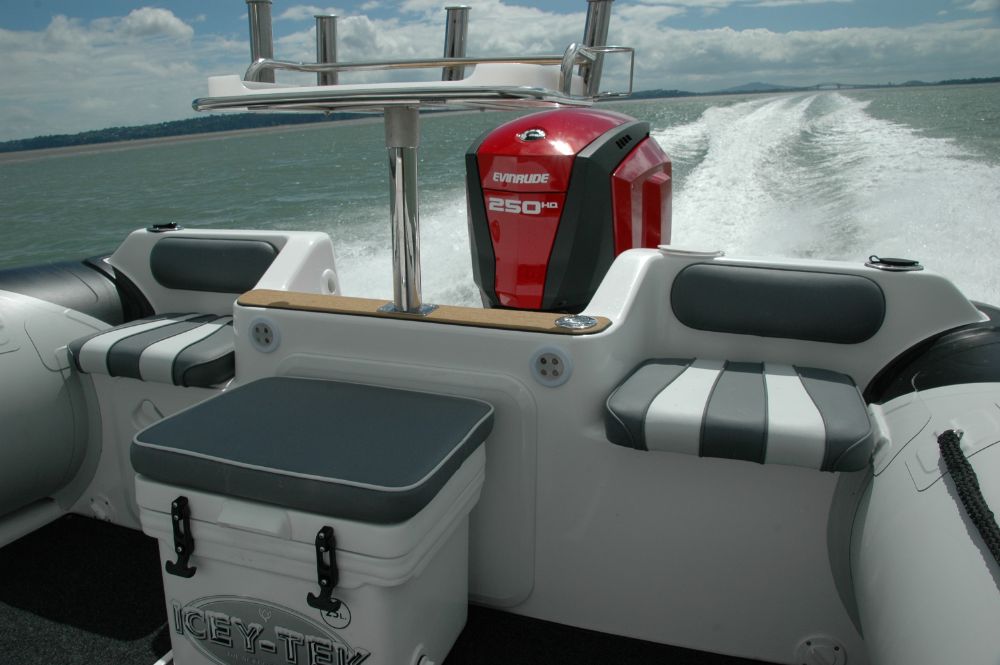 Evinrude claim the PurePower Combustion design of an Evinrude E-TEC G2 is so clean burning that it's showing 75% fewer regulated emissions than competitive four-strokes, ensuring every drop is burned, not wasted.
What I can say, is the engine I tested, which was the very first one in the country was very very efficient. Across the mid range, the fuel burn was especially good and even at the top end of the rpm range the results were impressive. At 5000 rpm, the fuel gauge was showing 66.5 lph @ 46.5 knots, which gave a range of around 200nm. Drop that back to 4000 rpm @ 32.5 knots and the fuel use was only 35 lph and the range increased to 240nm.  At the other end of the range at trolling speeds, the Gen2 uses under three lph and the range is around 500nm.
And then there's the colour. You can choose from five side panel colours, five top and front panel colours, and fourteen accent colours to design an engine to perfectly match your boat.  You can be loud like the red panels on our engine that stood out and made a statement, or be more sedate with black and white to match the boat.
The Smuggler Strata Mid Cabin 750 breaks new ground when it comes to cabin RIBs and opens a new market for Smuggler Marine, which was previously unattainable with the centre console design. The new boat offers a fresh look and comes with a host of cool features that have been intelligently thought and executed. Nothing is out of place and the practical layout should find wide appeal, no matter what your style of boating is.
Plus when you package that with the hottest new outboard on the planet, the Evinrude ETEC Gen2, you can't go wrong.
Model: Smuggler Strata 750
Priced from: $NZ101500
Price as tested: $NZ136,860
Type: Mid Cabin
Construction: GRP/Hypalon
LOA: 7.50m
Beam: 2.80m
Deadrise: 27 deg
Height on trailer:  2.80m
Trailerable weight:   1900 kgs
Power: Evinrude 250 HO ETEC Gen2
Propeller: 21" Viper
Power options: 150-300hp
Fuel capacity: 300 litres
Trailer: DMW
Notable Standard Items on Test Boat
5yr hull warranty, 6yr tube warranty, teak trim & brass keel strip, bilge pump, lighting, compass, Lectrotabs, boarding ladder.
Notable Options on Test Boat
Lewmar V700, Fusion stereo, Live bait tank, Lowrance HDS9, Dive bottle storage, Bimini with clears.
FUEL & PERFORMANCE DATA

SMUGGLER STRATA 750/EVINRUDE 250 HO ETEC GEN2

Fuel capacity:

300

litres

RPM

KNOTS

L/H

L/NM

RANGE (NM)

500

2.0

1.1

0.6

490

750

3.0

1.5

0.4

540

1000

4.5

2.5

0.6

480

1500

6.0

5

0.8

320

2000

9.5

8.5

0.9

300

2500

15.0

14

0.9

280

3000

21.5

20.5

1.0

280

3500

27.0

26

1.0

270

4000

32.5

35

1.1

240

4500

37.5

41.5

1.2

220

5000

41.5

53.5

1.3

200

5500

46.5

66.5

1.5

180

6000

50.0

84

1.7

150

6150

52.5

86

1.7

150
L/NM is calculated to two significant figures and rounded up. Range is calculated to two significant figures and rounded down. To allow for adverse conditions, range is calculated on 90% of the fuel capacity.