While the Smuggler Strata 750 is not a new boat (over 30 built), He'e Nalu, is the first twin rig that Smuggler Marine has built based on the 750 Strata RIB model.
He'e Nalu is Hawaiian for Surf's Up and due to the owner's penchant for the sport it is aptly named. The difference between this Strata 750 an all before it is not only its twin-engine package, but also the fact that it also designed and fitted out to transport paddleboards.
David Pringle, MD of Smuggler Marine, the builders of the Strata RIB range says that the owner was looking for a versatile craft that he could not only take offshore for serious fishing, but also as a transport medium to carry a number of paddleboards to remote areas in the South Island.
"We also added some extra weather protection with wrap around clears, being that the boat was going to be used in the colder climates and the twin engines for totally reliability and peace of mind when the owner was offshore fishing", says David.
He'e Nalu retained very much the same layout as previous Strata 750s, but with a few changes.
The origin of the 750, in fact, goes back to 2005 when Smuggler Marine ventured into the RIB business. The first 750 was sold by Southern Pacific as the Vortex 750, Smuggler supplied the hull and SP made the tubes. Although the association with their previous partners remains, Southern Pacific supply and fit the tubes to the hulls, but they are now all sold as a Smuggler Strata 750 and built by Smuggler Marine in its factory in Henderson, Auckland.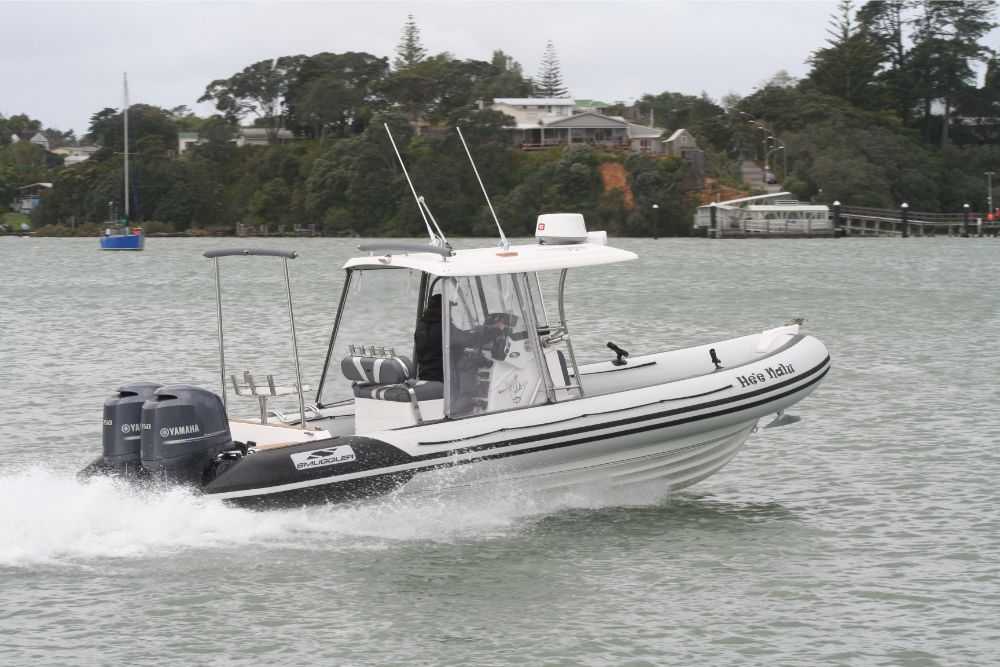 While the rest of the boat design and layout started very much the same as all previous single outboard powered models of the Strata 750, it was the transom that has been given a makeover. Quite simply the twin outboards would not fit on the original transom, so a new mould was built and grafted onto the 750 hull. This also allowed the outboards to be raised higher on the transom. The most noticeable change is that both boarding platforms have gone as there's now no space for either. The transom fold-down stainless boarding ladder has been replaced by a Dixon Marine RIB side mounted tube ladder.
The centre console layout has remained unchanged, although there has been the addition of a much longer hardtop. This has been increased from 2.1m to 2.5m overall and is also wrapped with clears. The day I went for a ride in the Strata 750 on Auckland Harbour it was blowing 30 knots plus from the NW, with a mean and uncomfortable sea. No rain but plenty of spray being picked up by the gusty winds.
This is when you certainly appreciate the clears, which in this particular boat (the fifth with this package) not only provides side panels, but also full length, bimini to floor clears either side of the console and the three piece perspex screen. The screen has also been raised 150mm for even better protection. The Christchurch based owner, who has plans for serious offshore fishing trips wanted as much protection as he could get from a centre console design….and he certainly got it.
The clears are all removable and there's even a rear one which provides all-round weather protection. Easy to release clips and zips on the companionway clears mean access forward is not restricted either side of the console. On a nice day when the clears are not required, they can be very quickly unclipped and stowed away.
The hardtop bimini has also been well used for the 4G-radar dome, spotlight, aerials and a special rack system, so the owner can transport four paddle boards. A separate rear stainless support tower for the paddleboards can be removed when the boat's being used for fishing. When it comes to fishing, the Strata 750 is reasonably well setup, with a pair of Railblaza RIB rod mounts forward on the tubes and a five pack rod holder rail on the helm seat. Bait and your catch can be stowed in either of the 25 litre Iceytek removable fish bins, which also conveniently double as extra seating. Between the engines is a Manta bait board with a further four rod holders and a saltwater wash-down is handy for when you need to clean up the mess. The owner has added removable fishing covers to this rig for extra protection on the tubes. Underfloor wet lockers can take care of an extra catch and as the owner is also a diver, there is plenty of storage for dive gear. Bottle stowage in this particular boat was under the helm seat, with space for eight bottles. There is also a big dry storage area under the aft deck for extra gear.​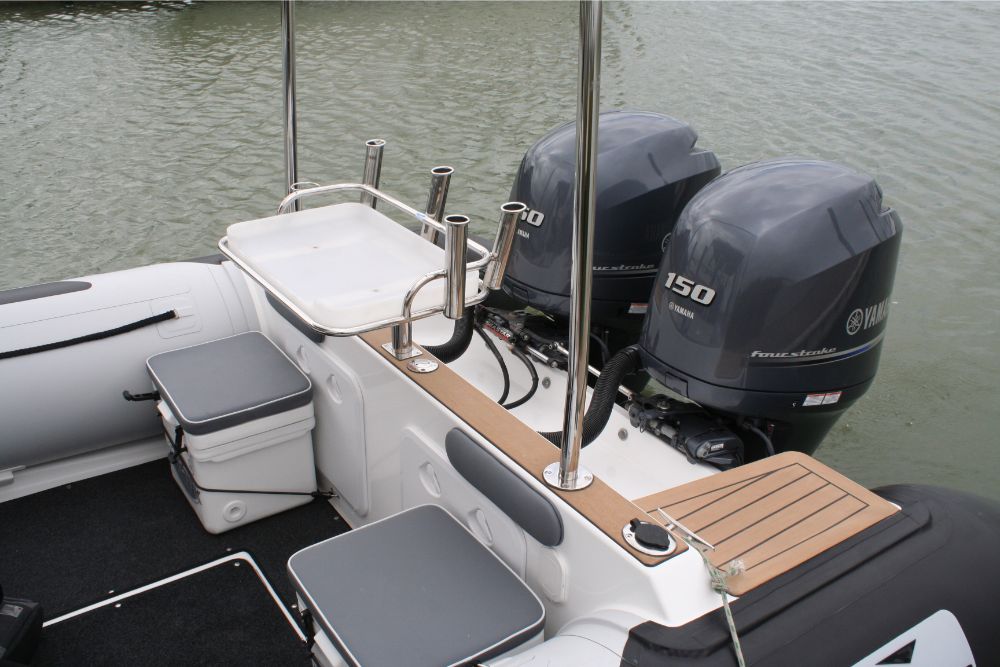 When you have a RIB this big, you have the benefit of a large console that does more than act as a support for the electronics and helm. Inside there is huge storage space, complete with Kiwi Yachting storage bags, batteries, fire extinguisher and a full plumbed electric head. Yes, there is enough sitting headroom should your needs require you to take advantage of the head. A vinyl zip door provides you with the necessary privacy.
Our boat was certainly well set up with a few extras and it reflects the use that this Strata 750 is going to experience. At the heart of the dash is a Lowrance HDS12 MFD, flanked by a quad set up of Yamaha digital gauges, Fusion MSRA205 and controls to operate the Lewmar auto winch and Golight spotlight. Below is a Cobra VHF, Seven Seas switch panels and a pair of drink holders.
I liked all the handrails around the console and I certainly used a few when we did the test. The driving position for me was restricted to standing as I found the backrest of the helm seat too far aft when seated. The base would be nice on a slider, but then that would cause some difficulties with access to the storage, or in this case the dive bottle racks underneath. The back rest is reversible, so you can turn the helm seat into an aft facing bench seat when fishing or parked up and relaxing in a bay. A number of alternative seating options are available.
The cockpit in our test boat was outfitted with clip on carpet over a non-skid pattern grp sole. You have the option of Tek Dek (composite teak decking), which is also used on the small aft decks, either side of the outboard well.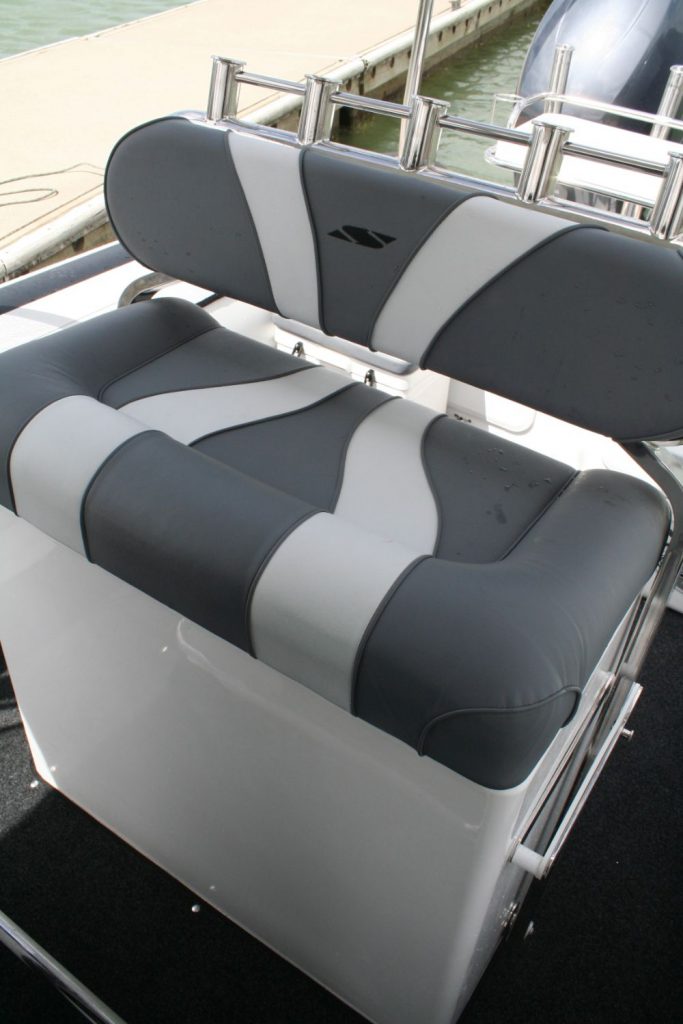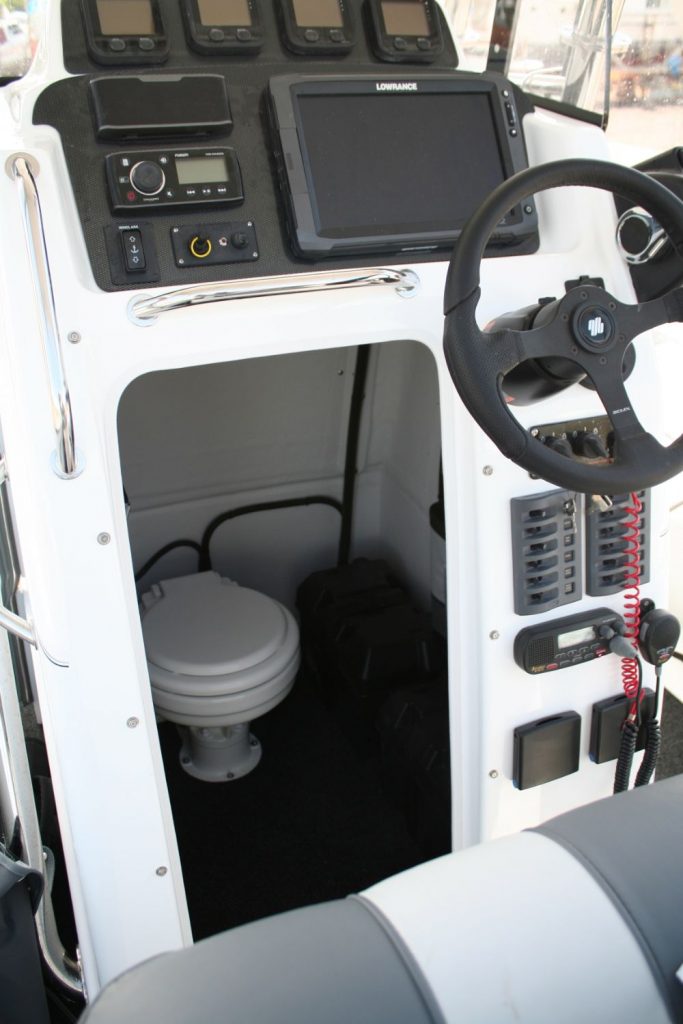 When you walk forward of the console, you begin to realise just how much space this boat has to offer. Along with a double seat moulded into the console (with built-in cooler bin), there's also a large sun pad forward, which, when you add it all up gives dedicated seating for a minimum of eight-nine people throughout the boat. Storage spaces under the forward seating areas and in the sole (1.5m long) mean you will never run out of space for your gear.
While there is a grp moulded fairlead unit fixed onto the bow, most of your anchoring can be done via the auto system with the remote through bow anchor winch and helm control.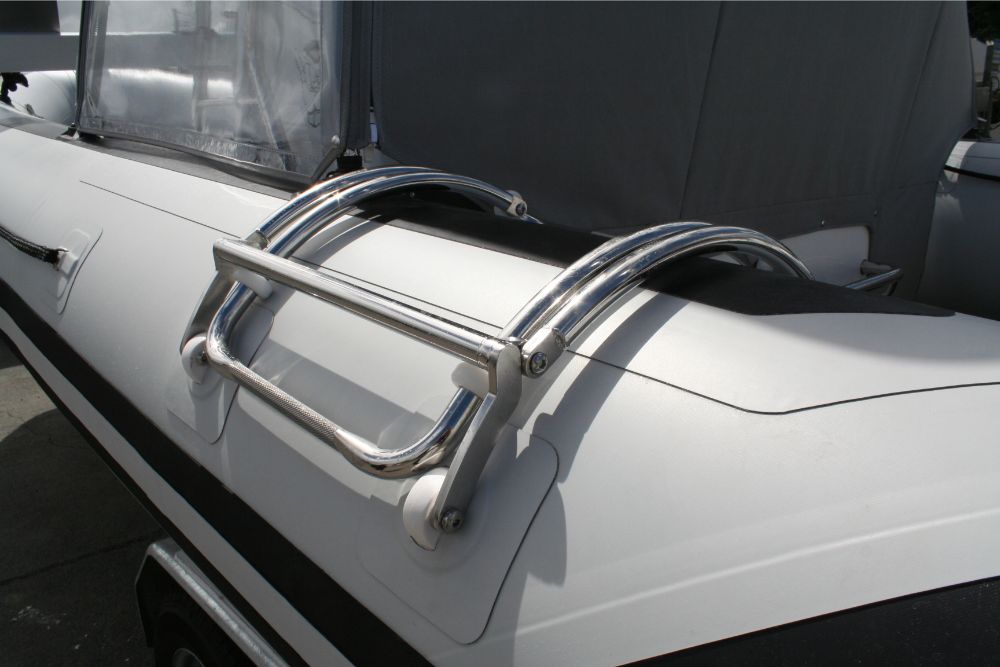 While the extra-deep vee hull gives an unprecedented ride, coupled to a 150 litre flooding system, you now have a boat with exceptional stability at rest. When the underfloor compartment is flooded with 150 litres of water, the 600mm wide tubes settle around a further 50mm in the water. All this is done automatically, with filling and emptying through a large opening in the transom. Very simple and very effective.
When I tested my first Strata 750 a few years ago, we had a single Evinrude ETEC 200 HO on the transom, an engine that has powered a lot of Strata 750s.  Top speed was 53.5mph (5500 rpm), using 75.2 lph and 50 lph @ 4500 rpm (45 mph). With a pair of Yamaha F150 in-line four cyl four strokes, the top speed jumps to around 60 mph, and so does the fuel consumption @ 98 lph. Bring that back to around a matching 4500 rpm (42mph) that drops to 49.7 lph total for both engines.
I was only able to get 58 mph with all the clears in place, but drop them off and leave everything open and the speed jumps around 2.0 mph, with very little change in the fuel use and rpm.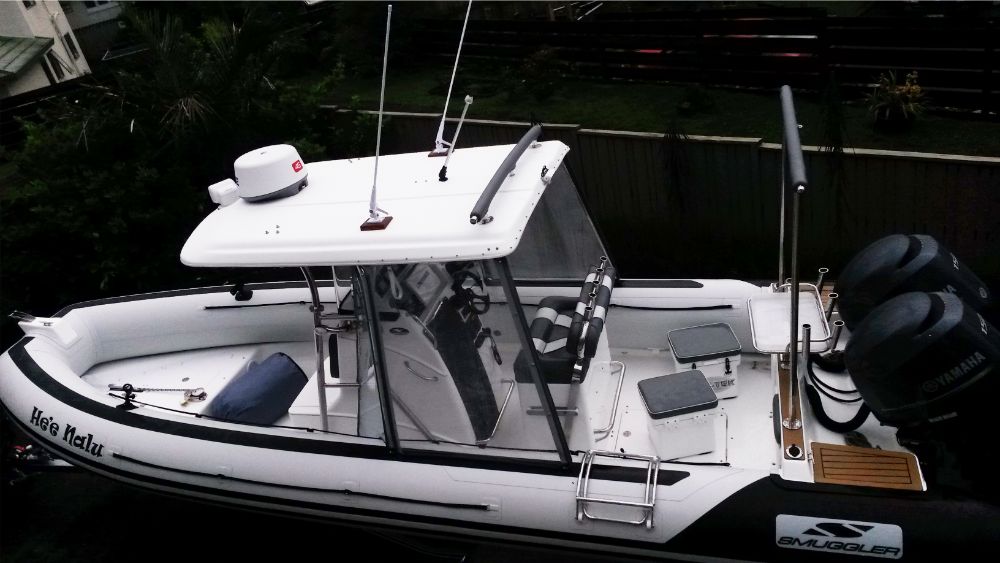 If you are into wakeboarding speeds, around 17-18 mph, then the difference was 22.5 lph for the single 200hp V6 ETEC, compared to 20.5 lph in favour of the twin engines. Off the plane at 1500 rpm, the ETEC recorded 6.5 mph for 7.10 lph, with the twin Yamaha's recording 8.0 mph and 10.2 lph total.
While I can remember the single ETEC gave the 7.5m RIB plenty of grunt out off the hole and was quick to reach maximum rpm, the twin rigged Yamaha package is a rocket ship. The acceleration from around 2500 pm when you are on the plane is awesome, so you need to let your guests know you are going to punch the throttle hard!
The Strata 750 hull is the same as used for the Smuggler Stealth 720, but without all the extra fibreglass it is 25% lighter and accordingly somewhat faster with the same horsepower.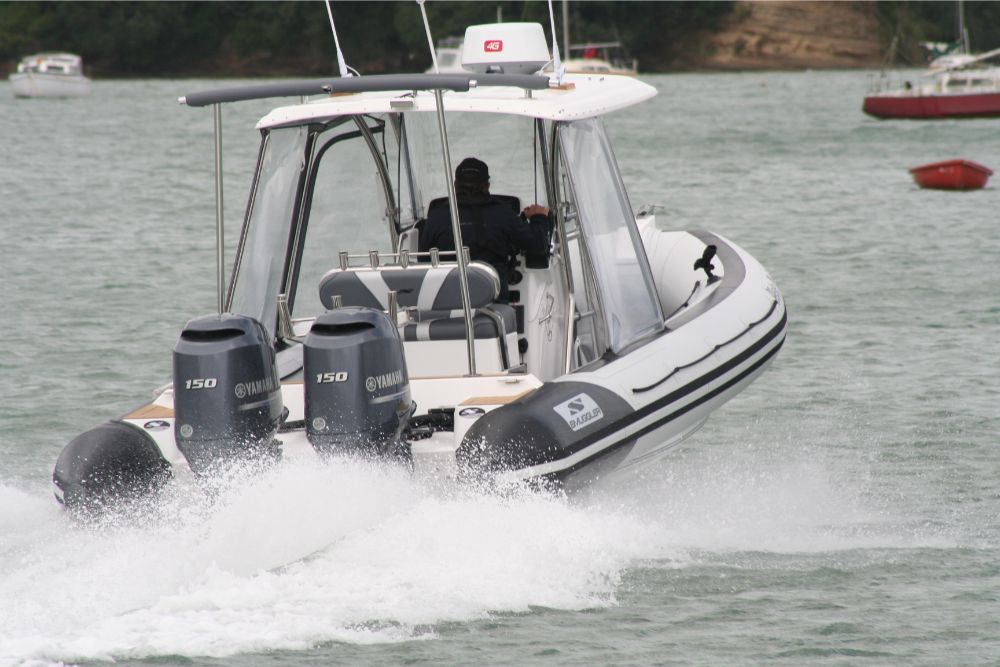 The tubes are UV-resistant Hypalon-coated fabric, which are adhesively bonded to the fibreglass hull. The grp hull mould has a flange that tapers from 60mm overhang aft to 400mm forward, with the tubes at the rear sitting on the water at rest. There are five air chambers in each tube, plus a couple in the hull for added buoyancy. This is the same hull as used for the Strata 770 Amphibious model. Smuggler Strata RIBs are available from 4.5 to 11m and are finished to CE standard for export.
The Smuggler Strata 750 is a very versatile boat and has found owners with as diverse uses as big boat tenders, fishing/diving, family cruising or as in this case as a transport for paddleboards to remote areas.
The basis of the Strata 750 is the incredible Smuggler hull with its staggering 27° deep V. The original Smuggler hull mould was made in the early 1970s and while it has certainly had a few tweaks and alterations since, it is essential the same hull after 50 years!
I stand behind what I have always said that this is unquestionably one of the best, if not the best riding and handling hull of its size….anywhere! Add a couple of engines to the transom and it's even better. I had the opportunity to test the hull in the type of water it was designed for and it just reinforced my appreciation of it. Totally awesomeness!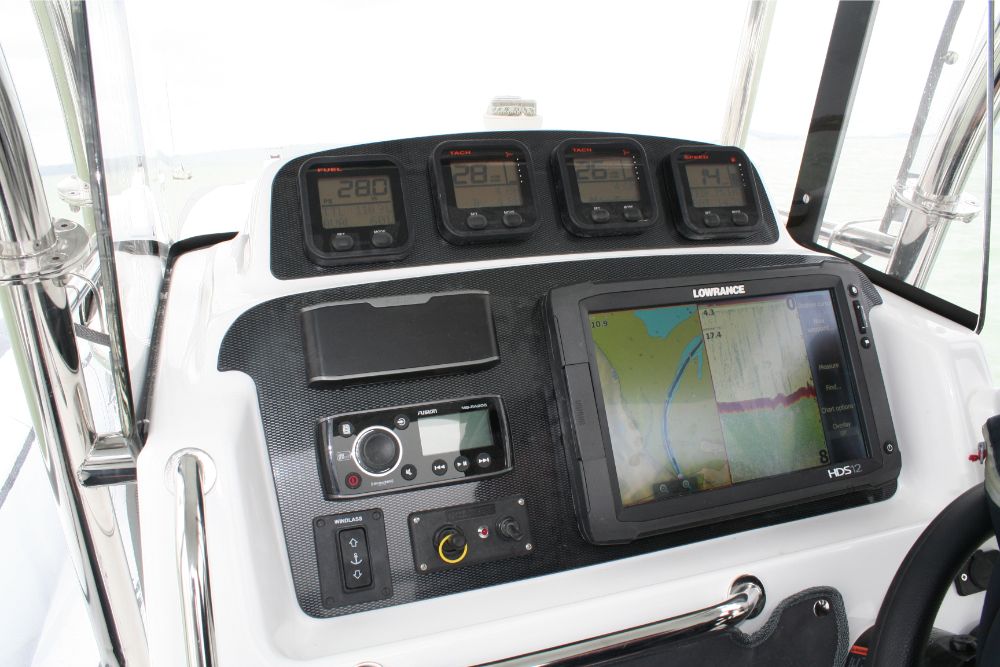 Make &Model: Smuggler Strata 750
Manufacturer: Smuggler Marine
Priced from: $NZ119,000
Price as tested: $NZ POA
Type: Centre Console RIB
Construction:  GRP/Hypalon
LOA: 7.50m
Beam:  2.80m
Deadrise: 27 deg
Height on trailer: 2.80m
Trailerable Wgt: 2000 kg (est)
Test Power: 2 x Yamaha F150
Propeller: Reliance 19"
Maximum RPM: 5600
Top Speed: 46.5 Knots
Power Options: Outboard
HP Range: 150-300hp
Fuel Capacity:  400 litres
Water Capacity: 80 litres
Trailer: DMW Premier
FUEL & PERFORMANCE DATA

Fuel capacity:

320

litres

 

RPM

Knots

L/h

L/NM

Range  (NM)

600

2.0

1.3

0.650

440

1000

4.0

3.5

0.880

320

1500

5.5

7.1

1.300

220

2000

9.0

15.5

1.800

160

2500

15.0

22.5

1.500

190

3000

20.5

32.5

1.600

180

3500

26.0

36.5

1.500

190

4000

32.0

41.5

1.300

220

4500

38.0

50

1.400

200

5000

43.5

61.5

1.500

190

5500

46.5

75.5

1.700

160

L/NM is calculated to two significant figures and rounded up. Range is calculated to two significant figures and rounded down. To allow for adverse conditions, range is calculated on 90% of the fuel capacity.
Notable Standard Items on Test Boat
5-year structural hull warranty, Hypalon Tubes, LED cockpit lights.
Notable Options on Test Boat
Dive bottle storage, built-in cooler bin, hardtop and clears, Lowrance HDS12 MFD, Fusion stereo, electric toilet, remote anchoring system, Golight spotlight.