The kaipara is one of the largest harbours in the world and a perfect place for snapper fishing. But its rugged waters are infamously renowned as a dangerous and intimidating place for the boatie to venture. 
The Kaipara Harbour sits to the west of Auckland and its large estuary complex sucks out between the North and South Head that is six kilometres across, with currents up to five knots and a massive tidalmovement around 7.9 million cubic metres a day.
The harbour head is indeed a hostile place with huge waves breaking over the large sandbanks two – five kilometres from shore. These sandbanks shift position constantly and this area is known locally as the graveyard. It is responsible for more shipwrecks than any other place in New Zealand with over 40 vessels going down to their unfortunate grave.
So do you still want to go fishing there? Well, if you pick the right weather window and time of the year then the trip is well worth the effort. The snapper fishing here can be mind blowing and hands down some of the best I have ever had for sheer numbers of consistent big fish.
The Kaipara was my home fishing grounds growing up and I spent a lot of time there with my uncle in his boat who was good at finding and catching snapper. Back then in the 80's and 90's we used only fresh baits like mullet or squid which worked just fine. But since soft baiting exploded on the fishing scene here several years ago, keen locals started using soft baits at the graveyard to great effect. It is such a fun way to catch snapper on the lightweight tackle and it offers a lot of benefits to using bait and sinkers.
Snapper fishing Boat Tactics
Firstly, if you anchor the boat at the graveyard and send down a ledger rig with fresh bait you will quickly discover the power of the current and you need 12oz to 20oz sinkers to get to the bottom!
The weight is so heavy it takes the enjoyment out of the fight when you catch a fish. With soft baiting, you fish this method while drifting and casting ahead of the boat and you don't need such heavy tackle. The soft bait sinks to the bottom and you work the lure back towards you or until the boat catches up and moves past the lure then you retrieve it to cast out again.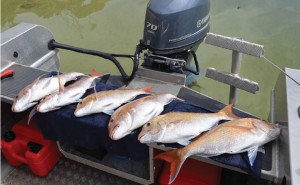 As the current approaches its peak flow, the boat will drift quickly and you cover a lot of ground so you will be starting the outboard and moving back to the start of your drift frequently. Keep an eye on the sounder, as you will typically be fishing in 20-30m of water but in some parts it does go down to 50m. If you hookup on a fish or notice a bit of bottom structure, mark this on the plotter as a waypoint that you can return to.
 The snapper are found here because there are huge mussel beds around the areas of foul. When you fillet them, it is amazing to see how big the mussels were with the large broken pieces inside their stomachs which they ate by simply breaking up with their powerful jaws. When drifting and casting you also don't need to use a drogue as this catches in the strong current and pulls you along even faster.
Tackle to Use When Snapper Fishing
Using braid is critical to your success with soft baits. Braided line doesn't stretch like monofilament and you need to strike quickly when bitten to sink the hook. I would recommend using 6lb-10lb (3kg-5kg) braid with a leader of 10kg-15kg mono. This leader helps stop the snapper biting through the line and is tougher to prevent wear against the rocks or sharp mussels on the bottom.
The jig heads here need to be big to get down in deeper water over 20m and also against the stronger current. I would recommend to start using 1oz then go up to 2oz for when the current is moving faster. If your soft bait isn't on the bottom, you won't catch fish.
I only take 6" – 7" large soft baits to fish the graveyard, these larger soft baits seem to make a big difference. Perhaps it is the murky waters of the Kaipara that make it harder for the smaller lures to be seen, so the larger soft bait get noticed more easily. I have found that the Berkley Gulp range provide the best results and they simply produce a greater range of soft baits and colours that give you a good selection to choose from.
We all know about the legendary "Nuclear Chicken" but I rarely fish with it and the 6" and 7" Jerk Shad range in colours New Penny, Camo, Lime Tiger and Neon Pepper have caught a lot of fish here and if you took these on your trip then you should be well served. However, Berkley's other styles of soft bait are also effective and I have started using them on most days at the graveyard.
We have had some great sessions using the Squid Vicious. This soft bait has a lot of little  tentacles hanging out which provides a great action moving through the water. These, of course, do get bitten off at times, but then they are creating the fish strikes which are what you want.
Released earlier this summer by Berkley was the new Belly Strip range. They are a much longer soft bait and they seem also to be a  more durable bait and can take a bit more abuse from the snapper's teeth before you need to replace them. This year I caught numerous 5kg+ snapper using the Fire Tiger and Curried Chicken Belly Strip's.
I have tested soft baits vs. fresh cut baits on a number of trips over the past couple of years and the soft baits catch bigger snapper. I have converted a number of my fishing mates to go with the soft bait approach with good results. Some have caught their biggest PB snapper using them on the Kaipara. A local caught a 31lb snapper on a soft bait last year, it was a trophy fish of a lifetime.
Remember also that another positive with fishing the west coast is that the snapper limit is still ten fish per person a day. You can easily catch your limit by midday at times, but we rarely take our limit each and return a lot of the bigger fish to keep breeding and prefer to take the smaller 40cm-50cm fish in the bin.
The best months to go and fish the graveyard when the schools of bigger snapper come into the harbour and feed on the mussels is January – May. Over the past couple of years, February and March have been firing well but the fishing can still be very good in April and May.
The best place to launch from would be Shelly Beach, which has a wide, sandy and muddy bottom. At low tide, the mud can be pretty bad so avoid launching and aim for at least half tide or better. It is shallow and some people prefer to use a rope around the trailer when retrieving the boat, so their vehicle doesn't get too wet reversing out into the saltwater.
Heading from Shelly Beach out to the North Head past Pouto will take you about an hour at 20+ knots in good sea conditions. Make sure you stick to the deeper channels away from the shallow sand banks. I would strongly recommend only going if you have a reliable well maintained motor. It's not a place you want to break down as the Coastguard aren't close and you could quickly get into trouble if you drifted onto the bar. Make sure you have at least a VHF, EPIRB and flares with plenty of petrol to get home. There are a lot more charter boats heading there these days, so it is comforting to see them close by if you did need assistance.
The Kaipara graveyard is a strange and adventurous place to visit, but its fishing can offer the angler something special. Safe boating.
Mathew Hewetson can provide paid guided day trips to the graveyard. With over 20 years' experience and in particular specialising in soft baiting, you will learn a lot about this unique fishing location. To enquire call Mathew on 022 355 0588