While Southern Pacific's Prodigy 490 is unashamedly aimed at the luxury tender boat market, it is a boat that is also very adaptable for a broader range of uses. Barry Thompson checked out the very first Prodigy 490 and was impressed.
It has always amazed me why Kiwi RIB builders have not chased the luxury RIB jet tender market aggressively. For many years now, Italian and, more significantly, UK brands have dominated that sector, but times are a-changing. Two kiwi companies have just launched new jet tenders, and both see huge potential in the international market. 
However, interest from Kiwis is already strong. While local sales may not be so much to the superyacht owners, they will definitely find their way into the transom garages of larger motor yachts, at the beach house for towing water toys and as RIBs for fishing and diving. 
The Southern Pacific Prodigy 490 is the first jet boat from this highly rated inflatable boat builder and, from all accounts, will not be the last. Tristan Campbell, sales manager for Southern Pacific, indicated that the Prodigy 490 was just the first of a range of jet tenders. "We are building specially designed products for a specific purpose, and while a small market, we a see it growing in the future", says Tristan.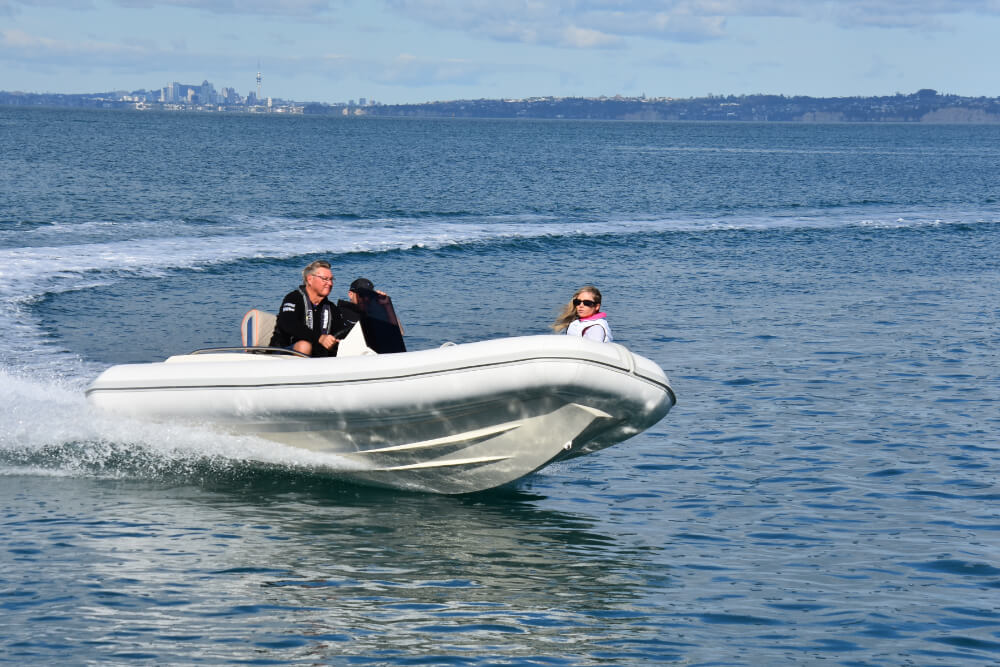 The Prodigy 490 was designed by Kit Carlier Design as a high-end luxury tender for the Australasian market, offering a vessel with a modern, open feel. The brief was to step away from the typical RIB offering and provide something more stylised, where the tubes became just one of the design elements in the assembly while maintaining practicality.
"It was essential that the Prodigy could handle typical harsh Australasian conditions while delivering outstanding performance and providing plenty of space", says Kit. 
The Prodigy also needed to overcome the usual stowage height and weight issues faced by superyacht and larger motor yachts. These were overcome by developing a fold-down helm console, meaning the stowage height is kept to a minimum. With the rear seat bolster and console dropped down, the overall height is 1.14m. Overall length from the jet unit to the bow is 4.90m, and the Prodigy 490 has a dry weight of 480 kg.
Kit added that flexibility, comfort, and style were also essential to the design.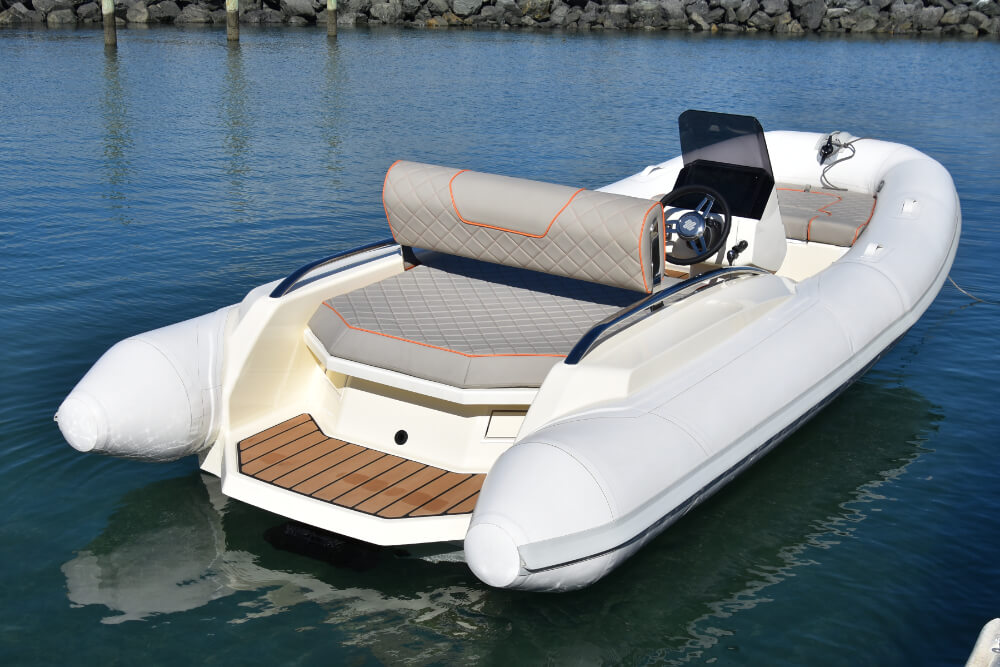 Standard power for the Prodigy 490 is a 4-cylinder Textron TC-155 petrol engine running through a Textron jet pump. A fibre-reinforced composite mount houses the 3-blade stainless-steel progressive pitch impeller, resulting in a strong but lightweight jet system. The 5.8" pump features stainless steel and reinforced composites with sealed high-performance marine-grade bearings.
I was very impressed with the way the deep-vee hull handled, and unlike most jet tenders I have driven, it was predictable and tracked straight without any deviation at mid to high speed.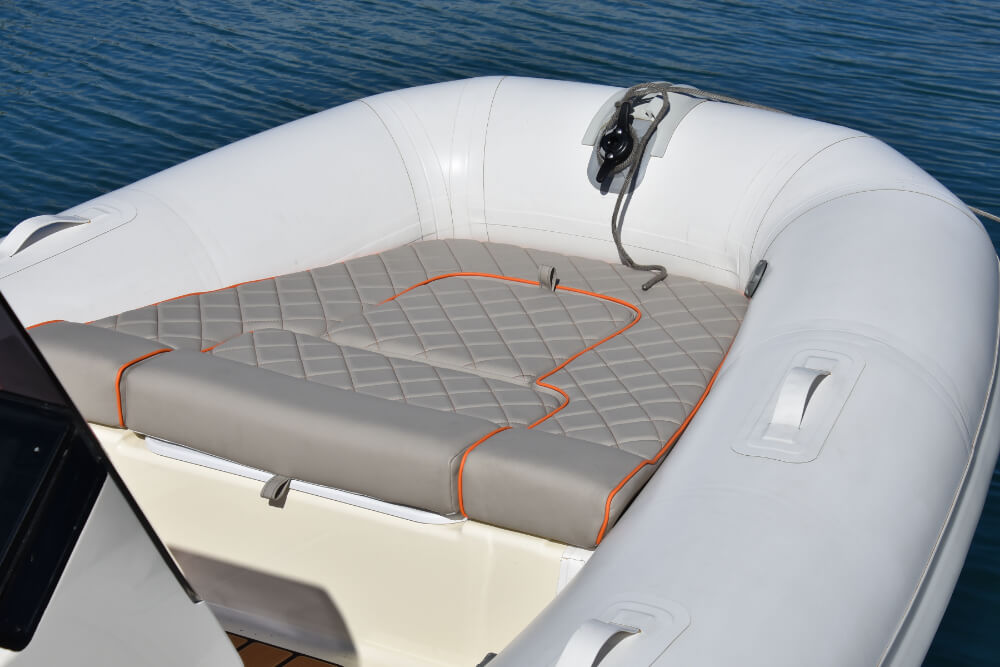 When I drive a jet boat, I always like to perform a few 'jet spins, but not so with the Prodigy 490. No matter how hard I tried, the hull would not let go and slide out from under me. Every turn was surefooted and controlled. In some ways, it took the fun part out of driving a jet boat!
The Prodigy 490 gets on the plane at around 3500-4000 rpm and has plenty of power to get you up and running quickly. At 7000 rpm on smooth water off Gulf Harbour, I saw the speedo nudge 39 knots, and even then, the Prodigy 490 was a pleasure to drive. Drop back to 6000 rpm, and the speed decreased to a comfortable cruise of 28 knots. Even at 5000 pm, I was getting around 18 knots and enjoying the ride.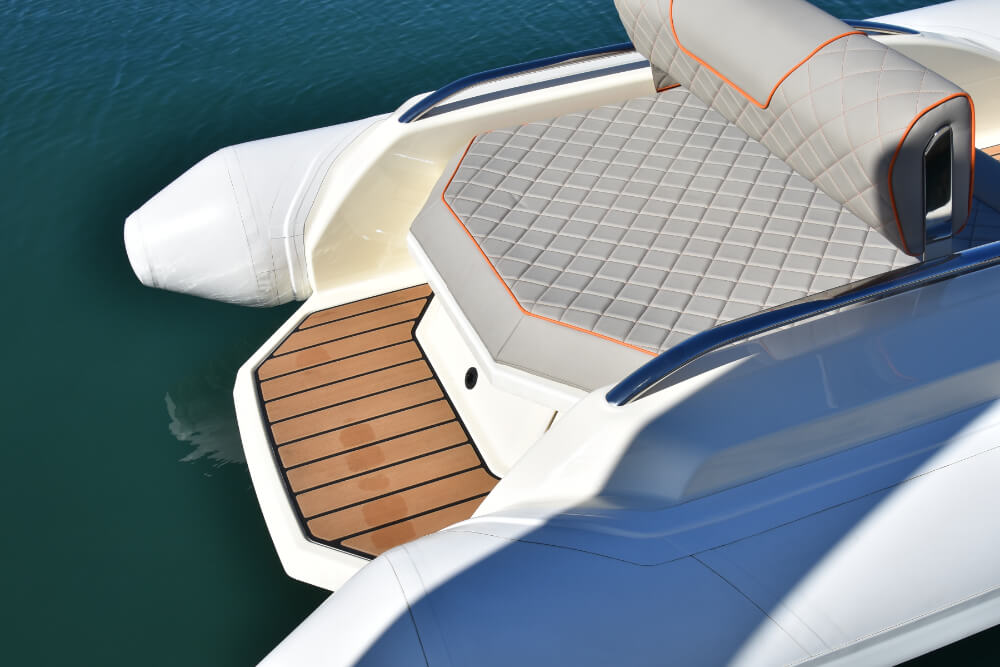 However, under 2000 rpm, the Prodigy 490 took on the characteristic jetboat meander, and I have to admit I did have issues driving in the No Wake Zone of Gulf Harbour Marina. Keeping the speed low enough and trying to steer in a straight line was not easy. Maybe I need more practice. When I nudged the throttle to 3000rpm, the boat was easier to drive at 5 knots.
I was surprised at the useable space between the tubes, which allows for seating for six in two internal areas and a large squab over the engine bay. The internal beam of 1.2m, is constant for close to 4m. The wide bow allows seating for two and has a deep anchor locker and storage space beneath. Aft is a full-width helm seat which again seats two, with the side helm console to starboard. The generous dash means you can have up to a 12" MFD, and there is space for extra electronics and controls. 
I liked the driving position, with the controls easily at hand, and while the Perspex screen does give some wind protection, you are really out in the open. A nice feature is the oval-shaped stainless handrails which provide some security for your passengers. 
The Prodigy 490 is a modern, performance-orientated luxury tender that ticks all the boxes. You can add plenty of options such as a bimini, underwater lights, drum winch, towing tower, sound system, and even an electric power option. Overall a well-designed and exceptionally well-finished superyacht tender that is also certain to find appeal in much broader markets. 
Boat Design Name: Southern Pacific Prodigy 490
Builder: Southern Pacific
LOA: 4.90m
Beam: (External) 2.16m
Beam: (Internal) 1.20m 
Construction: GRP / Hypalon
Deadrise: 21 deg
Weight (Hull/Engine): 480 kg
Fuel Capacity: 120 Litres
Engine: Textron TC-155
Jet Unit: Textron
Max Speed: 39 knots
Floor Covering: U-Dec
MFD: Garmin GPS Map 12" 
Priced From: $NZ80,000
Price as Tested: $NZ95,000