Amphibious boats have been part of boating landscape for over 15-years now, with growing numbers of builders adopting the technology and incorporating them into their model line-up. Freddy Foote checks out the Southern TT756 from Southern Boats and Tectrax.           
Southern Boats out of Mosgiel, is the latest Kiwi alloy manufacturer to start producing amphibious offerings for the New Zealand market. The renowned alloy builder has elected to partner with Tectrax; also a kiwi company, and also the only one offering an all-electric drive system for boats. 
Boaties wanting a traditional kiwi trailer boat, coupling it with amphibious technology is growing in popularity, and while it does come at a considerable cost, there are certainly some benefits to how they then go about their boating activities and use the boat. 
This particular boat is used by its owner to head out to from the OBC in Auckland to Great Barrier Island where he has a property. Once there, the Tectrax system allows him to quickly and easily drive up on land and out of the water. The ultimate commuter. 
All-electric? What is this technology, and how does it work? Designed and manufactured here in New Zealand, the Tectrax system is 100% electric, and with that does not need an annual maintenance check. The first check is two years after purchase, and it can be done by a boat dealer or by Tectrax.
Tectrax have several electric motor systems available, with the TT 756 we see here fitted with the T3000 system. 
The T3000 system has an expected run time of 35 minutes, assuming 30% soft sand or uphill, on flat asphalt, drive time is approximately 1hr and 5 minutes and expect a top speed fully loaded of 8km/hr on land. 
Using a standard electrical socket, re-charge time is two hours. The addition of the Tectrax T3000 system to the boat adds around 580kg to the weight of the boat. 
The electric motors are very powerful with high speed turned into high torque via a reduction gearbox, with power coming from a 72-volt battery. 
Should you run the battery flat, the internal battery management system will protect the batteries and not allow them to be damaged. An easy to understand display keeps you fully informed on battery levels, however. Unlike a traditional battery that slowly runs flat, Lithium Iron will stop v's running down.
While the system is electrically braked, each rear motor also has an integrated disc brake for safety, and all motors also have regenerative braking (re-charging the batteries) and all AWD along with traction control. 
Through a combination of chemical and mechanical seals along with design, the motors have an IP69 waterproof rating (total submersion). While the Tectrax wheels are deployed using hydraulics, the hydraulic system works off electrically driven pumps, so there is no need for an additional motor on the deck.
What you immediately notice about the TT 756 when you step aboard, is just how big it feels internally. It has noticeably high sides, which give an added feeling of security. This boat was built for a taller than average owner, so steps were taken in the design stage to make the cockpit sides higher for increased comfort and safety. 
Physically, the boat is big. The hull length is 7.5m, but with the addition of the platforms, it measures closer to 8.5m in length overall.  
Forward, there is a full lock-up cabin, and though it is a smaller space, with some of the forward area taken up by the Tectrax wheel, it is still more than ample for storage. There is also a toilet located under the forward Vee berth.
Though the boat is not designed to be an overnighter, some may be able to bunk down in there for a night depending on how tall you are. The helm is generously well appointed and finished. Centre is a large Furuno multi-function display, which integrates with the Tectrax control system. 
Above that are the Yamaha engine instruments while to the right is the control for the Maxwell anchor winch, wiper switches and Zipwake trim control. To the left are controls and switches for the Tectrax, while below is the VHF, and Fusion stereo system. 
At the helm itself, like other Southern's the seat is finished in marine vinyl and features a lift-up bolster, with a footrest below. The throttle is well-positioned within easy reach, and a sliding window provides ventilation while underway.
The general seating arrangement consists of king/queen seats on both port and starboard sides. Traditional storage options here are a limited as space is taken up with the Tectrax technology which sees a couple of electronic boxes and hydraulic systems housed under the seats. 
In the spacious cockpit, it has high extra high gunwales with thigh padding to assist anglers – although, in the case of this boat, you could describe it as waist-high padding! Double cockpit shelving takes care of storage for rods and like the rest of the cockpit and top decks, are lined with UDEK foam to help prevent knocks and scratches. 
A low profile walkthrough is featured in the starboard corners, which leads through to a boarding platform with ladder.  
In the transom itself, there is a live bait tank complete with a viewing window on the port side, while a bait board is centre, with various other storage lockers below which store engine batteries and house the onboard systems for engines fuel filters and pumps etc.
Underway, the TT 756 feels big, and it is. With the added weight of the Tectrax system, it has a tow weight of 3300kg. The extra weight is noticeable, which isn't a bad thing. What you gain in weight, gives the boat a ride even better in the moderate to rough water. The added weight, which mostly is down quite low, also makes the boat extremely stable.
I was expecting a drop in performance, not so. With the Yamaha F300 four-stroke on the transom, the big TT 756 still delivered a respectable 35 knots at 5800rpm. 
At a cruise of 18 knots at 3500 rpm, the Yamaha four-stroke was using 35.1L/H
The TT 756 was also fitted with a Zip Wake trim system which was fantastic, it is a big heavy boat, and it is susceptible to windage; however, the Zip Wake system allows you to make quick trim quick adjustments on the go which are almost instant.  
Navigating onto land is a simple process. Navigate towards your chosen landing spot, lower your wheels, then when the wheels touch the bottom, engage forward drive, and turn off your outboard motor. Checking the direction of your forward wheels and terrain in front of you is as easy as viewing the navigation screen which has a feed from the camera located above the front wheel.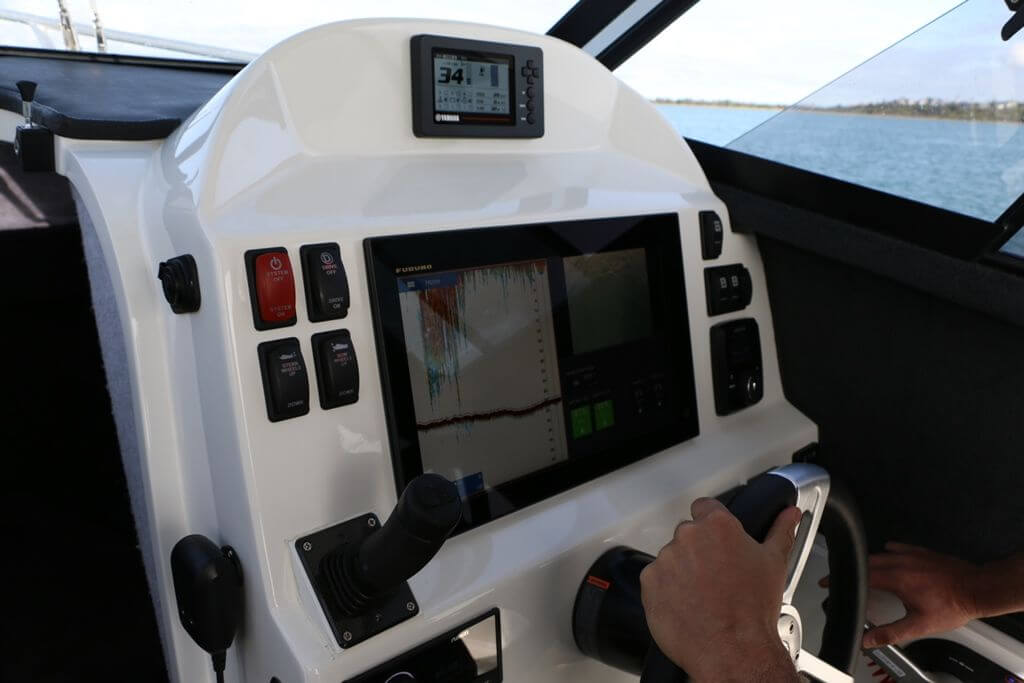 Overall, one of the best amphibious boats I've ever tested. 
I was the first journalist ever to test an amphibious boat back in 2004. Since then, technology has evolved, and the applications have improved. More and more boat manufacturers are challenging themselves to build better boats that appeal to a broader market.
If you are in the market to purchase a go-anywhere explorer, then the Southern TT 756 should be on the top of your list. 
Make &Model: Southern TT 756
Manufacturer: Southern Boats
Price as tested: $319,990
Type: Cabin              
Construction:  Aluminium
LOA: 8.40m
Beam: 2.45m
Deadrise: deg
Trailerable Wgt: 3300kg
Test Power: 300hp 
Propeller: Saltwater Series II SDS 17″
Maximum RPM: 5800
Top Speed: 35 knots  
Power Options: Outboard
HP Range: 200-350hp
Fuel capacity:  250L
| | | | | |
| --- | --- | --- | --- | --- |
| RPM | Knots | L/h | L/NM | Range  (NM) |
|   |   |   |   |   |
| 1000 | 4.8 | 5.1 | 1.100 | 200 |
| 1500 | 6.4 | 8.3 | 1.300 | 170 |
| 2000 | 9.1 | 14.7 | 1.700 | 130 |
| 2500 | 10 | 26.3 | 2.700 | 83 |
| 3000 | 12.5 | 31.5 | 2.600 | 86 |
| 3500 | 18 | 35.1 | 2.000 | 110 |
| 4000 | 22.5 | 49.4 | 2.200 | 100 |
| 4500 | 28 | 65.7 | 2.400 | 93 |
| 5000 | 31.8 | 88.5 | 2.800 | 80 |
| 5500 | 35 | 103 | 3.000 | 75 |
| 5800 | 35 | 103 | 3.000 | 75 |