Sportcraft Marine has built an enviable reputation for producing customer-focused, practical boats for family and fishing at incredibly affordable prices. PPB met company director Jamie Black in their Mt Maunganui yard to find out their secret.
When and how did Sportcraft start?
My father, Spencer Black, built his first boat when he was just 15 and has been involved in the designing, building and racing of boats ever since. In the 1980s he started Sportcraft Marine in Morrinsville. It was a fibreglass boat building business building Sportcraft 40 launches. In 1989, in the wake of the sharemarket crash, the company evolved into a more comprehensive marine business, selling new and used boats and engines and providing marine servicing. Initially we didn't have any boat or engine franchises but, within a year, we were representing Fyran aluminium boats and Mariner outboards. Soon, we were the biggest dealer for both brands. Because of our success, Fyran started to seek our input into their new models and, using both our own experience as keen fishers and divers and that of our customers, we became very involved in their new designs.
Then, as the demand from our customers grew, we got them to build special models just for us, to our designs and specifications.  That was the birth of our Scorpion aluminium boat range. However, as the popularity of our designs grew, we realised we needed to be building our own boats and we started full-on production at our Morrinsville base.
While our Scorpion models were proving really popular for family boating, it soon became apparent that we also needed a range of boats for the increasing number of keen fishers. So we bought the Bluefin range, modified them to meet our customers'demands, and put them into production too. When the Mariner range was absorbed into the Mercury brand, we became a Mercury and Mercruiser dealer and are now one of Mercury's biggest dealerships. In 2002, we opened our Mount Maunganui branch in the Bay of Plenty. We now offer Scorpion and Bluefin boats and Mercury sales and service in Morrinsville and Scorpion, Bluefin and Fi-Glass boats and Mercury and Honda outboard sales and service at Mount Maunganui.
How many boats do you produce each year and which model is the most popular?

We produce about 110 boats annually across the Scorpion and Bluefin ranges. Our most popular model is the Scorpion 610 Hardtop, probably because it is just so practical: it has a big, full-length cabin, with 1.8-metre berths; lots of fishing room in the cabin and is easily towed by a normal family vehicle. It
comes standard with a Mercury 90hp, VHF, fishfinder and is completely ready for the water. It is just $44,500 and, although many people upgrade to the Mercury 100hp 4-stroke, it is still is a heck of a package for under $50,000!
What makes Sportcraft boats so special?
The people who design the boats actually use the boats, so they are designed for practicality. They are well laid out, with a lot of clear area for fishing and good cabin space, too. The cabins are designed with sufficient headroom and length so they are comfortable to sleep in; the gunwales are wide and flat so they good to sit on and use. Our boats come as a complete package, too — they are ready to go in the water. Lots of items such as the anchor, the baitboard, the hand rails, therocket launchers and rod holders are all standard, not additional extras. And best of all, they are very well priced.
How do you keep the quality up and the prices so low?
We are a proper production boat builder and, in many ways, are more like a carmaker than a traditional Kiwi boat builder. Rather than building the boats to order, we build them in batches, confident that they will sell quickly. We order lots of components at a time, we sell direct to our customers (eliminating the middle man and their margin) and we operate on smaller margins ourselves. All of that helps keep prices down.
Do you sell all your boats locally or do you have other dealers here and/or offshore?
We sell direct to our customers all over New Zealand. One of the advantages of our Mount Maunganui base is that it is very close to Tauranga airport. We have people fly in, take a boat for a test drive and then fly back home. It is very convenient. We also sell some boats offshore, especially in Australia, where there are Kiwis who know our brands and want one over there. Again, all those sales are direct to the owners, so that keeps the boats competitive. We do have a dealer in Noumea but, at the moment, we are mainly focused on satisfying the growing market here in New Zealand.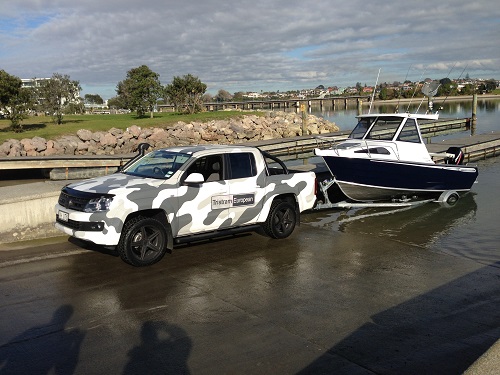 What is your favourite model and why?
My personal favourite is the Bluefin 665 Hardtop. It is a really big volume boat, more like a 7-metre really, but more manageable. You can take friends out in it or use by yourself; fish close in or head out to offshore islands like the Mercs or Mayor. It has a big cabin but is also big out the back for fishing and the cockpit has high sides and big gunwales.
What are Sportcraft's plans for the future?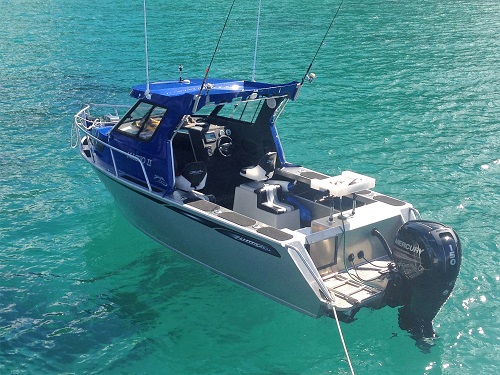 We are in the middle of a major revamp of both ranges at the moment and that will be our focus for the next year to 18 months. We are giving all our models a more modern look, with curved windscreens and different window shapes. We are also incorporating a lot of the feedback we have received from our existing customers — mostly little things that will help make the boats even more practical and easy to use. We are also expanding our manufacturing facility in Morrinsville and expect to be producing more bigger boats (especially in winter), like our recently released 780 Weekender with its separate toilet and shower, which is proving very popular. 
We are expecting to see even more customers choosing to put 4-stroke outboards on their transoms and we are gearing up for that. That change is partly driven by the better fuel economy but more importantly by the much greater range it gives the boat owners. Our servicing department will probably continue to grow, too. We now have six of the highest qualified technicians in our Mount Maunganui facility and are the only New Zealand dealer ever to have won Mercury's Stephen Mills Award for service excellence. Most importantly, we plan to continue producing high quality, practical family and fishing boats at a good price — and including a wide range of items that others treat as additional, and more expensive, extras.