Text by Mike Rose
Stabicraft's new 1600s are believed to be the world's first aluminium trailer boats to feature carbon fibre in their construction.
As one of New Zealand's leading aluminium boat manufacturers and exporter, Stabicraft has become something of a victim of its own success. Steadily increasing demand for its boats in recent years has put incredible pressure on its Invercargill production line.
As marketing manager Daniel Upperton explains: "We needed to find a way to get the boats through the build process faster."
That meant moving away from purely aluminium construction; instead employing modern composite construction techniques to create attractive, functional superstructures that were relatively quick to manufacture.
After a considerable amount of thought and research the company has settled on a system that combines their proven aluminium hull designs with superstructures made from carbon fibre and resin-infused composites.
Under the name Project Carbon, the new construction system has been used first in the company's newly-designed 1600s: the centre console Frontier and the open cuddy style Fisher.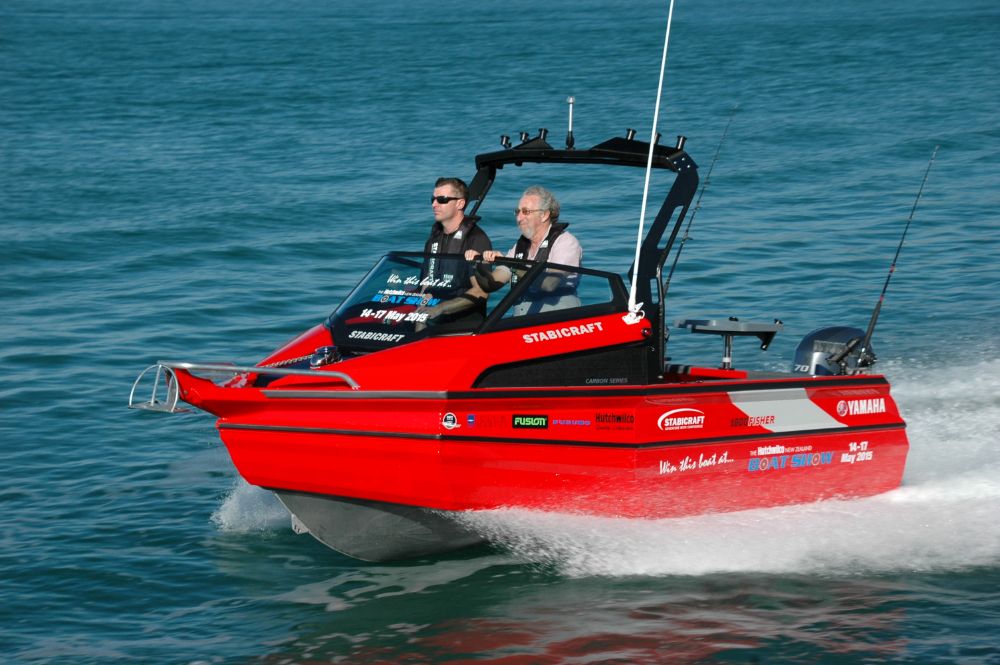 To ensure the new project received as much publicity as possible, Stabicraft decided to unveil these new carbon models at the Hutchwilco New Zealand Boat Show in Auckland in May — and to offer show organisers one of each new model to give away at the show.
The organisers, quick to see the value in such an offer, paired the two boats with Yamaha's 70hp four-stroke outboards and added a boat-load of extras to each.
The result is two stop-and-take-a-second-look fire-engine-red Stabicraft/Yamaha boat packages that, to celebrate the show's 60th anniversary, are each worth around $60,000!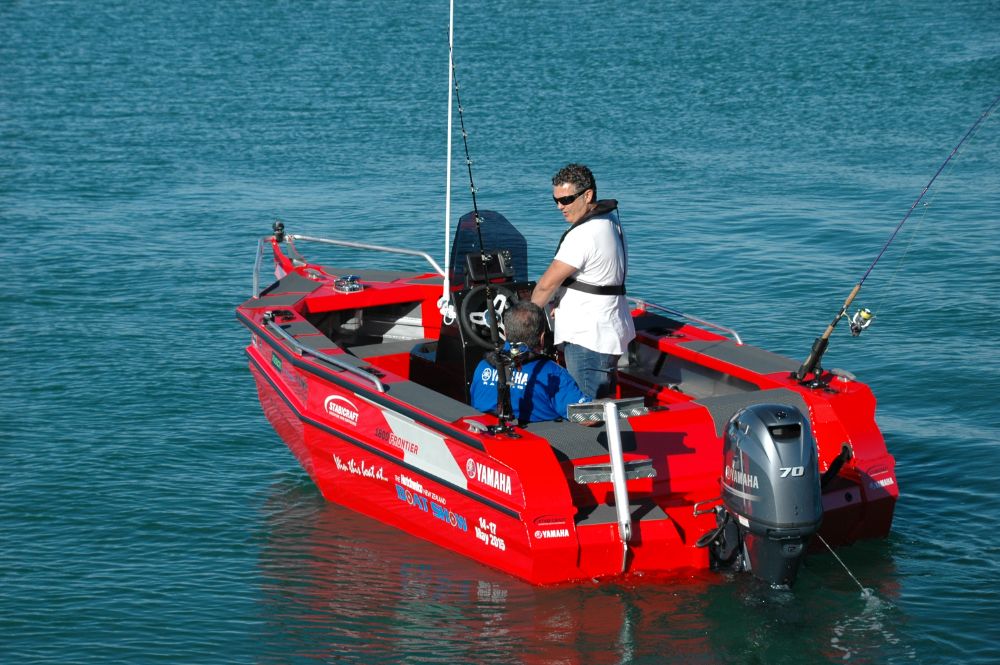 As if to celebrate the arrival of the two prize boats in Auckland, mother nature turned on a spectacular autumn day: brilliantly fine with just a small breeze.
Manoeuvring in close to the seawall at the Gulf Harbour Marina, the 1600 Frontier and Fisher proved easy to control both at idle and at higher speeds. A lot of that is due to the fact that the boats have been designed literally from the keel up.
Although their design draws on the 14-year success of the 1530 Fisher and characteristics from the very popular 1650 Fisher, these new hulls (which are identical) also incorporate Stabicraft's relatively new Arrow Pontoons and Game Chaser Transoms.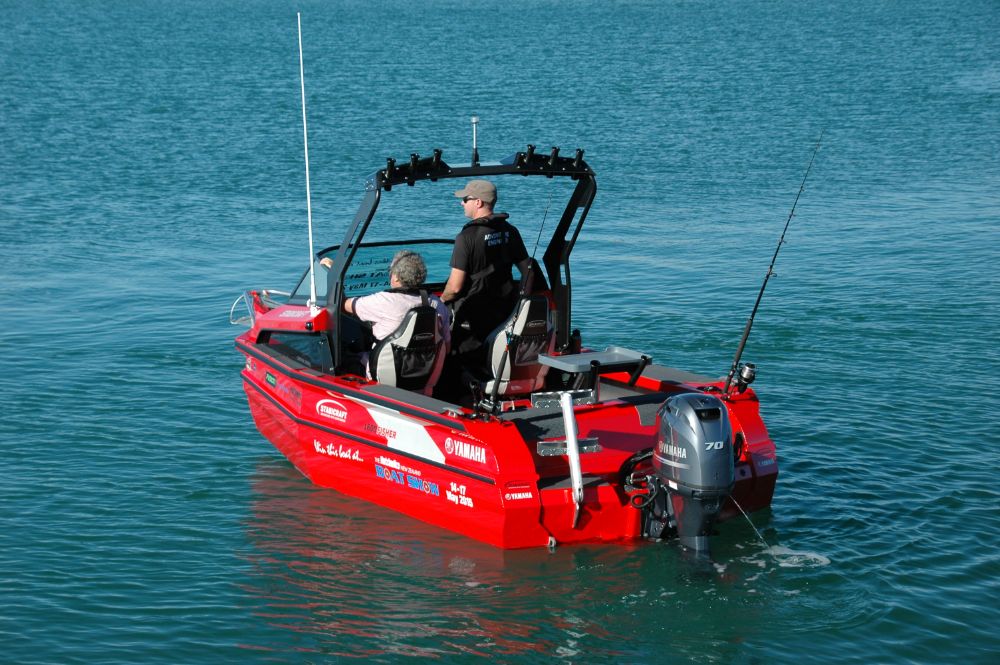 The former gives the boat a much softer ride by raking back the weld lines at high impact points, such as at the shoulders. Meanwhile, the wedge-shaped Game Chaser Transoms have a number of benefits. Their shape adds a huge amount of strength to the boat while also creating far better manoeuvrability when backing down on fish or reversing inside tight spaces (by allowing the water to flow around the transom rather than trying to push or shovel it).
With a demanding photographer insisting we pass close by (at speed and at varying angles) and manoeuvre in formation around his lens, we find ourselves giving the boats a pretty rigorous workout. What I found was a hull with no discernable vices: one that responds quickly with a light helm (even without hydraulic steering, which is offered as an upgrade), one that turns tightly when required, which backs up without fuss and which does not appear to need trim tabs, regardless of what angle the wind is coming from.
As one would expect from such a popular and tried and tested outboard, the F70 performed flawlessly. Being one of the very lightest mid-range outboards on the market (either two-stroke or four), it is also incredibly efficient.
After rigorous testing by Yamaha Motor NZ Ltd's Hugh Stewart and Mark Taiatini, the two boats were found to perform best with Yamaha 13.5" 3-bladed 14" pitch propellers; the 1600 Fisher with a Black Satin Finish model and the 1600 Frontier with a polished stainless steel model. The slightly heavier Fisher topped out at a touch over 30 knots while the lighter Frontier hit 33 knots.
On board, the Fisher's most striking feature is definitely the carbon fibre centrepiece of the dash, closely followed by the unique windscreen with its deep centre.
The dash is an ultra-modern design made of five different panels and with the type of sharp changes of angle one would normally see on a supercar such as a Zonta or Lamborghini. One of the reasons for this is to accommodate a great one-piece windscreen centre panel: with its deeper middle giving great visibility forward without the need to stand up.
Daniel is clearly a big fan: "It was enormously difficult to get right but doesn't it look good?" No question; it does.
Daniel says a motivating factor in the design was to make a boat that didn't require its owner to have to go to a lot of effort when using it. For that reason, the Maxwell RC6 windlass, operated from the dash and attractively sited in another carbon fibre panel, comes standard rather than being an optional upgrade. It is also another reason for that deeper-than-usual windscreen centre, which allows you to see the winch working from both the driver's and passenger's seats.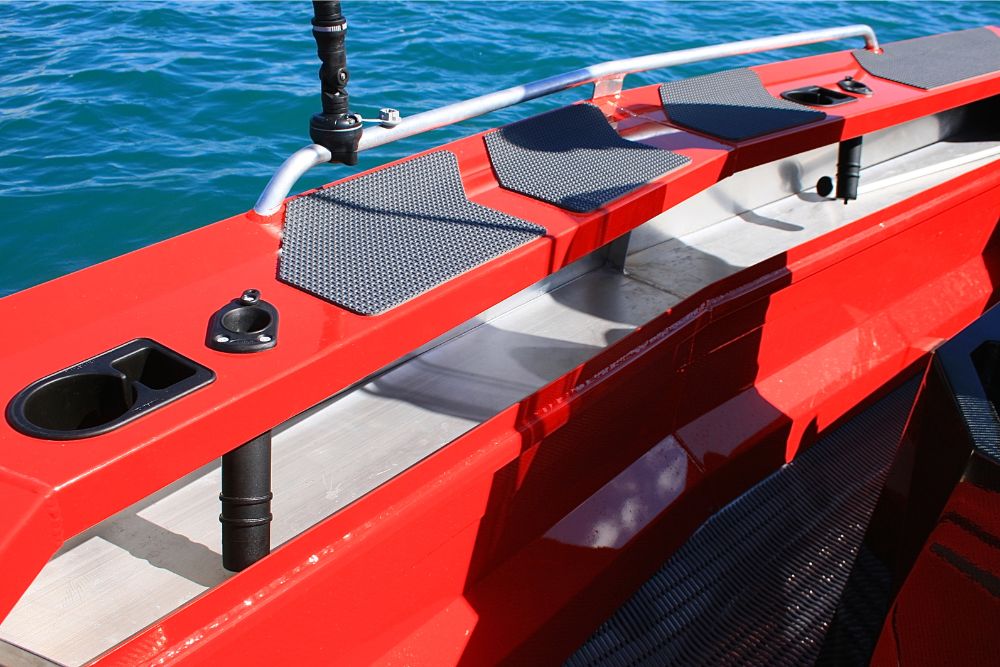 Keeping things simple means that the Fisher's impressively staunch-looking carbon fibre rod and canopy holder hinges aft simply by pulling a pin on each side. It also means that there is a full-width return across the base of the cuddy, stopping bags and the like from sliding back into the cockpit and doubling as a comfortable footrest.
It also means positioning the Furuno GP1870F Chart Plotter/Fish Finder in the centre of the carbon fibre dash, where it can easily be seen by everyone on board. (The GP1870F, which features Furuno's unique Bottom Discrimination and ACCU-Fish features, and the Uniden UM380 VHF on the passenger's side of the dash, are integral parts of the boat show prize packages).
The 1600 Fisher comes standard with Stabicraft branded Fish Pro seats on open aluminium bases offering still more stowage. I thought the Fish Pros were great but those wanting something more special can opt to upgrade to a pair of bolster seats.
Another feature of which Daniel and the Stabicraft team are particularly proud are the Wing Style Coamings or WSCs. These were initially introduced on Stabicraft's 1850 Supercab and quickly proved such a hit that they are now gradually being fitted to lots of other models, including these new 1600s.
Offering additional protection and deflecting away chop in rough conditions as well as providing a safe passage forward to the bow if needed, these extra wide coamings are also a great place to sit when fishing. They also provide a good place for the Stabicraft-designed Railblaza Multiholders. Exclusive to Stabicraft these are sited alongside a traditional Railblaza rod holder and combine a sinker/tackle holder with a drink holder. If conditions are kind and one is feeling particularly brave, they can also be used as a handy spot for a mobile phone.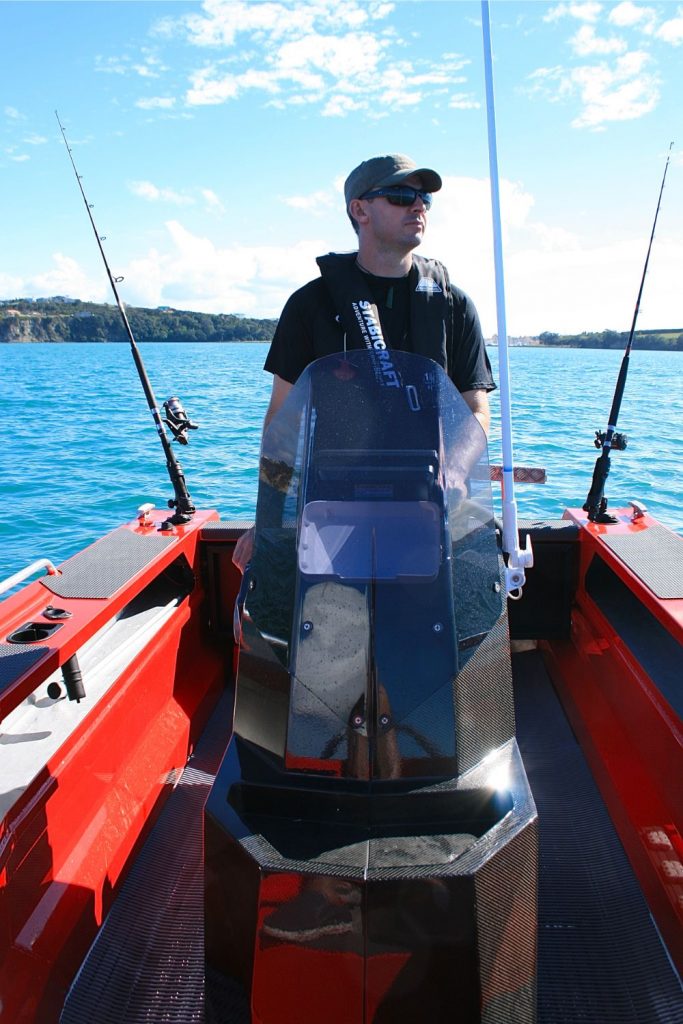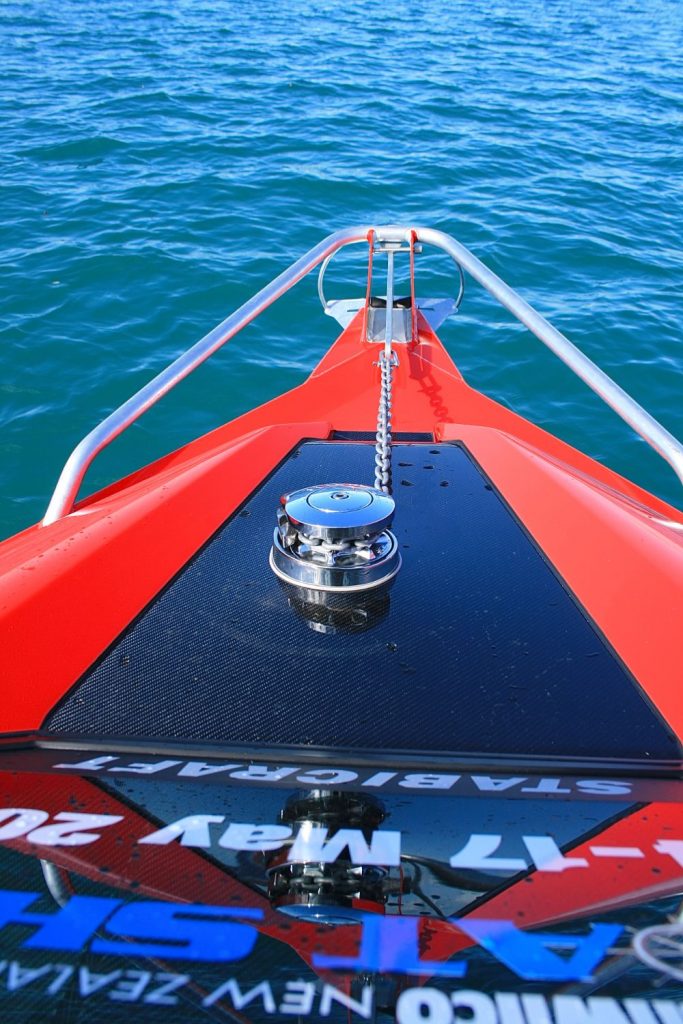 There are two Multiholders and another two rod holders on each WSC (four of each in total) along with well-paced areas of anti-skid. There is more rod stowage in the wide side lockers below and another six rod holders atop the rod and canopy holder which is also home to the white centre light.
A lot of thought has also gone into the new 1600s' transoms. There is a fold-down seat on each side and a centrally-positioned baitboard. Wide areas of anti-skid adorn the top of the transom, to provide safe access to the wide platform, which is also generously endowed with anti-skid. A swing-down two-step ladder is to port.
Under the transom, Stabicraft have reversed the normal order of things and placed the battery box right aft against the rear bulkhead and moved the sump well and its bilge pump forward. Daniel says the thinking behind this is that the battery does not need to be accessed anywhere near as often as the bilge. That may be true but I suspect some will have concerns about the possibility of swamping and the effect that might have on a battery so low down.
As you would expect on boats of this size, there is no underfloor fuel tank. Instead there is space for a tote tank out of the way below the transom, on either side of the battery.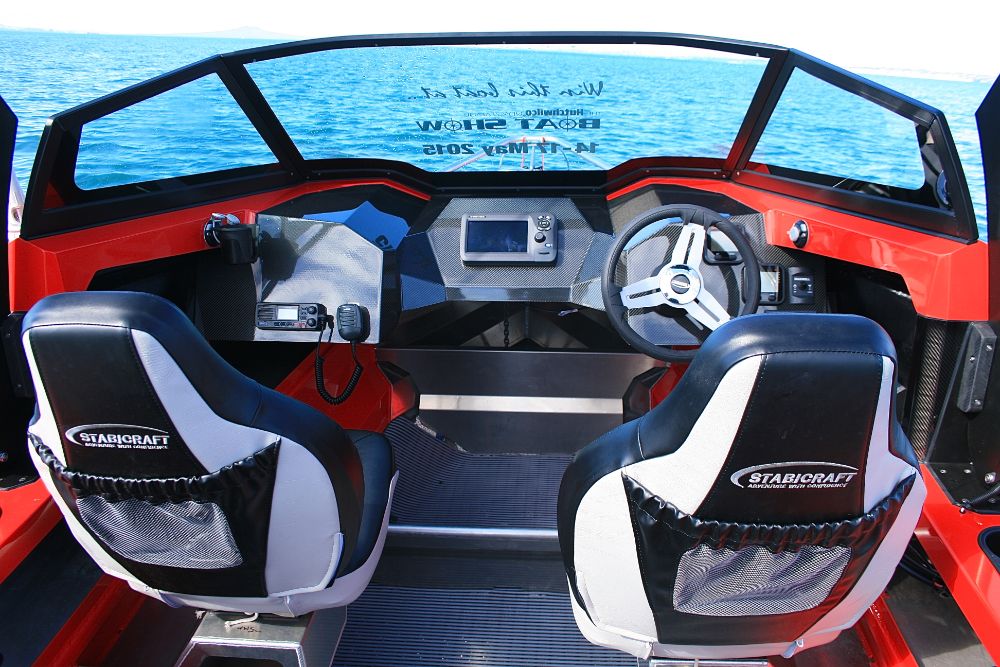 Although I expected that the Fisher would be, by some considerable margin, the more popular option, Daniel was quick to correct me.
"Our centre console models have really taken off in recent years," he says, adding that the increasing popularity of soft baiting and other forms of lure fishing is probably the reason.
The 1600 Frontier features the same hull as the Fisher and the coamings and transom area are also identical. The centre console module, however, is completely new.
"We decided to challenge the traditional centre console set-up and really find out what our customers wanted in a Frontier configuration," says Daniel.
"After hours of research and talking to our dealers and customers, we believe this is the ultimate layout for any style of fishing."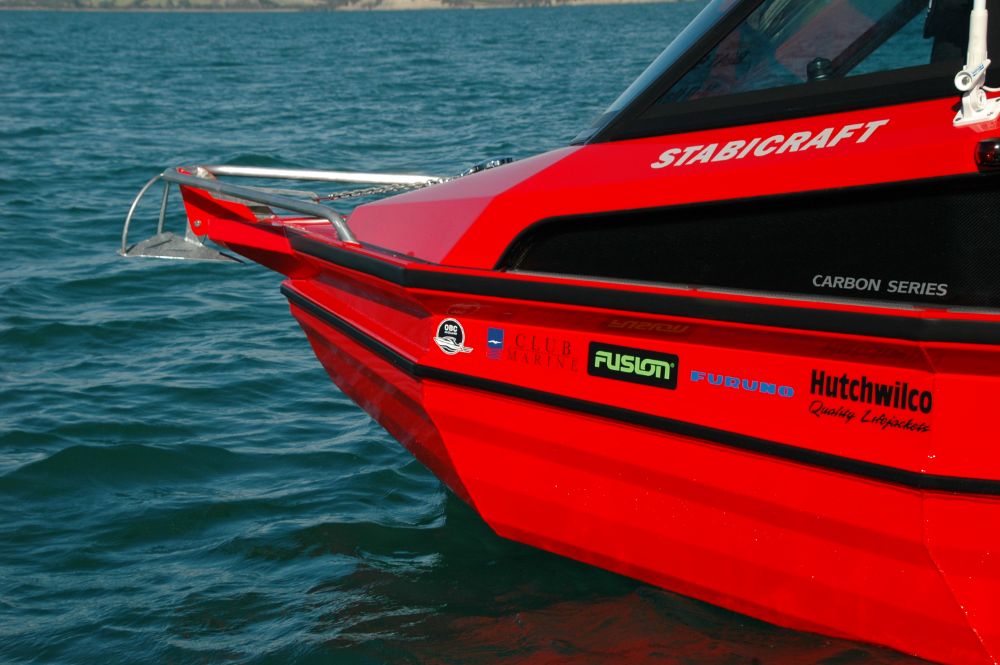 The new console is made from carbon fibre and other composites and features a number of subtle ergonomics. Perhaps the most noticeable of these is the recessed throttle control which now sits within the console's overall parameters rather than awkwardly jutting out into the walkway. Another is the deliberately angled, protected flat area on top for an MFD.
Like other Frontier models, the 1600 comes complete with a handy chilly bin/helm seat. In this case, however, provision has been made for the chilly bin seat to slide away into an opening in the base of the console, leaving the aft cockpit clear and uncluttered.
In front of the screen is another padded seat, with a shallow open locker beneath.
Another innovative addition is the forward casting platform, which comes standard with dry stowage below and is ideal for a wide variety of fishing styles.
On the Hutchwilco New Zealand Boat Show's prize boat, the Frontier, like the Fisher is powered by a Yamaha F70 70hp four-stroke outboard and comes equipped with a Maxwell RC6 windlass, the Furuno Chart Plotter/Fish Finder and Uniden VHF.
For two lucky people, this year's Hutchwilco New Zealand Boat Show will be a very special one. Shortly after the show closes at 6pm on Sunday, May 17, they will receive a phone call advising them that they have won one of these two amazing Stabicraft/Yamaha Grand Prize Packages, each worth around $60,000!
The rest of us, who are not so fortunate, will, if we are looking for a 4.88-metre runabout, have two very fine new models from which to choose. Both the Fisher and Frontier are a marked step up from their predecessors, and those were very fine craft, too.
The addition of the carbon fibre, the large single windscreen centre panel with its lower centre, the clever shapes and touches all make these two vessels something very special.
I love the way they look (especially the way the bright red paint contrasts so splendidly with the black carbon fibre), the way they perform and the way they both work so well as functional fishing boats.
Model & Model: Stabicraft 1600 Frontier & Fisher
Priced from: $
Price as tested: $
Type:  Centre Console (Frontier) | Cuddy Cabin (Fisher)
Construction:  Alloy & Carbon composite
LOA: ??
Beam: ??
Deadrise: 17.5 degree
Weight: 185kg dry
Test Power: Yamaha F70
Propeller: 3 Bld SS 14" x 13.5"
Power options: Outboard Only
HP Range: ??
Fuel capacity:  Tote Tanks
FUEL & PERFORMANCE DATA

Stabicraft 1600 Frontier & Fisher

Fuel capacity:

22

litres

 

RPM

Knots

L/h

L/NM

Range (NM)

1000

2.5

1.1

0.440

45

1500

5.0

2.1

0.420

47

2000

5.5

3.2

0.590

33

2500

7.5

4.5

0.600

33

3000

9.0

6.6

0.740

26

3500

13.0

7.9

0.610

32

4000

16.0

9.2

0.580

34

4500

19.0

12.3

0.650

30

5000

22.0

15.5

0.710

27

5500

23.5

20.2

0.860

23

5700

25.5

22.4

0.880

22

6300

30.5

23.8

0.790

25