AWARD WINNER
 Stabicraft's 2250 WT (Walkthrough) breaks with alloy hardtop design convention and brings a whole new meaning to practical boating. Barry Thompson checks out this very unique creation from New Zealand's largest alloy boat manufacturer.
Now that's different. What is it?" said a guy standing beside me on the foreshore at Gulf Harbour as I was busy snapping some running shots of one of Stabi's latest creations.
"It's a Stabicraft 2250 Ultracab WT (Walkthrough), and yes, it is a bit different from the common hardtop alloy boats you see around here, and that's what's so good about it".
Did he like it? No, but then he was driving a new Tesla 3, and I didn't see him as the sort of buyer for this very unique and very practical vessel. This is a boat for someone who sees past the aesthetics and is more concerned about the practicality and useability of the boat. Style is defined as shape or design, and when it comes to the 2250 Ultracab WT, it is well defined and self-assured. It boldly makes a statement about what it is, which alone makes this an extraordinary vessel.
Released at the 2021 Hutchwilco NZ Boat Show, the 2250 is available in three versions, two walkarounds, the 2250 Centrecab, 2250 Ultra Centrecab and the 2250 Ultracab WT. The Centrecab's are, as the name suggests, walkaround designs with a large central cabin or wheelhouse. While they are both based on the same hull, the 2250 Walkthrough has a steeper keel angle, providing more bow volume.
It wasn't until later in the year that I was able to get aboard one of the first 2250 Ultracab WTs, supplied by New Zealand's biggest Stabicraft dealer, Gulfland Marine, Hibiscus Coast, Auckland. Owner Craig Lewis had mentioned before to me about the boat and reckoned it was one of the best Stabicraft has ever designed and since being released in May 2021 he has sold quite a number, with orders now well in to late 2022.
His sentiments about the 2250 Centrecab WT are borne out of the fact that the boat was awarded the prestigious 'Best of the Best' Red Dot Design Award for global product design in the watercraft category for 2021.
Designed for the American market in the Pacific Northwest, the Stabicraft 2250 Ultracab WT transformed over a four-year period into what it is today. Akin to the Oscars of product design, the Red Dot Awards are one of the world's largest design competitions.
The 'Best of Best' Red Dot Design awards are only given to the standout in any given category. Some years none are awarded. Winners are often globally recognised names – last year, the Ferrari SF90 Stradale and the Honda E Electric car won 'Best of Best' Red Dots.
10,000 PLUS
It's been around 35 years since Paul Adams 'invented' the world' first aluminium positive buoyancy chambered boat, and the rest is history. Since then, the Invercargill based builder has built-in excess of 10,000 boats and exported them worldwide. The secret behind all Stabicraft's is what the company refer to as the Life Ring Protection, which comes from individually sealed air and water-tight aluminium chambers that wrap right around the hull. The 2250 can be filled with water and remain level on the surface.
The ethos of Stabicraft has always been based on being the best at what they do. As founder Paul Adams says, "In some cases, this is about tweaking the wheel to make it faster, safer, more efficient. In some cases, it's about reinventing the wheel. And in other cases, it's about asking – do we even need the wheel?"
BUILT TO LAST
When your backyard testing ground is Foveaux Strait, one of the harshest marine environments in the world, you have no option but to build your boats tough, real tough. The 2250 Ultracab WT is constructed using 6mm hull plate with 4mm tubes and has a dry hull weight of approx. 2000kgs. Towing weight is around 2800-3000kg.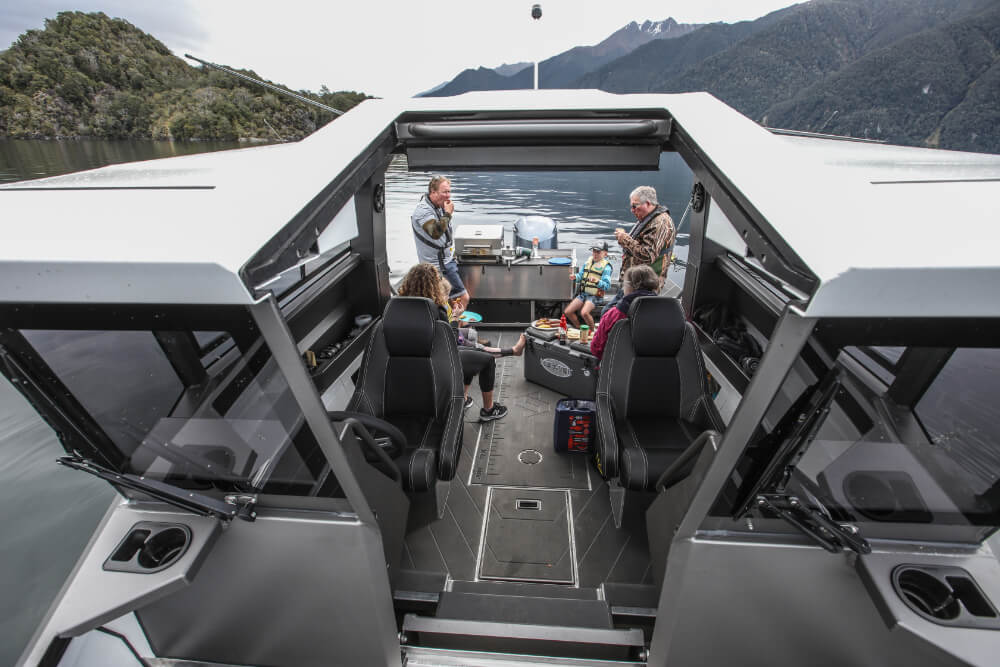 Length overall is 6.90m, with an external beam of 2.55m, an internal beam of 1.97m and a height on the trailer of 3.0m. Stabicraft offers a five year warranty on the 2250 Ultracab WT, which also carries USC, CPC & CE standards. Not only built tough but also built to the highest standards possible to meet the requirements of the world markets.
While 200hp is recommended as the standard package, our boat ran a 300 Mercury Verado, which gave a top speed of 42 knots @ 5800rpm. Conditions on test day were mirror-smooth, so needless to say, the boat ran perfectly. This is a big boat, designed for reasonably big water. Acceleration with the 300hp V8 Verado was excellent, with the 3-blade stainless, 17″ Enertia propeller bitting hard from the get-go. Our boat was fitted with the Mercury SmartCraft DTS (Digital Throttle & Shift) that delivers precise and smooth handling with instant response. Also, you will notice that when putting the engine into gear, it is a lot smoother and less clunky.
Stabicraft has paid a lot of attention to the transom area where there is flexibility to mount a single 30″ engine or twin 25″ engines, thanks to being cleverly engineered in a way that you can adjust for height regardless of twin or single outboard solutions. Very smart.
TWO OPTIONS
The 2250 Ultracab WT is available in either a Base package, which comes standard with the innovative 3-piece walk-thru door design leading out onto a forward utility deck and a tri-mount transom. With a vast list of sleeping and seating options, you can configure the base package to almost any type of boating setup.
The Offshore package is upgraded from the Base package with a three-sided canvas rear cabin curtain and a much longer transom box for those XOS sized fish. The Offshore package is equipped with 2 x 70L Icey-Tek coolers and the availability of a sleeping v-berth system with fold-down extensions.
Our boat, only the second production 2250 Ultracab WT delivered, was up-speced with the canvas rear cabin curtain replaced with a rear wall with lockable door, Maxwell drum winch, Udek flooring, a bow step ladder, Porta Potti and live bait tank.
The owner has plans to use the boat both for family cruising and serious fishing. Hence the 22-rod holders scattered throughout, from the rocket, launch to the side coamings and transom. There is also a 1KW transducer on the transom to feed all the fishy information back to the Simrad Go12 MFD.
PIECE DE RESISTANCE 
Both ends of the 2250 Ultracab WT have been given special attention to make them as workable and practical as possible. The cockpit is designed for fishers, with plenty of workable flat spaces, wide coamings with rod holders, and an extra-large live bait or kill tank.
Provided with the 2250 Ultracab WT is a pair of Icy-Tek split lid 70-litre bins complete with Stabicraft embossed cushions. There is a storage tray on either side, with the batteries all neatly hidden aft behind a black panel. No storage underfloor as the centre is taken up by a 378-litre fuel tank and buoyancy chambers. The pontoons have been injected with foam to adding quietness to the boat. No slapping noises when at rest or underway.
But it is the forward bow utility deck that really sets this boat apart from others. It is the perfect platform for not only loading or unloading your gear but also for soft baiting.
There is a deep storage bin in the sole, and a Maxwell drum winch is hidden away under a forward hatch. There are also coaming handrails all around for safety. The starboard side drop-down ladder is something I have not seen before, and it certainly makes sense. Great when nudging up to a beach and needing to unload/load all the kids and gear.
But the piece de resistance has to be the unique three-piece walk-thru door system. When closed, the door seals tight against the super-structure of the cabin and is an easy 3-step operation to open to then lead out onto the bow deck area. It allows you to maximise the internal space and makes access to the utility deck a simple task. In fact, with no side decks around the wheelhouse, it is the only way forward anyway.
IDEAL WEEKENDER 
While this is undoubtedly a boat for the hard-core adventurers, it also has a thoughtfully laid-out wheelhouse, with comfort in mind and plenty of arrangements available. The owner chose to stay with the standard seating package of two swivelling bolster bucket seats forward and bench seats aft.
By adding a couple of infills, the rear seats can be transformed into a second berth. There is storage under the port side and a Porta-Potti to starboard.
Storage is provided in side trays and a deep open locker ahead of the forward passenger seat. The driving position is excellent, with comfortable seating and plenty of room to stand at the helm. What you cover the dash in is your choice, but we had a Simrad GO12, Simrad VHF, all the Mercury Smartcraft controls and DTS.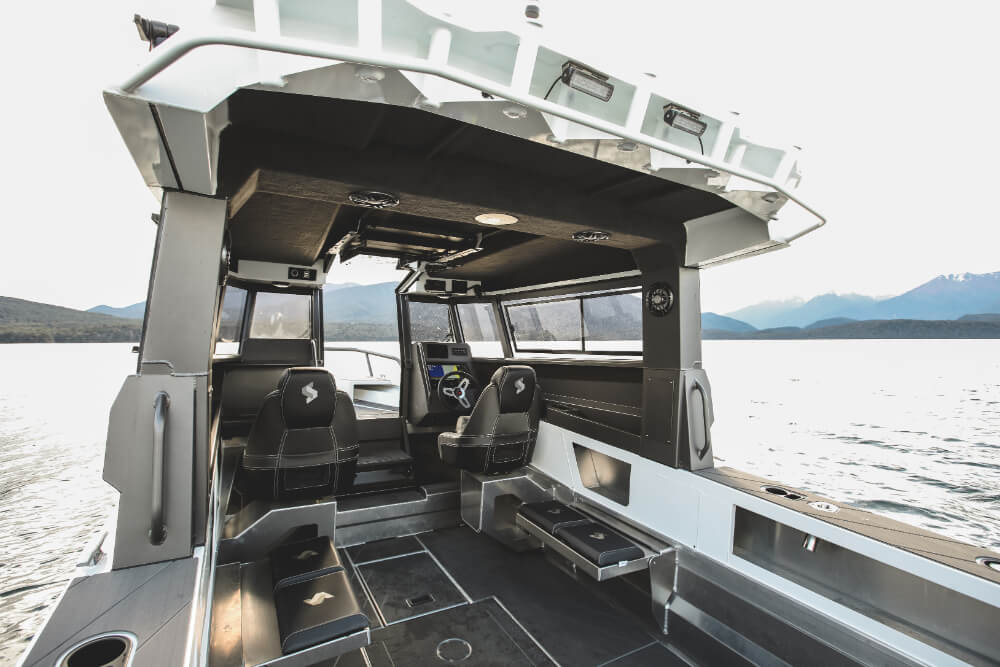 Another neat feature is how the full-width footrest folds back to extend the already generous forward berth. Another great little extra that Stabicraft has added. There is no galley on the boat I reviewed, but again there are options to do that. Personally, I would have a Magma BBQ mounted in a rod holder or on the bait board. Add a freshwater system and handheld shower, and you have all you need for staying out for a few nights.
ALL-ROUNDER
Overall, once you accept the style and design of the 2250 Supercab WT, you can't fault it. Stabicraft says it is the ultimate beast for hard-core adventurers with proven rough-water performance, strength, and stability. It also has a great layout and some unique features, such as the utility deck that makes it appealing to family boaties looking for a genuine all-rounder. Fishing in the Hauraki Gulf, spotting for deer in Fiordland or overnighting at Great Barrier, this is a boat that can do it all. 
Boat Design Name: Stabicraft 2250 WT (Walk-Thru)
Year Launched: 2021      
Builder: Stabicraft Boats            
Designer: Stabicraft            
LOA: 6.90m
Beam: 2.55m
Height on Trailer: 3.00m
Deadrise: 17 deg            
Tow Weight: 2800 kg (approx.)      
Max Speed: 42 knots        
Construction: Aluminium 6mm/4mm
Class: USC,CPC,CE                                        
Fuel Cap: 378 litres
Engines Make: Mercury 300 Verado V8                                
Drive Train: Outboard Only 200-300hp
Trim Tabs: Lenco
Flooring: U Dek
Lighting: Hella
MFD: Simrad GO12
Winch: Maxwell Drum              
Priced from: $NZ194,000