Stabicraft have always been market leaders and the recently released Stacer 429 Seamaster 2500 Ultracab XL is no exception. Barry Thompson checks out this new and very distinctive addition to the Stabicraft range.
It's a while since I have done a review on a Stabicraft, so it was with particular interest that I took up Craig Lewis's offer to have a run in the new 2500 Ultracab XL with a Mercury 250 V8 Verado he had just rigged. As Craig is both New Zealand's top Stabicraft and Mercury dealer, it only seemed right to accept.
I have had some experience already with the Mercury V8 and what an engine. Power plus from zero to 6000 rpm and as I was to find out, a perfect match for the big Stabi. Gulf Harbour on a crisp winter morning was the venue and while the sea was calm and the air chilly, driving from inside the wheelhouse left me warm and comfortable.
The first thing you notice about the Stabicraft 2500 Ultracab XL is the distinguishing reverse sheer windscreen, which was popularized in the Alaskan crab boat industry in the 1970s, where the leaned forward glass wheelhouse was designed to help keep the breaking seas impacting the glass. In Alaska, this fashion is still referred to as a 'crabber cabin' design. Anyone who has watched the popular Deadliest Catch TV Series will know what sort of seas these boats go through and while it is highly unlikely that you will ever experience them in your Stabicraft 2500 Ultracab XL, the principle is still the same.
The reverse sheer, on the Stabicraft, is not acute but it does make a difference to avoiding reflection of instruments at night and cuts glare during the day (especially for salt covered glass), as well as offering excellent visibility from the pilothouse helm. While traditionally more associated with work boats, the reverse sheer screen has become an accepted style in the recreational market, especially in Scandanavia, France and Alaska. Kiwi designers have not been fast in coming forward with reverse sheer screen designs, and it is only the aluminium manufacturers, such as Stabicraft that have embraced it.
Stabicraft's first was the 2500 Ultracab XL in 2015, but it was the 2750 Ultracab that set a new benchmark. With the release of the 2750 Ultracab a few years ago, Stabicraft new they had hit on the right formulae, so it was only natural that smaller versions would follow. The new Ultracab series now comprises three models: 2250, 2500 and 2750, all of which are available in a more upspeced XL version.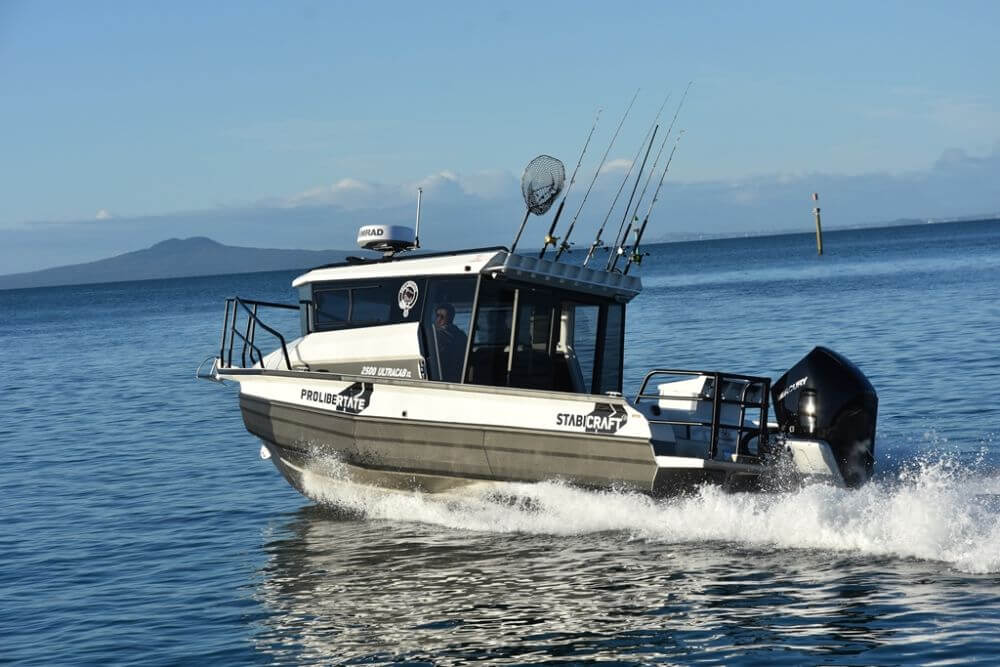 The Stabicraft 2500 Ultra Cab is single, or twin outboard optioned, with our test boat running a Mercury 250 Verado V8. This engine has some serious power and acceleration is impressive. The transition is smooth and seamless and helped by the addition of Active Trim, there is hardly any 'hump' as you get on the plane. It is extremely quiet, and I love the new stylish cowling profile.
Maximum speed was 34 knots @ 6000 rpm, and the boat had a real sweat cruise spot around 4500 rpm @ 23-25 knots. With the standard 378-litre fuel tank that means you have a range of just over around 210 nm at between 4000-5000 rpm.
I was impressed with the Mercury Active Trim, which is an integrated GPS, speed-based automatic engine trim system. This intuitive, hands-free system continually adjusts engine trim based on changes in boat speed. There are five adjustable profiles available so you can select one that suits the most efficient running attitude to compensate for changes in boat loading weather, propping and your preference for how you like your boat to run.
Push the throttle down or bring it back and the engine trims accordingly in sync with the trimming preset you have entered. You are not 100% locked into the Active Trim and still have the option of using the manual trim buttons. While I did, it was only to see the difference and quickly went back to leaving the Active Trim to do all the work. All I needed was a little tab to compensate with the heel of the boat, something that big hardtops are especially susceptible too.
We played around with different optimum trim settings and what a difference. The boat responded accordingly to the boat manoeuvers, and you could clearly hear the Active Trim working when I hooked the boat into the tight hard wheel to wheel turns or from the holeshot. I agree with Mercury when they say that you don't need any knowledge of trimming an engine if you have Active Trim.
What I found interesting was the big difference in speed and fuel consumption between the different profile settings. They were not as I would have expected, with the fastest speed (34 knots) recorded with the Active Trim on the more trimmed-in preset position 1, which dropped to 30 knots on the midrange trimmed preset position 3.
There was also a noticeable difference in fuel consumption at the top end with 76 lph on position 3 and 85 lph on position 1. But they equalled out with an identical 130 nautical mile range. The question is, do you want the best speed or best fuel economy? With Active Trim, you certainly get that choice.
No question this is a boat set up for extended overnighting as much as it is the ultimate fishing platform. Stabicraft certainly are known as seriously tough fishing boats and are used throughout the world, from chasing salmon in Alaska, Torsk in Sweden to Barramundi in Nth Queensland and snapper and kingfish back home.
The owner of our test boat likes to both fish and family cruise and with a small family has set his boat accordingly for trips away with boys to family day trips and weekends. There is a dedicated accommodation space forward, divided from the pilothouse with bulkheads and a central curtain for privacy. However, the bottom half of the bulkheads can be folded down to increase the length of the two full-length berths to over 2m. There is also an infill to transform the space into a large single berth and a plumbed-in head under the centre squab. The cabin has plenty of storage,plus ample light and ventilation from a sizeable overhead deck hatch as well as side ports.
The pilothouse style of the 2500 Ultracab XL lends itself to winter boating. Close the rear door and sliding side windows and turn on the heater and you have one very cosy bolthole for those cold, wet and chilly nights. However, in the summer it gives you all-weather protection, but still with plenty of natural ventilation.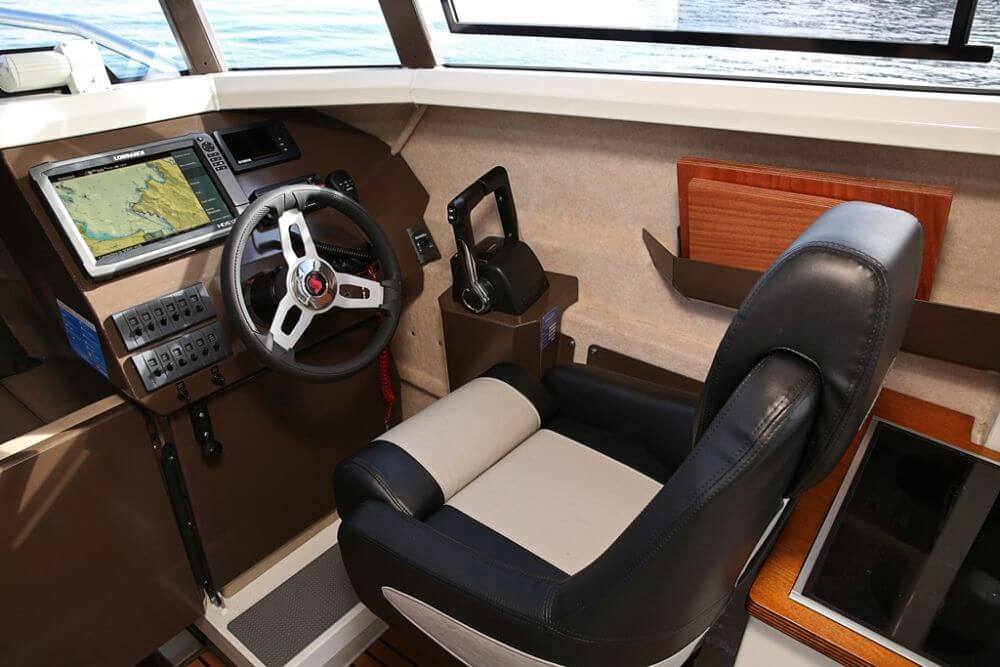 The layout is typical of a big hardtop with a helm and galley to starboard, with dinette and companion seat to port. The electronics are optional, and there is plenty of dash space for large MFDs, but still leaving room for all the other controls, switches and instruments. The fully adjustable helm seat, with bolster,  means you can set the driving position in a position that suits you.
Aft, the galley is enough to cater for the few people you would have aboard overnight, with a sink unit, hob and storage. Opposite is the dinette area which comes with an ingeniously concealed dining table that drops from a wall space when required. The front seat slides forward, and you then have seating for three at a surprisingly large table. Our boat also had a fridge under the forward seat and another large cooler bin under the aft seat. This was accessed from the cockpit, with the hatch doubling up as another seat. It seems everywhere you look around the 2500 there is another semi-concealed seat just waiting to be popped up.
Another cool feature is the sliding aft bench seat at the rear of the pilothouse, which not only gives you more seated area, but also transforms into another single berth. All up it's a boat that will easily sleep three and four if required.
There is loads of storage under the pilothouse sole, as well as the cockpit, all of which is covered in matching grey U-Dek.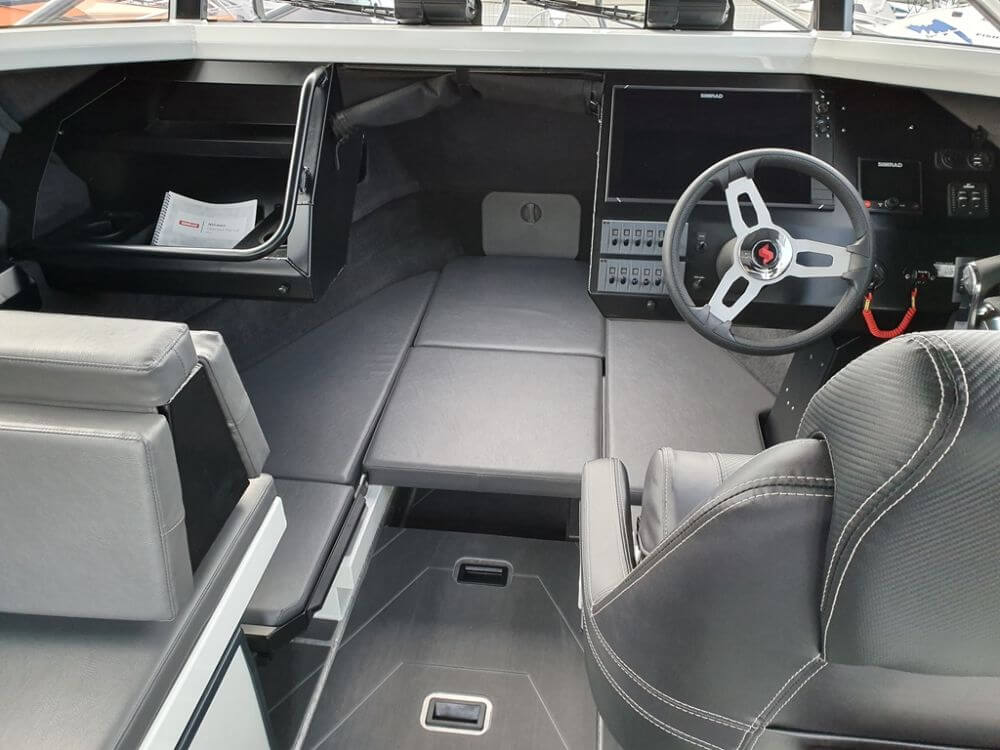 If it's space you want for fishing, then the 2500 Ultracab XL provides it. The cockpit is nearly 4 sqm of fishing workspace, surrounded by rod storage above, in side trays and below. There is a serious fish station in the centre of the dual access transom, which can incorporate a live-bait tank. With the addition of high rails around the stern platform, your fishing space grows even more.
Wide flat side decks are to the right height for fishing, but also if you're into diving, they make water access a breeze. A pair of large drop-down boarding ladders make getting back aboard just as easy. Underfloor lockers look after the catch and somewhere to stow the dive gear. I liked the cantilevered seat bases at the transom which give access to storage areas and the multitude of drink and tackle holders on the side coamings.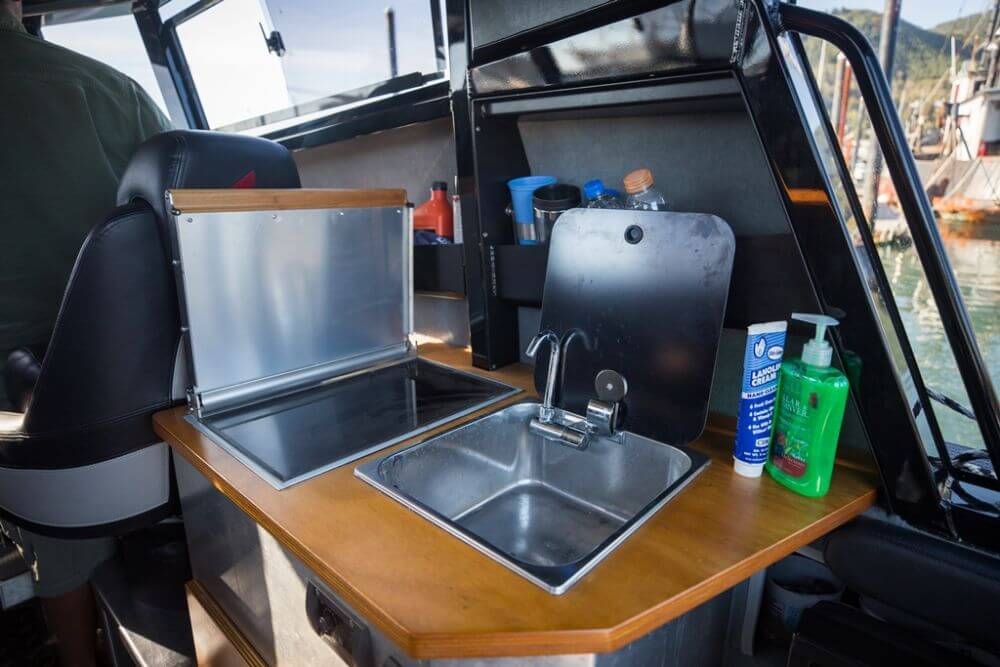 This is a boat that comes with a lot of standard features which are often on the extras list; a pair of windscreen wipers, the filleting board and a Maxwell drum winch to name but a few. Plus you have a big options list if you want more such as diesel heater, electric toilet, foam injected into the pontoons, live bait tank and a fully painted hull. You have a lot of different options in the way you configure your 2500 Ultracab or Ultracab XL so you get things the way you want.
I have to agree when Stabicraft say that the 2500 Ultracab XL incorporates a unique aesthetic that is unmistakably Stabicraft while housing multiple interior design innovations to suit multiple boating platforms. Could not have summed it up better myself.
Boat Design Name: Stabicraft 2500 Ultracab XL      
Year Launched: 2019              
Builder: Stabicraft                      
LOA: 7.62m                  
Beam: External  2.56m
Beam: Internal 1.97m
Trailerable Weight: 3500kg (approx.)
Max Speed: 34 knots      
Construction: 6mm/4mm Aluminium                        
 Fuel Cap: 378 litres           
Engine Make: Mercury 250 Verado V8
Engine Options: Single or Twin Outboard
Power Range: 300-400hp
Propeller: Mercury 17" Inertia                         
Anchor Winch: Maxwell Drum
MFD: Simrad
VHF: Simrad                        
Cockpit Flooring: U-Dek
Rating: CPC, US Coastguard, Australian Builders Plate.4245556
Price as tested: $NZ250,000
STABICRAFT 2500 ULTRACAB XL
Fuel capacity:
378 litres
 
 
RPM
 
Knots
L/h
L/NM
Range  (NM)
1000
 
4.5
2.7
0.6
560
1500
 
7
7.5
1.1
300
2000
 
7.7
10.8
1.5
220
2500
 
9.4
15.3
1.7
200
3000
 
12.2
21.4
1.8
180
3500
 
16.5
27.4
1.7
200
4000
 
21
33
1.6
210
4500
 
25
38.2
1.6
210
5000
 
29.1
44.6
1.6
210
5500
 
27.4
57.8
2.2
150
6000*
 
30
76
2.6
130
6000**
34
85
2.5
130
 
* Active Trim set on position 3
** Active Trim set on position 1                                            
Range is calculated on 90% of the fuel capacity.