Author: Barry Thomposon
Photos by Doug Dukeson
Stabicraft 409 fishr goes alongway to changing our ideas on needing a bigger boat and offers the serious fisherman an awesome fishing platform that is safe, stable and virtually unsinkable.
If you go onto the Stabicraft Marine website they promise you that if you buy a Stabicraft you are entering a world of adventure with confidence. It's all about going out and having fun and being confident that you will get back safely.
It's a statement that the world's most Southern boat builder can certainly back up and with over 21 years proven industry experience, they epitomise a combination of kiwi ingenuity and genuine commitment to innovation. The result? A range of smart, truly innovative boats that showcase stability, handling, durability and positive buoyancy.   
Some boats float better than others. That's design. Advanced metal extrusion technology is used to create continuous pontoons that provide a life-ring on the upper-outer extremities of each Stabicraft. Each life-ring contains three air-tight chambers. The stepped moulding of Stabicraft's slim-lined pontoons, once attached to the hull, create a cushion of air that allows the boat to plane over rough water. With the addition of an air-tight chamber between the floor and hull these boats become virtually unsinkable.
Along with the hull design Stabicraft boats are both unique and highly stable regardless of size. The result is a design that is capable of handling a lot tougher seas than their size belays. The new 409 Fish'r certainly lives up to the Stabicraft promise.
An entry level boat, the 409Fish'r was unveiled at the 2009 New Zealand Boat Show in Auckland and in its vibrant colours certainly attracted its share of attention. The 409 Fish'r is one of six boats in the Fish'r range, starting with the 4.30m 389 Fish'r through to the 5.98m, 589 Fish'r. The 409 Fish'r shares exactly the same hull as the 389 Fish'r but the big difference is the fibreglass bonnet or foredeck on the 409 Fish'r whereas the 389 Fish'r is all still aluminium.
The 409 Fish'r is speced a little higher with twin cantilevered seats as opposed to twin bench seats in the 389 Fish'r and also comes with rod holders and a battery oil tank shelf/compartment. Other standard features include side coaming rod and ski storage, self bailing duckbills and rotary steering.
As the name suggests, the no-frills Fish'rs are designed for no-nonsense boaties. Stabicraft offer the Fish'rs as very much a blank canvas and encourage owners to personalise their boats to suit their own needs. Hence there is an extensive options list, right through from the seating arrangement to painted hulls.
Gulfland Marine in Auckland supplied us a bright green 409 to test with a 40hp Mercury, which proved ideally suited to the boat and also meant that the price could still be kept under $30000 for the total package.
Top speed on mirror smooth water was 32.5mph at 5500 rpm and the boat had a comfortable cruise around 4500 rpm @ 25 mph. The speeds didn't alter much with one or two people aboard. It's a nimble, easily driven hull that can certainly handle itself in rougher water. Remembering that it is still only 4.3m long it is designed for shallow inshore fishing. However from what I have been told some owners have disregarded that fact and go out a lot further than some of us would in much bigger boats.
Our boat had the standard features such as the cantilevered seats with limited storage under and the side shelfs, but also an area in the forepeak to keep your gear dry. A shallow alloy bulkhead stops your everything working its way back into the cockpit.
The fibreglass bonnet carries right back past the helm and joins into the alloy side coamings about 1.5m from the stern. It incorporates the drivers dash area, recessed storage and drink holders in front of the passenger and a solid grp reverse sheer windscreen.
While the boat was the brainchild of the Stabicraft design team, they enlisted Christchurch design consultancy Formworks for advice on the visual aspect of the 409's innovative bonnet. Visually, the windshield is the distinct difference – rather then something to hide behind, it actually diverts the airflow up and over those in the cockpit resulting in more comfort and even better visibility.
All the anchoring is carried out from the cockpit and thanks to a recess in the dash you are able to learn far enough forward to flick the warp into the wide fairlead. The 409 comes standard with a huge anchor bin with lid and provision for a small stress-free winch.
A full width bench seat aft completes the seating, which should prove surprisingly useful when fishing. There's space aft for the battery and a couple of tote tanks but still enough working space in the self-draining chequerplate floored 2m long cockpit to move around when fishing. This is a small boat and really only more suited for a couple of people fishing.
This 409 Fish'r is a mid entry Stabicraft with a new stylish look to match its inherent comfort and stability. The gelcoat fibreglass bonnet and graphics added to the rugged aluminium alloy hull with its positive buoyancy tubes certainly make a statement. Our bright green test boat got a lot of attention at the boat ramp. However if you prefer to have you fishing boat more basic and don't want to standout in the crowd, then you can get the 409 Fish'r in standard red gelcoat on the bonnet.
Stabicraft have come a longway since they built their first aluminium pontoon boats over 20 years ago and through a continual evolutionary process they have researched new design concepts to enhance the performance, safety and design aesthetics of their boats.
In the late 1990s the Generation II hull was introduced, with its deeper cross-section giving greater freeboard than before. The slimmer pontoon shape also provided increased internal beam, resulting in boats with more space but still with the inherent stability.
In 2008 they launched the Generation III pontoon on the 759 Super Cab Sport – providing the same sort of advance in styling as the Generation II had given nearly a decade earlier. Using the technology advances they were able to gain an extra 20cm in the internal beam and lose 5cm in the external beam.
Both Generation II and Generation III pontoon designs have stepped chines to provide improved lift, more responsive cornering and a drier ride
Advantages of the Generation II and Generation III pontoons include higher rigidity and lateral strength, improved handling and no compromise to buoyancy. The entire hull is meticulously welded and finished to an exceptionally high standard.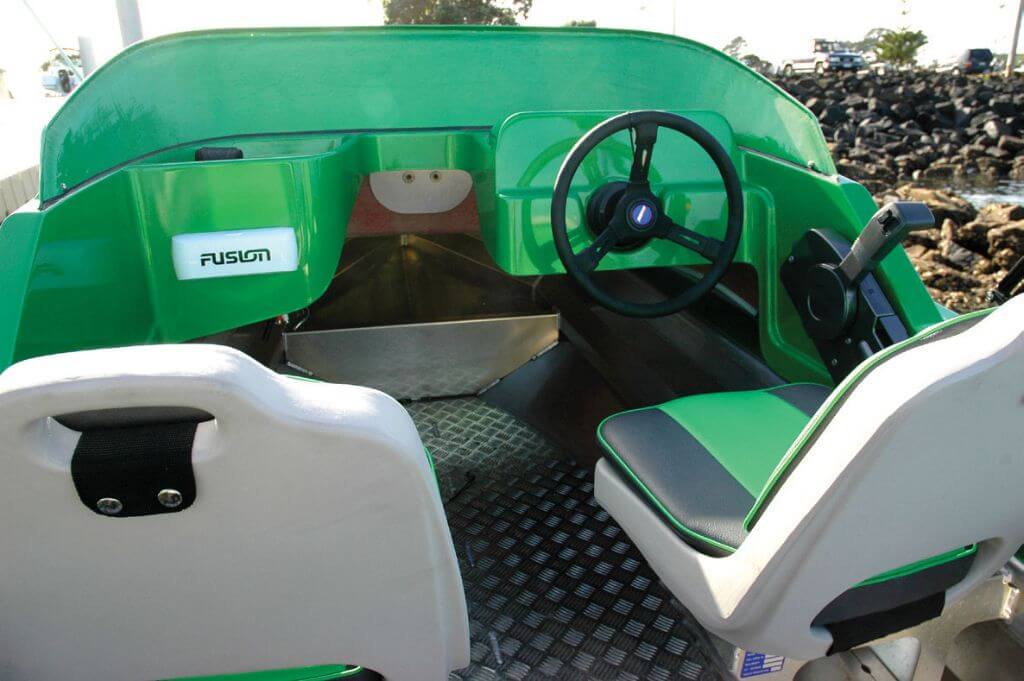 When travelling at speed, Stabicrafts Generation II and Generation III hulls create a cushion of water under each pontoon, thus softening the ride. Spray is deflected below the pontoons and trapped by the hull design, all adding up to a soft dry ride.
The 409 Fish'r is a small versatile boat that packs a big punch! It is a great little fishing machine for anyone looking to trade down to something small and easily handled, yet still with the inherent safety of a much larger boat.  At 4.3m it is certainly an entry level boat, but don't be fooled, this boat is a lot bigger than it looks. The 409 joins those models in Stabicrafts extensive small boat range, meeting the needs of a different market.
Make: Stabi-Craft
Model:  409 Fish'r
Price as Tested: $29,995
Packages from: $21,000
Designer: Stabi-Craft Design
Material: Aluminium 2.5mm (Tubes) / 3mm (Hull)
Type:   Rigid alloy hull
LOA: 4.3m
Beam External: 1.7m
Beam Internal: 1.25m
Deadrise: 16°
Hull Config: Medium Vee
Trailerable Weight: 460kg (approx)
Height on Trailer: 1.7m
Engine Capacity: 30 – 50hp
Power Options: Outboard only
Fuel Capacity: Tote tanks
Revs
 
Speed
600 rpm 
 
2.5 mph
1000 rpm 
3.5 mph
1500 rpm
5.0 mph 
2000 rpm
6.0 mph 
2500 rpm
9.5 mph 
3000 rpm
15.0 mph 
3500 rpm 
18.5 mph 
4000 rpm
21.5 mph 
4500 rpm
25.0 mph 
5000 rpm
28.5mph 
5500 rpm
32.5 mph 
Speeds recorded on a Lowrance GPS
Make: Mercury
Model: 40 Lightning XR
Type: 2 Stroke
Horsepower:   40hp
Cyl Type: 3 cyl
Max RPM: 5500 rpm
Propeller: 13″