Barry Thompson looks at the smallest trailer boats on the market, their advantages and how you can accessorise them. Plus there's a listing of over 75 different models up to around 4m from manufacturers both in New Zealand and Australia.                                             
Bigger is not always better – when it comes to boats, anyway. Smaller boats have a lot of advantages over their larger counterparts. Okay, so a bigger boat means more comfort more storage and probably more prestige, but small boats also have several distinct advantages over larger boats.
Small boats are every bit as seaworthy as larger vessels, albeit in the environment they are designed for. In other words, small boats are designed for calm to moderate water conditions and to be used close to shore. While the hull constructions may vary, generally they are all fine, just some are better than others. Aluminium boats for example differ from 1.2mm hull thickness through to 4mm. Heavy bottom sections are certainly strong and stiff, but make the boat heavier. The same size boat with a 2mm hull bottom will be lighter and due to the construction technique in some cases just as stiff. More than the boat, it's the ability of the skipper that determines whether a vessel survives in rough seas.
Small boats also allow you to access areas that a bigger trailer boat may not be able to enter such as up rivers and close in to coastal areas. A small boat allows you to not only reach fish in remote areas where they are less molested; it also is subtle enough that you are not so apparent when you approach a big fish. It presents much less of a presence in the water because it's small and light. That means fewer disturbances in the water. Everything has to be right to catch a trophy size snapper, but it begins with being as inconspicuous as possible."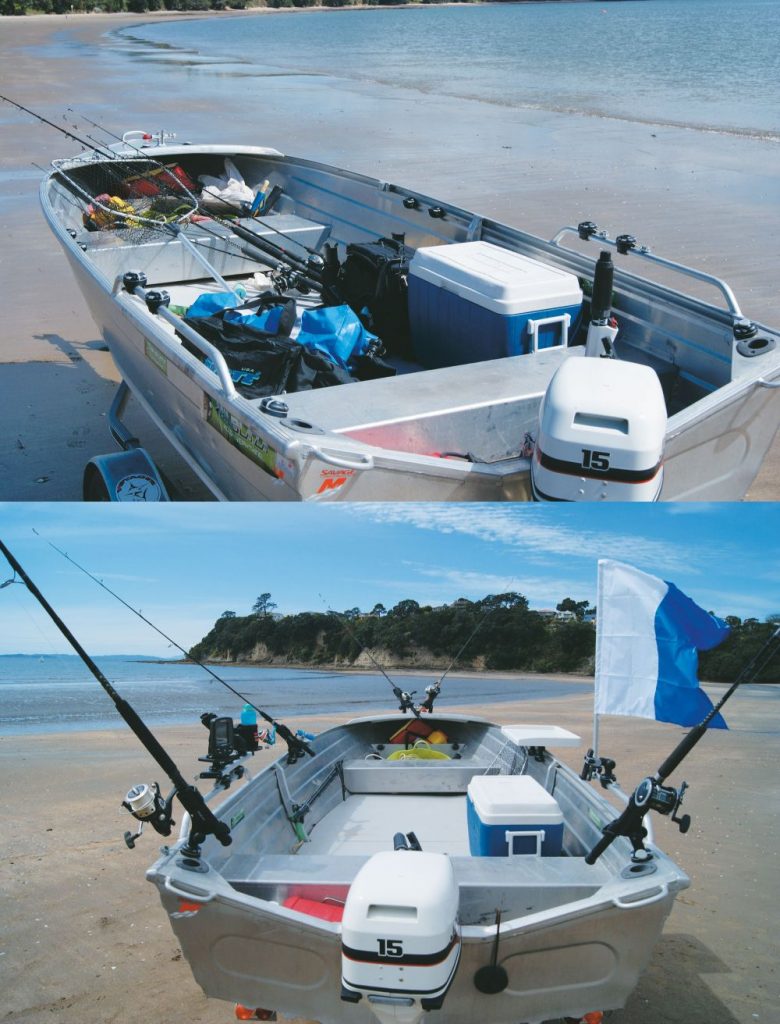 Then there is the stowability factor. 3-4m boats even on a trailer don't take up a lot of space so there is usually a space at home somewhere for them. You don't need to go to the expense of a braked trailer or fancy road covers. Mega stores such as Supercheap, The Warehouse or FCB all have cheap covers that only require a few bungy cords to hold them in place. Towing is also not an issue as just about any small car with more than a 1.2L engine will be capable of towing your rig. If you are like me and do a lot of beach launching then a small Fergie 28 tractor or a quad bike is all you need.'
One of the advantages of a trailer boat under 4m is they are easy to launch and retrieve. You don't need a lot of water either way and they are light enough to handle easily on your own.
Boats under 4m are much more affordable, both in the purchase price and the running costs. Today you can buy a 3.5m-4m open 'dinghy' on a trailer and complete with a small outboard for under $NZ12000……and cheaper. We recently ran a story on the new FC 390 from Fish City and as a total package, including a 15hp outboard and trailer had a retail of $NZ11995.
Besides the initial price tag, smaller vessels are less expensive to equip than larger boats. Firstly there is the outboard, which depending on the size of your boat will vary from 8hp to around 25hp. We recently ran a series of 30hp outboard tests on the open FC430 and recorded speeds around 45km/h, plenty for a boat of this size. A 3.5-4.0m tinnie, 'plastic' or fiberglass boat will suffice with 25hp and speeds around 30-40 km/h should be possible. This gives you enough speed and low down performance to tow the kids on water toys.
Even when you run a small outboard flat out, you're hardly going to make the local gas station owner rich. Max use for a 25hp would be around 9-12L/h for a two-stroke, a 15hp as little as 6-8L/h and a 9.9hp down at 3-5L/h. The question also arises as to whether to go four-stroke or two-stroke, electric start or manual. If you are buying to a price, then I would certainly go for a manual, tiller-steer two-stroke. Four-strokes are still a lot more expensive than two-strokes and while there is no question about the fuel saving and the fact that you are helping to 'save the planet' with lower emissions, plus they are quieter, you need to consider if the extra cost is really worth it.
Two-strokes tend to be a lot lighter than 4-strokes so there is a question of portability if you don't intend leaving the outboard on the transom when the boat's not in use. What's nice about some of the really small outboards is that they come with a built-in fuel tank, but for most, a single 25L tote tank is all you need for a day's boating.
Hugh Stewart, Technical Adviser at Yamaha Marine, says that they have done a lot of research in recent years as to the fuel burn on small engines. Based on their own two-stroke engines, Hugh says that an 8hp will burn a maximum of 3.6L/h, a 9.9hp, 6.9L/h, a 15hp 7.7L/h and a 25hp, 12L/h. That's all at wide open throttle.
Their study also indicates that given an average day's boating, with all the highs and lows in the rpm range, an 8hp two-stroke averages about 1.4L/h, the 9.9hp, 2.7L/h, the 15hp, 3.1L/h and the 25hp 4.8L/h. Based on a standard 25L tote tank that's a lot of boating before you run dry.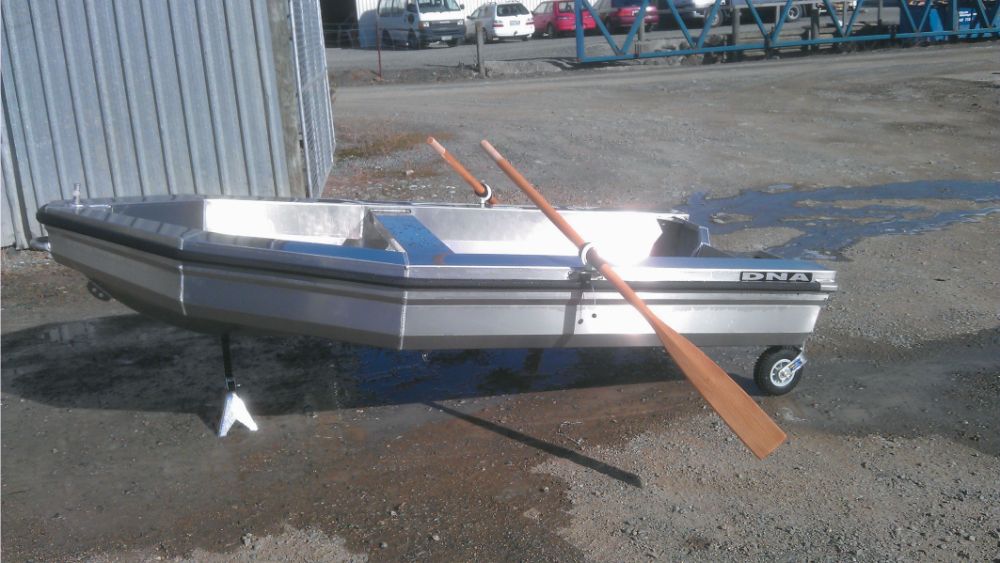 Although you've got a small boat, there's no reason why you can't run a few extra features to make your boating experience that much better.
Fishfinders – If you are into fishing then there are plenty of really neat and reasonably inexpensive fish finders that are ideal for small boats. You have the choice of either colour or black and white and some, despite their compact size, come with GPS and plotting capability. Most can be bracket mounted which is essential as open boats under 4m don't come with a dash, unless it's a centre console model. Depending on your seating layout you can mount them off the side of the hull or even set up the bracket base on the bench seat, as long as it is placed so that you can easily read the display when you're driving. If you are happy with a small 3-5" – 4" screen size then some options to consider are the Lowrance X4, Garmin Echo 100, Eagle Cuda 300 and the Humminbird 346.
Ice Bin – Another good addition is a small ice bin (esky for Aussies or chillybin for Kiwis) to keep the bait or your catch. Totally portable, they can be stowed anywhere on the boat that's convenient at the time. When you're going out on your own they make a good additional forward ballast option to better balance the boat when you're sitting in the aft corner with a tiller steer outboard. There are plenty of inexpensive units on the market and they also make good cutting boards and handy bait prep stations. Options include Engel, Hi Tech Plastics, Icey Tek, Yeti, Coleman and IceKool.
Seating – Again, this depends on your boat, but if you have the choice I would recommend the twin swivelling seat arrangement as found in the FC390. They're great if you are into your fishing, especially with two people, and they balance the boat nicely as well. Full width bench seats tend to take up a lot more space than really required, so a couple of bucket seats certainly opens up the working deck area and they're safer, too, as you can walk around them instead of having to step over them.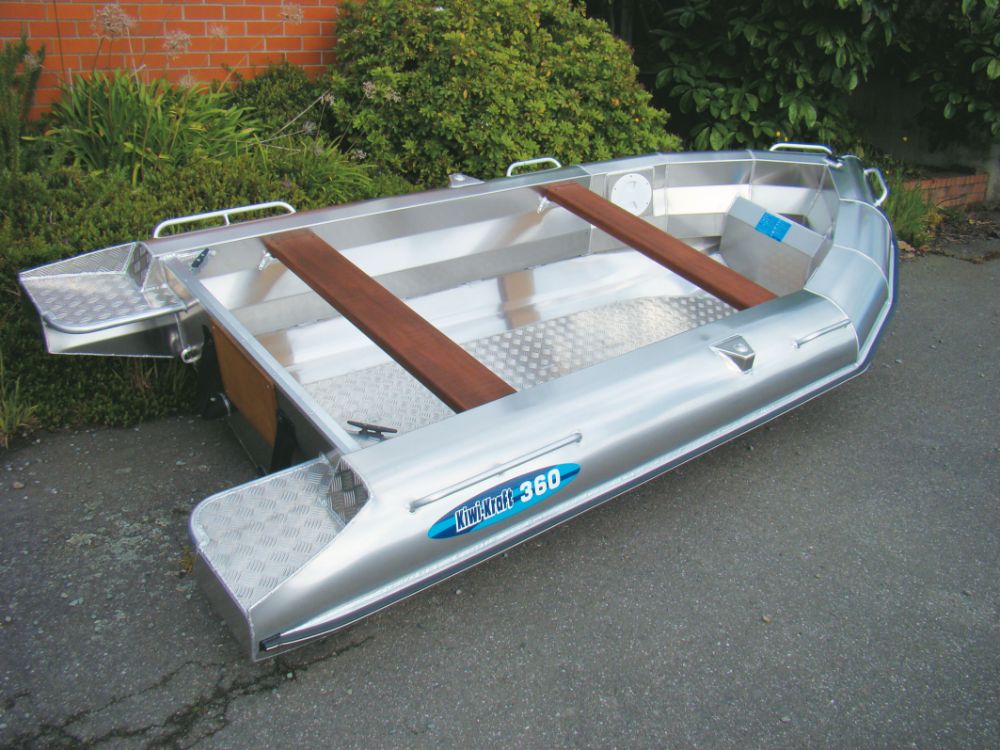 Capstan – You might also be surprised at the capstans that are available for small boats, even those under 4m. As we get older we like our creature comforts and even having a capstan to take the load off bringing the anchor tackle in can be a nice extra to have. Examples are the Kiwi-made Easywinch that weighs just 3.5kg, the Quick Tumbler from Italy, the compact Seawinch and the robust Maxwell Anchormax. The downside is that you will need to carry a small battery to operate the capstan and also find somewhere to put it. As the battery will probably not be connected to the outboard (unless it is electric start), make sure you have it fully charged before you go out as they do drain a lot of battery power when being used.
Your anchor tackle can be quite light and advice from one of New Zealand's leading anchor tackle suppliers, Chains, Ropes & Anchors, is that as a rough guide your anchor should be 1-1.5 kg of anchor weight to every metre of the boat. A 4m lightweight tinnie should have at least a 4kg anchor and if your boat is heavier, such as the same size but in GRP or polyethylene, then they suggest something heavier, around 6kg. However, if you're only fishing in shallow water, don't anchor overnight and don't anchor in anything over 10 knots of breeze then just about anything will do the job. Grapnels are good for reefs and rocky bottoms, ploughs for sand and mud and a concrete block if you really want to save money!
Rod Holders – Make sure there are plenty already built into the side decks as you don't want to have them flopping around in the boat. They not only get in the way but they can be easily broken, especially the new soft tip lightweight rods. I saw a 3.5m tinnie recently that had a rocket launcher bolted onto the transom that carried four rods out of the way and yet still within easy reach.
There are also some good glue-on brackets that can be fitted along the side under the gunnel if you have the space.
Safety Equipment – No matter what size boat you have, you should still have the necessary safety equipment on board. In a boat less than 4m, putting your safety equipment somewhere can sometimes be a problem so look for a sturdy waterproof bag in which to stow the gear. The bag can be taken out of the boat when not required. As a minimum you should have a VHF or cellphone (in a waterproof cover), some flares, a torch and enough life jackets for everyone on board.
If your budget can stretch to it, then a Personal Locator Beacon (PLB) should also be on your list. One example is the FastFind 220 GPS PLB from McMurdo, which can be carried either on board or better off in a handy belt pouch.
PLBs sell for around $NZ600 – $NZ700, but may well be the best investment you can make. We hear too many times of people lost at sea in open dinghies or lost overboard and never found.
Stabilisers – One of the issues with small tinnies can be stability at rest. I have myself been in a situation where someone stood up in a 3m tinnie we were fishing from and tipped us over. The results were we lost all our tackle, half a dozen snapper and a tray of 'cans'. We were fortunate that we were very close to shore and managed to refloat the boat and row home. Fortunately, we did get the cans back later!
Today there are some interesting options to prevent such an occurrence.  One example is the Australian made Airofloat stabilisers, that are inflatable tubes for small boats. These are permanently attached to the side of the hull. Then there is the Kiwi made, rotational moulded plastic Dolphin Aqualiser. These increase the beam of the boat by using a simple add-on device that can be retracted when not in use.
Mounting Brackets – Perhaps one of the more innovative accessories in recent years has been the advent of the universal mounting solution, developed initially in 2007 by Wanaka based Tallon.
Tallon Sockets are strong enough to take loads up to 600kg so there is no chance of that bottle of drink or dive bottle landing on your foot. Based on a simple receiver system you can add just about anything to the boat from simple hooks, drink and rod holders to your fishfinder or GPS.
Railblaza is another Kiwi company that offers a similar product but has based its mounting system on a rail. Both systems work extremely well and hold your small items secure.
You can run your boat really basic, with no frills, or you can 'bling' it to the max. Whatever you do, the end result is much the same, it's just at what comfort level that is.
Check out the listing later in this feature where we have identified over 75 different open dinghies and centre console boats under about 4 metres. There are four fibreglass and seven polyethylene models, and all the rest are aluminium.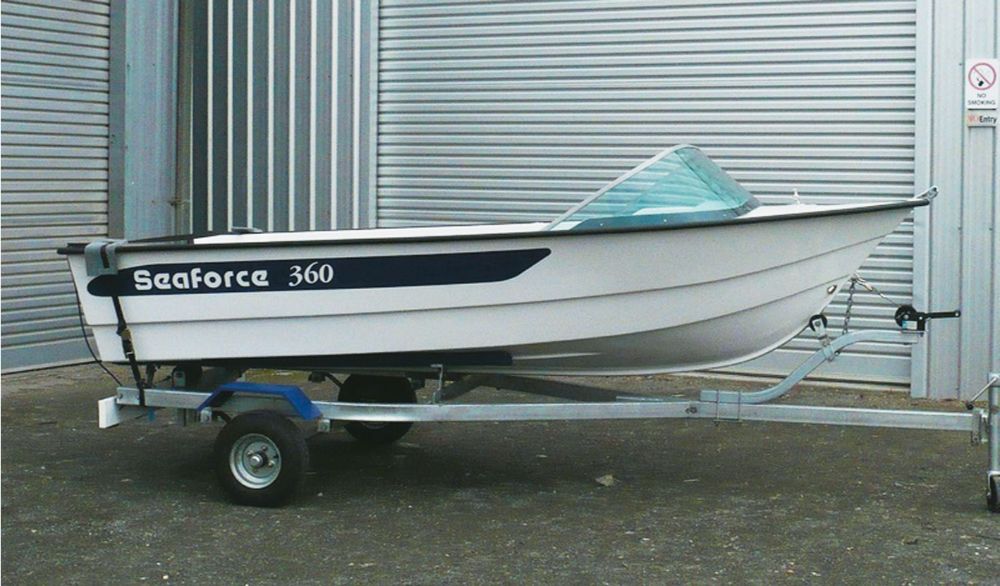 2012 BUYERS GUIDE TO OPEN BOATS UNDER 4M
All measurements are in metres
| | | | |
| --- | --- | --- | --- |
| ATOMIX (NZ) | LOA | Beam | Hull/Deck |
| 420 SC | 4.25 | 1.7 | GRP |
| | | | |
| --- | --- | --- | --- |
| BLACKDOG CAT (NZ) | LOA | Beam | Hull/Deck |
| 4x2SS | 4 | 2 | 2.5/2.5 mm |
| 4x2XL | 4 | 2 | 3/2.5 mm |
| | | | |
| --- | --- | --- | --- |
| COMMANDO (NZ) | LOA | Beam | Hull/Deck  |
| 3.1 Trooper | 3.1 | 1.72 | 3/2.5 mm |
| 3.6 Trooper | 3.6 | 1.72 | 3/2.5 mm |
| 3.6 Sport | 3.9 | 1.72 | 3/2.5 mm |
| | | | |
| --- | --- | --- | --- |
| DNA (NZ) | LOA | Beam | Hull/Deck |
| 300 | 3.03 | 1.01 | 3/2.5 mm |
| 380 | 3.92 | 1.73 | 3/2.5 mm |
| | | | |
| --- | --- | --- | --- |
| FC (NZ) | LOA | Beam | Hull/Deck |
| 390 | 3.9 | 1.83 | 4/3 mm |
| | | | |
| --- | --- | --- | --- |
| FYRAN (NZ) | LOA | Beam | Hull/Deck |
| 10 | 3.13 | 1.36 | 1.6 mm |
| 12 | 3.54 | 1.52 | 1.6 mm |
| 13 | 3.85 | 1.55 | 1.6 mm |
| 385 Dinghy | 3.85 | 1.8 | 2.0 mm |
| 14 | 4.36 | 1.75 | 2.0 mm |
| 16 | 4.9 | 1.74 | 2.0 mm |
| Smartliner 360 | 3.6 | 1.52 | 1.6 mm |
| Smartliner 400 | 4 | 1.77 | 1.6 mm |
| Smartliner 450 | 4.5 | 1.94 | 2.0 mm |
| | | | |
| --- | --- | --- | --- |
| ENDURO (NZ) | LOA | Beam | Hull/Deck |
| 410 | 4.1 | 1.87 | 4/3mm |
| | | | |
| --- | --- | --- | --- |
| FREWZA (NZ) | LOA | Beam | Hull/Deck |
| 3.4 | 3.4 | 1.65 | 3/2.5 mm |
| | | | |
| --- | --- | --- | --- |
| HARDY (NZ) | LOA | Beam | Hull/Deck  |
| 4 | 4.2 | 1.75 | 4/3 mm |
| | | | |
| --- | --- | --- | --- |
| MAC BOATS (NZ) | LOA | Beam | Hull/Deck  |
| 210 | 2.1 | 1.3 | Polyethylene |
| 340 | 3.4 | 1.56 | Polyethylene |
| 340 Sport | 3.4 | 1.56 | Polyethylene |
| 370 | 3.7 | 1.5 | Polyethylene |
| 390 | 3.9 | 1.76 | Polyethylene |
| | | | |
| --- | --- | --- | --- |
| KIWI KRAFT (NZ) | LOA | Beam | Hull/Deck |
| 360 | 3.6 | 1.82 | 3/2.5 mm |
| C390 | 3.9 | 1.92 | 3/2.5mm |
| | | | |
| --- | --- | --- | --- |
| ORCA (NZ) | LOA | Beam | Hull/Deck |
| 3.2 | 3.2 | 1.46 | 4/3 mm |
| 3.8 | 3.8 | 1.6 | 3/2.5 mm |
| | | | |
| --- | --- | --- | --- |
| OSPREY (NZ) | LOA | Beam | Hull/Deck |
| 380E Osprette | 4 | 1.68 | 3/2.5 mm |
| 380S Osprette | 4 | 1.68 | 3/2.5 mm |
| | | | |
| --- | --- | --- | --- |
| POLYCRAFT (Aust) | LOA | Beam | Hull/Deck |
| 3.0 Tuff Tender | 3 | 1.4 | Polyethylene |
| 4.10 Challenger | 4.1 | 1.85 | Polyethylene |
| | | | |
| --- | --- | --- | --- |
| QUINTREX (Aust) | LOA | Beam  | Hull/Deck |
| 250 Explorer | 2.52 | 1.35 | 1.60 mm |
| 300 Punt | 3.1 | 1.14 | 1.20 mm |
| 310 Dart | 3.21 | 1.41 | 1.35 mm |
| 320 Explorer | 3.24 | 1.32 | 1.60 mm |
| 340 Cartopper | 3.51 | 1.25 | 1.20 mm |
| 350 Dart | 3.64 | 1.49 | 1.60 mm |
| 350 Explorer | 3.58 | 1.45 | 1.60 mm |
| 360 Punt | 3.6 | 1.14 | 1.20 mm |
| 370 Dart | 3.8 | 1.58 | 1.60 mm |
| 370 Explorer | 3.75 | 1.5 | 1.60 mm |
| 370 Cartopper | 3.76 | 1.45 | 1.60 mm |
| 390 Explorer | 3.85 | 1.79 | 1.60 mm |
| 400 Dart | 4 | 1.69 | 1.60 mm |
| 400 Explorer Trophy | 4.05 | 1.87 | 1.60 mm |
| 400 Hornet | 4.01 | 1.73 | 2/1.6 mm |
| 400 Hornet Trophy | 4.01 | 1.76 | 2/1.6 mm |
| | | | |
| --- | --- | --- | --- |
| SAVAGE (Aust) | LOA | Beam | Hull/Deck |
| 305 Punt | 3.05 | 1.11 | 1.20 mm |
| 310 Water Rat | 3.21 | 1.41 | 2.00 mm |
| 345 Jabiru | 3.48 | 1.53 | 1.60 mm |
| 355 Gull | 3.6 | 1.48 | 1.60 mm |
| 355 Punt | 3.55 | 1.14 | 1.20 mm |
| 375 Snipe | 3.8 | 1.58 | 1.60 mm |
| 385 Jabiru | 3.85 | 1.73 | 2.00 mm |
| 385 Big Boy | 3.9 | 1.85 | 2.00 mm |
| 385 Jabiru Pro | 3.85 | 1.73 | 2.00 mm |
| | | | |
| --- | --- | --- | --- |
| SCORPION (NZ) | LOA | Beam | Hull/Deck |
| 270 | 2.7 | 1.65 | 2.5/2.0 mm |
| 360 | 3.6 | 1.65 | 3/2.0 mm |
| 400 | 4 | 1.65 | 3/2.0 mm |
| | | | |
| --- | --- | --- | --- |
| SEAFORCE (NZ) | LOA | Beam | Hull/Deck |
| 250 | 2.5 | 1.25 | GRP |
| 310 | 3.1 | 1.48 | GRP |
| 360 | 3.65 | 1.55 | GRP |
| | | | |
| --- | --- | --- | --- |
| STABICRAFT (NZ) | LOA | Beam | Hull/Deck |
| 259 Dinghy | 2.59 | 1.45 | 3/2.0 mm |
| 349 Dinghy | 3.49 | 1.57 | 3./2.5 mm |
| | | | |
| --- | --- | --- | --- |
| STACER (Aust) | LOA | Beam | Hull/Deck |
| 309 Stinga | 3,21 | 1.41 | 1.60 mm |
| 319 Seasprite | 3.19 | 1.39 | 1.35 mm |
| 359 Seasprite | 3.55 | 1.45 | 1.60 mm |
| 369 Seasprite | 3.75 | 1.62 | 1.60 mm |
| 379 Seasprite | 3.85 | 1.75 | 1.60 mm |
| 399 Seasprite | 3.95 | 1.75 | 1.60 mm |
| | | | |
| --- | --- | --- | --- |
| SENATOR (NZ) | LOA | Beam | Hull/Deck |
| IS 400 | 4.12 | 1.79 | 3/4 mm |
| IS CC 400 | 4.12 | 1.79 | 3/4 mm |
| | | | |
| --- | --- | --- | --- |
| SEA SURGE (NZ) | LOA | Beam | Hull/Deck |
| 2.8 | 2.8 | 1.45 | 2.5/2.5 mm |
| 3.5 | 3.5 | 1.7 | 2.5/2.5 mm |
| 3.8 | 3.8 |   | 2.5/2.5 mm |