Adrenaline freaks beware, you may be hooked the minute you step aboard. If you have a bent towards boats that go fast, then look no further.
Barry Thompson took a wild ride aboard New Zealand's fastest production catamaran and, yes, you guessed it, was hooked.         
Now I have always been a  speed junkie when it  comes to boats and over the years I have driven or ridden some very quick rigs. Not all have been kind to me, especially in racing mode, but it's something I find I just can't get away from.
The Scott Robson-designed Stealth 605 is a boat that's way out of left field when it comes to kiwi production boat manufacturing and it's certainly a wild ride into the unknown for Timaru based builder, Stealth Powerboats. The Stealth is the first and fastest high performance production catamaran to be produced in New Zealand. Based on race proven technology, the Stealth 605 offers a whole new meaning to performance boating.
My first introduction to the Stealth 605 was at the 1996 Christchurch Boat Show and man, did it turn some heads. Well known Auckland based marine technician, ex offshore powerboat driver and general 'speed freak' Ted Taiatini liked it so much he brought one and introduced it to the North Island market at the recent NZ Boat Show.
When you first see the Stealth 605 in the water you can see how it got its name – long, low, sleek and doing 100 mph still tied to the jetty! It is the result of three years of development that has resulted in a boat that is built to handle just about any form of boating. Racing, towing skiers, wake boarders or tubes, general cruising and yes, even fishing if you want. The Stealth however,  is primarily a performance skiboat that is designed to handle the open sea and rough water with the same degree of security as mirror smooth lakes and rivers.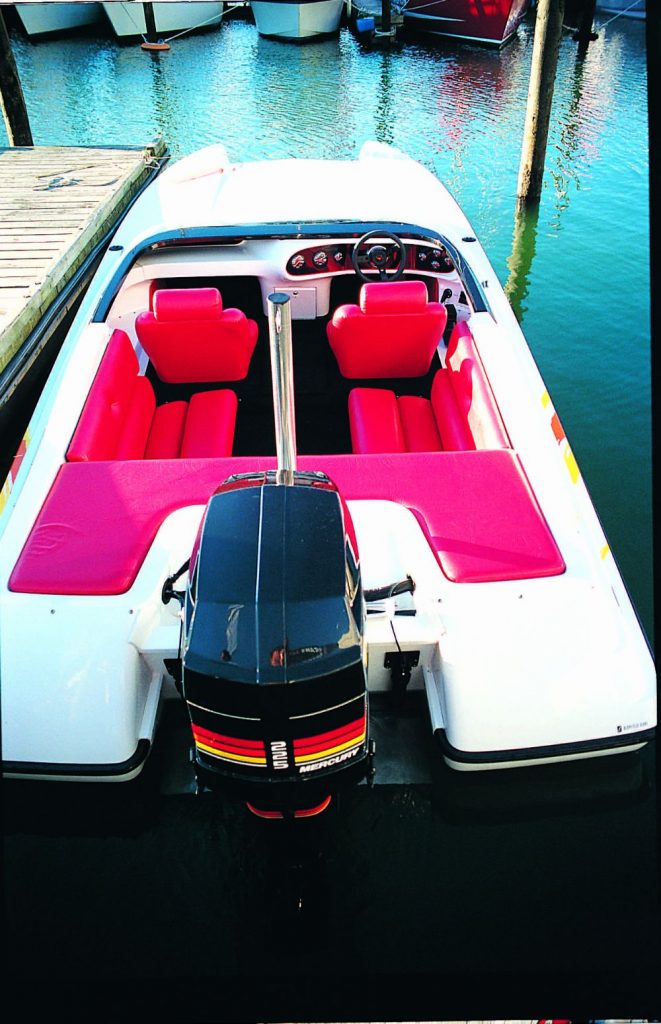 Scott Robson is an incredibly versatile designer who has made an international reputation in racing tunnel hulls and trailerboats to big monohull and catamaran motor yachts. The Stealth 605 is an amalgam of ideas and features his very special asymmetrical stepped hull form, with an air compression tunnel tapering aft. The idea is to lift the hull up so it rides on a cushion of air with a flat level attitude and sits on the flat keel sections of each sponson. Four razorbacks ( cutback tapered steps ) are designed to reduce the drag on the bottom by sucking air between the sponsons and the water.
This level attitude means you don't have a boat running with a bow high angle at speed and thereby eliminating the risk of a blow-over. Robson's race boat  principle has always been if you want to make a cat run fast and safe, make it run flat and that's  certainly true of the Stealth.
Driving any boat at speed takes some adjustments and getting the feel of it before you open the throttles with confidence. I found that I had to throw all the rules away when behind the wheel of the Stealth. Firstly, you have three things to consider when getting on the plane or running at speed – the outboard height, tunnel flap position and engine trim. Secondly,   you have to get it all right if you ever hope to achieve the best ride from the boat. To get on the plane you have to make certain the hydraulically operated trim tab in the  tunnel roof and the hydraulic electric transom jack are both in the fully down position and the engine's trimmed in.  As you accelerate you work a combination sequence of trimming the engine out by way of foot operated buttons, whilst you use your right hand to flick the toggles that raise the  engine and adjust the plate, at the same time hanging onto the wheel with your left hand.  Sorry, I didn't tell you the boat is fitted with a foot  throttle. Sounds complicated but it's not, especially when you see a seasoned Stealth driver like Taiatini run through it. After some expert tuition from the master, I felt I just about had it right although a little more 'seat' time would have certainly helped.
With the plate down it all but eliminates the wake, making it ideal for skiers, but if you want to wakeboard, lift it up and by working the trim you can have your wake back.  At high speeds the tab controls the air pressure through the tunnel and even fine adjustments can be felt in the riding  attitude.
The engine transom jack is absolutely a must for a boat like this and with 5" of travel it makes an enormous difference to the way the boat handles and rides. It works exceptionally well at high speed and allows you to reduce your drag, working just like a surface riding prop.
My two runs on a calm to moderate Auckland harbour dealt up enough different sea conditions to make me understand very quickly why this isn't a boat you get in and just push the throttle down. Each varying sea state required its own trim adjustment, but once mastered is fun to drive.
The Stealth is rated from about 200hp upwards but is restricted to sports type engines that have nose cone water pickups. Nothing less, although you can't judge this boat on speed alone. Our test boat with a Mercury Promax 225 consistently had the speedo needle hovering around 80mph. Speed at 5000rpm was 65mph and the motor peaked when everything was just right at 6500rpm at 86mph.
If you really want to go faaaast, then a 260-300hp high performance outboard is guaranteed to get you very close, even over the ton.
At speeds over 65mph I found the Stealth handled predictably, was exceptionally dry and extremely soft riding. As expected, acceleration is space shuttle stuff and once you get used to the fact the boat banks inwards in the turns you can turn it reasonably fast. Being a catamaran and also built to maximum beam, the Stealth is very stable both at rest or at speed.
Despite it's sporty image and sleek good looks, the Stealth is also a very versatile boat with a well conceived cockpit layout. In our test boat the seating option was massive bucket seats forward with twin side seats, plus a rear facing flip-up ski observer seat that folds out of the floor. You can have twin back-to-backs or a full width bench seat across the stern if you prefer. Although the arrangement in Taiatini's boat allowed more practical use of the limited space, I found it disconcerting sitting sideways with nothing to hang onto at 80mph.
Major storage areas are cavernous in both sponsons and under the aft sunpad cushion where you'll find a ski locker and two removable bins. These bins are ideal for wet gear, as an ice bin or somewhere to stow the fenders and lines.
The driving position is great, with a curved facia for visual instrument layout and controls all in the right position. Although you sit deep in the boat – almost on the floor – you have nothing in front to protect you. Standard-issue on our test boat were ski goggles and you really need them at speed, or more especially when a violent rain squall passes overhead.  Seventy mph rain drops are hell  on the face!
The Stealth is fitted with hydraulic steering, a foot throttle and well placed trim toggle switches. A deep side armrest recess means you don't knock your elbow while selecting gear and the area also provides mounting surfaces for a stereo and speakers. A centre console lockable glovebox is ideal to stow personal belongings. Some better utilisation of the side trays and above the facia would be easily achievable and may come in future boats.
Composite construction by High Modulus has ensured that the Stealth 605 is well built to handle maximum horsepower. The hull is fully handlaid with kevlar, chop strand mat and woven, stitched multidirectional cloth and vinylester resin. The hull has vacuum formed high density foam underfloor bearers so there's no timber to rot in a few years. The bow section is sealed off for buoyancy and the bare hull and deck weights in at just 400kgs. All up trailerable weight is less than 1600kgs, which is staggering for a boat this size.
In fact it's size is deceiving and whilst it looks overwidth for trailering it is within the maximum limit.
The Stealth 605 is definitely a boat targeted towards a selective market and whilst you can carry five/six people or mount a rocket launcher and rod holders, it's still for my mind a high performance ski boat.
The advantage it has over other ski boats is size and the fact that the cockpit layout offers more space and more storage than any other comparable boat on the market. The high coamings give you some security at speed and given time you will have no hassles mastering the driving techniques. Taiatini also offers driver tuition with every boat he sells.
It's a big volume boat that I would have no hesitation in running as hard as I could in whatever conditions. This isn't the sort of boat you want to cruise quietly in. It says go go go and for those that want some fun, check it out. You will not be disappointed.