Taree-based Steber International has developed a respected reputation over the years of building boats that will capably go to sea in virtually any conditions. This security has been firmly implanted in the company's latest model, the Steber 3800 Twin Cabin Family Cruiser.
The name says it all really, for the Steber 3800 Twin Cabin, Family Cruiser was purpose-designed as an affordable weekender or extended-stay coastal cruising boating package for the whole family to enjoy. In its standard trim the boat quite simply is your good wholesome 'bread and butter' style of vessel, but the beauty of this brand is Steber will build to whatever level of presentation and specification best meets the client's tastes and more importantly the client's pocket; it is as close as you will get to a custom-built vessel, whilst still remaining within the parameters of a 'production' boat.
Steber will build to any level of opulence, but it is interesting to note that over the years the traditional Steber owner is a person who will forgo all the bells and whistles, to get exactly what they want in a vessel. The accommodation layout of this boat was a typical example; just the two cabins yet you can still sleep six people – mum and dad, and four children. This owner's unashamed theory was, he would rather have the extra space; if you want to get up to all sorts of tricks in an expansive bedroom, then stay at home and enjoy if properly; boating is for boating, a bed is for sleeping in and the rest of the 24 hours in a day are to be spent relaxing in what was a correspondingly spacious saloon, and cockpit – the important areas of a boat.
The Steber 3800 is ostensibly a new model and while granted there have been a considerable number of specification and cosmetic enhancements over the earlier model, except for the underhull shape, which remains unchanged. Steber's reputation is built around reliability, dependability and performance and the theory is you do not change a winning formula that is so deeply respected by organisations such as the Navy, Police, Customs, NSW Maritime, Coast Guard and VMR Organisations.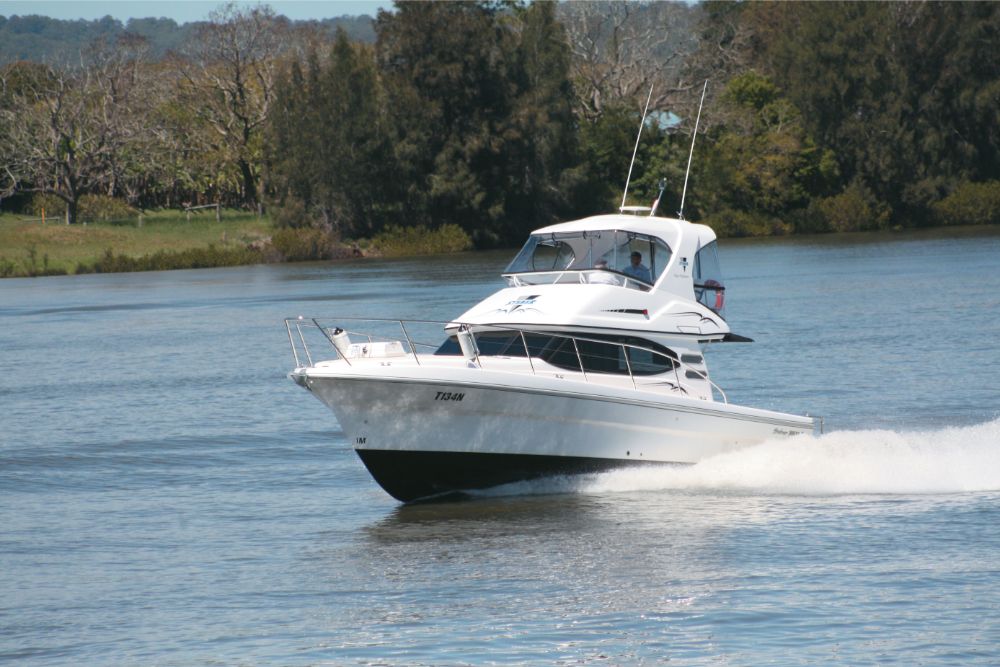 It is not all about handling attributes though, for the other very big feature of the Steber hull is its inherent strength and quality of build, with each and every feature of the Steber 3800 seemingly built to overkill proportions. The huge boarding platform, the solid transom and the equally solid interchangeable S/S hoops for aft protection, were all definitely built to last. Softening this harsh reality though were features such as the swim ladder, polycarbonate transom gate and central module on the slimline transom, which in this instance boasted a wash basin and beside it a rope locker complete with deck-wash cum shower. Just as easily these could be replaced by a BBQ, sink and servery, or the keen fisherman may demand they be replaced by a massive live bait tank.
This portside transom gate led through onto the 'football field' that was the aft cockpit. Again teak-adorned, features there included side pocket storage each side, a protective overhead flybridge extension, a nicely angled ship-style ladder to flybridge level and neat moulded steps each side, for access to the bow. Two aspects especially impressed me there; firstly, those walkways offered a very safe passage forward (non-skid deck, good high bow rail, plenty of cabin-side grab rails) to the cleverly recessed liferaft and the secreted anchoring feature at the bow. The other feature to impress was the ship-style ladder arrangement to the flybridge – the very sturdy S/S and teak step assembly atop an equally sturdy FRP base module which housed the outside drawer-style fridge/freezer unit – it was a work of art.
Recessed into the cockpit floor were two well-presented teak hatches, the aft one of which offered access to the lazaretto which housed the 1530 litre fuel tank, rudder posts and steering. Forward of this and effectively at the base of the saloon doors, and again with a neat S/S and teak ladder for 'gentleman's' access to these bilge areas, was another hatch for engine room access.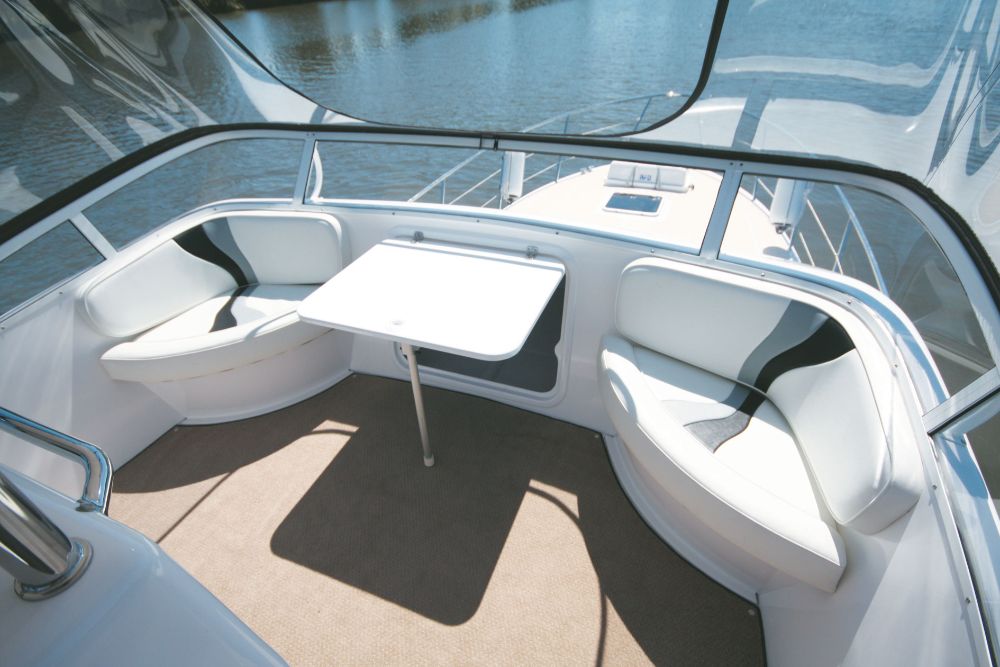 Certainly not a 'stand-up' engine room and neither in a 38-footer would you expect it to be, there was however plenty of room down there for mechanical peripherals such as the exhaust risers, 35-litre hot water cylinder; inverter/charger, the 400-litre freshwater tank, a 7kVA Mase Mariner genset, 7.3kW of air-conditioning, and the battery bank of two house and two engine, 150Ah AC Delco AGM batteries. And of course the all-important engines! While this Steber will handle anything from twin 300hp through to twin 480hp, in conventional shaft drive guise, our power source here was a pair of turbocharged 5813cc, 24-valve, inline 6-cylinder, 440hp Yanmar 6LY3A-STP diesels through Yanmar KMH61A (2.43:1 ratio) gearboxes and conventional shaft drive, to a pair of 4-blade 24"P by 33"D Teinbridge propellers.
Every mechanical part of this boat was seemingly built to overkill proportions and it is probably pertinent at this stage to mention the fact that while this boat was built in a factory that conforms/adheres (but it is not accredited) to ISO standards, this particular Steber 3800 TC model was also built to survey. Not just built to survey, but actually in full 'survey' and as such offered benefits such as stability testing and accreditation, a complete above-floor valve chest and flooded subdivision (bulkheads), a full engine-room fire smothering system, liferaft and safety equipment such as PFD's, flares, and 2C approval for 8 + 2 people. "We see this as a major bonus for any owner," Steber CEO Alan Steber enthused, "for they get a better boat with incidentally, better re-sale value – for it is seen to be better equipped, and more capable."
Put to the test, sadly my run in the docile confines of Taree's Manning River was hardly likely to offer up much of a hint as to the handling capabilities of the Steber, but then again considering the fact this hull is used for the aforementioned commercial and rescue organisations – nothing more needs to be said anyway. What was pleasing for me however, was the way it leaped up onto the plane, how little lean-in there was in the turns, how quiet it was underway, and very definitely how it performed.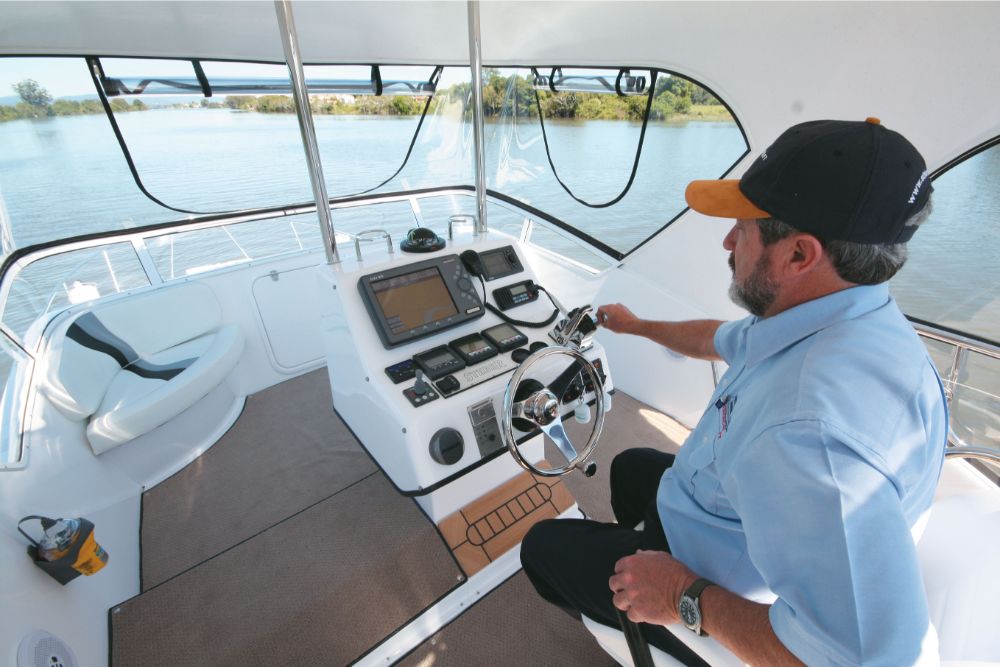 Top speed was 32 knots at the maximum 3340 rpm. Fuel consumption from the Yanmar diesel engines was also most acceptable with a respectable fast-cruise speed of 21 knots returning a burn figure of just 80L/h. Equally impressive was the by-product of that efficiency, the range! At 9 knots and with the customary 10% margin, the range was 380 nautical miles (NM), at 21 knots the range was 360NM and at full throttle it was 264NM.
Back up in the cockpit, this nice wide and well angled ladder assembly led me up and onto the 'enclosed hard-top' flybridge level. When I say enclosed, the aft side of this hardtop was open, but of course it could be enclosed with the addition of a set of 'clears'. Interestingly, while this level finished just aft of the Reelax helm chairs, there is a moulded 'extension' assembly available that extends right aft if you so require it, to the aft extremity of the cockpit below. If that was your preference this overhang would certainly then be a great place for your davit crane and tender but for mine, this particular version with the canvas overhang – offered a more pleasing visual experience.
The only helm on the boat, up there on this elevated level, was appropriately well equipped with a central helm station complete with Fusion stereo remote, Hydrive steering, Muir winch remote, individual CZone and Yanmar vessel and engine management touch screens, and a Seiwa GPS/plotter/sounder. In this 'four-person' guise the two Relax skipper chairs were complemented by unique corner seats forward of the actual helm, but here again if you want an L-shaped or indeed U-shaped fully wrap-around seating layout – you only have to ask!
Points to like about this flybridge level were the good visibility from the two Reelax helm chairs, the polycarbonate hatch cover which eliminated the 'danger' aspect from the entry point to this level, and, a central hatch between the two corner seats which while of course providing access to what was a huge storage void in the flybridge 'eye-lid', also doubled as your cockpit table – simple, no frills, yet so practical!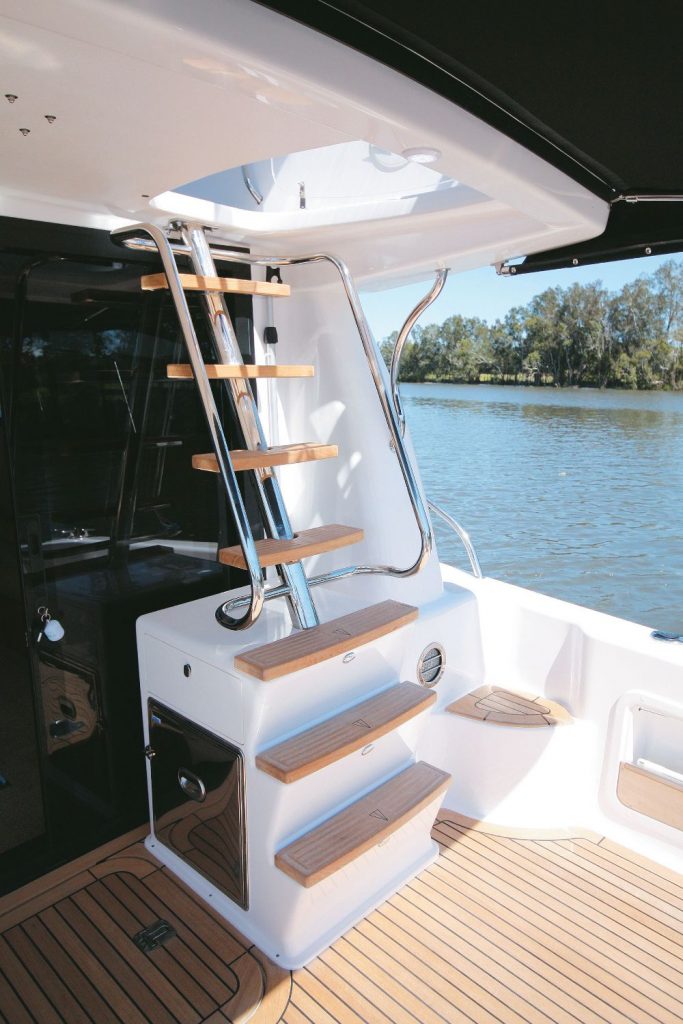 Two entry doors which rolled back into the bulkhead nicely opened up the cockpit to what was a very spacious open-plan saloon, which with no lower helm, was devoted unashamedly to living the moment. To portside and occupying this entire wall was a galley that was a comprehensive catering 'statement' in itself, with its Staron bench top, two-burner cook-top, side by side S/S freezer and refrigerator combo, dishwasher, pull-out pantry, convection microwave and the 'special' storage provision in behind what looked like just another cupboard door. Opening that door, I discovered a set of deep S/S pull-out storage drawers for cutlery, crockery, glasses and pots and pans – a clever use of space!
The BEP Marine CZone vessel management and monitoring screen was on the wall at the rear of this galley and for those who insist on watching television while at sea, there was even a wall-mounted Fusion television above the galley bench. While there was good storage in the galley, there was further storage provided in under the seat base of the four-person dining setting opposite this galley; storage provision incidentally for items such as the full-on valve chest for the entire pump and water storage and dispersion facet of the 3800 TC – just one of the mandatory idiosyncrasies of 'survey'.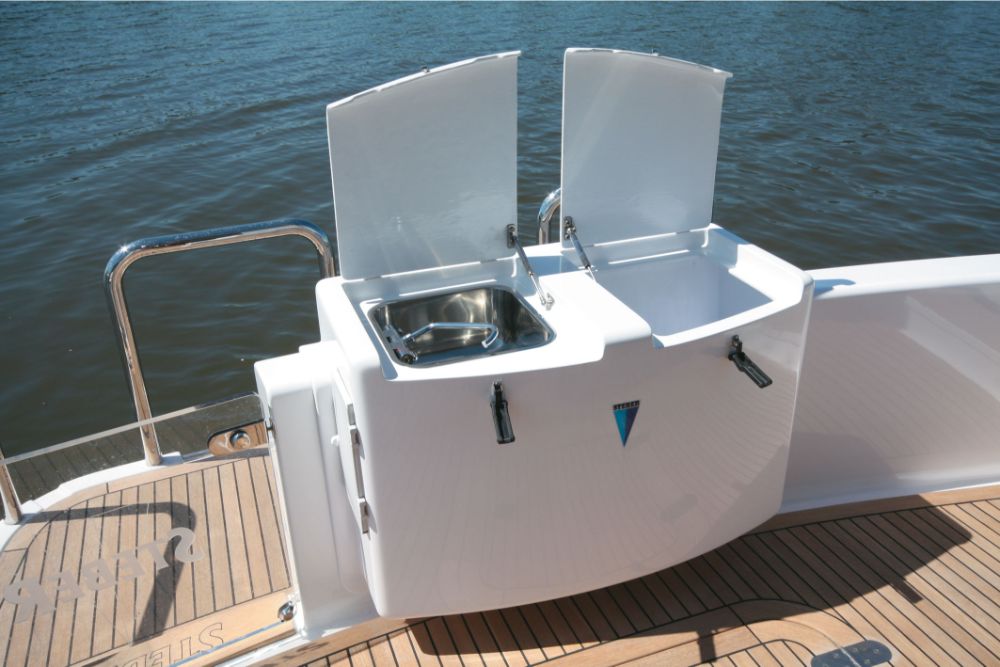 As comprehensive as this saloon was, it was just as impressively matched by an ambient décor which included a neat featured ceiling, LED lights, carpeted floors, vinyl wall panelling with macro suede overhead panels, and, generous lashings of wood. This woodwork presentation, interestingly referred to as 'aged cherry', was of a very high standard throughout. Even the generously-sized lockers and cupboards were all were lined and appropriately presented, and in the case of the accommodation area, all had lights in them as well.
As in every facet of this boat there are a number of different accommodation options available; as well as the amidships twin-berth cabin you can have a large king berth in the for'ard cabin, simply by installing an infill between the 'V' berths; you can have a full lock-up for'ard cabin complete with island double berth; or you can have the increasingly popular 'hire and drive' option which has four upper and lower 'V' berths up for'ard, two upper and lower bunk berths each side, and an aft head in the saloon, with naturally shorter galley – you only have to ask, and Steber will oblige!
In this instance however, the accommodation provision consisted of the amidships twin single-berth cabin to portside, opposite that a house bathroom complete with vanity and separate shower and head, and a four-berth upper and lower single berth layout in the 'V' of the for'ard or bow cabin. Deliberately, no attempt had been made to privatise either of these cabins which featured wardrobes, overhead hatch and wall lighting – but it is an option if you want it.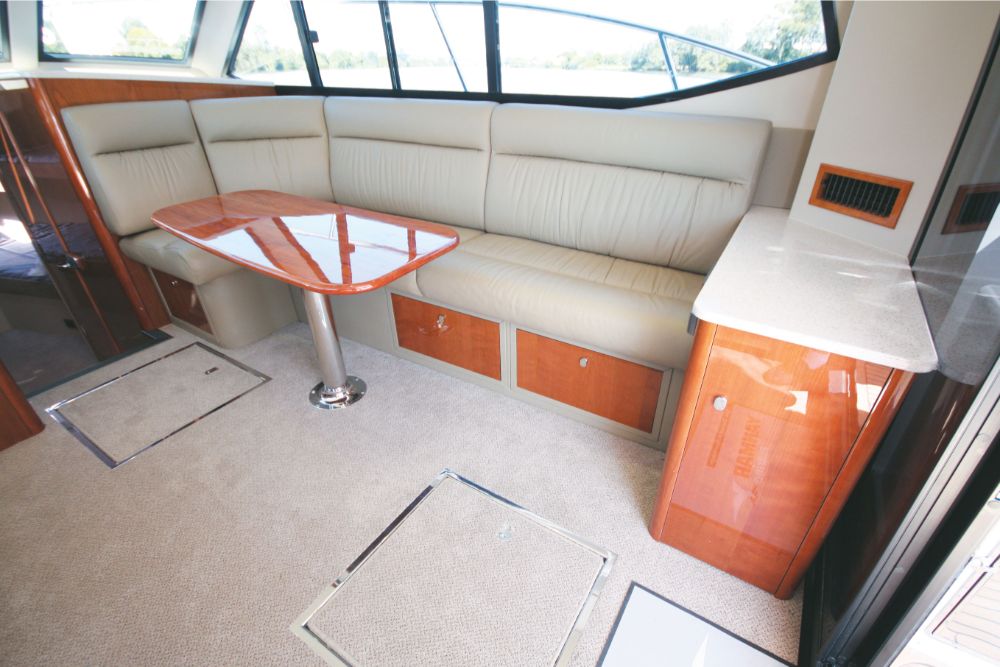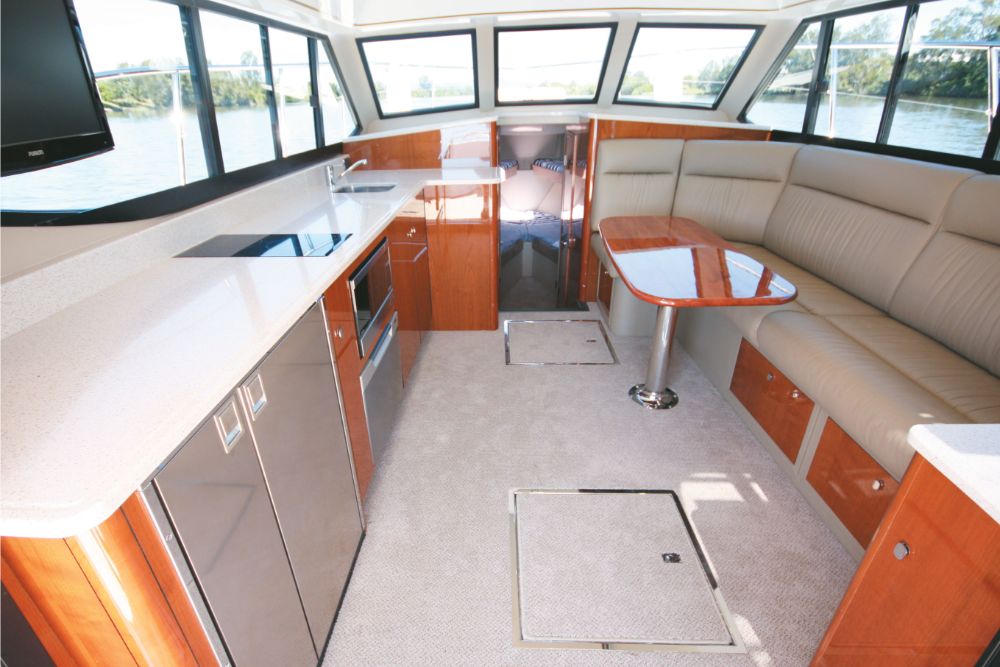 If it is glitz and glamour and often superfluous gadgets you want then perhaps the Steber 380 Twin Cabin family Cruiser is not quite the boat for you. If however, dependability, practicality and efficiency are your main criteria then certainly the Steber has few peers. The handling attributes in all conditions are well documented also; quite simply, Steber boats are built to literally last a lifetime. While I was amazed at the most competitive 'as tested' price of $780,000, especially considering the $70K+ 'survey' component, there is a reason for it. It doesn't lack anything, but Steber is one of the few companies that ethically and successfully sell direct to the public, thereby eliminating the middle man. As such, Steber develops a quite remarkable direct 'personal' link with each and every client, that again lasts a veritable lifetime. How many instances are there where you can actually sit down with the CEO, and discuss what you want in your boat?
Design name: Steber 3800Twin Cabin Family Cruiser
Boat name: Steber II
Builder: Stebercraft
Country of origin: Australia
Designer: Stebercraft
Interior designers: Stebercraft
Year launched: 2011
LOA: 12.2m
LOH: 11.38m
LWL: 9.83m
Beam: 3.84m
Draft: 1.00m
Displacement: 11,600kg (heavy ships)
Max speed: 32.2 knots
Cruise speed: 25 knots
Fuel capacity: 1530 litres
Water capacity: 400 litres
Construction: GRP
Classification: NSW 2C
Engines: Twin 440hp Yanmar 6LY3A-STP-A2.43
Gearboxes: Yanmar KMH61A 2.43:1
Drive train: Conventional Shaft
Drive couplings: Poly Flex
Propellers: 4-blade Teinbridge 24"D x 33"P
Generator: Mace Mariner 700 7kVA
Inverter/charger: Victron Energy
Air conditioning: Marine Air 7.3kW
Bow thruster: Sidepower SE100
Liferaft: RFD 10-man
Trim tabs: Volvo QL
Lighting: Aqualuma
Underwater lights: Aqualuma
Anchor winch: Muir VRC1250
Anchors: 27kg CQR plough
Steering: Hydrive
Engine controls: Yanmar
Paint (antifouling): International Micron
Stainless steel: Shearwater Stainless Steel & Central Coast Marine
Windscreens: Alfab
Deck hatches: Lewmar
Heads: Raritan Electric Flush
Wood finish: Aged cherry
Upholstery: Stebercraft
Helm chair(s): Reelax
Entertainment system: Fusion Stereo
Autopilot: Coursemaster CM-85i
GPS/Plotter/Sounder: Seiwa SW-1101
VHF: ICOM IC-411
Engine instruments: Yanmar
Switch panel: BEP Marine CZone
Vessel Management: BEP CZone
Base price: $A648,425
Price as tested: $A798,000 (in full survey)