Founded in 1976 in France, Fountaine Pajot boatyard launched its first sail cruising catamaran in 1983 followed by the first power cruising catamaran in 1998 under the Trawler Catamarans brand. Designed by Joubert Nivelt, the Trawler Catamarans incorporate all the characteristics and qualities key to the success of its sail craft: comfort at sea and in port, seaworthiness and high performance.
Fountaine Pajot's very distinctive sail and power catamaran ranges are instantly recognisable and in recent years have been seen more and more around the South Pacific. Imported and distributed throughout New Zealand and Australia by Multihull Solutions, the Fountaine Pajot power catamaran range has slowly been developing and today extends to three  models, with the Summerland 40 proving to be one of the  most popular.
Recently, the name Trawler Catamarans was dropped and  henceforth the power multihull range will be sold simply as Fountaine Pajot Motor Yachts. The first Summerland 40 was released in 2010 and while  externally it is still very much the same, the interior has come in for some upgrades and changes. Multihull Solutions'  Conrad Gair said that they listened to what local customers  had to say and tried to open the layout of the saloon up a lot  more, with a better focus on what the powerboat buyer was  after. While the Fountaine Pajot power and sail multihulls  are certainly very different in all aspects, there has been a  hint of more sailing yacht style interiors. However, with the  new Summerland 40 that has all changed.
"We needed to look more closely at the local market, because what is popular in terms of layout in Europe isn't  always what our clients want in a boat in our waters", says  Gair. "So in some ways the new style of the Summerland 40  has been brought about because of local influences and it's  obvious from the reaction to the new styling, that we have  done it right," he added.
At SCIBS, the company signed up four Summerland 40s including one to a Marlborough Sounds based client and  according to Gair they expected to confirm sales for a few more post-show. Considering they had only ever sold  three of the previous Summerland 40s, this has been a very positive outcome. "It was one of our best SCIBS ever and as far as the powerboat brand was concerned, the Summerland  40 hit the right spot", he said.
The 2013 Summerland 40 has a host of new features, including a newly designed saloon that provides 360-degree  visibility through panoramic windows. The interior of the  Summerland 40 is all matt finished oak, with no other timber  options. Light and fresh, the oak nicely accentuates the solid  surfaces and soft fabrics.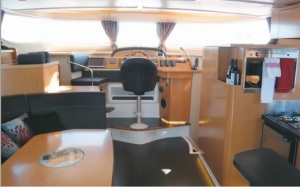 The port side cabinetry height in the saloon has been  lowered for better external viewing, plus the starboard side  dual fridge unit has been removed and repositioned. This has  resulted in more open space, improved integration of the  galley and cockpit areas, and additional storage space.
The well-appointed galley has plenty of cupboard space  and overlooks the light-filled saloon and dining area,  which comfortably seats up to eight guests. The galley now  features a Corian bench top with four-burner gas hob and  gas oven, with 120-litre fridge and provision for options such as a dishdrawer or convection microwave oven.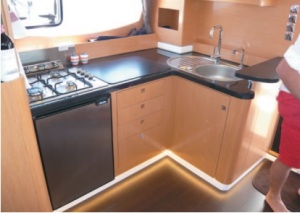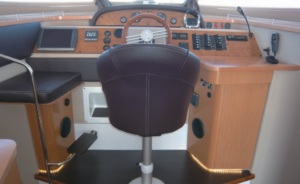 Another change to the new model is the internal helm  station facia, which has been lowered to improve forward  viewing. The helm station features a sleek console and plenty  of space is provided for at least a pair of large MFD screens. The central steering station can be flanked by as many  accessories as you feel you need, with the factory offering  both Raymarine and Garmin. In our test boat that included a  pair of Garmin 5008 F150 and 5012 screens, ICOM VHF and  Volvo electronic controls.
Seating is minimal, with a single swivelling helm chair with a moulded footrest for your comfort and an additional passenger side seat. Quite a nice feature if you have to spend  long periods at the helm. A strategically-positioned porthole  provides optimal ventilation. The generous navigation table is large enough for multiple charts and paperwork to be  unfurled without clutter.
You may question the need for such a full bodied downstairs helm station, now that the Summerland 40 has a more enclosed flybridge, but as Gair points out, this is a true passagemaker and at times the comfort of the downstairs area may just be the right place to be in bad weather.
"Because this is a bluewater boat and designed to do passages such as across the Tasman or over to the Islands,  the downstairs is nice when you are short-handed", says Gair. He adds that on a recent trip to Sydney from the Gold  Coast, he drove the boat for most of the 500 miles from the downstairs station.
With the standard version offering three cabins and two heads, the Summerland 40 is surely going to find its way  in the growing powercat charter fleets in New Zealand and more directly The Whitsundays. The Summerland 40 also boasts an exclusive owners' suite on the starboard hull, furnished with a raised queen-sized  island bed affording full walk around status, huge storage  space, office desk, dressing table and a private bathroom.
In the port hull, guests can relax in privacy and tranquillity, with two separate cabins featuring double or twin beds,  shelves, bathroom and ample storage space for convenience  on extended cruises.
Ventilation comes via opening deck hatches, with a fixed hull side teardrop port in each forward cabin providing extra  natural light. Air conditioning is optional. A little hidden gem has to be the utility or work room, which is accessed aft of the starboard bathroom. It's a great place for the washer/dryer and a place to keep your tools and service equipment for those extended voyages. Originally,  this was designed as the generator room, but with the new compact versions, the genset can now be fitted into one of  the engine rooms, thereby freeing up a lot of extra space.
All of the cabins have been upgraded with premium quality finishes and fixtures, and the flybridge has been revised to optimise spaciousness, including a fixed GRP hardtop and enclosed flybridge with Strataglass clears.
Access to the flybridge is via a wide, moulded stairway that has handholds excellently placed. While you still have the choice of a soft top foldaway canopy, the obvious choice for local buyers will certainly be the new Australian designed and manufactured fibreglass hardtop with Strataglass clears. At the helm, you have a choice of the standard bench seat or twin chairs. The standard layout comes with a three cushion daybed aft, but on our test boat this has been cut out to give 30% extra floor space. The port side U-shaped lounger will  easily seat a dozen people and a drop-in GRP table, the same one as used in the cockpit, can be deployed when required.  There is also a convenient, compact fridge to keep a few cold ones at the ready.
The upstairs helm is equipped with just the necessary instrumentation and electronics, such as a Garmin 8" MFD, so you can still drive from here and carry out all necessary functions.
While our test boat was fitted with rear sliding glass doors, future models will have triple concertina doors to open up  the entrance even more. Designed for optimal safety and  comfort, the deck spaces are ergonomic and obstacle-free,  providing easy access to all areas. There are steps either side of a central transom seat / storage / barbecue module to  the twin boarding platforms and a telescopic stainless steel  ladder for water access. A locally fitted option is the soft top overhang extension, which helps shade out the sun without  getting in the way of rods while fishing.
Further changes are planned in the evolution of the Summerland 40, with the rear seat module moved further  aft, almost doubling the floor space of the cockpit. Also, with a solid GRP hardtop extension (in place of the soft-top) now  available, you can use a davit crane to lift your tender up and stow it safely aft of the flybridge. Currently the only option  is to store the tender on transom davits.
Designed by Coste & Partners under the architectural guidance of Joubert/Nivelt, the Summerland 40 also boasts a generous freeboard and high bridge deck clearance to provide a quiet and dry ride in most sea  conditions. The hull design offers a dry deck at sea and a  stable ride with minimal bounce and roll in dangerous and  uncomfortable conditions.
The Summerland 40 is based on a semi-displacement  hull design, which results in a maximum amount of the  hull in the water at higher speeds, softening the ride and  reducing stress on the hull from wave impact.  Gair sees semi displacement powercats as the future in  power multihulls and points out that while you can still do 24 knots in this boat, it remains fuel efficient right  throughout the range.
While my short time aboard was confined to the calm waters of the Broadwater, I did get the opportunity to  speak to one of the new owners of a Summerland 40 who had gone 'outside" for his trial run. His report was  of a boat that surprised his expectations and performed  exceedingly well, given the huge white-capping swells.
Gair reports that on a delivery trip down to Sydney, with a 3m head sea most of the way down the coast, he sat the cat on 17 knots for almost the entire 500NM journey. It was a non-stop trip that saw the twin 220hp Volvo Penta  D3s burn a total of 1200 litres.
Power options are limited to the twin 5-cylinder 220mhp D3 or the twin four-cylinder 260mhp D4 units. While  the bigger 3.7-litre D4 is a slower revving engine with maximum power at 3500rpm compared to the 2.4-litre  D3 which runs out to 4000 rpm, the weight difference is  a substantial 514kg in total (301kg for each D3 compared to 558kg for each D4).
That's a lot of extra weight in the sterns, but while the big-volume semi-displacement hulls are more than capable of handling the added weight, I question if it would really be any advantage. Yes, you can probably cruise at lower rpm and the top speed would increase by a few knots, but for me, the D3-220s are a perfect match.
Top speed with the D3-220s running through shaft drives is around 24 knots for a fuel burn of 45L/h per engine. Drop back to 17 knots at 3000 rpm and the fuel burn is 20L/h per engine with an impressive range of 595NM.
But wait – there's more! The revitalised Summerland 40 is due in time to be re-released as the Summerland 40  Evolution, which will be an amalgam of all the changes to date and then some. However, this will not happen until  late 2013 and the changes from what we are told will be subtle but significant. Also there is a possibility of a sport version of the Summerland 40, which Gair says has already  attracted a considerable amount of interest, especially for  those people who have a bridge clearance height issue.
Given the huge available flat surface area of a sedan version, this also brings in the possibility of solar powered  hybrid engines. Another bonus of buying from Multihull Solutions a Fountaine Pajot vessel such as the Summerland 40 is that  you can take delivery in Europe and enjoy a few seasons boating around the Med, before shipping, or in the larger  versions motoring, it home. According to Gair there are also  a lot of cost benefits over the initial advertised price, which makes this a very attractive option.