Author  : Barry Tyler
Sunseeker has long been a name synonymous with luxury and futuristic European styling. In the case of the Predator range it is also a name and certainly configuration synonymous with genuine extended-stay lifestyle cruising ability. 
There are some who would dismiss the Sunseeker range simply as a glitzy glamour style of boat that very much creates the 'right' impression at your favourite parking spot. They would say that it is a magnificent boat, but because of its finish and level of opulence it is impractical in an ocean-going live-aboard situation.
Become more intimately acquainted with the range however, get up close and personal with this European thoroughbred, and you soon begin to appreciate it is demonstrably more than simply a party boat. Especially in the case of the Sunseeker Predator 62, the prolific British luxury motor yacht manufacturer has gone to great lengths to prove you can have good looks as well as performance, handling and practicality.
Looks can be deceiving and it is only when one actually steps aboard that one truly appreciates the depth of this vessel. There is a well-defined downstairs accommodation level and while certainly it is aimed at the decidedly more affluent luxury end of the market, nonetheless it boasts all the pre-requisite features of a live-aboard boat.
In reality, each boat in the Predator range could best be described as an 'Express Cruiser' style of vessel, with the emphasis definitely on express. Built utilising the very latest GRP composite technology of stitched multi-axial cloths on the hull bottom and balsa core hull and topsides, this vessel, despite its interior specification, tips the scales at only 29,000kg (lightships).
The Don Shead designed underhull shape is obviously very efficient, as noted during rise to plane and acceleration testing, but perhaps the more significant benefit accruing from this modest weight was surely the performance. Conservative was a word that immediately sprung to my mind, yet the latest technology twin 900hp, 14.62 litre, V8 MAN 900CRM 'Common Rail' diesel engines were still able to propel the Predator along at a most respectable 33 knots at the maximum 2300rpm. Even better still, it cruised effortlessly at a speed in the 20 to 25 knot range, where fuel economy was a decidedly more modest 90L/h, per side.
Opulence to Match the Performance
It performed indecently well, it was nimble, it was quiet underway, and it responded quick to the helm, yet as we soon discovered, there was a whole lot more to this boat than just exhilarating performance and handling.
Within the true tradition of the rather broad descriptive of 'European styling', the Predator has a huge electrically-operated rise and fall boarding platform that welcomes you aboard. Traditionally you would expect to find a rear garage within the confines of the actual rear transom assembly but in this instance an exterior moulded door on the starboard side of this transom leads you down into an aft lazaretto of enormous proportions.
Steps up the starboard side of the transom upright (the portside steps rise only as high as the aft hawse-hole, cleat and winch) lead you eloquently up onto the teak-soled cockpit. The epitome of the 'outdoor entertainer' ideal, an L-shaped lounge and table setting, sits portside opposite a comprehensive entertainment module that includes bench servery, ice-box, ice-maker, electric BBQ, sink and cupboard storage. The electrically operated overhead retracting rear awning provided the perfect setting – rain hail or shine!
Saloon Level Extraordinaire
The entertainer ideal very much prevailed, perhaps in a more formal way, as we stepped in through the full-width stainless steel doors and into the saloon. Obviously an area dominated visually by the spectacular helm station up front, enough fore-thought had gone into the layout of this room that the saloon proper appeared still quite separate from the helm.
The contrast of colours within this room was most effective, contemporary and certainly very powerful and it was perhaps this powerful statement that helped separate the two distinct areas. The cherrywood finish contrasted rather effectively with the cream lounges and beige-coloured side and overhead panels, and then you had the almost stealth-like appearance of the futuristic helm station with its black multi-layered dash and black two-person seat that sat alongside the skipper's single electrically operated helm chair.
There was everything within this helm station that was entirely appropriate to a luxury-spec'd vessel. Perhaps more significantly, a luxury-spec'd practical vessel, for the Raymarine electronics were complemented by the Seastar steering, the remote camera, the MAN remote controls and instrumentation and the Bennett trim tab, Lewmar winch and bow-thruster and the Gallinea windscreen wiper activators.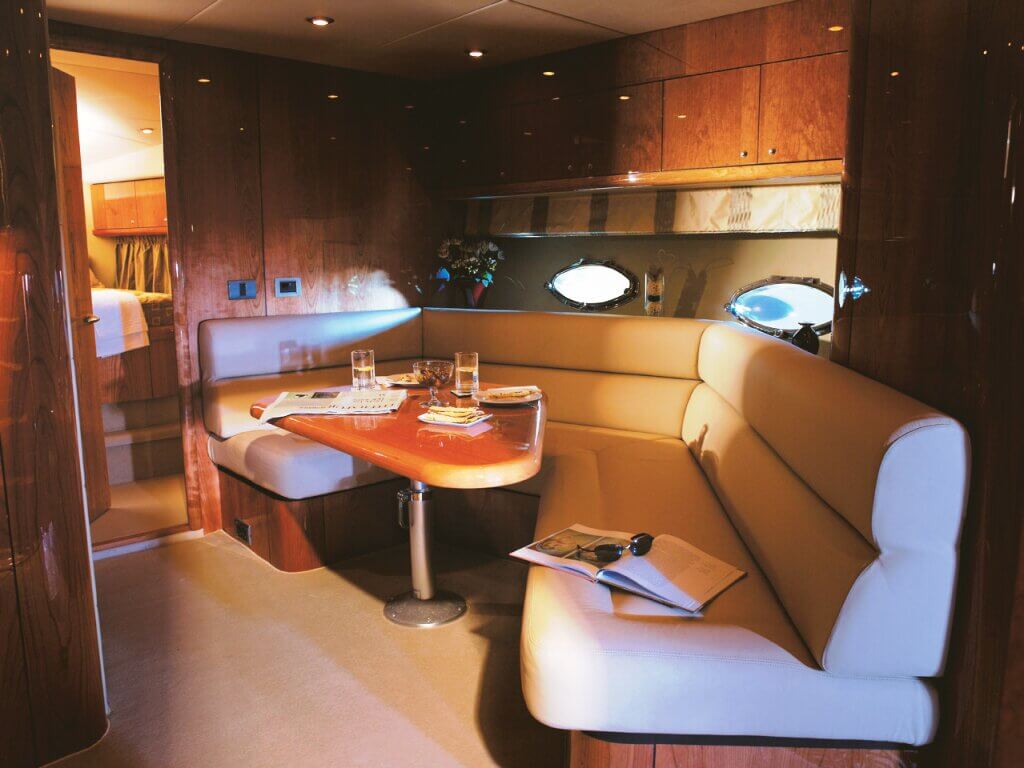 Of an evening, the saloon would be a very ambient area indeed, with a six-person U-shaped dining setting to starboard. After dinner you simply lower the table and it transforms into an equally ambient coffee or after-dinner drinks emporium. Even the entertainment facilities are close at hand, for to port and slightly forward of this is the cabinet with pop-up television and DVD station and forward of this a comprehensive bar with bottle and glass storage drawers, refrigerator and provision for a wine cooler.
Adding to the 'power' of this room also were the side windows styled in such a way that they offered maximum light whilst still providing a modicum of privacy through their very design. The only thing I personally didn't like about this saloon level was the closed boarded solid teak flooring. I felt carpet would have been more in keeping with the surroundings. Each to his own however, for Sunseeker does offer a very flexible choice with this and every other facet of interior décor.
Another World Below Decks
Any 'sport-boat' misconceptions literally flew out the window as I stepped down to the galley and accommodation levels. Often people, me included, tend to expect a vessel of this styling to be more of a day boat scenario – all glitz and glamour above decks and confined, even under-spec'd in comparison, below decks. How wrong I was – I certainly wasn't expecting a virtual duplication of the 72ft Predator I was aboard a few months ago.
At the base of the stairs and to port was the galley. The copious use of cherrywood here offered a real elegance, yet it was most practical and well laid-out. Every aspect, every feature within the galley was of house-size proportions, again reinforcing the live-aboard aspect.
Occupying the entire portside wall of this area, refinements included secreted separate fridge and freezers, generous bench space, a below-bench dishwasher and microwave convection oven, and above it a four-burner stove hob, ensuring that catering for a crowd would be entirely manageable. Visually impressive, innovative and certainly generous-sized storage provision both above bench and within the bench module itself, only added to the user-friendly nature of this aspect of the Sunseeker Predator 62.
Opposite the galley was yet another virtually U-shaped lounge and table dining setting that would suffice either as a breakfast area, or if there were children aboard they could have their own private area complete with television and DVD facilities – away from the 'big people'. This again accentuated the live-aboard aspect, for with all these areas people don't have to be in each other's faces all the time.
Off this downstairs atrium for want of a better descriptive, were the various bedrooms, now I hasten to add boasting carpeted floors instead of the prevailing closed boarded solid teak flooring! Up for'ard was the guest stateroom – presented very much to a superyacht standard. The 'depth' of the gloss-finish on the cherry wood-work seemed to stand out more dramatically in this queen-sized, ensuited room, the contrasting décor was very opulent, the whole room in fact painted a stupendous picture of unadulterated luxury. The two-way ensuite doubled as the house bathroom also.
It was more of the same with the twin-cabin bunk (one above the other) accommodation heading aft and to starboard, for it too had the same level of décor, generous space and like-wise 'goodies' such as television DVD, air-conditioning and sensible-sized and more importantly comfortable, berths.
Surprising for me was the interior depth of this vessel for heading further aft you dropped down a further three steps, passing by the secreted laundry on the way, to the coup de maître, the very avante-garde master stateroom. Far from claustrophobic with its '8-foot stud' and full width of hull space allocation, this room was extremely spacious in the context of a bedroom on a cruiser.
While the striking contrast of colours and décor prevailed, this extra space also allowed Sunseeker the luxury of including features such as a wall-length starboard-side vanity bench and drawers for the lady of the house. Opposite this, on the port side of the room a wall-side lounge provided a quiet place to relax and read.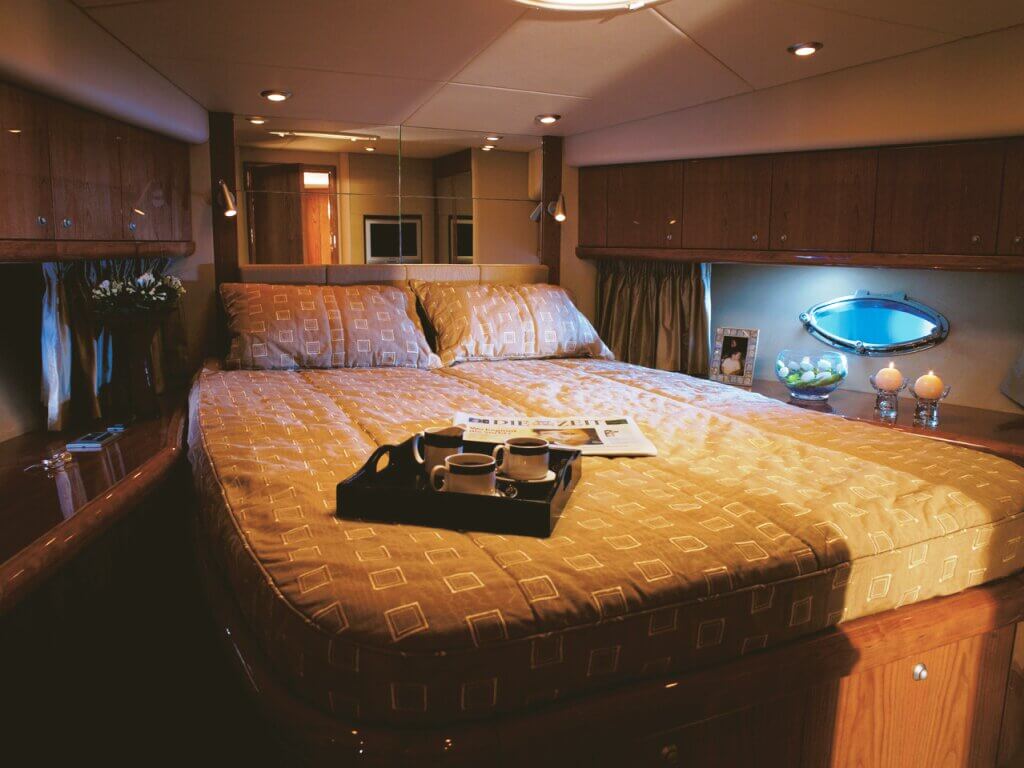 The highlight of this room, for me, was the futuristic superyacht-style feature of three elongated portholes each side. Offering good visibility as well as plenty of natural light, most innovative, creative, call it what you like, was the fact the aft port-hole on each side actually opened, thereby providing fresh air also! Special additional refinements within this stateroom included the 20-inch LCD television, DVD, air-conditioning, fabric wall coverings, feature ceiling, a massive near king-size berth, and walk-in wardrobes each side of the bed-head.
It performed most creditably for a vessel of its size and power, it was agile and handled well, and most importantly it is still within a size range that ensures it is easily manageable in a family situation (with the owner as skipper). The innovation was refreshing, things like the stateroom portholes, the helm, the huge overhead sunroof in the saloon, the very separate areas of the boat, even down to the brackets for the Royal Doulton crockery and plates – all oozed luxury as well as practicality. A subtle point but something as seemingly mundane as sealed expansion joints between all the wall panels throughout the vessel, rather than wooden mouldings over each join – stops the vessel 'ageing'. We all know hulls flex and move and this way no gaps can ever open up, no chipped edges will ever appear – in years to come. All the innovation, the attention to detail, all the subtleties that most people never even see – for me all equated to genuine value for money in a boat you could use for a day, a weekend or one hell of a lot longer!
Boat Design Name: Sunseeker Predator 62
Year Launched: 2008
Designer: Sunseeker Design / Don Shead Naval Architects
Builder: Sunseeker International
LOA: 19.60m
LWL: 14.67m
Beam: 5m
Draft: 1.54m
Displacement: 29,000kg (lightships)
Max Speed: 33 knots
Cruise Speed: 25 knots
Construction: GRP / balsa core
Fuel Capacity: 3000 litres
Water Capacity: 700 litres
Engines: 2 x 900hp MAN 900 CRM
Base Price: $A3 million