Boat shows regularly offer a prize to encourage people to attend. However, no show in Australasia (or, as far as we know, anywhere else) has ever offered anything like this. The 2017 Hutchwilco New Zealand Boat Show's tempter is a 7m hardtop Surtees/Yamaha Grand Prize Package worth an astonishing $150,000!
It is definitely a prize worth winning. Sitting atop a stylish,  Epic trailer and a Balex Auto Boat Loader is an extra-packed Surtees 700 Game Fisher powered by twin Yamaha 115hp four stroke outboards.
One of Surtees most popular offshore models, the 700 Game Fisher is something of a floating showcase for what the company calls "Surtees IQ."
A combination of water ballast technology, non-pounding deep V hull and engineered sub-floor systems, the system, according to CEO Adam Dyck, is designed to ensure the boat slices smoothly through the chop and provides a stable fishing platform at rest.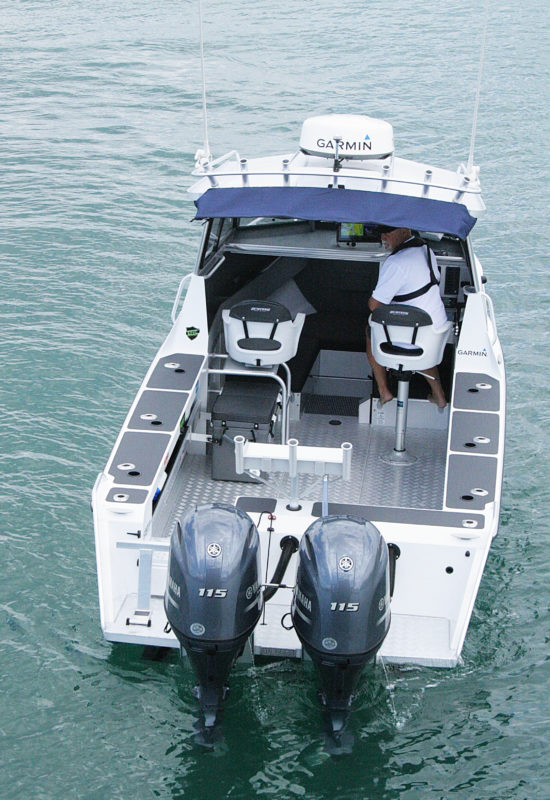 Having spent the best part of two days on a sometimes reasonably choppy Hauraki Gulf, it is hard to disagree with any of that. At times there were just two of us on board; at others, up to seven. On occasions we were blasting at full tilt across the chop, then we were soft bait drifting, water skiing, towing a biscuit or quietly anchored and having lunch.
Regardless of our activities, the 700 Game Fisher was performing exactly as advertised. The ride, irrespective of the sea state and our angle of attack, was smooth, soft and predictable.
Of course, with a 20 deg deadrise and a reasonably high hard top (easily able to accommodate those well over 2m), one does need to pay attention to trim, especially with a large contingent on board and prone to moving about. However, a set of Lectratab auto retract tabs, complete with LED control panel, made this a relatively easy issue to fix.
While most owners would probably choose to go with a single engine (probably a 250hp), the prize boat has been fitted with a pair of Yamaha 115hp four-stroke outboards and, as we discovered, there are definite advantages in that (See sidebar).
Two that stood out to us were the stability of ride at speed, especially in the rougher water, and the exceptional load carrying.
On the advice of the team from Yamaha, the prize boat's port engine has been fitted with a counter-rotating gearbox. This means that while the starboard engine turns clockwise in the usual fashion, the port engine turns counter-clockwise. This means the engines are throwing their "dirty" water (the water that has just been through the propeller) outwards, away from the boat and, most importantly, away from the other propeller. This means both propellers are churning through clean, un-aerated water, ensuring good grip and minimal, if any, slippage.
Having two props, with their increased surface area, chewing through clean water in opposite directions like this produces a smoother, more stable ride, especially in more moderate and rougher conditions.
That increased surface area also ensures more bite when hauling up a skier. The increased torque also improves load-carrying, which is one of the reasons a twin engine set up is so popular with charter boats, water taxis and the like.
While Surtees boats are no doubt used for other activities, there is no doubt that they are first and foremost, designed for fishing.
The large cockpit has been purpose built to accommodate serious fishers and all their gear. There is a Surtees bait station (complete with Eze-mount, three rod holders and drainage house) centrally positioned on the transom and the plumbed live bait tank is close at hand under the port side walk-through.
There are another three rod holders per side in the coamings and a further six up in the integral rocket launcher. There is more rod and general stowage in the deep side pockets and handy toe kicks on the both sides for those needing to brace themselves while fighting something decent. Acknowledging that fishing can often include prolonged periods of inactivity (while at the same time being thirsty work), Surtees has ensured its side decks are wide enough to comfortably accommodate even the most wide-bottomed of us, while also thoughtfully inserting a stainless steel drink holder alongside each of the rod holders.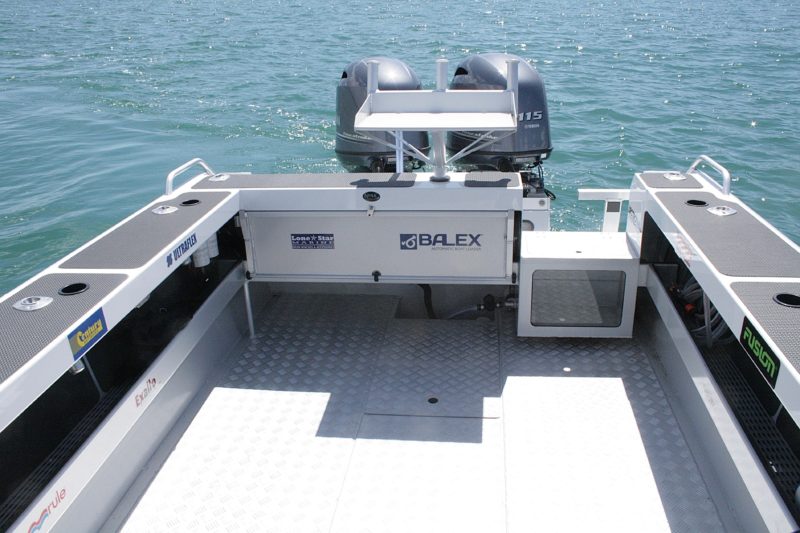 There is also LED floor, cabin and floodlights for those out after dark and a triple Century Batteries system under the transom to ensure there is always enough power. A 280-litre fuel tank ensures this prize rig has a good cruising range and its large cabin, complete with infill bunks, means one can easily overnight.
Combining the Surtees 700 Game Fisher and the twin 115hp four stroke Yamahas would create a pretty amazing prize package, even if one stopped there. Luckily for the exceptionally fortunate person who will take home this package after May 21, neither Surtees nor the show organisers choose to do that. Instead, they have fitted the boat with an incredible range of practical and desirable extras.
For a start, the trailer the prize package sits on is no ordinary trailer. Instead, it is a stylish, black Epic tandem axle braked trailer, the sort of transportation system that makes people want to take a second look, even when sitting on its own in the car park. Making it even more desirable is a set of new Surtees protective stone guards, a pair of striking mag wheels and a Balex Auto Boat Loader. This Kiwi invention is an automated launch and retrieval system that, among its other attributes, enables one to launch the boat simply by pointing a remote control out the sliding side window by the helm station and pushing the appropriate button.
The Garmin electronics package is also a highly enviable one. Worth around $12,000, it includes a 12' GPS/Map 7412 multi-function display, including 3D G2 vision charts; a GM24 xHD radar (whose radar dome graces the hardtop), a TM265LH CHIRP fishfinder, complete with a 1kw transducer and a VHF.
Other extras on board include a Lone Star GX2 drum winch system (complete with Sarca anchor and rode), which is exceptionally easy to operate, a Fusion UD750 stereo system for great music both underway and at rest, a Jabsco washdown pump to keep everything clean and a driver's side Exalto window wiper, which proves handy in the cross breeze coming home. Ultraflex hydraulic steering and a Softrider pedestal helm seat enhance the driving experience. Crew seating is provided by a fixed seat facing forward on the port side, with a padded seat on the handy Icey-Tek chilly bin below and the wide side decks.
Completing the package are the painted hull and cabin, a set of sliding windows in the hardtop (so appreciated on a hot day!), a canvas cockpit shade extension (ditto), cabin carpet and a fold-down transom bench seat (which is also sturdy enough to stand on if needed). Also included are the standard Surtees' 10-year recreational hull warranty, a year's worth of Yamaha Marine Insurance and a family pack of Hutchwilco Surtees lifejackets.
And, so that the winner need not waste valuable time ashore, the fuel tank will be full and the Epic trailer will be both registered and warranted.
The draw for the $150,000 Surtees/Yamaha Grand Prize Package is open to anyone who attends this year's Hutchwilco New Zealand Boat Show (at the ASB Showgrounds in Greenlane, Auckland on May 18-21), having bought their ticket either online at www.boatshow.co.nz (before May 10) or at the gate).
To better understand how two smaller outboards compare to one larger engine, we contacted Yamaha Motor NZ Ltd's technical sales advisor, Hugh Stewart.
Hugh is a big fan of twin rigs, in particular for those keen on blue water fishing, and here's why:
•    Better balance when underway, creating a more stable ride, especially in a seaway and when battling big swells.
•    A margin of safety, enabling one to get home on a single engine in the unlikely event there is a problem with the other.
•    Better when trolling, making it easier to maintain a constant speed rather than having to "hunt" for the right revs/speed.
•    Better manoeuvrability, particularly at the low speed, enabling the boat to be positioned using just the throttles.
•    Better load carrying (hence their popularity with charter operators, water taxis and dive boats).
•    Better "noise": although the punch from the hole is about the same, the harmonics of the twin rig are a sound sure to thrill any petrolhead.
Hugh recommends anyone installing a dual rig to fit a counter-rotating propellers to ensure a better ride, cleaner water over the props and minimal slippage.
He also advises against using only one engine for trolling, saying people think it will save them fuel but the opposite is actually the case.