Having celebrated 20-years of operation last year, Surtees Boats has become one of New Zealand's largest and most successful alloy production boat builders.
What has been key to the company's success is innovation. I'm not talking about reinventing the wheel type stuff, but just clever kiwi ingenuity innovation – like the pie warmer built into the underside of the engine cover on a 6.7m Gamefisher diesel sterndrive I tested a few years ago – clever! Such is the success of many of these ideas, buyers are flocking to get hold of a Surtees, with the company pushing a new boat out the door of the factory every 4.5 hours. In addition, Surtees Boats has won practically every major boat show award going.
One of the key design features seen on all Surtees boats is the ballasted keel system, for which the company has become renowned. The 5.5 model can hold 200L of water ballast.
Open the gate up when at rest and it makes the boat ultra stable. Once underway it will drain out, or lock it in to add some extra weight to the boat for rougher conditions. As with other Surtees boats I've tested, the system performs well. With the ballast weight captured underneath it will really help you to push through choppier conditions. Add to that, it makes the boat rock solid and stable when at rest.
Once aboard and under the protection of the sizeable hardtop section, for a boat that is only 5.5m, the 5.5 Hardtop feels a lot bigger than it actually is. Forward, the cabin provides plenty of room to store gear away for the day. Side pockets keep things up and out of the way, and the addition of some bungee cord on the external sides of the pockets is a great feature to make use of extra space. Clever.
Further storage is available under the V-berth bunks, and the large stand-through aluminium hatch above provides massive access to the anchor locker. The driver and passenger get a pair of simple fold-down seats, which allows you to get them down out of the way and maximise the internal room of the cockpit for fishing. Clever! The passenger's seat is designed to slide along the cockpit shelves so you can sit where you like. Clever! If you don't want them, they can be easily removed and stored out of the way in the cabin. Clever! If you don't want fold-down seating, the options list for Surtees is huge, so you may specify fixed seating with extra storage underneath.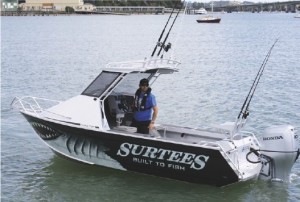 Aft, the cockpit boasts nice wide coamings featuring four recessed alloy rod holders and a handy cup holder on each side. The cup holder also doubles as a handy place to hold your sinker when re-baiting lines – prevents the sinker bashing around and destroying the paintwork. Clever! Full-length side pockets offer further storage and a sizable rocket launcher is above for additional rod storage. Fishers will and do love the walk-up-style transom. In the port and starboard aft corners there is provision for tote tanks on the floor, one in each corner. An underfloor 100-litre fuel tank takes care of fuel storage, but leaves enough room for two sizeable underfloor storage compartments, which can be filled with water and drained.
A large bait station is a prominent feature of the transom while boarding platforms on both sides of the outboard provide access into the cockpit, the port one featuring a sturdy drop-down ladder. A live bait tank is located underneath the low-profile walkthrough in the port corner. The walk-through can be closed off with a drop in door. A non-skid chequer plate floor runs throughout the entire internal deck and is easily cleaned and maintained.
As with all Surtees boats, the 5.5 is designed to be non-pounding, stable and comfortable. Surtees says that the smooth ride is the result of combining three innovative design features – the Surtees Non-Pounding Super Deep V Hull, the ability to carry water ballast in rough conditions, and the Ultra Strengthened Deck System.
Surtees fully welds the stringers to the hull – they are not stitch-welded. The chequer plate floor is fully welded; gussets are all fully welded in. The strongest part of the boat is under the floor where you can't see it – if that doesn't move, the rest of your boat isn't going to move. Over engineered? You bet! Test day conditions on Auckland's inner harbour were fairly calm, with only a small chop on the way back to Westhaven. There was definitely no pounding and for a 5.5m boat I thought it performed very well, and instilled some confidence that if things got rougher, it would handle it just fine.
The hull is rated for outboards from 90hp through to 115hp, I can't see a 90hp being all that much different from the 100hp, and a 115hp option will probably give you a little more pep for not that much extra cost. At the helm, the seating position is quite comfortable, with the throttle controls within easy reach and a well-positioned footrest below. The dash is minimal but practical and has enough room above to mount your preferred electronics package on the large carpeted area above the dash itself.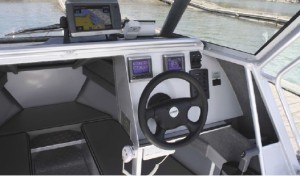 Back at the ramp, Surtees has a unique catch system on the trailer which enables you to drive the boat up onto your submerged trailer and drive forward until the hook, built into the bow, catches the latch on the trailer. Clever!
Our Surtees 5.5 Hardtop was fitted with a newly released BF100 Honda four-stroke. Also newly released is a brand new BF80 model. The BF80 and BF100 utilise a 1.5L, SOHC, 16-valve, inline four-cylinder engine, inspired by the same engine that powers Honda's number one selling motor vehicle, the 'Jazz'.
According to Honda, a range of its Honda exclusive technologies combine to deliver exceptional power, superior environmental performance and best-in-class fuel economy. Yep, they certainly did that. Trolling along at around 6.5mph @ 2000rpm, the little BF100 was using just 5.7L per hour. At a comfortable cruise speed of 23mph @ 4000rpm, it was consuming 15L/h. Hit wide-open throttle and it does 36mph @ 5800rpm and uses 30L/h.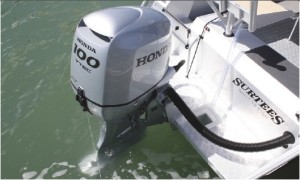 I was lucky enough to be one of the first media people to get my hands on Honda's new BF100 model. I was immediately impressed by the throttle response and economy, but was a little surprised to hear it making so much noise. However, to be fair, it was on the back of a hardtop, which can tend to make outboards a little noisier. Incorporated within the Honda BF80 / BF100's lightweight and compact design is BLAST – advanced ignition timing control system, which significantly improves hole-shot performance; ECOmo – sophisticated lean burn fuel control system, which contributes to excellent fuel economy; and VTEC (BF100) – variable valve timing technology, originally developed for Formula One race cars, to deliver low-down torque.
An optional Trolling Control function allows precise control of engine speed, with adjustments in 50rpm increments from 650rpm to 1000rpm, which is ideal for various styles of fishing and slow speed manoeuvres. Honda's new BF80 and BF100 are also NMEA 2000 compliant, allowing engine-toelectronics data communication to deliver engine management and performance data to compatible marine electronics displays. (Honda's marine engine line-up from the BF40 to the BF250 is now fully NMEA 2000 compliant.)
The new engines can also be networked with Honda's VeeThree multi-function digital gauges. Designed to provide a comprehensive range of information to users, the gauges also feature Honda's unique Eco light, which indicates when ECOmo mode is in operation (for best fuel efficiency during cruising).
I've always been very impressed by the build quality, attention to detail and finish of every Surtees boat I've been on; they are just so… you guessed it, clever! The 5.5 Hardtop is well appointed and has heaps of room with loads of features, many of which are all standard. If you want to build one up and customise it into your perfect boat, then the options list is pretty extensive and there isn't much that isn't available.