Suzuki's new DF115BGT and DF140BGT not only offer more power and more torque, but they also include fly by wire technology. 
Suzuki Marine has unveiled two new 4-stroke outboards utilising their drive-by-wire technology typically found on larger platforms. The all-new DF115BGT and DF140BGT is the first in their class to offer Suzuki's drive-by-wire tech in 115HP and 140HP packages. They are both still based on the 4-in-line, DOHC, fuel-injected, 2.0-litre block used for the existing 115A & 140A engines. Suzuki's drive-by-wire technology's reliability and precision control have been proven for years on Suzuki's popular 150HP through 350HP models, and now the same engineering is available on smaller platforms in 2021.

Editor Barry Thompson went to Wanganui, the home of Suzuki New Zealand, to review the first of the new BGT engines. Bolted on the transom of a Fi Glass Lightning 5.6, sea conditions on the Whanganui Bar and off the coast were calm with a minimal swell, so we were able to push the new Suzuki 140BGT engine to the max.
The first thing that was obvious when we left the ramp was how light and responsive the steering was, plus the engine's quiet tone. Coupled with the silky-smooth shifting, instant throttle response and excellent fuel efficiency, the new Suzuki DF115BGT/DF140BGT engines are ahead of the game.
Graham Kennedy, Marine Dealer Executive for Suzuki NZ, says that the big difference between the 115A/140A is not only fly by wire but the new engines have upgraded compression rate of 10.6:1, giving both 2.0-litre displacement packages better acceleration and higher top speed.
By increasing the compression from 9:1 to 10.6:1 has increased the torque. This means you can run a bigger propeller with more speed and acceleration.
"The increased compression ratio shows dividends from 4000 rpm and above, which is noticeable in the acceleration when you push the throttle to the stops", says Graham.
Routine maintenance is easier as replacing the oil filter will simply involve removing the upper engine cover, which also has a new Oil Spill Catcher surrounding the oil filter mount. So no mess to clean up when changing a filter.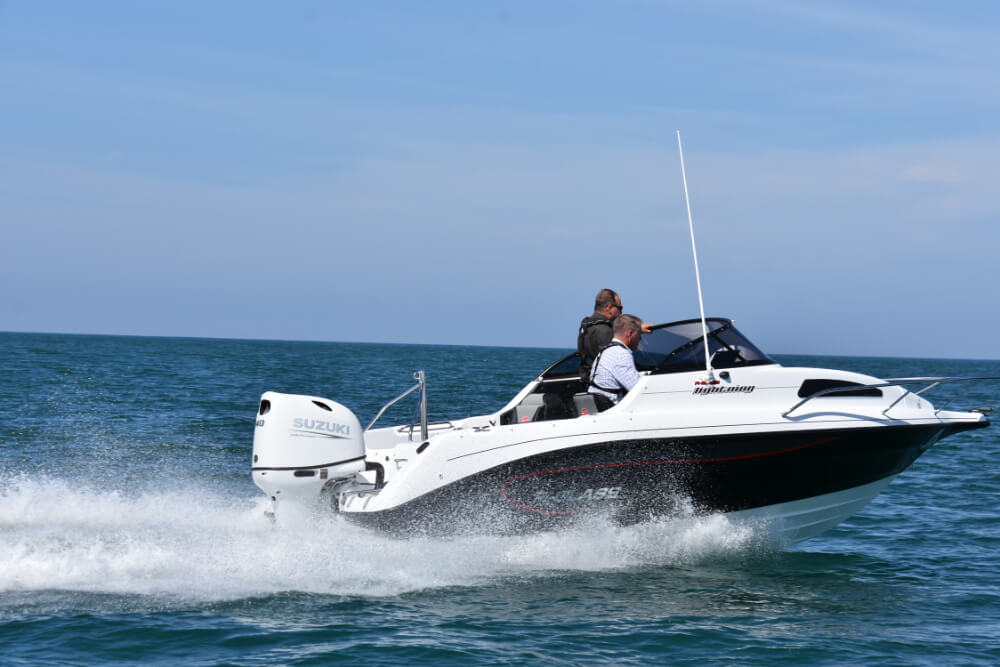 There is now a water detecting system that protects the engine from water in the fuel, with an easily replaced filter. The new engines are 8kg heavier due to the fly by wire components on the powerhead.
The gear case has been improved by optimising the gear oil passage, so the spinning pinion gear generates negative pressure, helping gear oil circulation. This designed to lower the gear oil temperature and contributes to the increased durability of the pinion gear.
"Compared to existing DF115 and DF140A engines, the DF140BGT boasts increased fuel efficiency of 5-7% across mid to high-end cruising speeds while the DF115BGT offers 5-6% improved fuel efficiency at cruising speeds".
We ran the Suzuki 140BGT out to 6400 rpm, running a 14 x 21 3 blade stainless prop and hit the rev limiter. Back at 6000 pm, we were still recording nearly 36.5 knots and a fuel burn of 34.7 lph / 1.1 lpnm and a range of 110 nm. At a more leisurely cruise around 3500-4000 rpm, the fuel consumption dipped to a mean 12-16 lph for around 20 knots and gave us an impressive range of 180nm.
Other improvements include a 40-amp alternator on both models that offer improved output and better charging performance at low idle speeds – ideal for power-hungry fishing boats that spend a lot of time trolling. A redesigned cowl also incorporates a new air intake structure with improved water separation and a silencer-resonator system to attenuate engine sounds and provide a quiet boating experience at all RPM. They are available in 20-inch (L) and 25-inch (X) and Suzuki Pearl Nebular Black or New White colour schemes.
Suzuki Marine will continue to offer the existing DF115A and DF140A four-cylinder 4-stroke outboards alongside the new models.