Tara Too on its way to winning the rough 1970 Wellington BP5000.
Tara Too – A New Zealand Offshore Racing Icon.
Tara Too, one of New Zealand's most well known and successful offshore powerboats of the early 1970s, didn't have things easy when launched but went on to win many races and an NZ championship.
Back in the late 1960s and early 1970s offshore powerboat racing was gaining in popularity and despite the best efforts of some of the early organisers to keep it to stock and custom built family style cruisers, there were those who wanted to compete in 100% genuine race boats.
One of the earliest was Auckland baker Ivan Boyce, who in 1968 had Rex Henry design for him the 5.8m (19ft) Tara Too, which was destined to become an icon in the sport. Along with boats like Bill Stevenson's Mystic Miss, Trevor Burnand's Kitten (a smaller version of Tara Too) and John Meredith's Formula 233, Tara Too went on to win many races.
Tara Too was built in timber by Auckland boatbuilder Rod Holt, with help from Ivan's crew of Brian Millet and Don Dainty and others. Ivan's request to Henry was for a very fast family fishing boat and to get around the draconian rules imposed by the PBRO, it even had rowlock holders.
Construction was three skins of heart kauri with a total thickness of 3/4", fastened with copper nails and glued with resorcinol. The stem and keelson were combined in one laminated member running from the stem head to the transom. Metal reinforcement was used around the frames. Overall, Tara Too was a very strong but extremely heavy race boat.
Power was a 7-litre Chev Corvette engine which was dyno'd at Lees Marine and turned out 350shp @ 5000 rpm. Subsequent modifications saw that raised to around 425shp, using pump gas and conventional marine manifolds. On top was a pair of Holley 780cf carbs on an Edelbrock quad-ram inlet manifold.
The power was transferred through a Casale V-drive mounted between the two forward crew seats. A special three-bladed nickel-alloy bronze propeller was engineered by Ged McCarthy and the top speed when everything was running right was around 60mph. That was reasonably fast for the time.
The boat was first launched in January 1969 and taken to Gisborne for the first race. However, a damaged camshaft in the new engine saw their debut race become a disaster and they returned to the ramp. At Wellington that year the spark plug leads had been accidentally crossed and they never made the start.
At Rotorua the same month Tara Too collided with another boat and put a hole in the bow. They just made it back to the ramp but sank beside it, in just over 1m of water. In the Auckland race that season they ran the Atlantic 100 with high hopes, but fuel issues slowed them down in the early stages. At Kawau on the return run home they changed fuel tanks and the problems went. However, after passing just about everything in the field on the way back to the finish under the Auckland Harbour Bridge they couldn't pull back Bill Coughey in Panic Mouse who beat them by two minutes.
The next race in Auckland was the Atlantic Boat Show marathon and this saw another withdrawal with a damaged propeller. Taupo in 1970 saw another broken prop and things weren't any better with problems at the following events in Gisborne, New Plymouth and Rotorua.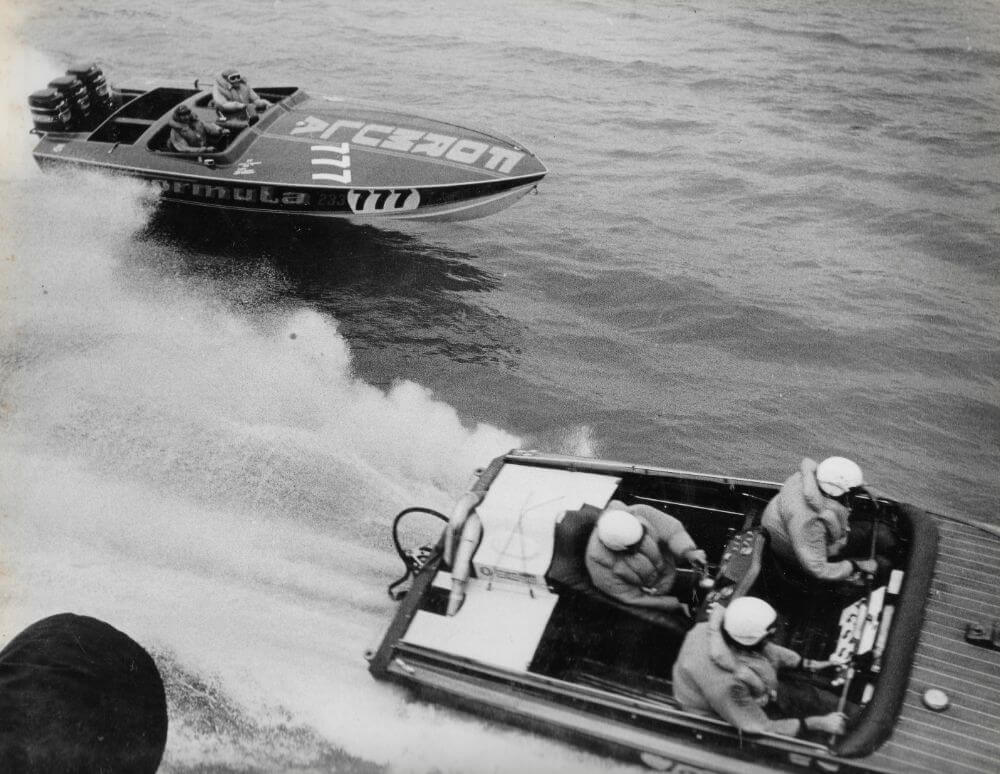 Two seasons and no wins, but Ivan and his team were ever hopeful and knew that with a bit of luck they had the boat that could beat the competition. At last Tara Too gained her first major success in the Auckland Atlantic 100 in April 1970, winning both the speed and performance sections. The next win came at a very rough Wellington race in the same year. However it wasn't until the 1971 season that Tara Too's name was engraved into the New Zealand Offshore Powerboat Championship Trophy after a successful season.
Ivan retired from the sport in the early '70s and although the boat was sold and raced a few times over the following years, it never attained the same status that it had when under the ownership of Ivan Boyce. It was then covered up and left to spend the rest of its days in a barn the Thames, a roosting place for chickens.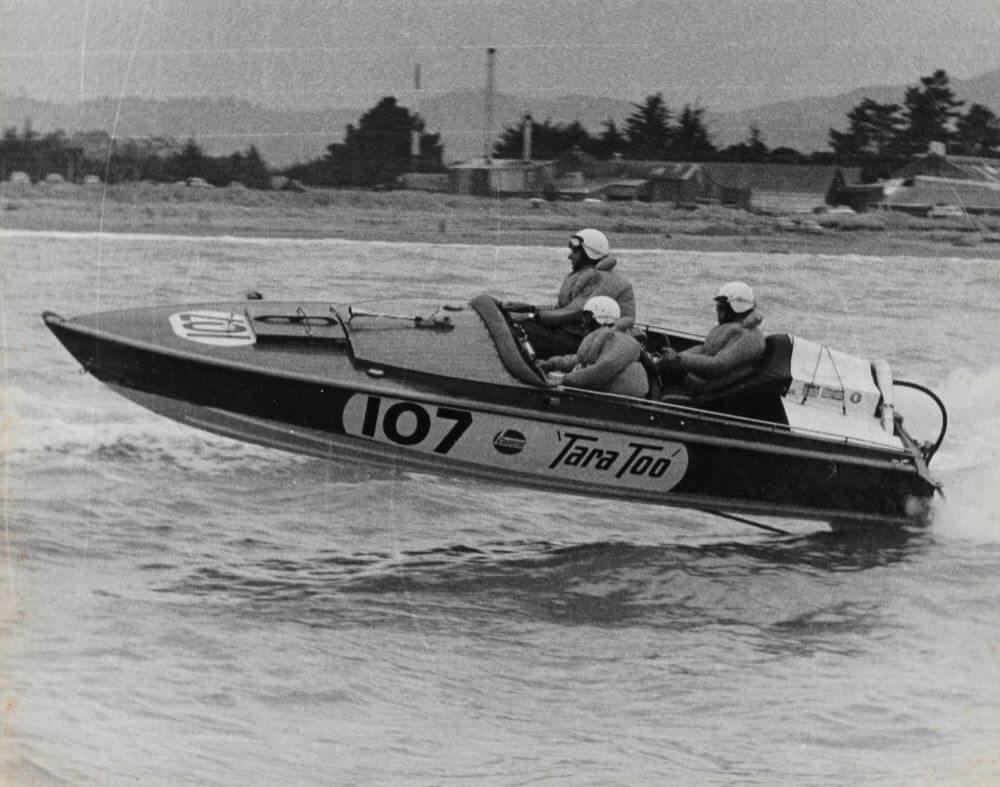 However, as luck would have it, Ivan's son Mike found out about the boat, and managed to take ownership. Today the hull rests at his marine shop in Silverdale, just north of Auckland, awaiting full restoration. Mike has done 90% of the work on the hull and says that he is ready to sell it. Although he did have a big block Chev for it, that has long gone so a new owner would still have to scource a powerplant.
It would be great to see Tara Too back on the water and running in the Classic Class, reliving some of the past glory of those formative years of offshore racing in New Zealand.