Aaron Fletcher, who has had a personal experience when it comes to abandoning a vessel at sea, offers some advice on what to do if you are ever in the same life-threatening situation.
Abandoning your vessel, no matter what size is something we all never want to think about. Still, sometimes as the skipper, you might be faced with the only option of abandoning ship, to save your family and in my situation, your own life. This is precisely what happened to me, and in this article, I share my very personal experience and hope you can learn something from it.
Firstly and most importantly is to have your gear prepared and check the condition of your safety equipment. You will be surprised how quickly lifejackets, flares, lights & fire extinguishers degrade when stored in a salty and wet environment. Check them regularly and if old or in doubt about their condition toss them out and replace.
My advice is also to make them aware of where the equipment is and discuss some 'what if' scenarios. It's all very well yelling emergency instructions to someone, but if they don't know where the safety gear is or how to use it, it may cost lives.
Chance favours the prepared: By preparing for these types of emergencies ahead of time, you are better able to handle situations should an emergency present itself. If you plan on being on the water, it makes sense to be prepared for when something goes wrong on the water. Let's look over some of the ways that you can be prepared when you are faced with the only option of abandoning your vessel at sea.
Tell someone of your expected whereabouts and set up a pre-arranged call back time. Call the Coastguard and file a Trip Report (TR), which advises them of your travel movements. If you do go missing, then at least Coastguard will have some idea of your location.
Remember the TR should include vessel name and type of vessel, departure and destination points when you intend to arrive at your destination as well as the number of people aboard. You can access the details from the Coastguard website on this URL: https://www.coastguard.nz/boating-safely/communications/
One of the worst fears we face as a boater is losing our beloved possession, while we all hope it never happens, we must be prepared and have a crew plan ready in case it does.
You will also be surprised that a large number of NZ boaties fail to do a TR (Trip Report) with Coastguard or tell someone their travel whereabouts. This makes it difficult for the rescue teams to locate you as they will have limited information. A TR will provide the Coastguard with essential details like the name and size of the vessel, the number of people on board and destination. This information will be what the rescuers will use to get underway.
When you decide to abandon ship, you need to be aware of the risk you are putting yourself and your crew into. The procedure is easy to practice and make sure you talk through the plan with your crew and even do a simulation of the actions that need to be taken to successfully abandon your vessel.
I've listed fifteen steps you should action and the order of events based on my experience, however, you can move them around or remove some of the actions depending on your requirements. Please note: as a survivor of a sinking vessel, I have created the best order to follow. Take note of the time it takes to complete each action, go through the list with your crew, so everyone knows what to do when things go pear-shaped.
Make a decision, inform everyone you are abandoning the vessel.
Put on your lifejackets
Note your location, either via a GPS or do a quick scan of the horizon, something like we are 22 km east of Kawau Island, depth of 45m etc.
Place an emergency call on your VHF (Ch16). You should already know what to say here from the Coastguard emergency sticker which should be near your radio location. Keep repeating until the radio operator confirms that your mayday has been received
Activate your EPIRB or PLB.
Start organising your crew, assign them tasks: get the life raft or dinghy ready for launching, grab flares, spare lift-jackets, water bottles etc. Keep everyone calm and focused.
6. Collect all items you will need into a ships bag on deck.
7. Launch the life-raft or dinghy on the leeward side of the vessel. This is so it doesn't get caught in the ropes or rigging.
8. Launch the life-raft or dinghy and tie it to the sinking vessel.
9. If you don't have a lift-raft or dinghy, use anything that will float to hold on to.
10. Do a check of the vessel status, make sure you do not abandon ship prematurely.
11. Check that everyone is safely off, and if you are the skipper, be the last one to leave once you have completed a final headcount, only if it's safe – don't be a hero.
12. Stay as close to the sinking vessel as possible. If it starts to sink or rollover, cut the mooring rope. Also careful of loose items breaking off the vessel as it sinks. In some cases, things will break off and float up at speed; the impact on people in the water can be fatal.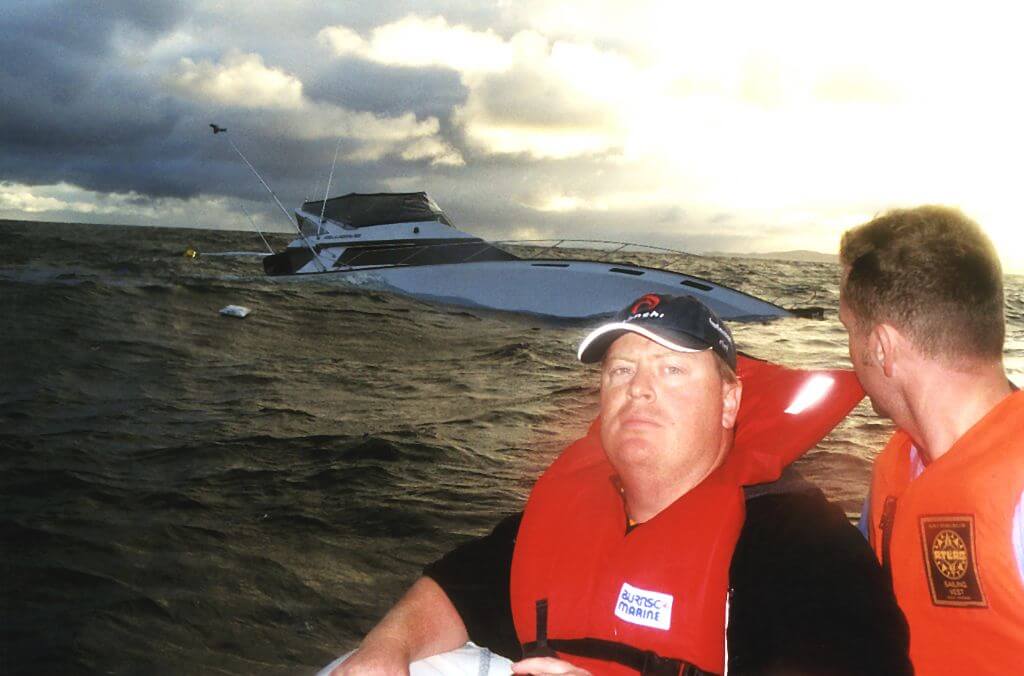 13. If you are unable to get in a life-raft or don't have one, get everyone into the water and keep them together (tied if necessary) or holding arms.
14. Collect as much floating debris around you as possible – bright objects like fish boxes or chilly bins are easier to spot from a distance – and they float.
15. Fire off a flare. If you have a laser flare use that as well, don't exhaust your supplies of flares, only use when you are sure they will be seen.
Never abandon your ship prematurely, this is the last resort action you as a skipper can take. Remember you are leaving a secure safe environment (your vessel) and launching into a hazardous one that will expose you to the elements, so be prepared with clothing.
If you are travelling offshore, consider the actions highlighted below to improve your safety and give you greater peace of mind.
Get all your crew trained in Basic Medical Care.
All crew members should have basic medical training. You can sign-up for one-day classes in CPR and first aid from St. Johns, be mindful some of these classes are geared toward urban environments where emergency services are expected to arrive within 20 minutes. In a marine environment, this is not the case so I would recommend attending the NZ Coastguard Coastal Medic or Offshore Medic training courses
Longer distances and ocean voyages.
All your crew should take an Advanced Sea Survival course from Coastguard NZ. This training is significantly more expensive and will be spread over 2-3 days. The classes focus specifically on survival at sea tactics because you may need to be your own medic.
Back-up GPS tracking & communications equipment
Emergency Position Indicating Radio Beacons (EPIRB) have dropped dramatically in price and should be an essential item on everyone's vessel. They are a sound investment and a significant piece of mind to have available. I recommend a handheld VHF radio or a waterproof mobile phone (stored in a zip lock bag). These are so inexpensive that it makes sense to have one even in something simple as an inflatable or kayak.
Use Google and search on "abandon vessel grab bag contents", this will help you get started. The limitation here is key when creating your grab bag, as you must consider where will you store it aboard, the room it will take up, its weight, and your ability to grab it quickly. You won't need one for short coastal trips, if you have to abandon your vessel, plan to jump in the dinghy with at least the VHF and cell phone in a dry storage bag, PFDs, flares, waterproof flashlight, and your ships log (if you have one).
If you are cruising offshore, you should also have all your documentation in order and easily accessible is key to a quick or unplanned departure, I recommend keeping the following documents at hand in a dry bag:
Ships Log
Vessel documentation
insurance
Immigration permits
Passports
Credit Cards
Medical needs
Crew information
Entry documents for foreign countries.
I hope you never have to use any of the equipment and procedures I have mentioned, but if you do, you should at least be aware of what the necessary procedures and steps are. Your life may depend on it.