Something extraordinary has arrived! Barry Thompson says it's the only honest way to describe Dickey Boats, first Semifly 45, the latest addition to their Launch range.
It has become very apparent to me that boat builders are striving more for perfection now than they ever have. 20 years ago with booming order books, quality was often sacrificed for production numbers or costs and while the boats were good, generally they were never exceptional.
Well, that's all changed and in recent years I have seen more and more boats, both trailerable and cruisers that stand out from the rest. The Dickey 45 Semifly is unquestionably one of those boats that feels special. It combines classic Dickey Boats design elements with the finest construction and engineering in a manner that sets it apart from all others. Excellence, quality and craftsmanship, it's that simple.
When I arrived at Napier, the home of Dickey Boats, I was surprised to see not only one but two Dickey 45's side by side in the marina. While I had flown down to look over Semifly 45 #1, the second boat was alongside undergoing some pre-delivery inspections. As the Semifly 45 has a custom built interior, this gave me the unique opportunity to compare two different layouts.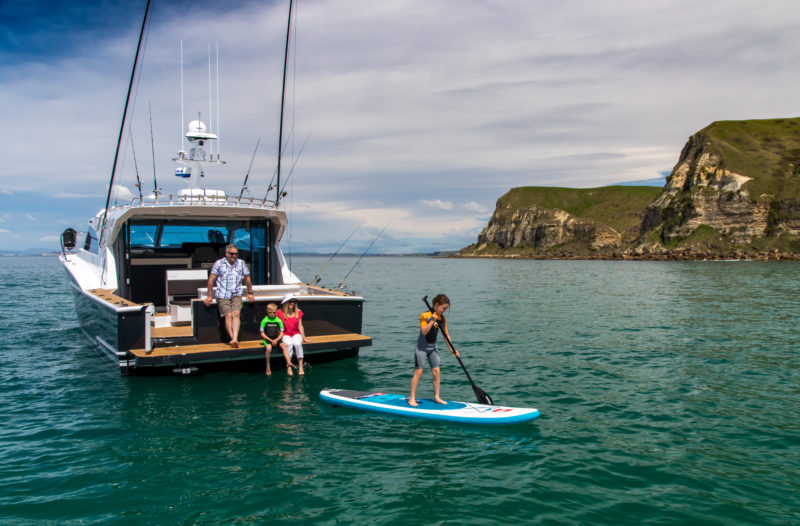 "Owner input is very much part of the design process and they work in close collaboration with our designer using 3D drawings so they can see what the finished layout will look like. Of the two Semiflys 45s built so far, the accommodation, galley and cockpit layouts have some differences", says Jason Dickey, Director of Dickey Boats.
"The expansion of the launch range has been our primary focus since we opened for business and while we had always envisaged the natural progression from the Semifly 32 and Semifly 36 would be a Semifly 40, it was a couple of clients that were looking at something a little bigger that resulted in the Semifly 45", says Jason.
He adds that the size of the boat has a lot to do with the requirements of the owners and being able to achieve the right balance between the interior and the cockpit is important.  "They all share the same DNA and the unique Dickey bow shape, it's just the size dictates how we best utilise the internal and cockpit spaces".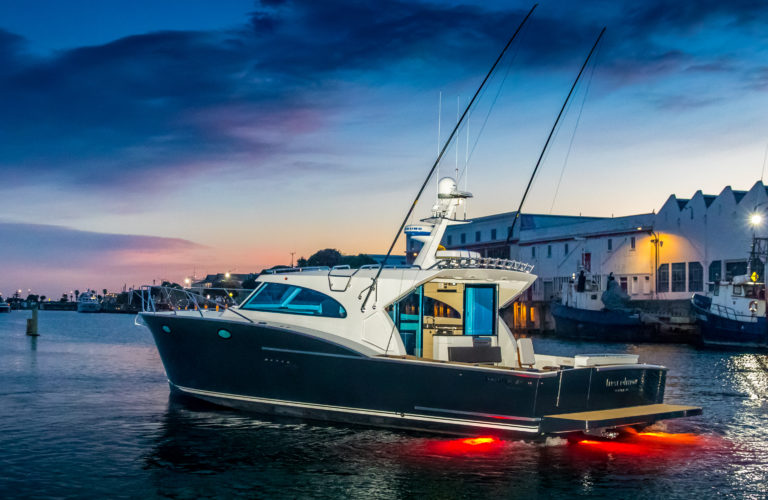 A prerequisite of all Dickey Boats is their offshore capability, with a low CofG (no flybridge options), long range ability, excellent performance, efficiency, finish and above all the highest standards of engineering. They are also a no-compromise boat for their owners. Jason says that every boat he builds is exactly what the owner wants so essentially it is their boat, specific to them.
A main point of difference, especially with the Dickey Launch range is they are one of the very few building 10m to 15m boats with all alloy construction. The systems and processes developed over the years by the company have always been designed around aluminium construction. There were plenty of others doing similar styles in grp and composite, so building in alloy was a point of difference for the company. The local market is saturated with local builders producing alloy trailer boats, but in the larger none trailerable boats, Dickey Boats is one of the few.
The Semifly 45 is such a versatile boat that it's as perfectly suited to family cruising and entertaining as it is too serious game fishing. The owner of First Edition said he was looking for a boat that gave him the right platform for social and family boating as well as towing lures and serious fishing. He says that the Dickey Semifly 45 does it all and more.
It's a few steps down a wide companionway, naturally litz by the open atrium, to three cabins and one large shared bathroom. The forward master features a queen size berth with storage drawers and hanging lockers on the port side aft and a deep open storage area under the berth. You have the choice of a writing desk and stool or more drawers and a mirror on the port side aft bulkhead.
In First Edition the twin bunk guest cabin has a draw curtain for privacy, while the other Semifly 45 had a fixed bulkhead. You have the choice of a kid length berth above and a full length one below or by moving the forward bulkhead you can have twin 2m berths. This does take a little space from the shared bathroom, but it's hardly noticeable.
The aft guest cabin has large berth under the saloon sole and a single berth forward. This also doubles as a place to stow your bags or as a handy changing seat. Storage is provided under the berths and in bulkhead drawers.
There is no timber joinery or cabinetry in the Dickey Semifly 45, with the company using a high-pressure composite plastic paneling and laminate. The benefits are not only strength and weight saving, but also everything is all a simple spray and wipe to clean.
The saloon is split into three distinctive areas; a helm to starboard, with a trio of Furuno enhanced MFD 21" screens which include the Furuno WAASP system, a well equipped L-shaped galley aft with Corian surfaces and U-shape dining table to port with a fixed table. An Eberspacher diesel heater keeps the saloon and cabins warm and dry.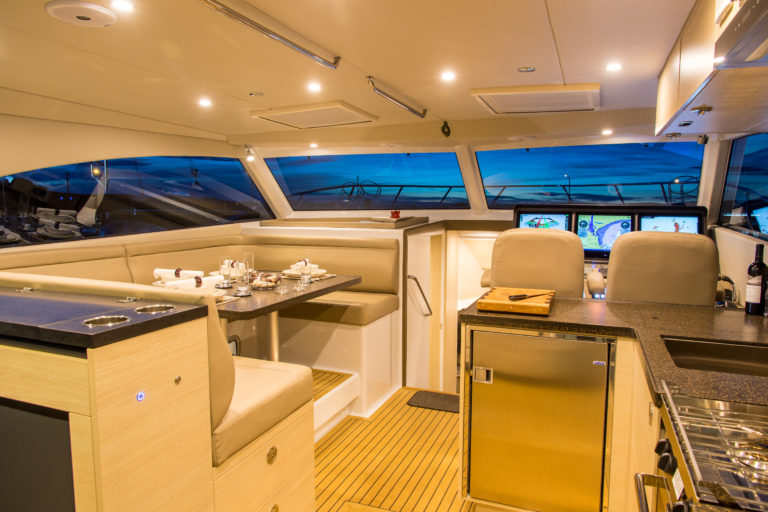 With the use of bifold doors and no mullions, the cockpit and saloon morph into one space. In the case of First Edition, this is enhanced with an island bbq station and bar leaner. An interesting feature is the cavernous storage space under the bar that runs back 2m under the dinette seating. In First Edition it is used for tackle storage and a fridge/freezer, but it's also a great place for the roll-up dinghy and outboard. No matter where you are either at the helm or hanging onto a rod on the boarding platform, everyone is brought together in a very social atmosphere.
With one of the functions of First Edition being fishing, it was no surprise to see the cockpit fully featured with over 25 rod holders in the coamings and above in the rocket launcher, a Chatfield fighting chair, tuna tubes, bait storage and a live bait tank in a central bait station, plus a pair of Kilwell game poles. Due to be added sometime soon is a game fishing tower on the saloon roof.
There is plenty of storage under the side coamings, with a port side transom door leading to the boarding platform. The platform has been heavily gusseted for strength when backing up hard on a fish. You have the choice of a platform, a rise and fall or nothing at all. Again it's your choice, for your boat.
Dickey Boats plumb bow design is not just a visual enhancement it's also designed to give maximum hull length and an excellent entry into a sea. The boat is built using a space frame type construction, combining full-length girders and transverse frames. This gives the boat an incredibly stiff and solid feel at speed. The running surface is constructed of 6mm plate on a 16 deg deadrise hull.
Like the rest of the Semifly range, the  Semifly 45 is quiet when underway, even with the rear doors open. There is no noticeable hull noise and according to Jason, it's all about the structure. To eliminate any condensation, but also act as sound deadening the boat has sealed air gaps between the interior spaces and the hull. There is no solid foam anywhere in the hull.
The waters off Napier were extremely moderate with just a small lift and little swell. While enough to get the feel of the handling and agility of the boat, its capability in the rougher water I can only go by what Jason has told me.
"We were over 60 miles offshore during our initial sea trials and coming back in some reasonably big seas, I was very impressed with the ride, but also the high speed we could maintain in even the worst conditions".
Since taking delivery of his new boat in late 2016, the owner has logged over 260 hours and blooded the cockpit with the likes of, Bluenose, Puka, Marlin and Bluefin Tuna.
The boat is extremely stable and when we are towing lures, it runs effortlessly at 8 knots with a very low fuel consumption and when we hooked it backs up with ease.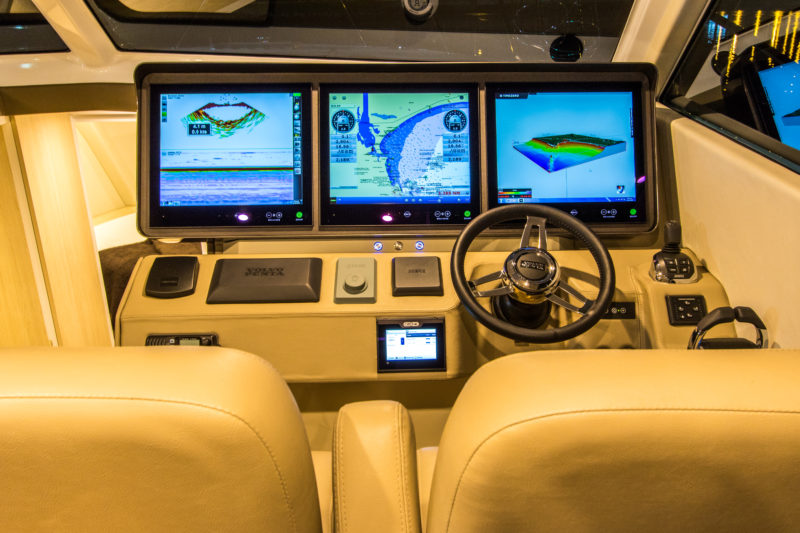 While Jason says that he never targets top speed, he would have to be pleased that the Dickey Semifly 45 does a very respectable 34 knots. Jason might not be interested in top speed, but I am, so as soon as it was my turn on the wheel, I punched the controls to the max to see what the boat would do. Wow, it accelerates like a runabout and if you work the trim, there is no excessive bow lift. Idle to maximum 3630 rpm was exceptionally quick and the boat felt so good as we headed offshore from Napier I didn't want to slow down.
First Edition is fitted with Volvo Penta Interceptors and they make a noticeable difference to the way the boat trims both in a straight line and when turning.
The Dickey Semifly 45 is built tough but also made reasonably light. With a displacement of 12,500 kg (dry), the benefit is a more efficient hull, using less fuel and giving a greater range. Standard tankage is 2200 litres, with a 700-litre extra bladder tank option.
The pair of Volvo IPS600s uses a maximum of 169 lph or 5 lpnm for a range of around 380nm. However what is really interesting is when you look at the fuel flow curve, there is very little difference between 2000 rpm and 3200 rpm. At 2000 rpm the Semifly 45 uses 4.4 lpnm and that only increases to 4.5 lpnm at 3200 rpm. So it's easy to see why the owner does most of his cruising around 3200 rpm @ 29 knots, which still gives a range of around 440nm.
Since launching the first two Semifly 45s, Dickey Boats has had considerable interest in the model, with one client looking at a slightly longer version at 15.84m (52ft). Around 18m (60ft) is the biggest Dickey Boats will build. Dickey Boats produce around 8-10 trailer boats, five launches and a couple of LRCs annually and for a boat such as the Semifly 45 it's about a 12-month wait for delivery.
If you are interested in a luxury custom sedan style boat that is 'extraordinary', then you need to experience the Dickey Semifly 45 for yourself.