When offshore powerboat racing started in 1964, there were no dedicated race boats. The first Auckland powerboat races were held in April 1964 with two events, that attracted close to 100 entrants in either the inshore Epiglass 40 or the gruelling Atlantic 100. Both events drew a hugely diverse range of boats from 4m runabouts to a 12m launch. As this was the first ever offshore powerboat race in the country, there were no purpose-built offshore race boats on the scene yet. There were plenty of ' hot' ski boats such as Bill Coughey' s Aquila, a 17ft 10in Carl Augustin design, powered by an 185hp Bel Air (GM) that eventually won the Atlantic 100 speed section.
In the Epiglass 40, the 17ft  Wiseman kitset boat powered by twin Johnson 75s crossed under the Harbour Bridge for an average 33.06mph, only to be disqualified for removing an engine cowling before the race was completed. The second boat, Eddie McGoram' s Rhapsody, powered by a Corvette, which was used for ski racing, failed to convince the race committee that he had de-tuned his engine for the event, which was not technically open to racing boats. 
The first two places in the Epiglass 40 then went to 15ft 6" fibreglass Turbocraft' s, powered by 200hp Crusader inboards and Hamilton jet units. How times have changed. Back then they were strict on the rules and it took some years before ' race boats' were allowed even to enter the 'race'. The Atlantic 100 and Epiglass 40 continued for many years and were joined by pure speed based races around the country, such as Lake Rotorua, Gisborne, New Plymouth, Wellington and Taupo. With so much interest in the sport and more importantly the speed sections, it was inevitable that someone would come up with a truly dedicated offshore boat. One of the first was Ivan Boyce' s 19ft Tara Too, a Rex Henry designed monohull powered by a 427cuin Chev. A top speed of around 70mph made it the fastest boat on the circuit.
To get around the rules and make it a ' family' boat, it was fitted with rowlocks and carried fishing rods. Tara Too had set the benchmark and by the late 1960s, more specialist offshore race boats started to appear. Boats like Trevor Burnand' s Kitten, Bill Stevenson' s Mystic Miss, Hamilton Jet's, Jetmark and Jack Gallagher' s Hi Jack. Production boat builders, Fi Glass and Plylite, started to field standard hulls, such as Lightnings, Sidewinders and Panthers, with twin outboards and custom decks.
While a lot of attention was being given to the glamour boats in the sport, an Auckland boat builder, Jim Mackay was quietly doing his own thing and unbeknown to him at the time, was about to turn the offshore racing scene in New Zealand on its head. Outboard boats were certainly the norm and while Tara Too, Jetmark and others were struggling with the reliability of the marinised big block Chev engines, others were embarking on the multiple outboard setups. Mystic Miss was the first with triple Mercury outboards and this was followed in later years by boats like Clipper Commander and Miss Comsec. Mackay however, turned up for the 1972 season with Fury, a 19ft boat of his own design, powered by a 5.7 litre Chev inboard through a Casale V-drive. Stern drives were not part of the racing scene back then. It was now all about speed and the sport was starting to take on a whole new persona. Mackay had served his apprenticeship at Bailey' s in Auckland before starting his own business building everything from rowing skiffs, surf boats and yachts to launches. His earliest success came at the 1964 Tokyo Olympics when Earle Wells and HelmerPedersen won a gold medal for New Zealand in the Flying Dutchman sailing dinghy class in a cold moulded wood veneer boat built by Mackay.
Unfortunately, ' Fury' caught fire and sank off Rakino Island before it had been proven, but Spencer Black had noticed the meticulous workmanship and approached Mackay to build him a new hull. Black showed him a picture of a USA Cigarette offshore racing boat and asked him if he could build something similar. The result was the first Mackay 8.23m ' Old Crow' and the real start of the Mackay offshore racing dynasty. Mackay-built boats won the NZOPBA championship for five years from 1974 to 1978. Mackay crewed for Black in 1974, but there was a difference of opinion over the need for trim tabs.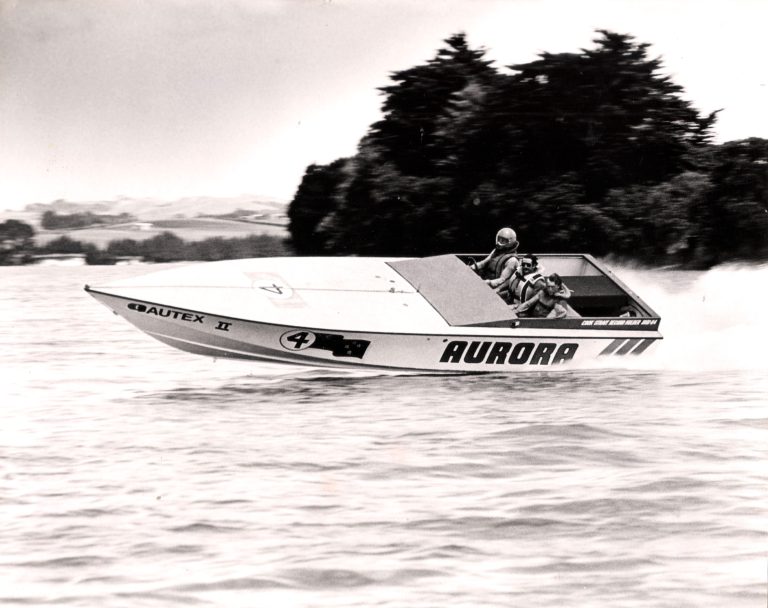 Mackay believed his hulls did not need them and built a new boat, ' Topaz' to prove his point. Black ran the boat first as Old Crow and then under the Camel Filter branding before it was sold to Brian Crouch and raced as Cossack Vodka. It continued racing with great success under the new ownership until Crouch sold the boat to Harry Svirskis and Bill Russell. Called Brut 33, it never retained its winning status and in the late 90s was sold to Nic Phelps. Phelps never did a lot with the boat and after running a marathon, retired the boat from racing. It is still under his ownership, somewhere in West Auckland and in need of a total restoration.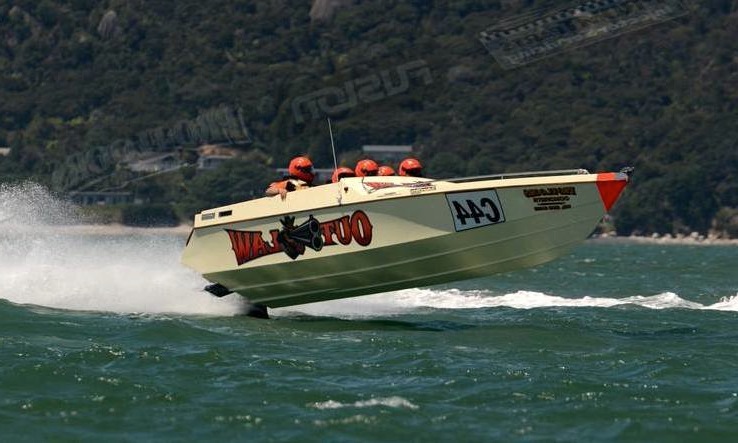 ' Topaz' , launched in 1974, bearing ' Fury' s former 147 race number, was very similar to ' Old Crow' : an 8.23m 23 deg deep-V plywood hull, glassed inside and out, and using a Casale marathon V-drive and a tunnel-rammed 7.4L Chev. There were differences in the strakes, and new material technology allowed ' Topaz' to be lighter than ' Old Crow' . However, the first season was dogged by niggling breakdowns. In 1975, with new race number 156, and with engine builder Jim Carlisle, the team dominated and won the championship.
Jim Mackay became the only New Zealander to design, build and race a boat to a champion ship win. Mackay sold 'Topaz' in 1976 along with the parts to build an 8.1L Chev engine, to Roger Wood. Wood campaigned the boat as ' Paul Jones Bourbon' and later as ' Stars and Stripes' , on the North and South Island circuits until the early 1980s, after which he joined the catamaran revolution. Auckland engine builder Kevin Green next bought the hull, renaming her ' Aurora' and continuing to race in the offshore series. Meanwhile the Cook Strait and return record, known as the ' BP Straits Cup' , captured his imagination as a true test for his engine building ability. He built a 7.9L Chevrolet with an [exotic for the time] Kinsler fuel injection system. After two attempts he and his crew of Des Deacon and Ned Rowe took the BP Straits Trophy with a time of one hour, 43 minutes and two seconds at an average speed of 69.6 miles per hour. Green sold ' Aurora' to Auckland marine engine-building legend Peter ' Mudguard' McGrath. Although he was heavily involved in Peter Turner' s ' Sleepyhead' offshore racing team, McGrath still used ' Aurora' for the odd offshore race, poker runs and even fishing. The last time he raced it in the original V-drive form was in the late 80s Auckland to Tutukaka (and return) marathon. ' Aurora' with its deep-V was in its element. McGrath filled the ballast tank up and put his foot down, outpacing the cats in the rough water. Unfortunately, an ill-placed finish line at Kaipara Harbour sent ' Aurora' into the wharf at speed, necessitating a rebuild. McGrath had grown tired of the impractical aspects of the V-drive and experimented first with a Karma surface drive (which proved excellent in a straight line, but diabolical when trying to turn), then with a sterndrive. His final make-over comprised a supercharged 8.4L Chevrolet with a MerCruiser leg. McGrath was disappointed with the stern leg, noting that the V-drive had lifted the bow better. By the early 2000s, McGrath was rigging Australian Bill Barrie-Cotter' s Maritimo offshore racing team and moved to Australia, regretfully putting ' Aurora' on the market. Mike Cameron purchased ' Aurora' to acquire the engine and leg for his copy of the Manville Brother' s ' Musketeer. A boat that he successfully raced in the Classic Class of the offshore series.
Things looked grim for the famous old boat. The bare hull and rusty trailer were sold to a Hamilton buyer. Her deck was removed with the intention of converting the hull to a center-console fishing boat, with a Detroit diesel engine. However, the white knight of the story arrived in the form of Ian Reeves of Rotorua, a very successful veteran waterski and offshore racer. Reeves had purchased a new 5.8m Mackay hull around 1975, named it ' Pathfinder' , and has raced it ever since. It is the only Mackay hull that has had one owner it' s entire racing life. Reeves, along with enthusiasts like Charlie Savage and Danny Pearse set about doing a full restoration job on ' Topaz' . 
The original V-drive was traced and purchased and Reeves used his considerable knowledge to change a few details; a shorter propeller strut in a more forward position, power steering, a mid-mounted turning fin and trim tabs were fitted, since unlike Jim Mackay, Reeves liked them. The boat, aptly renamed Topaz was back racing in the Classic Class almost 40 years after it was first launched and is still as competitive as ever, albeit in the Classic Class. A Gale Banks twin turbocharged 8.2L Chevrolet now powers her to a top speed of 80 mph. Mackay is delighted with the quality of the ' Topaz' restoration, describing her as magnificent, and ' better than new' . ' Topaz' is indeed a credit to Mackay and her subsequent owners and restorers.
While Horace and Tom Manville seemed like an unlikely team to handle the rigours of offshore racing, they certainly made their mark with Mckay' s third and last 27 footer. A fourth hull was built but never finished as a race boat. They arrived on the racing scene almost without notice and showed that they had what was needed to win races. Powered by twin Fords with Mercury TRS legs, 'Viko' went on to be a very successful boat in the late 1970s. Sometime in the early 1980s it changed hands and was sold to Ken Clarkson, who renamed it 'Confederate' and repowered it with a big block Chev. Some years later after being used primarily as a pleasure boat, it was sold to Steve Crittendon, who also renamed it (Outlaw) and repowered it with an 800hp Chev, with a Bravo Sportmaster leg. He also added a portofino stern. In 2009 Derek Waldon purchased the boat, left the name, but again repowered with a supercharged 502ci Chev. Finally, it ended up in the hands of Grant Valder, who also left the name on the side, but went for the more reliable 525hp Mercruiser package. Valder and Outlaw have been very active participants in the Classic Class for the past few seasons.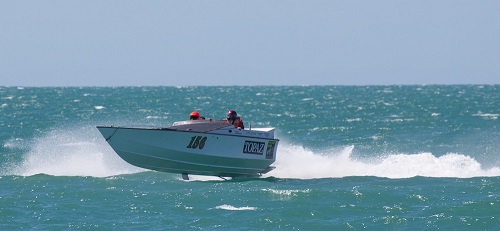 While MacKay had an enviable reputation for his big boats (at that time there was a 27ft and 500cuin limit on race boats entering any PBRO events) he also was very successful with three smaller versions. Black was still campaigning Old Crow when he got Mackay to build him a 21ft low profile boat he named Pall Mall. Powered by a 454cuin Chev this was destined for ski racing and also some of the calmer offshore races. 
It was sold on to John Butterfield who ran it for a few seasons on the South Island marathon circuit. Also a 21 footer (6.5m) Pathfinder, a reasonably flat bottom speed racer, was designed for the calmer races around the country, but had higher sides and a deeper vee. Designed and built for Ho Gray, the story goes that when Gray turned up with his trailer at Mackay' s North Shore yard, he winched the boat on and found the trailer was about 50cm too long. A quick check found that MacKay had built the boat a frame shorter than Gray wanted. Gray decided not to accept delivery and MacKay then created a second version, this time at the requested length of 7m (23ft). As already mentioned Ian Reeves purchased the ' shorter' version and has owned and raced it ever since in both ski racing and offshore. Gray eventually took delivery
of his boat and named it, 'Bay of Plenty Real Estate' and later Schick Super 11. Powered by a single 454cuin Chev, running through a vee-drive, it proved a great boat for many years and in it' s later racing career competed as Vantage Aluminium, with new owner Mitch Plaw. Sue Oliver brought the boat in 1985 and since then it has gone through a number of owners, none of whom have ever had it back on the water. However, all that is going to change, with a fully restored ' Bay of Plenty Real Estate' due back on the racing scene in Classic Class in 2017. Now owned by Jim Mackay' s son, Owen Mackay, the hull has been completely refurbished, repainted, reupholstered and work is being done on a Mercruiser engine/drive package. Owen Mckay, like his father, is a world renowned yacht builder and says that current work dictates that he can' t commit as much time as he would like to get the boat finished to race. He has plans to see this truly ' classic' boat back in the water sometime next year. Along with Topaz, Pathfinder and Viko (Outlaw) it seems that the Mackay legacy will continue for many years to come.