GET IN, BUCKLE UP & SHUT UP
Many of us have had seen the exceptionally large Rayglass Protector that sat out the front of the Swashbucklers watering hole in Westhaven and wondered what on earth was it all about. In about the same time it seemingly vanished into Davey Jones locker not to be seen again. Or did it.
On the 11th of March 2006 Ginger Gibbs and his adventurous crew had conceived and hatched a plan to break the speed record between Australia and New Zealand. No small feat especially as the previous record holder was a cruise liner about 20 times its size.
The boat was not the usual stealthy lines of an offshore powerboat or jetboat river racer that Ginger was used to rocking around in, but it was a rigid hulled inflatable that was to go on and add testament to New Zealand boat manufacturing – it was a Rayglass Protector.
Ginger not only wanted to break the existing record but do so in less time with a slightly longer racecourse in a trans-Tasman Bridge to Bridge run.  We could go into the details of this endeavour including a mid ocean refuel from fishing trawler, break neck speeds during the day and slightly less for safety at night. Or having to alter course and conserving fuel due to rough weather and rogue waves wiping off the navigation equipment leaving the adventurers navigating almost by candlelight. It all ending in a quick transit that many wind bludgers could only dream of in 40 hours 31 minutes and a handful of seconds. A time that many said wind bludgers would barely loose sight of the mainland, Ginger was back home in New Zealand in the bar, at his restaurant, Swashbucklers, celebrating a once in a lifetime achievement.
The following year the Swashbucklers Flying Pirate crew set an official time of 69 hours, 44minutes, 56 seconds, smashing the existing record by more than 43 hours for the fastest circumnavigation of New Zealand. The crew of Adam Wickes, Paul Rix, Shag Gibbs and Squid Gibbs left Auckland on the 1st of March at 0400 hours and arriving back on the 4th March 12.45am.
This was the dream of the late Ginger Gibbs and a challenge that only the likes of Ginger could leave for his brothers and crew to take on! The record was a fitting tribute to the late Ginger Gibbs, who spearheaded the campaign until his sudden and untimely death. The crew and sponsors all felt that it would have been Ginger's wish to carry on and the outstanding achievement by the crew is testimony to their courage and dedication for the project.
THE NEXT CHAPTER
Inevitably the next chapter for the boat was sadly not as bathed in silk and rum. The boat in all its grandness fell victim to the realities of a project boat that was now surplus to requirement. Indeed, to fund the project the boat was massively leveraged, and a legal debate ensured. The once grand master of inflatables sat on her trailer dreaming of the next adventure.
Sure, enough that adventure came when she was sold to the Coastguard and spent time in Abel Tasman. The racing gearboxes were removed and from all accounts she performed admirably. Then in another stint she returned home to Auckland as a private boat and continued to deuterate in retirement.
Mike had a 8.5m Protector that they had done a couple of overnighters on and then a large launch but never slept on it. They chose to settle in the Pauanui waterways and that's where the day boat idea came from. 
This presented a unique challenge. They loved the Mercury Islands, Great Barrier Island, and neighbouring playgrounds but to be there and back in a day meant one thing and one thing only it had to be fast. Very, very fast.
Ginger and Mike were mates and before long Mike knew just what he needed. Indeed, Mike has always had the desire to have a boat that could go to Fiji. Heck what better than an already proven winner like the Swashbucklers boat. It even has to this day a plague as you head into the cabin a quote that I particularly like. "A man cannot discover new oceans, unless he has the courage to lose sight of the shore". If this dream of Fiji was to be tickled this is exactly the boat to once again venture beyond the headlands.
 VERY FAST AND VERY CAPABLE
It also appealed to Mike who is not particularly nostalgic but was and is eager to protect a piece of New Zealand Maritime History that bringing the Swashbucklers boat back to life with some subtle changes was not only the right thing to do but presented an opportunity for a boat that met the requirements. Fast, very fast and very capable.
So, the boat was purchased and the wonderful team at Boat Haulage transported her to her temporary home at one of Mikes warehouses in Cambridge where she was housed for a substantial refit. Richard Edlin of Edlin Boat Builders was chosen to conduct the refit and before long it was conceivably a match made in heaven. A master craftsman that could find solutions where so many others said it could not be done. From the short time I have known Mike on the America's Cup (more of that later) it is clear that he doesn't have words like can't or impossible in his vocabulary, so this refit and birthday of sorts was going to be a slither of genius.
There were two main considerations with the rebuild. First it had to meet survey standards as they wanted to be able to charter the boat and second it needed to be the baddest most functional boat on the waterways. The boat was stripped down with the intention of doing what was needed but not much more. The transom was rotten, and the tubes needed to be replaced. Let's face it yellow was not in, not any more with years of UV deterioration and showing signs of age at every seam. But as all things with a boat, this was just the beginning.
The boat was gutted and needed to be completely rewired top to bottom and bow to stern which was expertly done by Matt of Neptune's Gear from Auckland, along with some much needed electronics. The original centre cabin and layout was retained giving two bunks, a small kitchenette with microwave and fridge and a loo forward behind a canvas curtain. It's all well thought out. I must admit I wouldn't like to have needed the loo for numbers 2's transiting the Tasman at thirty plus.
Throughout the build, surprises were found in the hulls framing that could be made into a mystery novel but some clever engineering from Edlin Boat Builders maximised the spaces with a couple of cleverly located hatches for water toys. We managed to slide in generators for the AC.
One of the areas that needed much work was the engine box. It didn't breathe very well. A former owner had cut into the engine box roof to achieve the needed airflow, but this rendered the aft deck completely useless, and the noise was simply not going to work for a private boat. Richard engineered a pair of fluted vents that are housed on the sides of the box that achieve what others said was impossible.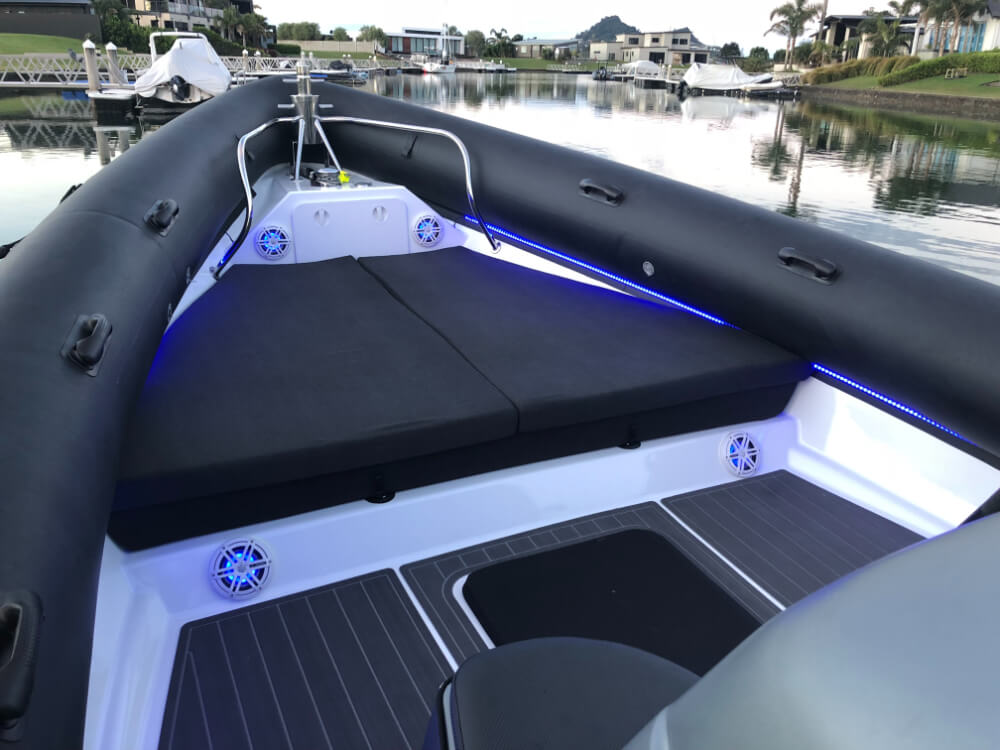 ORIGINAL ENGINES
The engines are the original Volvo Penta D6 were given a substantial tickle up with almost all bolt ons replaced. It is a testament to the engines, that Volvo Penta refused to accept would last the record runs, let alone still be running so well all these years later. The propellers were changed from the D5 that matched the race gearboxes that had been previously removed and increased in pitch to D7. On trips to the Barrier and back, at 34 knots it is an easy and comfortable 108l/hr combined. That is pretty amazing.
The engine box also has a rail around it which gets used for bean bags while underway with a clever screen and at rest maximising the deck space. Up in the bow an oversize sun pad was also fitted, and really does make the most of a large space that would otherwise be baron.
The fuel tanks were all cleaned out and the boat can now hold more than 3000 litres. Mike runs primarily on the centre 2000 litre tank with a fraction of that being used, as the engine combinations are really very efficient.
It's fair to say that as with most of these things the original budget snowballed as the further, they looked the more that needed doing and Mike admits that the cost reached somewhere 3x what they originally planned. However, no one can dispute that the boat they finished up with was better than when it rolled out of the factory.
The boat was relaunched with a suitable name of Buckle Up in October 2018. Buckle Up simply get in, shut up and Buckle Up is perfect for this machine. A beautiful white repainted hull with jet black tubes and a vinyl wrapped silver, grey cabin makes this boat standout from all others. She has deck lights for operating at night and is well appointed for operations around the clock.
 AMERICAS CUP
In survey she has been used for marine patrols, film work and recently was the drone boat for the Americas Cup. This is where I had first had experience with Mike and the boat that I have come to respect as an amazing piece of machinery. We had a unique problem. We needed a boat that was large enough, fast enough, and stable enough to get into the course, launch a 2.27m diameter 25kg drone. There really were not too many options. What was also needed was a very capable operator which we were lucky enough to find Mike and Buckle Up. We really had an extremely high stress environment and between Mike's experience and the perfect match of speed, stability and space to operate off a makeshift platform, Mike had constructed on the aft deck really made the job that bit easier.
It struck me how stable she was at rest and underway but also had the herbs to move out of the way of these foiling yachts that could outpace almost all the powerboats on the harbour. With the restrictions in place, we didn't have an opportunity to line up against the other boats which is sad as I'm sure everyone knew which boat was king of the harbour.
Privately, Buckle Up has been completed several longer passages to Napier, up to Auckland and Mike still dreams of a run to Fiji.
What ever the future holds for this mean machine it is clear that Mikes vision was realised as she is a fine example of speed, agility, form, and function. It has certainly been a pleasure to operate onboard this boat and witness just a hint of the panache that Buckle Up has with its place in NZ maritime history.