This new brand is set to target buyers who want alloy's advantages and GRP's good looks. Mike Rose checks out what's so special about the Ultimate 21.
The latest addition to what many would see as an already very crowded aluminium boat market has very high aspirations. It wants to be the best.
Founded late in 2015, Ultimate Boats is off to a rollicking start. It already has three 6.35m vessels either in the water or close to launching and has a 7.5m weekender on the drawing board. Ultimate is the brainchild of marine industry veteran, Mark Presnall. He believed there was a gap at the top end of the market: for a vessel that boasted the good looks and soft ride of a GRP boat combined with the efficiency, easy towing and hardiness of an alloy craft.
"I wanted to target the GRP buyer who wants alloy," he explains. To achieve his aim he contracted ultra-experienced alloy boat designer and naval architect, Jarrod Hall of Tauranga-based Hall Marine Design. The brief: a good-looking, soft riding hull, solidly constructed and stable at rest. Hall's response: a 6.35m hull with a beam of 2.49m, a shallow 18-deg deadrise at the curved transom, a fine entry and a 175-litre flooding keel. At the Sulphur Point launching ramp in Tauranga, the third Ultimate 21 makes a pretty spectacular sight on its custom GFAB alloy trailer. A twin axle braked trailer made locally, the GFAB is an impressive piece of kit, was specially chosen by the owner. An Enduro trailer is standard.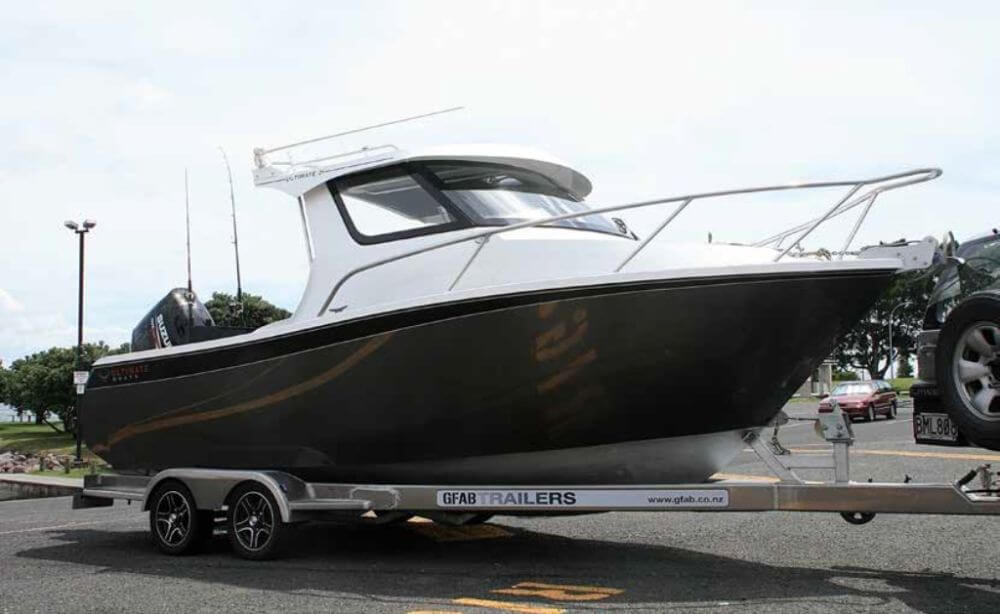 The new Ultimate 21, so new it had not yet been named, is certainly a good looking vessel with grey topsides and white cabin and hardtop. Although the actual cabin is quite compact, there is enough room for a chemical toilet under the infill between the bunks. While this owner has chosen not to have a screening curtain, Mark says one is usually fitted for privacy.
As one would expect with a vessel aimed at the high end of the market, there is no bare alloy visible. Most is covered with eitherblack or grey frontrunner and the little remaining has been painted white. There is good stowage in the shelves on either side and in lockers under the bunks. There is also an easy-toscrew- off panel giving access to the back of the helm.
The twin pedestal chairs are Easy Rider on Softrider pedestals. They are very comfortable and come with hinge-down bolsters, meaning they cater for all sizes and for both those who like to sit or stand.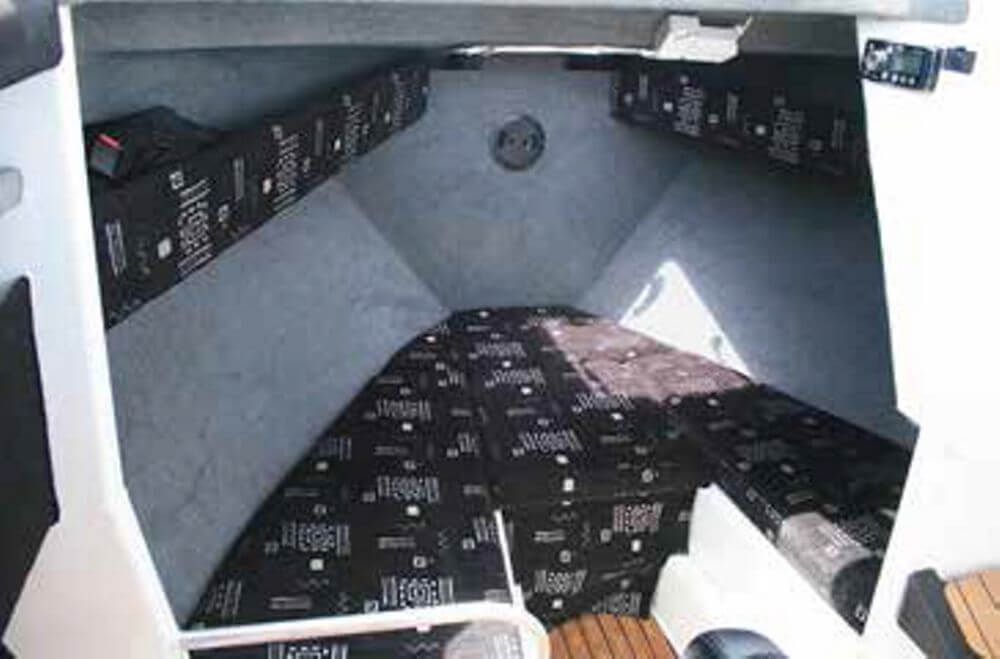 Although the standard engine for the Ultimate 21 is a Mercury 150hp 4-stroke outboard, this owner has instead selected a Suzuki 200hp 4-stroke. It's two gauges provide all the engine, speed and fuel consumption information needed while a Garmin 1020XS MFD covers everything else. The dash is of the simple, clean-looking variety with just the DC panel (including switches for the wiper, the LED spotlight and the LED lights in the hardtop), the ICOM VHF and the controls for the Lectrotab trim tabs and Maxwell RC6 windlass. A Fusion Bluetooth stereo has been situated on the side bulkhead of the cabin, meaning it can be accessed by the driver, the passenger or anyone in the cabin. An attractive black and faux timber footrest completes the picture.
While hardtops are a wonderful development and more common on this size of boat than not, they do pose a challenge in terms of airflow, especially on hot windlass days. My preferred option is to counter this with opening side windows, but Mark strongly disagrees. He believes side windows often don't open far enough to be effective and have a tendency to leak.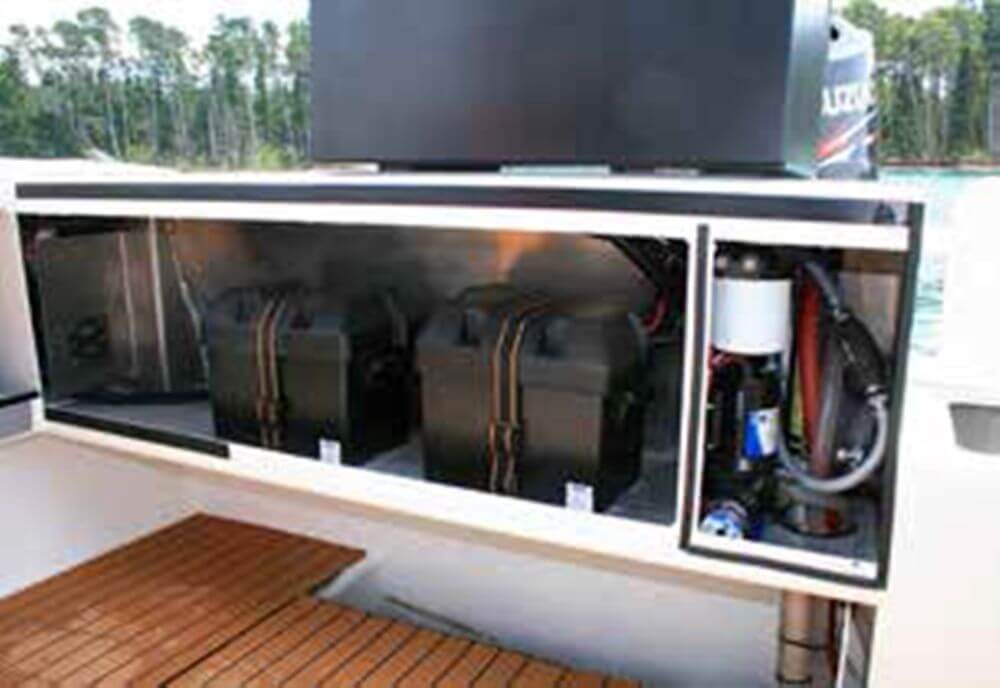 Instead, he has chosen to install two small opening hatches on the roof. At present, these open backwards in the traditional manner but he intends to switch this around for future models to drag in airflow at both low and high speeds. (The current design works well at speed but is considerably less effective when idling and mooching around.)
That quibble aside, there is much more to admire on the Ultimate 21. The side pockets, for example, run right from the transom to the cabin, a feature I do not recall seeing before. The cockpit floor is worthy of mention, too.
Like the footrest, it is Seadeck, a teak and rubber lookalike that is really comfortable to stand and walk upon, with a spongy, absorbent feel. Under this is a large stowage locker. This can be left as a large single compartment (as this owner has chosen to do) or divided in two (a wet and a dry locker, perhaps).
The owner has also chosen to install two IcyTek seat bins, complete with squabs in the aft starboard quarter of the cockpit. These are held in place by a rope and can be moved out of the way when fishing. While they are undoubtedly handy and look good, they do have one drawback. Behind them, the transom locker is usually opened with large plastic knobs that are quick and easy to remove. Positioning the seat bins flush to the transom, however, means there is no room for the bottom knobs. Instead ordinary screws have been used to secure the bottom of the hatch cover and these take considerably longer to take out.
Mark says those who opt for the current owner's layout can replace the single removable panel with plastic hatches to solve this problem. However, he believes the single panel is the better choice as it making servicing so much easier.
To be fair, one would not have to access the transom locker very often. While it houses the twin batteries, the windlass reset and the fuel filter (the latter sensibly in a completely separate compartment), the often-used battery isolating switch is outside and therefore freely accessible.
Next to the transom, under the step out to the platform, there is a live bait tank and, to the side, a washdown pump and hose. On top of the transom, in pride of place, is an Ultimate bait station. An optional extra, it consists of a black powder coated base, complete with pullout tackle drawer, an inset timber bait board and four-rod holders.
There are a further two rod holders in each of the coamings, with a stylish drink holder set between them. There are a further 6 rod holders up in an integral rocket launcher. A classy affair, this a standard feature on the Ultimate 21 and that's how it looks, too. Whereas many "add-on" launchers are somewhat bulky and look almost like an afterthought (which in some cases they are), this is a low profile unit painted the same white as the hardtop, with a centrally positioned tow eye and a spotlight (all standard) for good measure.
Other notable features are wide side decks and carefully positioned amidships bollards (for springs), the 175-litre flooding keel and, of course, a drop-down boarding ladder.
Although Mark was keen to show off the Ultimate's rough water capabilities, the weather gods had other ideas, at least initially. While we waited for the afternoon sea breeze to kick in we headed up harbour, to conduct our speed and fuel tests and get some photos from the wharf on Matakana Island.
In the lovely flat water, the 200hp Suzuki-powered Ultimate proved a quick mover, accelerating easily onto the plane and moving effortlessly through the rev range. Cruising at 4000rpm, we were doing 23.2 knots and using 21 lph. Up at 4500rpm, the speed was 28 knots and fuel consumption 30.5 lph.
Hammer down (6300rpm), we hit a zippy 41 knots, but (not unexpectedly) consumption jumped to 67 lph). Tight turning at speed was also not a problem, the hull behaving predictably no matter how sharply we turned the wheel. Backing up hard was also no problem. Those with young children, bad backs or simply a distaste for hard pounding will be pleased to learn that the Ultimate is happy to plane right down to 13 knots.
Proudly, Mark points out that, in these sorts of conditions, the hull actually performs better the faster it goes. And it did, especially upwind where it literally leapt across the tops, completely avoiding the troughs. Downwind, Mark was a bit more cautious out of respect to the following seas and his desire to keep all on board comfortable. However, again, there was no problem, the Ultimate seemed to track very assuredly with the bow staying safe and high.
Given how many aluminium boat builders there now are in New Zealand, Mark Presnall is either a very inspired man or a very brave one. Although it is obviously too early yet to tell, the evidence so far would seem to suggest the former. Three boats in under six months is a very impressive start and Mark clearly has his targeting bang on.
While he does offer packages from $87,000, this boat, with its custom alloy trailer, 200hp outboard and numerous "extras", is at the very top of the company's price range. With a price tag of $120,000, it is also at the top end for an aluminium boat of this size. However, that just seems to prove Mark's belief that there are discerning owners prepared to pay the extra for what he now has on offer.
Make & Model: Ultimate 21
Manufacturer:  Ultimate Boats
Priced from: $87,000
Price as tested: $120,000
Construction:  6mm / 4mm
LOA: 6.35m
Beam: 2.49m
Deadrise: 18 degrees
Height on trailer: 2.9m
Trailerable weight: 1800kg
Test Power: 200hp Suzuki 4S
Propeller: 3 x 16 x 20
Power Options: Outboard
HP Range: 115-200hp
Fuel capacity: 180 litres
Trailer: GFAB
| | | |
| --- | --- | --- |
| RPM | Knots | L/h |
| 1000 | 3.1 | 2.7 |
| 1500 | 4.3 | 4.7 |
| 2000 | 5.2 | 7 |
| 2500 | 7 | 11.6 |
| 3000 | 13.2 | 13.5 |
| 3500 | 19 | 17.3 |
| 4000 | 23.2 | 21 |
| 4500 | 28 | 30.5 |
| 5000 | 32 | 40.7 |
| 5500 | 35.6 | 45.4 |
| 6000 | 39 | 63 |