ALAN and Gloria Day are experienced boaties. In their younger years, they were into sailing boats and owned a number of yachts. Then, after "seeing the light", they progressed to powerboats and became the proud owners of the Bill Upfold-designed Boudica. Boudica (the name is the correct spelling of Boadicea, the famous early British warrior queen) was an Elite 16-metre mid- pilothouse and boat builder Lloyd Stevenson's boat. Last year, no doubt with a fair degree of encouragement from Lloyd, the couple decided it was time for a change. "We wanted a bigger boat, something new with the latest design features and the most up- to-date electronics," explains Gloria. "We also realised that this will probably be our last boat, so we wanted to make sure it incorporated everything we had learned while owning Boudica." Alan explains that while they had loved being on board Boudica they had also noticed that there were things that they wanted to add: "There were also things we never used so there was no point in including them again." While that might have proved a problem for another designer and boat builder, it was an approach that was welcomed by both Bill and Lloyd. "I love incorporating owners' ideas," says Bill, himself a keen and regular boatie.
Lloyd, too, clearly enjoys involving the owners in the build process as much as possible: "Every Friday during the build I would do a progress report, complete with photographs, for Alan and Gloria." "This was an excellent idea," says Alan. "It was something we would look forward to. We not only got to see our boat taking shape, we also got a record of the whole process." "Lloyd was great, too," echoes Gloria. "Nothing was too much trouble. Whatever we asked for the answer was always 'Yes'."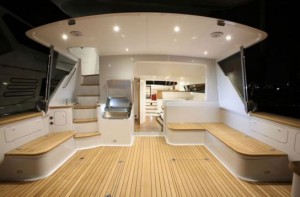 For his part, Lloyd found building a boat with owners who were as involved as Alan and Gloria a lot of fun. "I think we all really enjoyed it." Those familiar with the 18-metre Elite mid- pilothouse design might not immediately see how Antiquity is that much different. "Most of the changes are subtle," admits Bill, "but they significant."
One change the Days are quick to point out is the extra overhang provided by extended the poop deck at the back of the pilothouse. This creates extra shelter from both sun and rain and has allowed the addition of a permanent al fresco dining area (complete with both built-in bench seating and a permanent table) forward on the starboard side of the cockpit. The cockpit is also now protected on both sides by an attractive new triangular panel of glass that lets light in but keeps spray and other moisture out. With the cockpit now home to another dining/ entertaining area, it was more important than ever to make access to it and the galley as easy as possible. 
Lloyd has done this by turning the entire aft starboard bulkhead into a single pane of retractable glass. Combined with the removal of the centre post, this completely opens up the interior of Antiquity and means there is virtually no separation between the indoor and outdoor dining areas. While the Days are both very keen on their fishing, they also believe it should be kept out of the cockpit as much as possible.
As a result, the extended boarding platform has been made more user-friendly with stainless steel pushpits especially designed to double as bait board holders. Because Alan and Gloria are seasoned boat owners, Lloyd decided to install additional hand rails throughout the boat. "Although these were primarily for Alan and Gloria, it is interesting to see how much they are used, even by the younger members of our crew!" Antiquity's pilothouse, accessed either via a stylish staircase direct from the cockpit or through galley and then lounge, is another area where Alan and Gloria's experience has been put to good use. 
Although Boudica had a large sliding hatch above the helm station, the Days never used it "because of the sun." As a result, it is gone, replaced with a conventional hatch, although one with both a sunshade and a mosquito net. The pair has also fitted blinds on both sides of the pilothouse. "This reduces the size of the sun cover we need for the screen," explains Alan. "This is a real benefit when I have to put it on or take it off by myself."
Antiquity's leather bench seat is also special. When not in use at the helm, it can pivot forward (using electric actuators) to create a handy table area, ideal for snacks and drinks. A good deal of thought has also gone into the side seating. Upholstered in an unusual but very attractive fabric it is rather striking. A well-placed bolster on the starboard side means the person sitting or lounging here can converse closely with the skipper while keeping a watchful eye out the back. Visibility out is another area where the Days have had significant input. With one-half of the couple a little less tall than average, the inability to easily see out of the side windows was obviously a nuisance.
In typical fashion, Bill and Lloyd took this on board and lowered both the pilothouse and galley windows. Those sitting in either place can now effortlessly keep a watch on what is happening around them, regardless of how tall they are. The Days also got their wish for the latest electronics: Antiquity boasts a sizeable Glass Bridge with twin Furuno 19" screens occupying the entire width of the helm station. 
Keen fishers, they have also installed a substantial rod locker under the port hand bench seat. Complete with numerous shelves and compartments and plenty of full-length space for all the rods, it also has its own LED light and opens effortlessly on gas struts. Another clever tweak sees the sliding doors out onto the aft deck (home to the tender and its davit) divided into three with each able to be opened or not depending on conditions. "This is excellent while underway on a hot day," explains Lloyd. "By closing the outer two and leaving the centre one open, you get a cooling breeze without any spray or suck- back."
Before we leave the flybridge, Bill points out another subtle change that has been well thought through. From the bridge, Antiquity appears to be ready to head to sea with no anchor. Right up to the stem, the foredeck is clean and uncluttered with no anchor, winch or fairlead to be seen. Bill explains that these have been installed underneath the stem. "As well as leaving the foredeck clear, this is also a better use of marina space." To ensure the skipper can keep an eye on the anchor's deployment, a camera, connected to the glass bridge screens, is sited just above.  While the lounge, galley and accommodation areas are fairly standard for a large Elite mid- pilothouse, there are exceptions.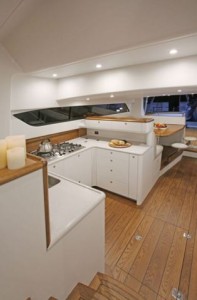 The Day's extensive use of oak is one. The cabinetry, doorway surrounds, stair flashings, the floorboards and even the bathroom vanities are all oak. The overall effect is undeniably classy and provides a delightful counterpoint to the modern fittings: Italian basins in the heads; surround sound speakers and a flat-screen TV in the lounge; and the domestic fridge in the galley. Antiquity's accommodation plan has the main stateroom forward with en suite to port and a secondary guest cabin (with a single berth over a ¾ one) across the walkway. A door from the en suite onto the walkway allows it to both service the cabin and act as a day head while access to the engine room is via the smaller cabin. As one would expect from a Lloyd Stevenson- built boat, the engine room is immaculately laid out and finished. In addition to the twin 715hp QSM11 Cummins diesel engines, there is a brace of large inverters, a watermaker and a washing machine.
There is also plumbed fresh water, a diesel heater (with outlets throughout the vessel) and a number of handy stowage lockers (another of Alan's ideas). Bill points out the engines have been deliberately separated from the drive train using a combination of universal joints and thrust bearings. "This isolates any vibration and means the engine is not taking any thrust."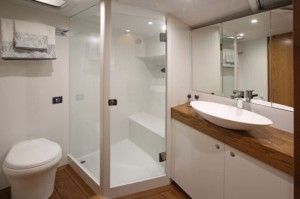 Antiquity carries up to 4050 litres of fuel, giving the 18-metre Elite a cruising range of over 400 nautical miles while cruising at 23 knots (2200rpm) or a massive 1300 nautical miles at 10 knots (at just 1000rpm). Also on board is a 1000-litre water capacity:  "They don't have to fill it right up, but it does make them self-sufficient, even if there is a problem with the watermaker," says Bill. Like the rest of the boat, Antiquity's galley is full of little surprises. As well as the well- disguised domestic fridge, there are stowage areas hidden behind oak roll-top desk fittings, a dedicated spice drawer, special inserts in the cutlery drawers, a waste disposal and a dish drawer dishwasher. 
Antiquity's aft dinette is also a little different: the usual U-shape has been supplanted by an L shape, creating space for a larger table. In standard Elite mid-pilothouse fashion, the main guest cabin is aft, opposite the dinette. On Boudica, the en suite was accessed from both the cabin and the walkway but the Days found the latter door was almost never used. As a result, it is gone and entry is now solely via the cabin.
Apple founder Steve Jobs was famous for ending his new product announcements, apparently as an afterthought, with the phrase: "Just one more thing." He would then reveal yet another incredible new offering, usually the most spectacular of the day. Bill Upfold and Lloyd Stevenson appear to have studied the man in depth.
Every time I thought we were done and all of Antiquity's secrets had been revealed, one or the other would suddenly (usually as I was about halfway through putting on my shoes) point out yet another clever little addition. The three most memorable of these are: Rather than having to crane the tender on board each time they wanted to get underway, Alan suggested putting a fitting in the centre of the duckboard so he could haul it on board and into the cockpit for relatively short trips. Lloyd thought about it and then went one better: why not create a removable two-roller fitting that overhangs the duckboard?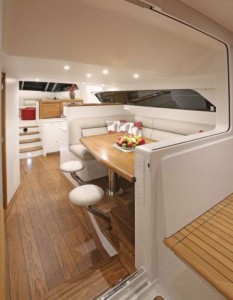 Not only is it easier to bring the dinghy on board by oneself, it is also ideal for bringing up craypots and the like without damaging the woodwork. The wide side decks are almost entirely fitting- free; a boon to those (like myself) who have no trouble stubbing toes on any and all deck fittings. Bill and Lloyd's answer has been to install raised full-length toe rails down each side. Not only is there nothing to stub feet on, there is also nowhere for any dirt to collect, making the decks easier to keep clean. Finally, my attention is drawn to the teak in the cockpit.  This, Lloyd points out, is not your usual marine teak. Instead, it is perfectly quarter sawn 12mm timber, designed to wear more evenly and to last considerably longer. 
Although Antiquity is the first motor yacht the Days have had built from scratch, they were involved in a substantial refit of Boudica. During the 12-month build, the pair say they were constantly amazed at Lloyd's attention to detail and the quality of the workmanship. "Our experience of having a boat built has been a real pleasure, we have enjoyed every minute."