The first Vindex, built 1960 and powered by a 120 Perkins had a top speed of 20 mph. Construction was double diagonal Kauri ply over stringers.
A BRIEF HISTORY OF THE VINDEX
In the annals of pro duction boat building in New Zealand there is probably no better known name than Vindex. Beven Lawrence looks back at one of our best loved brands, that unfortunately like dozens of others is no longer with us.
Jim Young, noted Auckland designer and boatbuilder, was born in Wellington in 1925 and moved to Auckland at the age of eight. At 14, he designed and built a canvas-covered sailing canoe and sailed it in Auckland Harbour. He recalls in his early days he designed his hull forms by observation of boats around him. Jim got hold of every boat design publication he could and through the years he applied his enquiring mind and logical reasoning to uncovering the mysteries of yacht design.
Never having intended to design powerboats particularly, being primarily interested in yachting, Jim turned down an apprenticeship with the iconic Lane Motor Boat Company. Jim nevertheless designed and introduced many innovations into New Zealand powerboats. He was a leader in the use of high-strength sheet plywood and also in glued diagonal multi-skin planking, in both plywood and veneer, to get strong yet light hulls.
In 1953 he was the first kiwi to use longitudinal girders instead of frames, in his pioneering 17ft Hi Fi plywood cabin runabout. In 1958 he launched Fiery Cross, a fast 45ft yacht for coastal cruising, that he had designed and built in his spare time over five years. It had the first canting keel in the world. As movable ballast was in those times illegal for racing, before he was allowed to enter races he had to swear an affidavit that he would not use the canting keel. Jim was also one of the first in this country, and maybe the first, to use spade rudders on cruising yachts.
Whilst he dreamed of sailing he knew that 80% of the boat market was for powerboats. The early trailer boat market was also given impetus by the importation of modern, lightweight outboards, which seemed to increase in power almost every year. Whilst Jim had been building yachts and displacement launches, engines played a part in the development of his planing launch designs. Back then, diesel engines were not easy to come by and they were big, heavy motors not necessarily intended for marine use. In 1958 Jim designed and built a planing launch, the 38 foot, sheet plywood Lady Pat. She had the fine entry and flattish V at the transom of his runabouts.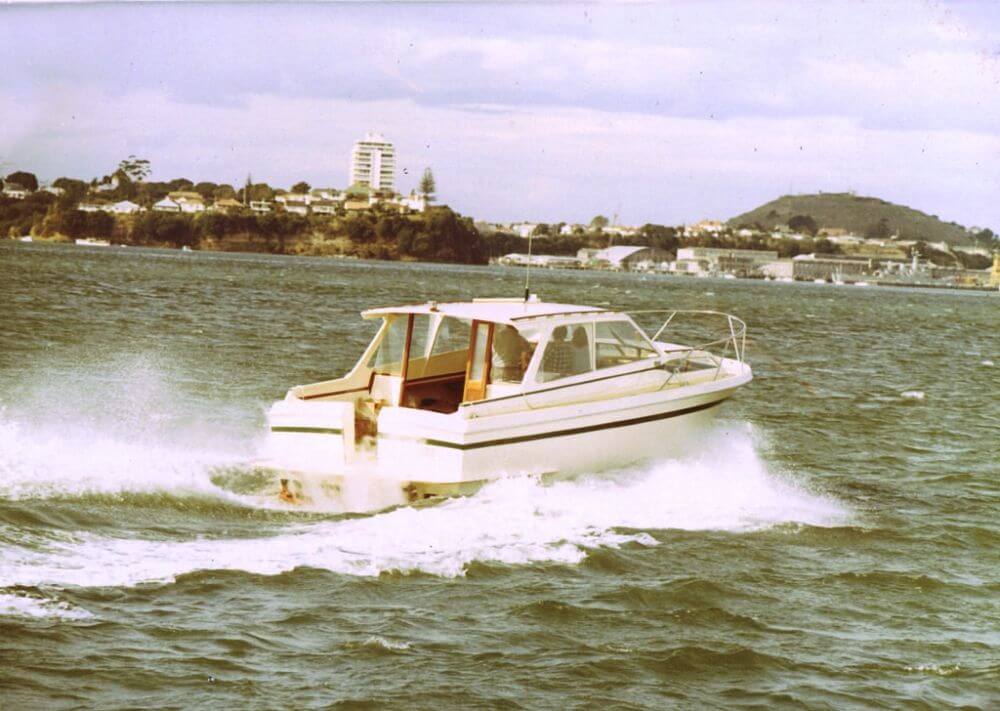 As more and more powerful engines became available and speeds increased, deadwood keels were gradually reduced in size for lower drag and better handling, and unprotected props and rudders became more common. I don't think that one can easily separate the story of Jim Young from the story of the Vindex boats.
In 1960, Alan Aspen, a local building contractor, approached Jim to design and build a decent 32ft planing launch for a Perkins S6M diesel, which put out 120hp at 2200rpm. They knew that careful, lightweight construction would mean low resistance and more speed. Alan chose the name Vindex for his new boat. Jim would eventually register this name as a trademark for his powerboat designs. Jim quotes a client's wife, "Best thing about a powerboat is you get it over quickly". As many a Vindex owner will confirm, they are a great little sea boat. The Vindex, according to Jim, is the best compromise he could establish between sea-keeping, handling, and the ability to be easily driven, and with practical, good looks.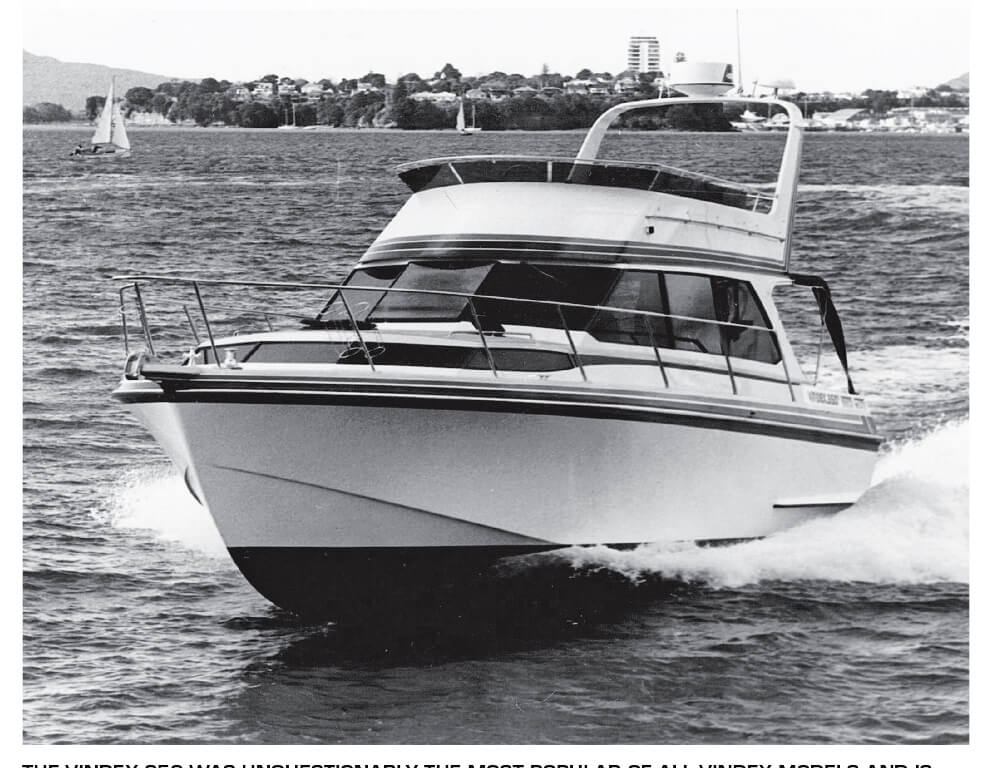 Through the 1960s Jim Young built around 32 timber versions of the Vindex 32, several dozen 34s and sold fifty sets of plans. In the 1970s he built 78 GRP boats to the 32ft Vindex design.
The 36ft, 38ft and 40ft versions were also built by other builders in GRP. Some used boats which in fact were not of Vindex heritage were misscredited with the design name. When one knows the complete history of the design it reads much like a "Who's Who" of boatbuilding. I am pleased to have supplied many a satisfied client with them. The design lends itself today to containing a veritable plethora of engine options where once the choice was slim and the speed far above the original, head spinning nineteen knots of the first one. The late Ian Waters, Jim's factory manager from 1971 until 1978, built 43 hulls including the Vindex 350. After Young's boatbuilding factory closed in 1988, Noblecraft under Ian Waters continued and built 71 boats, with as many as 54 staff at times. The popularity of this boat initiated the 375, of which 34 were built in the sports and flybridge styles. Waters arranged with Jim Young to build the Vindex 470, for which he subsequently built a set of fibreglass moulds.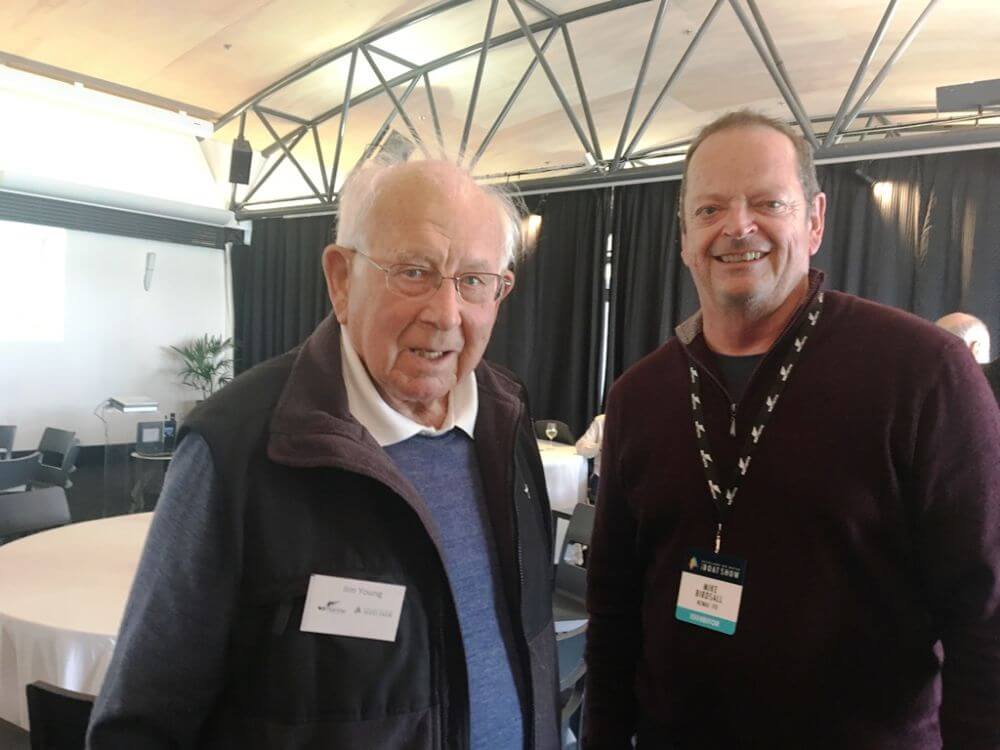 Also in 1988 the Vindex 33 was designed for the Maire family and built by Senior Marine. This design also went into production and by 1992 Formula had bought it, calling it the Formula Formula, originally Allan Young Boats (Allan is Jim's brother), took moulds off a Vindex 12m and it became the Formula 4000, which was later extended in length, becoming the Formula 45.
Though always extremely popular, poor economic conditions have from time to time slowed sales. The Formula 45 was extended with a portofino transom (as has been done on many a Vindex) and had an enclosed flybridge added, with glass screens. (Jim says that the windage on the flybridges, which he refers to as "sheds", defeats5the purpose of the original design, but flybridges were what customers wanted.) Superior Boats eventually acquired the Vindex 33 moulds, from which 54 hulls in total have been built under licence. Recently, Superior Boats also acquired the Vindex 375 moulds, from which 36 hulls in total have been built.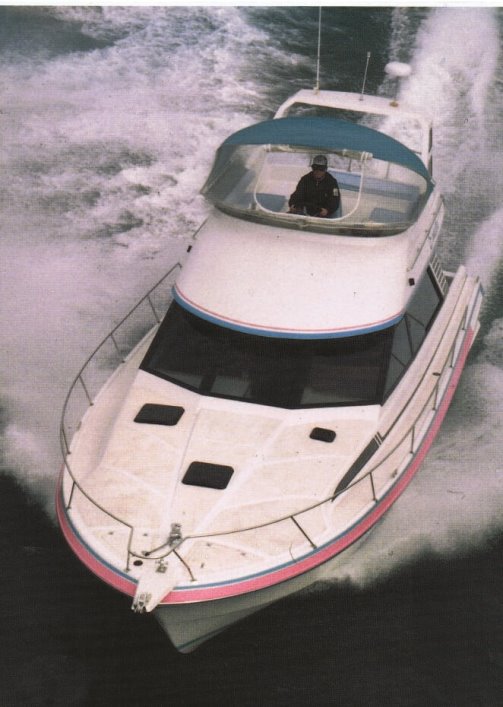 In the nine years I worked at Formula Cruisers, we built many GRP Vindex designs, and from time to time Jim put forward some interesting observations and ideas to improve production. Just at this last time talking to him, I was invited to the garage where he had a 1.2m model of a powerboat hull, on which he was testing a scaled foil lift system designed to lift the hull all but clear of the water for a fast, economical and smooth ride. The photo taken during its test run showed that it indeed worked well.
I regard Jim as an iconic trailblazer of our time. His enquiring mind does not just take something at face value without finding out why it works. Once, he cut a frozen bonito into ten equal pieces and measured them against NASA sections to compare the shapes. His conclusion was that "God got there first".
"The dictates of the sea are paramount" – Jim Young.
"Popularity is not a gauge of quality" – Jim Young.
I remember on one Auckland anniversary day regatta, joking that you could almost walk across the harbour on the boat decks, and it seemed that every second one was a Vindex. So, forever a part of Waitemata history, remains the Vindex, giving pleasure and adventure to thousands.         
NOTE: Jim Young is now in his mid 90s and while not designing boats anymore still has the pleasure of seeing 100s of his creations still active on the harbour.