It's not often you see a South Island boat manufacturer produce a bowrider. Something about being too cold and draughty in the deep south and then after all there are soooo many American imported versions; why bother! However Venom Marine's new Viper 1800 Bowrider is out to change all that and if early sales are any indication they have certainly made the right move.               
T he Viper has been targeted to take the imports head on and many of the features parallel what has proven so popular and accepted already. The hull in fact has been derived from an existing concept and adapted to more suit local conditions. The layout and styling reflects a blend of American glitz and Kiwi function that has produced a well-balanced boat.
Venom Marine see the 1800 bowrider as a companion for their successful high performance Viper, which is one of the first choices for anyone into serious ski racing or marathons. However the company felt that they needed to expand their range into the recreational ski and family boat market, and the 1800 bowrider is the result.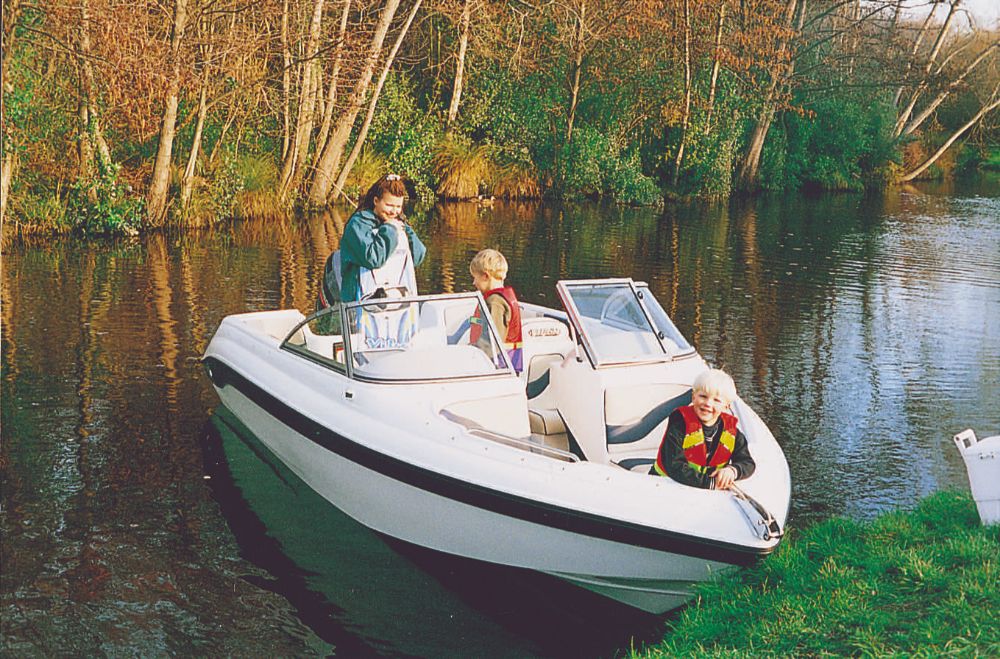 The Viper 1800's fine forward sections mean you can't load two or three adults in the bow seating area and expect to get the 'nose up' when underway at speed. On the plus side if you are into wakeboarding then any extra weight up front makes for a better wake. It is a great place for the kids, who'll find a reason to sit there in any conditions and not bad also for relaxing with a fishing rod. The seating is comfortable with wrap around back cushions and storage under either side squab. The forepeak locker doubles as anchor stowage and a roller fairlead and bollard are standard items. If you don't fancy a cold wind blasting past your legs, then a soft bowcover can be fitted when the area is not in use.
An opening screen gives easy access through to the cockpit where you find a lot of those American influences in the layout. The difference in this locally built boat is that you have a seating option, with our test boat fitted with a single swivelling driver's pedestal and a back-to-back opposite. Venom Marine also offers the 1800 with twin pedestals or back-to-backs and unlike the imported boats the back-to-backs do not fold down to form sun-loungers. It was the right choice as there is more advantage in that extra permanent storage under the seating than offering something that will be used only infrequently.
Storage is also provided in narrow side shelves and for skiers there is a dedicated ski locker in the cockpit sole capable of taking up to 68" (1727mm) skis. It's also big enough for dive bottles and all the necessary scuba gear. As the Viper doesn't come standard with an under-floor fuel tank (a 100 litre capacity stainless steel tank is optional) the totes are fitted out of the way under the aft wrap-around jump seats. There is also extra storage space backing into the portofino stern area, where the battery and oil tank are securely fitted.
As this boat is designed primarily for skiing, wakeboarding and towing whatever form of water toy you choose, a lot of attention is placed on the stern design. Large platforms either side of the outboard well are high enough to cover all the engine cables and yet not too high for ease of boarding. A drop-down stainless ladder and grab rails assist the reboarding manoeuvre.
This is a sit-down boat, so the instruments, controls and overall helm area have been designed with that in mind. On the later models the woodgrain dash panel is repeated on the glovebox area on the passenger side, adding an upmarket look to the finish. There is only limited space to fit any extra electronics, but there is at least one boat on the water with a reasonably sized Furuno sounder. The glass windscreen does the job of keeping off the wind and spray and with the canopy fitted you're well protected from the weather.
The majority of Viper 1800 bowriders have been sold with Johnson 115hp outboards, but there are others with V6 150 – 225hp outboards, that according to John Phillips of Viper agents Powerboat Centre, run well up to 70 mph and handle the power with ease.
We got the opportunity to test two boats on the mirror smooth waters of Lake Brunner; one with a Johnson 130, the other with a Yamaha 200 VMax. You don't learn a lot about how a boat handles when you've only got calm water although it does give you the opportunity to test out the hull's attributes at speed. The 19-degree hull hung on flat in the turns, was stable at rest and didn't do anything unnerving at speed.
The 200 VMax ran the Eagle GPS to 59 mph @ 5700 rpm swinging a 21" 4-blade Renegade propeller. It was very quick onto the plane and maintained a nice power curve through the range. I found a sweet cruising spot around 4000/4500 rpm.
The Johnson 130 fitted with an 18" three blade Raker pulled 6000 rpm on the fresh water lake for a top speed of 44 mph. Unlike the higher horsepower option, speed at the low rpm range wasn't in the same ballpark and while the 200hp planed at 2500 rpm, the 130hp didn't pop up on top until 3500 rpm. Considering the type of boat this is I liked the V6 option, but for anyone looking for a mid range family recreational skiboat, then the V4 package is fine. Expect to lose a couple of mph with the 115hp option and with a 90hp, speeds will be under 40mph.
The Viper 1800 bowrider was released in November 1999 and to date sales have been restricted to the South Island. While predominantly being used for recreational skiing, one owner has gone to the trouble of mounting a fishing chair on the ski pole for trout fishing. Venom Marine, who until their latest addition restricted their building programme to the high performance Viper ski/race boat, are now able to offer both serious and recreational skiers purpose-designed boats.
Model: Viper 1800
Price (Boat only): $18800
Price as Tested: $36000 (Johnson 130) $43,000 (Yamaha 200Vmax)
Designer: Venom Marine
Material: GRP
Type: Bowrider
LOA: 5.50m
Beam: 2.30m
Hull Configuration: Semi deep vee
Deadrise At Transom: 19 deg
Trailerable weight: 1200 kgs (estimated)
Engine Capacity: 90-200 hp
Power Options: Outboard only
Fuel Capacity: Tote tanks
Yamaha 200Vmax       Johnson 130
1000 rpm   5.5 mph     3.0 mph
1500 rpm   7.0 mph     6.0 mph
2000 rpm   11.0 mph   8.0 mph
2500 rpm   22.5 mph   10.5 mph
3000 rpm   29.0 mph   13.5 mph
3500 rpm   34.5 mph   23.5 mph
4000 rpm   40.0 mph   29.0 mph
4500 rpm   46.0 mph   33.0 mph
5000 rpm   51.5 mph   35.5 mph
5500 rpm   57.5 mph   38.0 mph
5700 rpm   59.0 mph   –
6000 rpm   –               44.0 mph
All speeds were recorded using an Eagle GPS and rounded off to the nearest 1/2 mph.
NOTABLE STANDARD EQUIPMENT
Ski pole, glass Taylor Made/Sandbrook windscreen, bilge pump, adjustable drivers seat.
NOTABLE OPTIONS ON TEST BOAT
Nil
Make         Yamaha       Johnson
HP                 200                130
Model         Vmax        Carburettor
Induction   2 stroke     2 stroke
Cyl Type          V6            V4
Max RPM      6000         6000
Propeller    21" Renegade 18" Raker
Retail Price                $19,500     $12,500 
Make: Watercraft
Model: WR550
Braked: No
Suspension: Springs
Rollers: Multi rollers
Std Features: submersible lights, jockey wheel.
Retail Price: $3500