THE WORLD IS THEIR PLAYGROUND
Text by Mike Rose
Many "expedition yachts", if truth be told, do little more than hug the coastline. Not the new Voodoo Yachts XF Expedition Foiler, Playground. With a cruise speed of 30 knots (in virtually every condition), slow fuel burn and exceptional comfort, cruising offshore is not only a real possibility, it is darn near mandatory!
For most launch or cruiser owners, cruising offshore (say up to the islands or across the Tasman) is simply too hard. Even for those with larger "expedition style" vessels the journeys are usually seen as too long, too hard and too fraught with danger. The Tasman Sea and waters immediately north of New Zealand can be distinctly unpleasant in bad weather. The "good" weather windows are often short, not lasting quite long enough to give a healthy safety margin.
The Voodoo XF60 changes all that. Using an innovative foiling system, called the Xpedition Wing that has been developed and refined over 10 years and taken 5 generations to get this advanced stage, it is perfectly positioned to take advantage of those small weather windows. With twin 850hp MAN diesels running through Voodoo-designed low drag shaft drives and swinging 5-bladed Interceptor props, it can leave Opua and, just 23 hours later, be berthing in New Caledonia. Fiji is now under 40 hours away and Tonga, the Cook Islands and Australia suddenly all easily in reach.
Able to hit a top speed of 38 knots, Playground cruises comfortably over just about any sea state at a ground-swallowing 30 knots and, as Voodoo's Dave Pachoud points out, is just as economical at those 30 knots as it is at 20. With a fuel capacity of 10,000 litres and an average fuel burn of 7 to 7.5 litres per nautical mile it has a range of over 1200 nautical miles. Getting quickly to Fiji requires around 8000 litres so there's a huge safety factor and, should one wish to drop down to a more sedate 8 knots, consumption more than halves to just 3 L/NM.
POPULAR ALREADY
While Playground is the first XF60, the original Voodoo, after which the model and the company are named, first hit the water some 10 years ago. It, too, foiled, and, along with the several that followed, gained an impressive reputation. All for New Zealand or Australian owners, they travelled extensively, cruising up to the islands, being delivered "on their own bottom" across to Australia and ending up all over the big island: in Sydney, Mackay and Perth, to name just a few.
Dave and his team spent the intervening years refining every aspect of the design, tweaking the hulls for better rough water performance, developing multiple generations of the foils and undertaking an enormous amount of computer analysis. When they were happy, they made the moulds and went into production.
That hard work has paid off: while Playground, launched in April 2021 is the first to kiss the sea, there are already five more "on the floor" (in production) and another 8 on order.  And this is for a radical 60-footer with a price tag in the multiple seven figures!
After spending a day on board Playground with Dave and son Mitch it was easy to see why these boats are so popular. The team clearly have a couple of key principles that guide everything they do: simplicity and useability.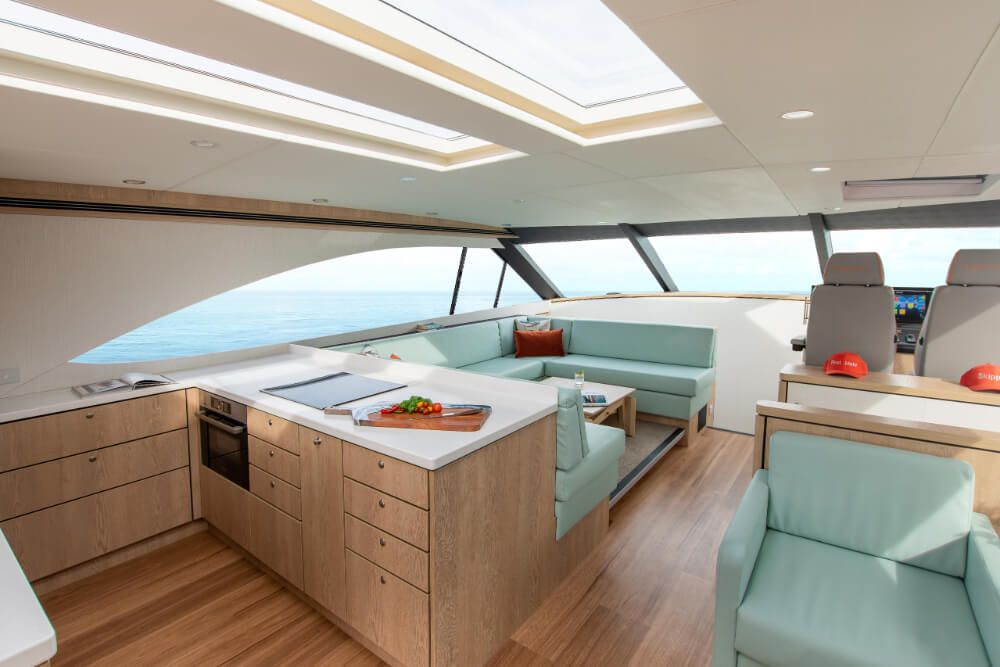 Make no mistake: this is not a "simple" boat. It has incredibly sophisticated systems for everything from fuel distribution to the provision of water and power; from boat handling to fire-fighting; from the convertible dinette to the transforming saloon bench to the now-you-see it, now-you-don't cocktail bar. It's just that, when one comes to use these new and innovative systems, it's not hard. It's easy ¾ push-one-button-and-it's-done easy.
EASY RIDING
Even driving the boat at speed is just like driving a regular powerboat. After watching the America's Cup foiling catamarans, with their "flight controllers" and foiling arms, one could be forgiven for thinking that one would need an advanced engineering degree to drive Playground. Not so. It hops onto its foils in the same way other vessels hop onto the plane. It accelerates, decelerates, turns and even reverses just like any other power cat or monohull (like most modern cat designs it leans into the turns not out).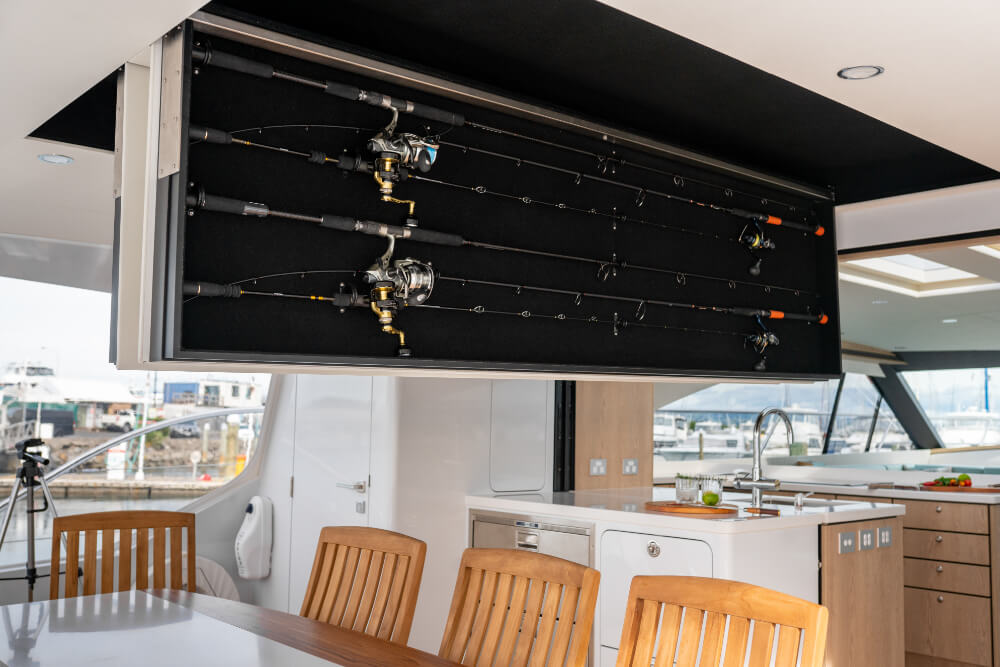 If there is one thing that does take some getting used to it's the lack of a steering wheel. Dave prefers to use a toggle switch (actually there are two, ensuring one is comfortably within reach depending whether one is standing or sitting back in one of the stylish custom helm seats).
When docking, hydraulic bow and stern thrusters make steering of any kind pretty superfluous and a remote stern control station on the platform makes berthing a pretty simple affair, even when short-handed.
Because Playground has been designed with island cruising in mind, Dave has ensured the skipper can also choose to stand on the bow and maintain complete control of the vessel using a simple remote. This is an ideal state of the affairs in places where big bommies lie lurking under the surface, often in the most inconvenient of places (such as in narrow entrances to coveted anchorages).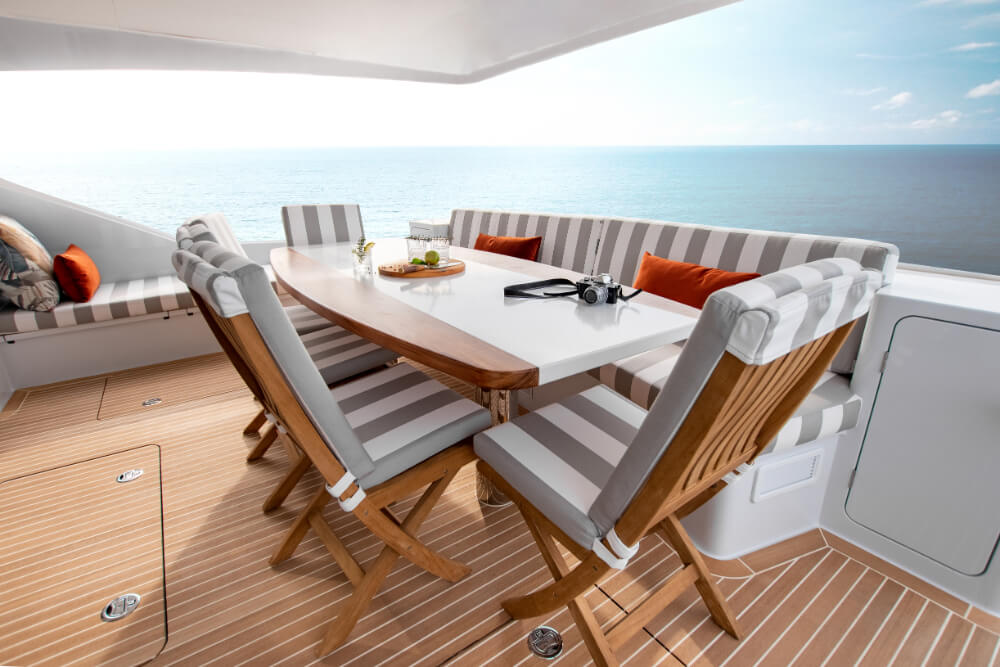 NO COMPROMISE
The old adage that every boat is a compromise is not much in evidence on the XF60. Superyacht-style feel and finishing? Check. Specialist features and plenty of room for fishing and diving? Check. Choice of layouts? Check. Formal or casual dining? Check.
Playground's cockpit and platform areas are a great example of how this design truly delivers the best of all worlds. The large platform is equipped with everything needed to enjoy our favourite water sports: fishing, diving, swimming, exploring. Protected by rod holder-equipped stainless steel pushpits, the platform has twin kill tanks in the quarters and a brace of custom bait boards, complete with knife holders. Forward is an almost full width console containing literally everything one might need to find and catch fish, keep it in good condition, cook it and keep everything sparkling clean in the process. In addition to the mandatory livebait tank, there is salt-ice-maker (capable of producing 15kgs of flake salt ice an hour), 12v outlets for electric reels, a networked Simrad MFD screen with access to the ship's sounder and CZone system, a large specially made 316 stainless steel sink with fresh water (there is also a hot and cold water telephone shower for the swimmers and divers), a salt washdown water outlet and, of course, a barbecue. There is also a mountain of stowage above the console, with specialist lockers for lures, tackle and the like.
There is dive compressor in the starboard portofino locker and, for the swimmers and divers, an electric/hydraulic system capable of lowering the platform to half a metre below the water line. When lowered, the platform reveals a handy garage, home to Playground's jet-powered tender.
SUPERYACHT FEEL
In contrast to this superbly-equipped but undeniably utilitarian area, the cockpit above has a distinctly superyacht feel. Dominated by a large dining table, it is part of a large open living area that basically runs, uninterrupted, from the transom to the windscreen. There are so many innovative yet eminently practical features in this area alone it is hard to know where to start. Sheltered by a large overhang, the cockpit is obviously the go-to area when Playground is at rest. Protected from above, it is wide open to the rear and sides giving wonderful views of the surrounding anchorage as well as a birds' eye view of the action below on the platform. Clearly designed with entertaining in mind, it features a console servicing both the cockpit and the galley. Containing a large sink and a faucet that dispenses both fresh and either light or full sparkling water, it is supplied by a 1000-litre fresh water tank and a 220l/hr watermaker. On the cockpit side it contains such necessities as a fridge and freezer and drawers containing blenders, shakers and the like (there is also an icemaker close at hand, across the companionway). 
A push of a button and the cocktail slide cabinet appears, sliding over the console from where it had been hidden in the port bulkhead. Revealed are not only all the different styles of glassware one might need, but also a wide range of spirits, already set up in their dispensers and ready to be put to work.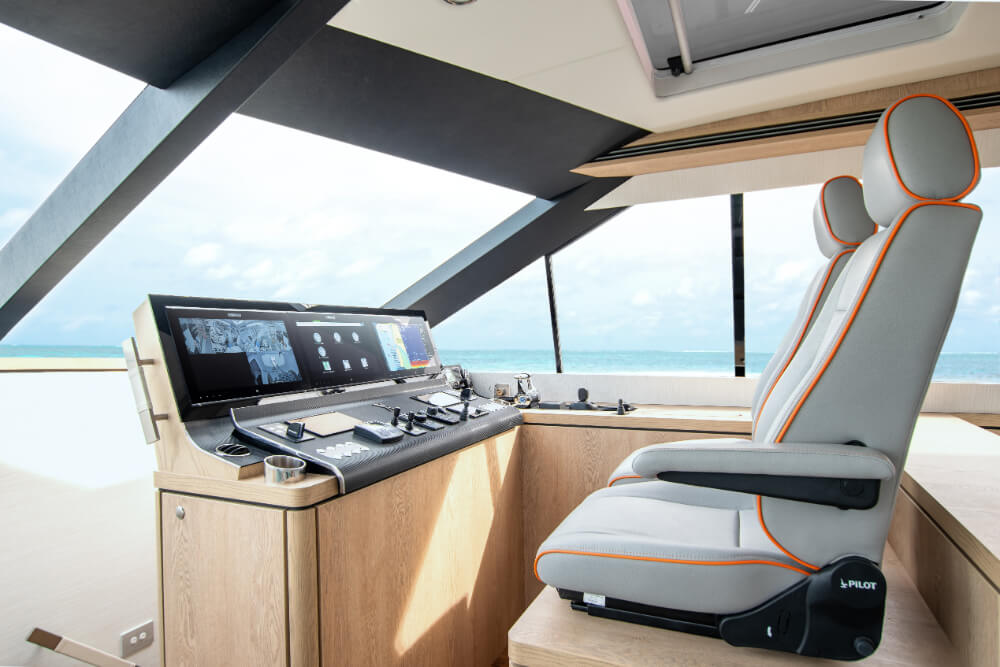 Push another button, a large section of the ceiling hinges down revealing a pair of massive rod lockers, wide enough to contain multiple straylining, softbaiting or game rods.
The U-shaped galley continues in the saloon with everything one would expect on a vessel of this style: domestic fridge/freezer, dishwasher, 4-burner induction hub, microwave, pantry, appliance garage and loads of stowage.
There are two separate lounge areas, one opposite the galley and featuring a stand alone chair along with a settee with double-wide squabs, enabling it to act as a day or passage bed.
The main lounge is forward of the galley and its U-shaped settee is served by another of Voodoo's clever innovations: a timber coffee table that converts, Transformer-like, into one suitable for dining. All of the seating features spring bases for extra comfort.
Because Playground has been designed to have adventures in both warm climes and cold, it has both a full air-conditioning system and diesel heating. In typical Voodoo style these both perform double duty: the former ensuring the windscreen is demisted and kept clear in even the muggiest conditions; the latter able to be used to quickly heat the large portable spa pool that can be quickly assembled, filled and warmed on the platform. Additional ventilation in the saloon is provided by electric windows on either side (controlled from the helm) and skylights over the galley.
Despite the sophisticated nature of Playground's systems, the helm station is a pretty user-friendly affair. The dash is carbon fibre and there are three 16" Simrad screens. Two are used as MFDs (displaying the feeds from the chartplotter, radar, sonar and CZone system), the third to relay the feeds from ship's infra-red and security cameras.
ACCOMMODATION OPTIONS
Voodoo owners have a choice of two accommodation plans: 3-cabin, 3-bathroom or 4-cabin, 2-bathroom and day head. Although the latter has so far proved the more popular, Playground's owner has gone with the former, using the day head space in the cockpit to house the vessel's power fire flap fire-fighting system and to stow additional game fishing gear.
Access to the cabins is via separate, private companionways underneath the windscreen (meaning they don't bisect the salon as is the case on some powercats). The full-beam master suite is forward with a large view window to the outside, a pop-up TV, electrically controlled curtains behind a pelmet and loads of stowage. The large ensuite includes another substantial wardrobe, twin sinks, a separate shower cubicle and Techma electric toilets.
The "VIP cabin" is forward in the port hull, also comes with its own ensuite, TV and an even larger view window.
The third cabin is aft to starboard (actually amidships) and can be configured as a double, a queen (made up of two singles) or twin singles with an inset. The corresponding space forward is occupied by the third bathroom/day head and linen locker.
SUMMARY
In over 35 years of writing boat reviews, there are few that have impressed me as much as the Voodoo XF60. Not only have Dave and his team created a true expedition cat, capable of safely travelling large distances at high speeds, they have also introduced high levels of innovation in virtually everything they have done.
There are simply too many to do justice to in an article of this size but here are a couple more that I haven't mentioned yet: the engine room vents, often a bit of an eyesore, have been placed at the bottom of the platform Portofino. The heated air exits through dorades and near-invisible stainless steel grills and have the additional benefit of providing warm air around the feet on a cold winter's day.
The other is an electric roller system for the clears that protect the outside dining area from salt spray while underway. Developed in-house, like virtually everything else on board, it is yet another innovative, easy-to-operate system that makes life on board that much more enjoyable.
Design Name: Voodoo XF60
Boat Name: Playground
Year Launched: 2021 
Builder: Voodoo Yachts 
Designer: Voodoo Yachts 
LOA: 18m 
Beam: 6.3m 
Displ: 27t
Max Speed:38 knots  
Cruise Speed: 30 knots 
Construction: Composite 
Fuel Cap: 10000L 
Water Cap: 1000L 
Engine Make: MAN 
Drive Train: Voodoo designed low drag Shaft Drives 
MFD: Simrad 
Priced From: POA