They were an impressive range before, with a reputation for quality and innovation; the release of their evolutionary new Voyager V1250 Conquest model however, adds a new dimension to an already high-quality Voyager catamaran range.
Stylish in profile and now sporting an optional fully enclosed flybridge, this new Conquest model is if you like a larger more luxury version of their current V1100 Discovery model. It hails a new era in Voyager technology, specification and presentation for rather than simply 'tarting' up the V1100 model Voyager designer and CEO, Derek Appleton, has a completely new hull as well as deck and interior design. "The profile lines are still indisputably Voyager," Appleton explained, "but the enclosed flybridge configuration required a whole new approach to layout and styling. "As well, we have opted for a significantly larger one-level cockpit that, aft of the transom upright, will appeal to the fishermen, swimmers and divers, while forward of this feature it is an entertainer's delight with room for an outdoor table setting if so desired," he enthused.
Step aboard and you soon appreciate the fact the V1250 was indeed certainly very different for it offered a new meaning to the word spacious. All at one level, the gelcoated cockpit floor (teak  on each hull, providing sublime floor area but more importantly affording the designer the luxury of moving the transom upright further aft than is traditional.
With substantial stainless steel railings around the perimeter it was a perfect platform for the swimmers and fishermen – and the star-gazers seated on the aft-facing lounge on the outside of the transom upright. The standard and certainly appropriate-height boarding ladder provided good access to the water from what was a higher than traditional transom feature!
As I have stated so many times before, everything in a boat is a trade-off and benefits such as ease of boarding at a marina or pontoon, the enormous storage and kill-tank provision and of course the added floor area that accrues from this style of approach to cockpit and transom design – were infinitely more advantageous and credible trade-offs over what we have come to accept over the years as a traditional catamaran stern with multi-levels that invariably are an inefficient use of space.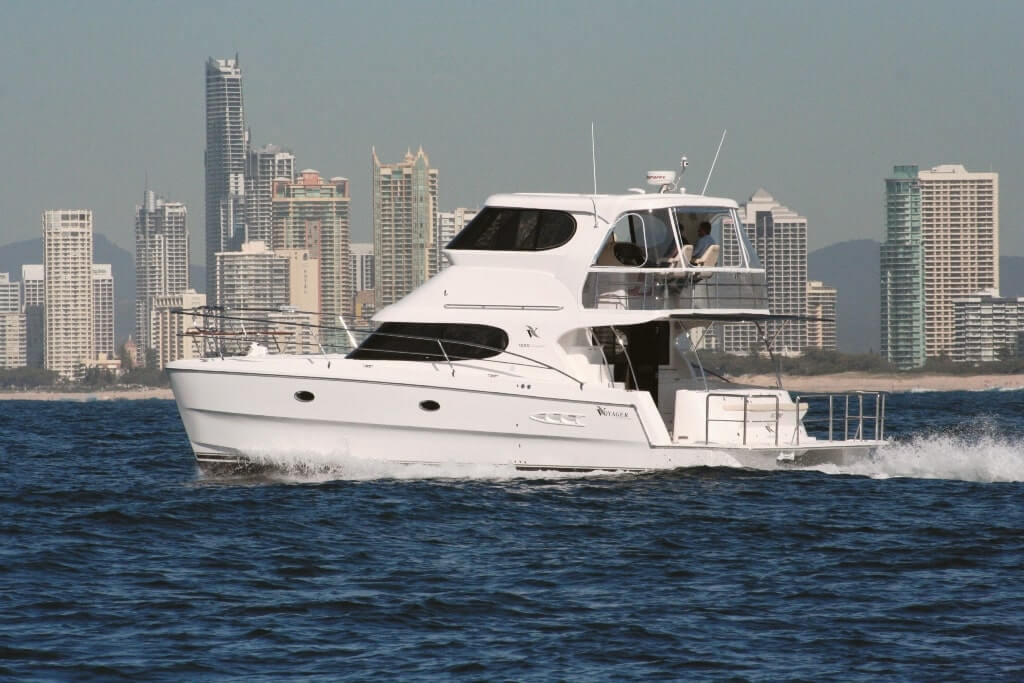 Forward of the transom upright, features included the secreted (large!) BBQ within this transom upright, the sinks at each end of the transom upright module, the full-width forward facing aft lounge, an integral 150-litre freezer to starboard of the saloon doors, corner steps each side for access to the foredeck, generous overhead protection courtesy of the flybridge overhang and a solidly mounted shade mesh and stainless steel canopy extension, and the moulded stairs which provide external access to the flybridge. Stairs incidentally which cleverly hinged up to reveal the perfect storage facility for dive bottles, wet gear or table and chairs. With this and the huge lockers in the aft of each hull it was clearly evident that no space was wasted.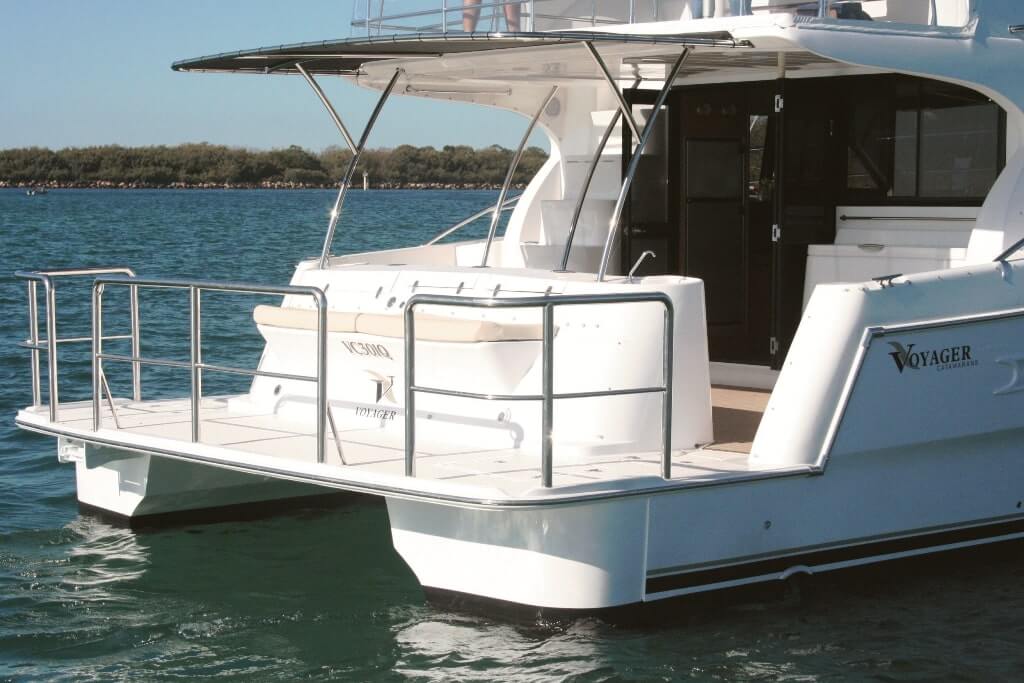 The flybridge level was a most expansive area of the boat, and certainly with the enclosed aspect of this particular version, one where you would likely spend most of your daylight hours – whether underway or when moored. A skipper and friend could be seated on the two Navigator helm chairs behind what was a most comprehensive and as well visually 'impressive' helm station.
Presented on a rounded vinyl-trimmed carbon fibre display that was both functional as well as ergonomic, features on this helm included Seastar steering, the Raymarine E120 electronics screen with radar, autopilot and VHF, and each side of the E120, the Steyr engine instrumentation.
Seating forward of this helm feature would cater for a veritable army of guests seated around the full-width U-shaped lounge and five-person table. 'Clears' on the rear corners and across the back of the flybridge ensured it could be transformed into a warm and dry room and if you felt like a wee tipple along the way, the bar module to port and adjacent to the top of the stairs included a Corian-topped servery, bottle rack and refrigerator. Indeed a very ambient part of the V1250 Conquest.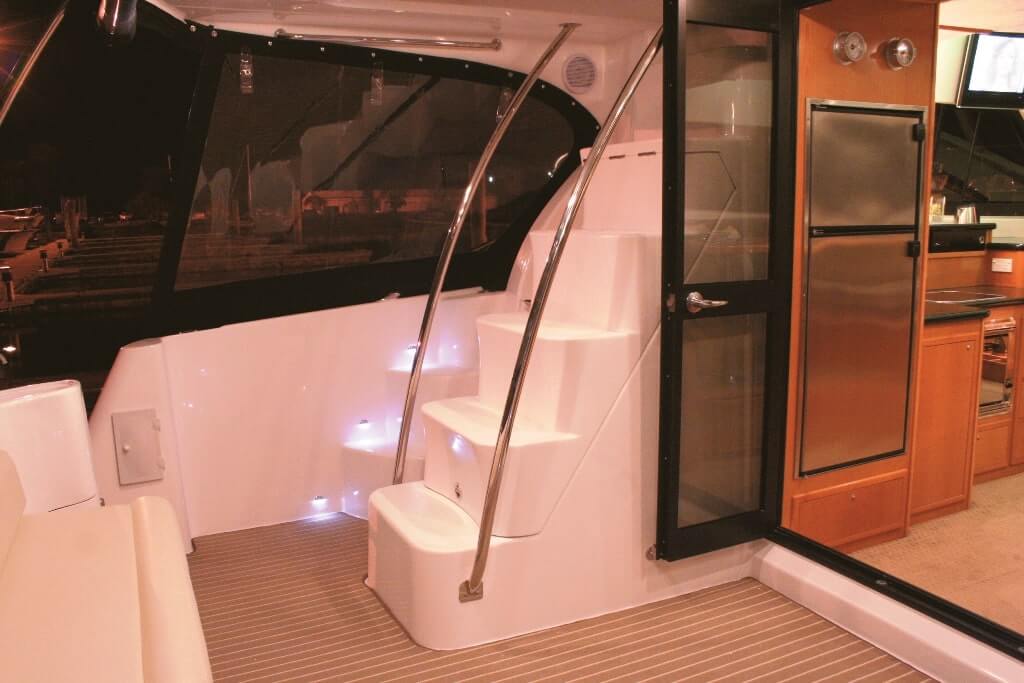 Step inside the Voyager saloon and there was a definite air of refinement about the presentation, in particular the wood finish. Bold was perhaps the best way to describe this room for every feature seemed to make a statement. To starboard was an elevated six-person dining setting. Arguably you wouldn't normally get away with an elevation such as this but in a saloon with the generously high ceiling this example boasted, it was actually quite clever. Serving a two-fold purpose, it not only enhanced all-round vision but also provided greater headroom for the accommodation below.
Opposite this dining setting was the aft galley. Arguments abound as to the merits of where a galley should be situated, but I prefer an aft galley exactly like this option – one of the best I have seen in a vessel of this size. Finished as in the instance of the dining setting, in rich semi-gloss Californian beech, it was patently obvious the designers had listened to their clients for the galley was user-friendliness personified. Features here included 230 litres of separate refrigerator and freezer, a two-burner gas hob and oven as well as a microwave oven, generous bench space and importantly, equally generous cupboard, drawer and general storage provision.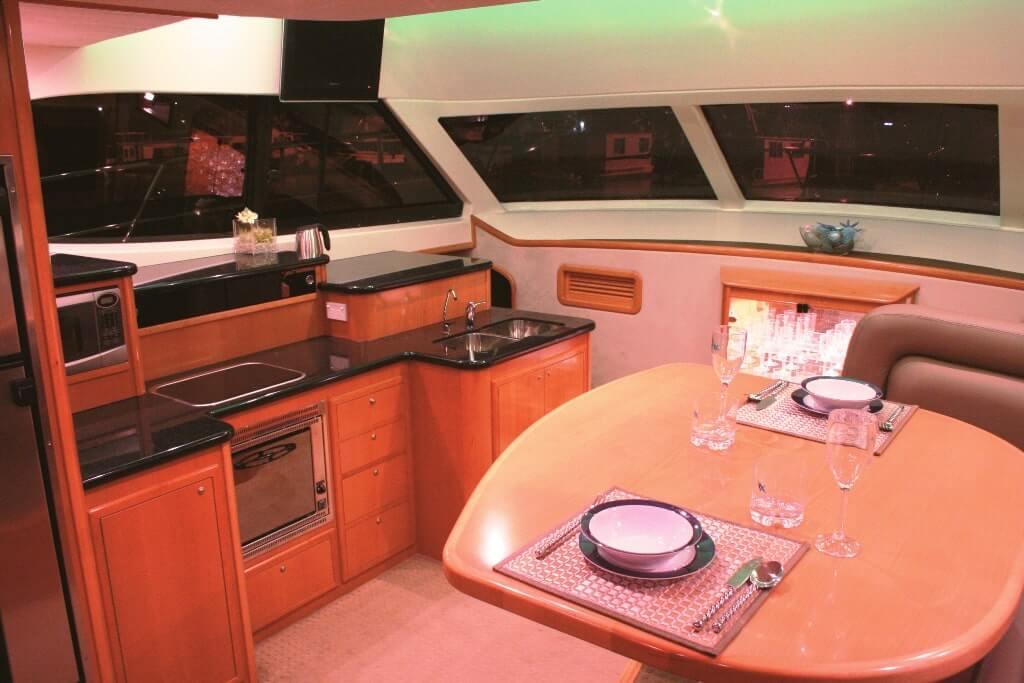 Completing the picture of elegance in the saloon was the chart table with (BEP) circuit-breaker switch-panel cabinet forward of the dining setting, and of course the impressive liquor cabinet which was 'incorporated' into the centre of the front bulkhead. 
Luxury Accommodation – Catamaran-style
As in most catamaran designs there are a number of different options available. In this instance, the emphasis was very much on an appropriate level of comfort within the master stateroom. As such, this was a three-cabin configuration, with one bathroom.
The guest accommodation was in the starboard hull, with the 'double' room aft of the stairway. While not a huge room, the bed was a generous double – and there was still room to close the door when changing. Features in here included a feature wall mirror, good lighting, a wardrobe and side-storage facility, an opening side port-hole and a ventilation fan. The décor in here very much continued the up-market high level of presentation of the aforementioned areas of the V1250.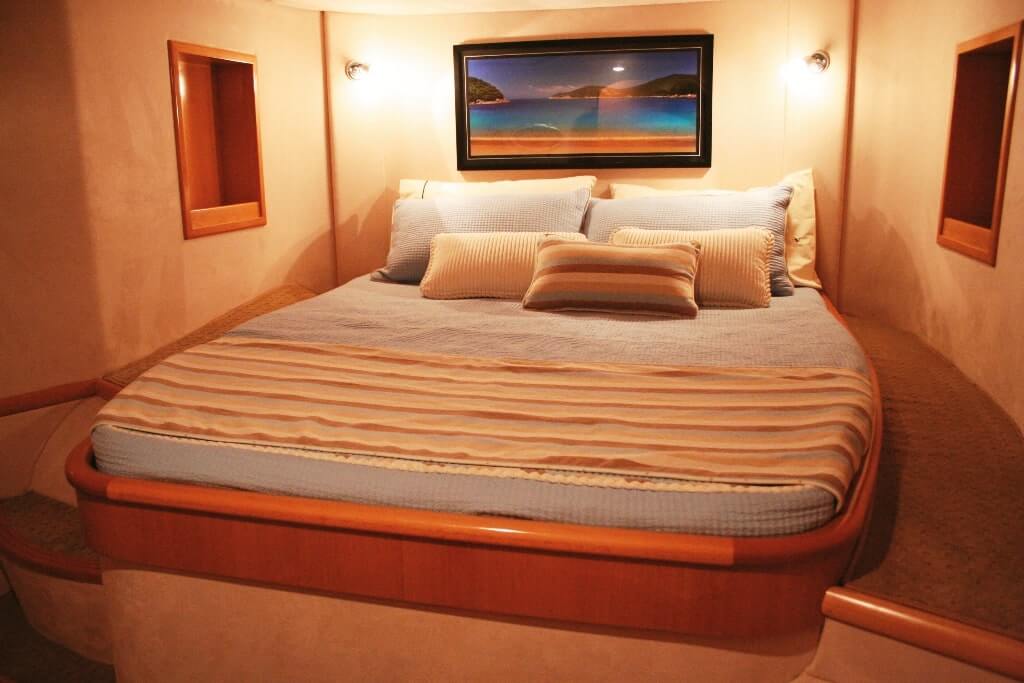 The forward accommodation on that (starboard) side consisted of a twin single athwartships and fore and aft bunk configuration. With ample light and ventilation courtesy of an overhead hatch as well as a side port-hole, this cabin in fact was brilliant in design, very roomy, generously sized berths, good wardrobe and storage facilities, neat step access up onto each berth – and extremely well presented.
Across on the port side was the master accommodation. While essentially a 'luxury' characterisation would surely embody a private ensuite (an optional ensuite layout is available), I was more than happy with the option of a more expansive albeit communal bathroom, just across the walkway from the master bedroom, aft of the stairway. Especially appreciated was the space around the head – not cramped – and the separate shower cubicle – which you could swing a cat in!
Again the 'luxury' descriptive for the master stateroom must be viewed within the context of a catamaran configuration, and yet again I have to say the designer did a damned good job. The queen-size island berth lay semi-diagonal across the room in what was a most majestic setting. With good headroom even when sitting up in bed, there was also plenty of lighting and ventilation and again, plenty of storage – even down to a huge (lined) walk-in wardrobe. The high-quality linings and carpet and the generous 'splashings' of wood all enhanced the visual pleasure. There was even a painting above the head of the bed – to complete the picture of contemporary opulence!
As is the case with most Voyager catamarans, the recommended mode of power was Steyr diesels. "They are technically advanced engines which provide exceptional performance and miserly fuel consumption. I place special emphasis on the key elements of weight, performance and economy," Appleton explained.
One would tend to suggest the hulls were seemingly quite efficient in their shape also, but certainly to glean a top speed of 22 knots from twin 3.2-litre 6-cylinder 190hp Steyr diesel engines, somewhat graphically supported his claims. More to the point, cruising at a relatively brisk 17 knots it used just 45 litres of diesel per hour.
Interestingly, with a fuel capacity of 1400 litres, that equates to a range of roughly 500 nautical miles.
In keeping with the 'economical cruising' philosophy, onboard power is 12V with the usual high-consumption items, such microwaves, powered through a Zantax inverter. The three 200Ah Absorbed Power AGM 'house' batteries and two engine 'start' batteries were all charged courtesy of the heavy-duty 90A alternators on the Steyr engines or when in port, courtesy of the shore power through the onboard charger.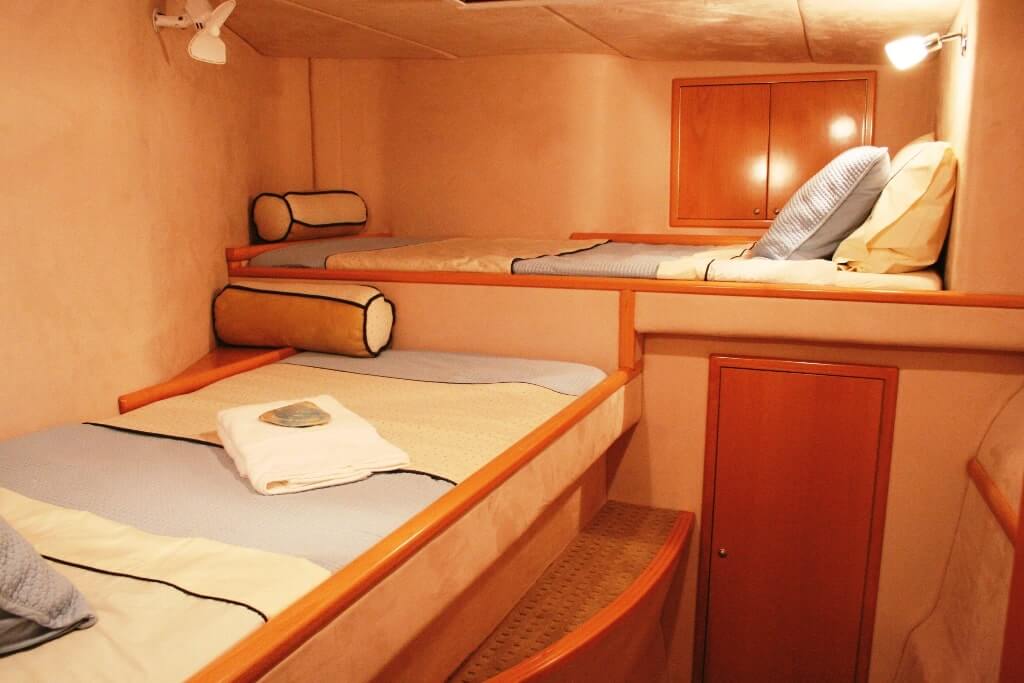 That system is quite sufficient within the context of the specification of this particular Voyager, but certainly if you were to take up the air-conditioning option or include such features as electric cooking, then sensibly you would be adding a genset to the portfolio.
Other onboard systems included heavy duty Seastar hydraulic steering, ZF Micro Commander electronic controls, TMC electric macerator heads and Clarion entertainment systems. The drive was conventional shafts, through ZF 45A 2.43:1 gearboxes to 4-blade 19" diameter x 21" pitch ZF Faster propellers.
As stated, the Conquest was what I would describe as a solid performer, a good honest hull that had few vices. Weighing in at just 9,000kg (not including the 1400 litres of diesel and 750 litres of water) the solid fibreglass hulls with composite core and foam topsides, deck and flybridge was a strong and tight ship and really revelled in the less than ideal conditions of our test day, which included rather gargantuan swells and waves off the Gold Coast Seaway entrance.
This hull had the obligatory handling skills required of a bona fide bluewater cruising hull. It accelerated surprisingly well considering the relatively meagre horsepower, it rode with a nice level attitude and it cruised efficiently.
As far as perception went, I felt most comfortable with a 'luxury' tag being applied to this vessel for it was spec'd and presented to a level beyond that of most catamarans available on the market today. Yet, it didn't carry the price tag I expected.
If you subscribe to the theory that a 40-foot catamaran is the equivalent size of at least a 50-foot monohull, then the price tag of under $A1-million inclusive of the optional extra 'luxury package' which included amongst other things the enclosed flybridge, radar, aft awning, underwater lights, drinks cabinet – is most competitive.
Design Name: Voyager V1250 Conquest
Builder: Voyager Catamarans
Designer: Derek Appleton
Year Launched: 2008
LOA:   13.0m
Beam: 5.30m
Draft: 0.96m
Displacement: 9,000kg
Max Speed:  22 knots
Cruise Speed: 16 – 19 knots
Fuel Cap: 1,400 litres
Water Cap:   750 litres
Construction: Solid F glass, composite sandwich, and cored panel
Engines Make: 2x190hp Steyr
Gearboxes:   ZF 45A, 2.43:1
Propellers:  ZF Faster 4 blade Ni-Br 19"d x 21"p
Base Price:   $A790,000
Price As Tested: $A960,000