Each new model in the Voyager range is an evolution of the previous model but unlike most evolutionary processes – in the case of the Voyager models they are poles apart in styling and layout concept – refreshingly different so as to capably address the requirements and expectations of an audience that will purchase that particular size of vessel.                 
That aspect more than any other is perhaps the secret ingredient in Voyager Catamarans MD Derek Appleton's armoury for far from being just an extended and maximised version of the earlier model, each of his 'evolution' of models was a stand-alone model designed specifically for that next level of 'audience' it was purposefully designed for. Extend/expand a vessel and it always comes up short, design a vessel from scratch as Appleton did in conjunction with respected designers Oceanic Design, and it will authentically address the requirements and expectations of that style and size of vessel.
While each of Appleton's previous designs were aimed in varying degrees, at addressing the 'family' ideal of weekend or extended-stay boating, this latest Voyager V1270 Freedom Power Catamaran is designed and built to comprehensively address the requirements of the long-range 'cruising' boater. Everything is built around the KISS (Keep It Simple Silly) principal of user-friendly and above all maintenance-friendly layout and 'appropriate' specification, but in true Appleton tradition the concept is intermingled with innovation, engineering and construction methods that will surely 'stand the vessel out in the crowd'.
Being from an engineering background he has also placed special emphasis on the mechanical side of the vessel also. The very basis of a good cruising package, hand in hand with efficient hull design goes economical power and as in his previous models Appleton has again opted for the Steyr mode of power.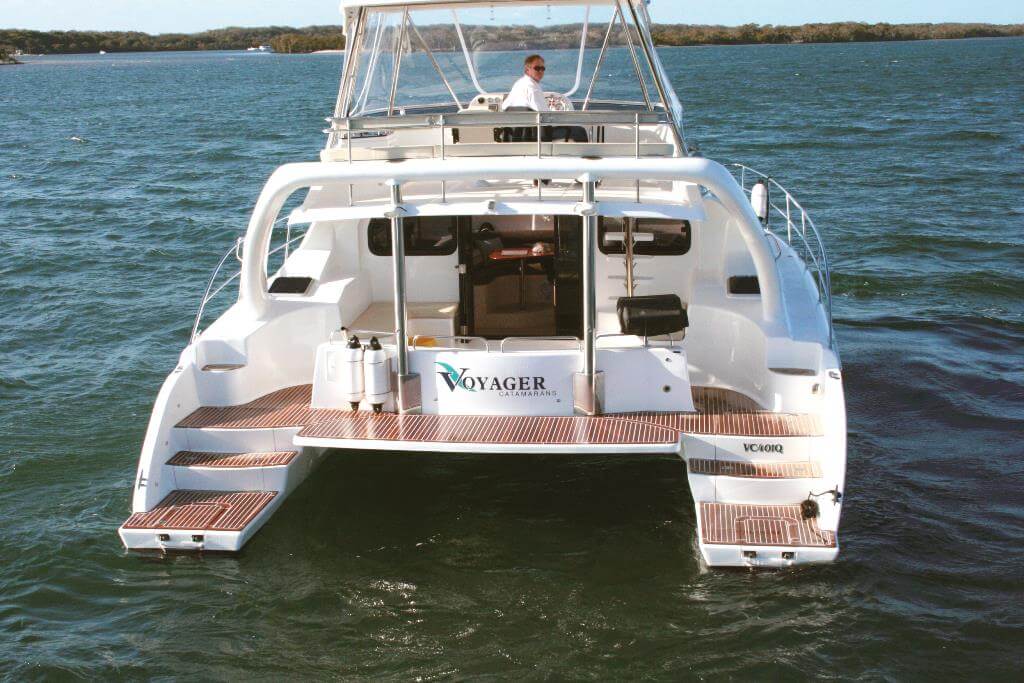 The more cynical would perhaps suggest that the power-plants in the form of twin 190hp diesels would be way underdone for a 40-plus-footer, but these 3200cc 6-cylinder 190hp turbocharged and intercooled MO196K35 Steyr diesels driving through ZF gearbox and conventional shaft drive to ZF Faster propellers – provide not only a respectable top speed of 23 knots but more importantly an impressive cruising speed of anything from 17 to 20 knots.
Illustrating then as graphically as you care to admit, the up-side of the catamaran configuration is not only the accrued stability factor from the twin hulls and massive beam of 6.67 metres, but also this all-important efficiency factor that allows a meagre 380hp to push a vessel along at an all-day efficient cruise speed of 17 to 20 knots, using only around 35 to 45lt/hr.
Another very influencing factor within this efficiency equation is the weight of the vessel, 12.7 metres in length and this vessel that is constructed of a 'moulded' composite of balsa, foam and multi-axial fibreglass – weighs in at just 8,500kg lightships. Top up your 1700 litres of fuel and 700 litres of water, and you still have a 'heavy ships' package of around 10 tonnes, which is a most impressive statistic in a 40-footer.
Typical Catamaran Interior – Or Is It?
When you first take the easy steps aboard the Voyager, courtesy of the virtually water-level platforms each side that step you up onto the main bridge-deck level, initial observations suggest this is yet another typically 'catamaran' layout. Generous sized teak-covered rear cockpit (as were the steps up to it), plenty of space to laze around on; the one really noticeable item perhaps being the starboard-side step structure up to the flybridge level that while simple in build, was none the less innovative in that these were facing aft rather than the traditional forward-facing at the top – very non-intrusive into cockpit space!
Investigate closer however and noticeable were nice touches such as the Aqualuma underwater lights, the moulded steps that invited you up to the walkway for'ard, the full flybridge overhang that provided perfect shelter from mother nature be it the sun or the rain, and the two huge rear stainless steel pillars adjoining the  central boarding platform. The obvious question was why so substantial, the not so obvious response from Appleton, "We wanted this rear platform to be a raise and lower feature so as to maximise boarding capabilities either when bathing or when alighting from or launching the tender. I put my engineering cap on and came up with this electric/cable lift system inside these columns, which effortlessly raises and lowers this whole central platform assembly. Up high it is out of the way when underway, flick the switch and it extends down to well below the waters surface!" he explained.
Step inside the saloon and I quickly appreciated just how misleading my first impressions were. Yes it was your traditional sailing-style wide but not deep saloon layout with steps either side that led down to the accommodation provision below, but that was where the similiarity with traditional catamarans ended. Yes there was the eye-catching dining feature central and across the front bulkhead, but the most obvious break with convention was the upstairs galley. A lot of thought and emphasis had obviously been put into this saloon for while there was now this galley to starboard as well as an entertainment module come refrigeration module opposite to port, both these features were certainly not intrusive or inhibiting in the context of actual saloon space.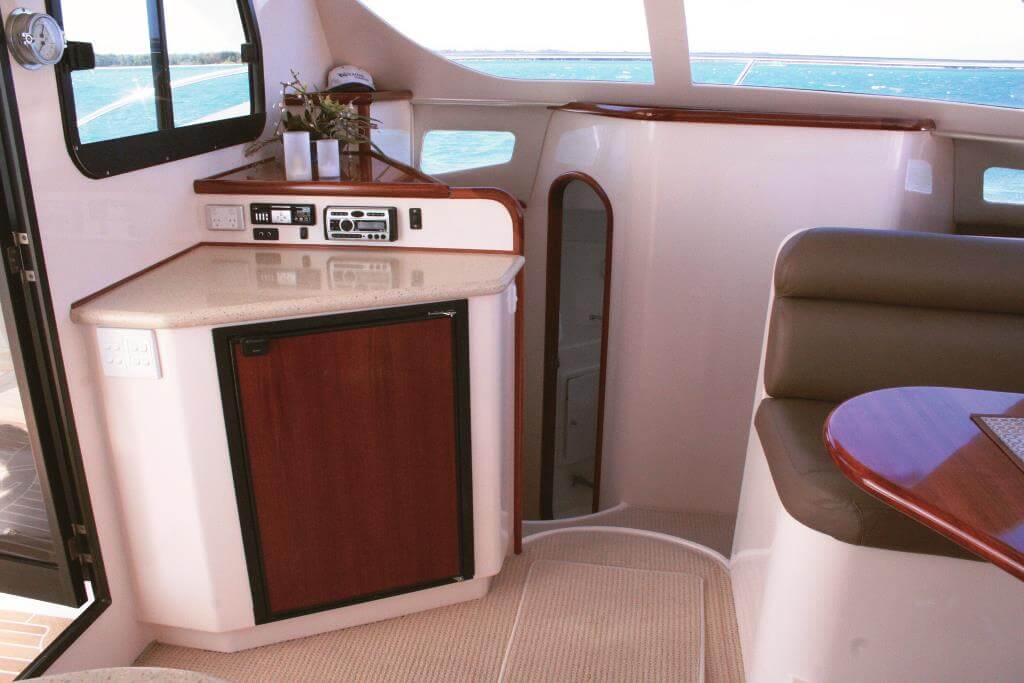 And may I add neither lacked anything when it came to appropriate features, with the galley boasting appropriate long-range cruising features such as two-burner gas stove, twin S/S sinks, convection microwave oven, sensible-sized freezer, an island bar and generous Corian bench tops and storage space. The entertainment module opposite housed the fridge also, which incidentally whilst on the other side of the saloon was still in close proximity to the galley. The top of this module served nicely as a bar/chart table also. The bi-fold entry doors as well as the opening windows above each of these rear modules, provided the necessary ventilation and natural light as well of course as the mandatory 360-degree visibility.
Something Quite different
The other really neat feature of this saloon area was the 'feature' that led you down to the accommodation areas below. Yes the starboard side was the traditional 'sudden' drop down three steps to that level below, but the port side was a very different matter – a classy example of innovation and practicality. Without the typical intrusion of the downstairs galley, the designers have utilised the now-available amidships space by providing a respectable-sized bathroom. Neatly shaped and offset steps lead you down to this level and you either turn left at the bottom (of the steps) and go aft to the rear bedroom, or you turn right and disappear into this bathroom that features separate shower and head (Jabsco Deluxe Quiet). It certainly was refreshingly expansive, in the context of a downstairs 'house' bathroom!
Another set of stairs on the bow side of this module led you down to what in this particular four-bedroom configuration was the little cherubs room. Two single mattresses fitted cross-ways onto what in effect was just a big flat platform, but just a quickly as it was two single berths a bit of foresight has allowed these mattresses to be turned around and placed fore and aft together, to quickly transform into another queen-size berth. Features in here included wardrobe, storage drawers, lighting, overhead hatch and a built-in low-boy. Décor, as was the case throughout the vessel, was a delightful contrast of padded vinyl panels, gelcoat finishes and generous splatterings of Makore wood-work – very tastefully presented!
The huge 'master' bedroom for'ard in the starboard hull was yet another break with catamaran tradition, and yet again was presented yes, rather opulently. And innovatively too, for while it certainly looked the part the designers have been able to include a lot of standard features that undeniably complement an extended-cruise situation. The queen-size berth in this instance lay on the diagonal; very easy to make but more importantly very easy in this instance to get in and out of bed.
Other special features in this room included a 'make up' vanity and large mirror, full-length wardrobe, television, overhead hatch, and recessed mini settee opposite the bed – and of course the private ensuite 'scalloped' into the bow of the boat. Some wag at the recent Sanctuary Cove International Boat Show was heard to comment that he could live full time in this ensuite – "Your bride could bring you your meals, you can do your ablutions, you can wash your clothes in the washer/dryer that was recessed into the front bulkhead, at a pinch you could sleep on the pottie, and best of all a ventilation hatch off to the side and virtually at water level would allow you to 'hang a line over the side' – what more could you want?" Yes, his imagination was running wild, but the hatch certainly did add a new dimension to this head!
The bane of a significant number of catamarans is the lack of space allocated to the rear accommodation. Often these rooms are claustrophobic, in under the sole of the boat, and often there is no room to change or do whatever else you do in a bedroom. In this instance however I was pleased to note that the aft passengers are not considered second-rate citizens for virtually the same amount of accommodation provision had been afforded inhabitants of these well lit and ventilated rear quarters.
Granted yes it would have been a little harder to 'make' the double-size bed but there certainly was enough room to stand up and change, with the door shut incidentally so as to provide a modicum of privacy. Other features in there included storage provision, a mini-seat, a low-boy, a half wardrobe, an overhead hatch and opening portlight, lighting and the same attention to detail in the décor department.
There are many perhaps one-eyed 'observers' who would suggest a 40-foot catamaran room-wise is the equivalent of a 50-foot monohull, and in this instance I would tend to agree with them. As well as the inherent stability of the catamaran, efficiency dramatically influences the equation also for I would venture to suggest there wouldn't be too many 40-50 foot monohulls around that would have a top speed of 23 knots and a cruise speed of 17-20 knots – delivered by just 380hp.
Engineering on this vessel was impressive, as was innovation – the single most important ingredient that sorts the good boats out from the also-rans. Specification was high throughout the vessel, none moreso than the engine-mounted integrated flywheel generator on the Steyr engine that provided appropriate on-board power (through the 1000Amp hours of battery banks) for the entire 12V system including the convection oven and washing machine that ran through the Zantrax 2500/130 inverter/charger.
While the comprehensively-equipped flybridge level was the traditional home away from home while at sea, and the bow feature was the usual thrill-seekers playground courtesy of the catamaran concept, for me the best part of this whole package was undeniably the price of the Voyager 1270 Freedom power catamaran. Lacking only the luxury perhaps of air-conditioning (it certainly is however an optional extra that is available), the on-water price of this particular example, of under a million dollars – I believe is certainly value for money!
Boat Design Name: Voyager V1270 Freedom
Year Launched: 2007
Designer: Derek Appleton / Oceanic Design
Builder: Voyager Catamarans
LOA: 12.7m
Beam: 6.67m
Draft: 0.8m
Displacement: 8,500kg
Max Speed:  23 knots
Cruise Speed: 17-20 knots
Construction: GRP Composites
Fuel Capacity: 1700 litres
Water Capacity: 700 litres
Engines: 2 x 190hp Steyr
Gearboxes: ZF 2.5:1
Drive System: Shaft-drive
Propellers: 4-blade ZF Faster