Hopper Developments are unequivocally leaders in the development of canal style living and in the past 25 years have taken it to a whole new level.  Leigh Hopper looks back to where it all started.
When the invitation to write a few words about the development of our waterfront projects, I thought it a timely opportunity to briefly retrace some of the histories regarding our developments on the Coromandel over my lifetime, and to reflect on the outlook.
When my father Ian and his brothers ventured into the Coromandel with the acquisition of land at Pauanui they had a vision to roll-out a modern, fully serviced beach resort. The Kopu – Hikuai State Highway was about to be opened, enabling ready access to the delights of the Coromandel east coast. The late 60's and early 70's was a prosperous period and there was a market for those seeking a bach by the sea within a weekend commute.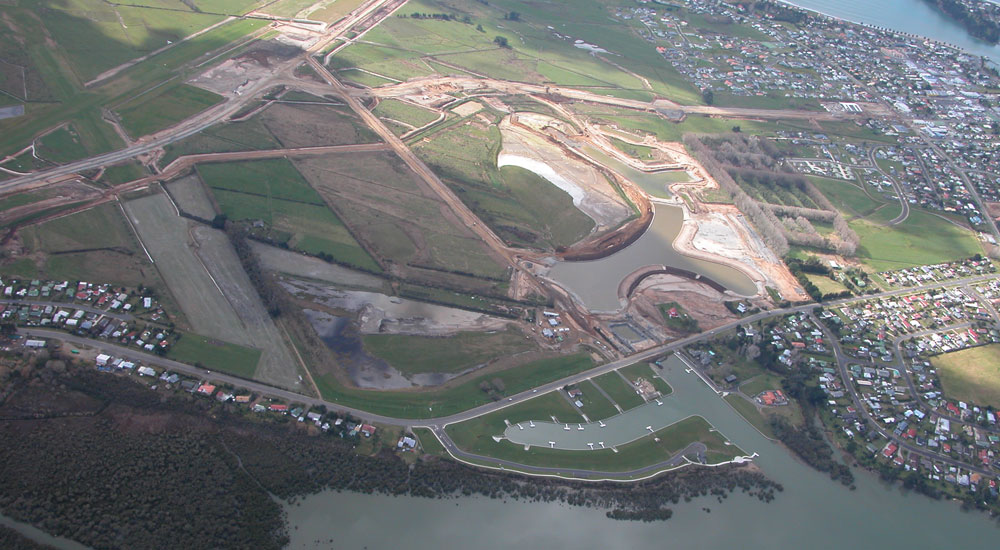 This was the kiwi dream at the time. The regulatory process to kick Pauanui off was a relative handshake compared to today, and the then Thames County Council obliged quick haste and works were underway within a few months of the possession of land. From there Pauanui Ocean Beach Resort was moulded stage by stage over ensuing years, consistent with a master plan that eventually included additional adjoining parcels of land. Pauanui has proved to be a very successful development, internationally acclaimed for its urban design elements.
Circa 1990 the family business had been largely divided between the two principal families of Ian and Tony Hopper. A 40 ha parcel of land adjoining the Pauanui development came up for sale. My father and I had a particular interest in pursuing a waterways-style development over this site, similar to the extensive Gold Coast projects in Queensland. The land had the prerequisites, flat and just above high water level, sandy soils, affordable access to a navigable waterway in the Pauanui-Tairua Harbour, and available infrastructures such as sewerage, water and roading. Immediately the land was secured, we applied our minds to how to engineer and construct a waterways development, much of it below sea level. 
Planning involved assessing the environmental impacts and a raft of regulatory process ensued as required by the then impending Resource Management Act (October 1991). Pauanui Waterways was the first comprehensive coastal project application under this Act. There was a steep learning curve, anguish over funding, sales, and consequently a few sleepless nights. Appeals were avoided and construction commenced 1992 with the first release of sites in 1993. The product again proved popular and our faith in discerning buyers seeking high amenity waterfront property was borne through.
Whitianga Waterways Formed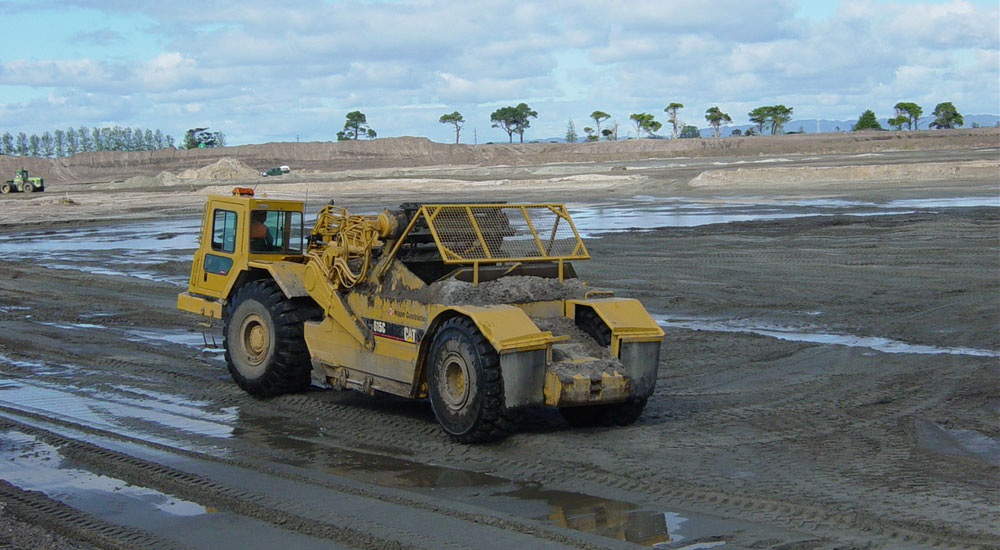 With business interests in Auckland, and Pauanui Waterways in progression I would regularly fly between the office in Orewa and Pauanui, sighting Whitianga below as I went along my route. The opportunity of replicating a waterways-style development at Whitianga was evident from aloft. And in 1997 we purchased a strategic 73ha landholding in the flatlands of Whitianga and a put joint venture proposition to four adjoining landowners. Deal done, a new company 'Whitianga Waterways Ltd' was formed.
Again we set to the task of establishing a structure plan for the combined area (220+ ha) and pursued an assessment of environmental effects. Whitianga Waterways was, however, a little more complicated, with a need to redirect the state highway to enable a canal network to be forged into the land while retaining a strategic route into the town centre.
Other additions were planned; the airfield needed to be extended to address future air services, major sewer and potable water mains to service the 1500 lot project, plans for national retailers, comprehensive retirement developments with aged care facilities, waterfront retail, medical facilities and marine servicing, were all integrated into a Comprehensive Development Plan.
In support of the plan followed a Plan Change, Subdivision Application for the initial stage, 24 Resource Consents for physical works, Iwi protocols and again a suite of Restricted Coastal Permits. Consent timelines extended to 2 years including an appeal which was referred to the Environment Court with a favourable determination only to be vetoed by the Minister of Environment but reversed two weeks later by an amendment to the Hauraki Gulf Maritime Park Act. What a time!
This was the period I lost my hair. Only with the support of the community, lead by the infamous Joan Gaskell (Community Board Chair) urgency was achieved to address the veto. At one stage I recall attending a meeting in the packed Whitianga Community Hall. Joan called for a show of hands for those prepared to hop on a bus and head to Wellington to camp on the front door of Parliament to protest the injustice of a Minister overturning a Court decision. We could have filled a few buses. Jim Anderton was acting PM at the time, both Joan and I had some interesting discussions with him directly. To his credit, he expedited the amendment and it stands as one of the fastest, if not the fastest piece of legislation to have ever been put through.
Construction of the initial stages spawned a surge in development across the township. In short time Whitianga now has a range of residential options, two supermarkets, additional building supply merchants, expanded retail services, a major sports complex, new tourist accommodation options and several tourism activity operators – such as world famous The Lost Spring. Council has addressed infrastructure with investment in modern sewerage treatment and water supply systems. Whitianga is in good shape to accommodate growth and is emerging as the major centre on the Coromandel. New housing is notable for the recent change in buyers to accommodate a high percentage of new permanent residents.
The stage is set for an encouraging future on the Coromandel. I believe Whitianga will be the centre of opportunity for investment, employment and services. Growth will continue in Whitianga driven by demand in the two principal sectors of retirement and tourism. 
We saw the potential in what was once, low lying and unproductive farmland near the coastal town of One Tree Point in Northland. The site located near the entrance to the Whangarei Harbour and less than 2 hours from Auckland had the potential to become the premier lifestyle location in the North.  We partnered with Northland Port Corporation, the principal land owner and sought to the ever increasing mountain of consents required (37 Resource Consents). Construction began in 2005 and the first stage of the project was officially opened in 2007 in grand style. 
Marsden Cove is unique in that the project has been developed around the hub of a 230+ berth Marina and retail village. It includes one of Australasia's largest working residential lochs, able to accommodate vessels up to 20m long and 6m wide.  The computer driven loch is activated via remote control and is easily navigated by even the least technically minded owner.  The tidal rise and fall at Marsden Cove is on average 2.5m and as such a loch was preferred for the further stages.   This provides a unique point of difference and creates a higher amenity value for residents with only a 700mm rise and fall above the loch and weir.  We maintain a minimum draft of 2.5m in all stages throughout the development giving great access for a wide range of vessels.
Pauanui Where It All Started
Pauanui Waterways is a stunning and unique waterfront development located within the Tairua-Pauanui Harbour along the beautiful Coromandel Coastline, less than 2 hours' drive from Auckland City.
Pauanui Waterways is a 325+ lot development created by Hopper Developments, designed with a unique vision to introduce coastal tidal influence into private residential property. In 1993 Pauanui Waterways was opened to the public as the first canal development in New Zealand.
This was the first of the Hopper waterfront canal developments and heralded in a whole new era of waterfront living. The unique aspect of Pauanui Waterways attracted willing buyers.  The comprehensively planned canal development encompasses prestige and opulence as it demonstrates the best in waterfront living.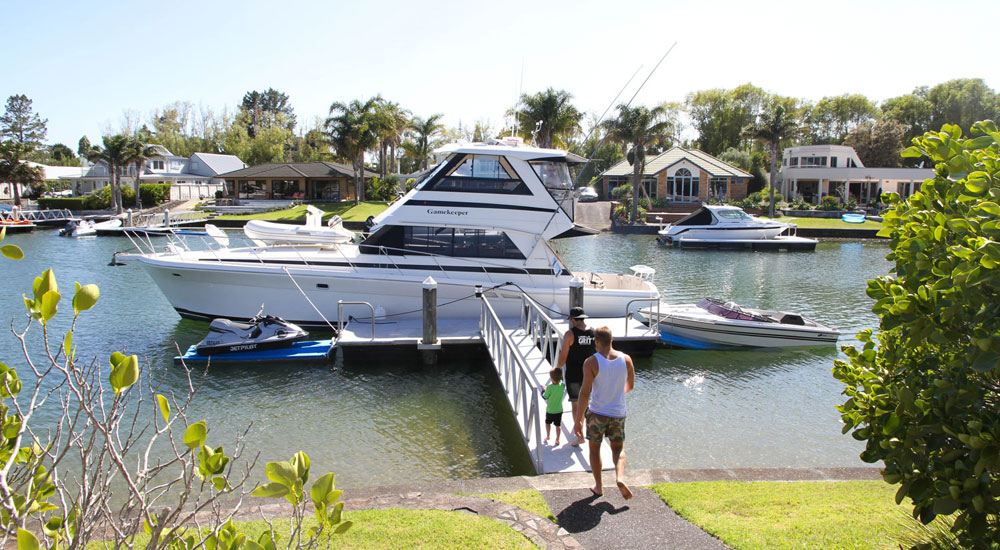 The residential development includes some exceptional features creatively designed to enable those water enthusiasts to go about their daily boating and water activities with ease and access. Pauanui Waterways offers section owners an unparalleled waterfront experience allowing boats to be berthed mere meters from the front door.
What makes Pauanui Waterways so different from any other waterfront property is the world-class amenities designed to enable section owners to make the most of the unique waterfront lifestyle.
These include private jetty's adjoining waterfront properties, a pristine marine environment safe for swimming and activities, private boat ramps, and man-made beaches.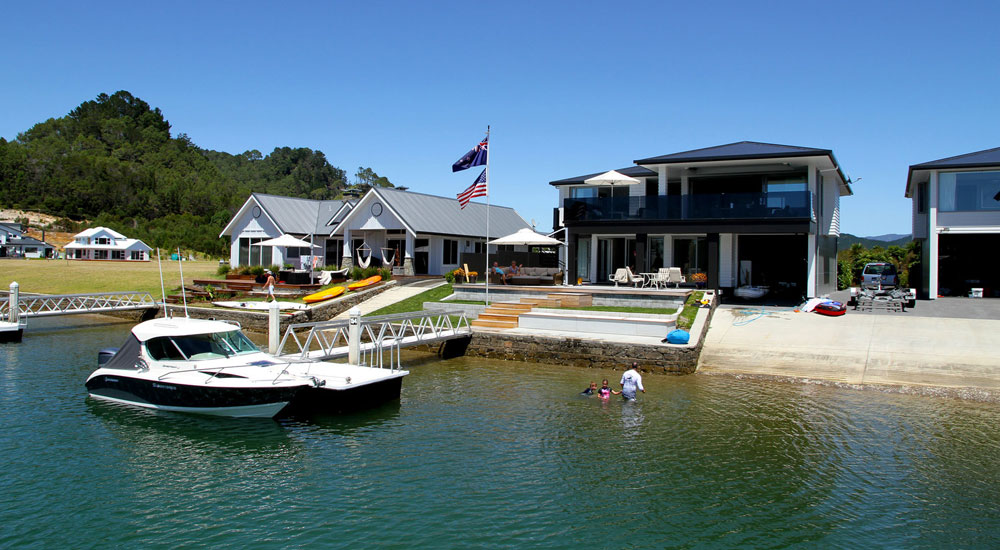 These features enable owners to park the boat mere meters from the house or take a dive into the fresh salty waters of the canal. Pauanui Waterways popularity has made the area a highly sought after holiday destination and desirable retirement destination.
Pauanui Waterways is continually evolving with new projects underway and planned for the future. The Hammerhead residential development, for example, is a proposed design comprising of permanent apartments and serviced tourist accommodation. The design includes modern design waterfront apartments, with underground car parking, and marina berths.
There are also plans for a floating restaurant which is currently in the planning stage. The concept of the restaurant is to create a unique dining experience directly on the canal, unlike anything else in New Zealand. Currently, in the third and final stage of completion, the supply for sections at Pauanui Waterways is nearing the end.
Marsden Cove Northland Jewel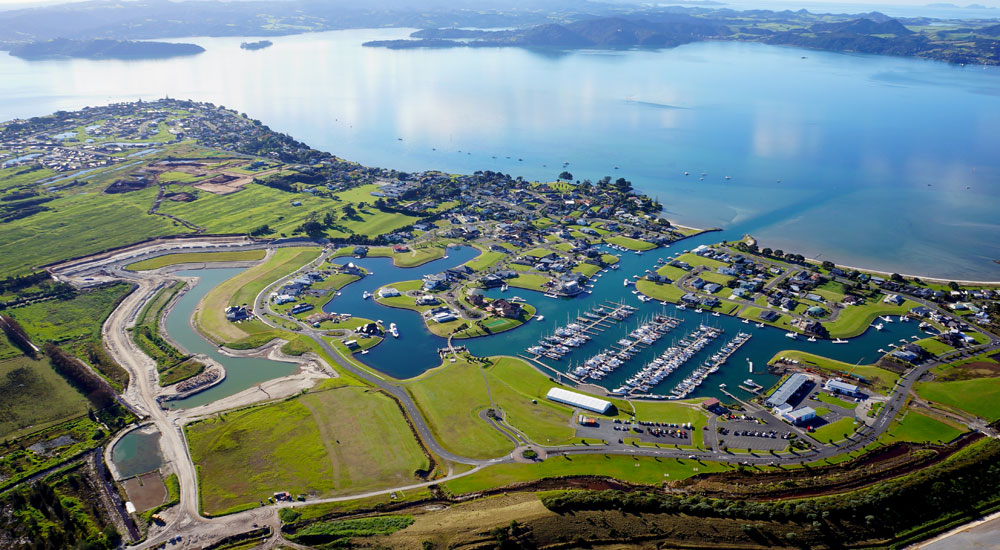 Situated just inside Whangarei Harbour entrance: less than ten nautical miles from Whangarei Town Basin and 75 nautical miles from Auckland City, Marsden Cove is Northland's most exciting waterfront development.
Development during 2017 has seen Marsden Cove's growth develop enormously with new waterfront and non-waterfront sections being released and selling, many new homes built, and the new Anchorage Retirement Village under construction.
This unique and comprehensively planned marine village offers a waterfront lifestyle that is second to none. The development consists of 350 canal frontage lots, and 350 residential lots.
The Marsden Cove residential canal development is a comprehensively planned project where currently only 1/3 of the development is complete. Upon completion, Marsden Cove will provide for roughly 1000 new homes, including a mixture of canal front and standard non-canal front sections, a retirement village, waterfront apartments, waterfront retail and more.

Complete with a world-class 230 berth marina at its centre and surrounding residential development comprising impressive waterfront and near-waterfront sections, the popularity of Marsden Cove is increasing, rapidly becoming Northlands premier boating destination and Whangarei district's most desirable neighbourhood. Marsden Cove has seen an increase in values and many resales have achieved well above owners expectations.
Hopper Construction is well underway shaping the new Stage 5 canal and the canal front of the Anchorage Village. This unique waterfront retirement village upon completion will accommodate the needs of the active retiree over the age of 60. Delivering retirement lifestyle unlike anything else available in Northland.
The centrepiece of the Marsden Cove development is the full serviced marina with approximately 230 berths ranging from 10.5m through to 44 and can also take up to a 25m catamarans on a designated Catamaran Pier.
New Zealand's newest boat haul-out service and hardstand facility has commenced operation at Marsden Cove. This includes factory built boat stands and cradles (certified weight-rated), and a fully sealed heavy-duty hardstand. The 12m wide boat haul-out ramp and hydraulic slipway trailer system have a capacity for boats to 35m and 80 tonnes and multihulls up to 12m beam. Boats are transported to the secure hard-stand facility which is supported by chandlery, boat-builders, painters, engineers and electricians along with canvas work and hire cars.
Whitianga Gateway to Paradise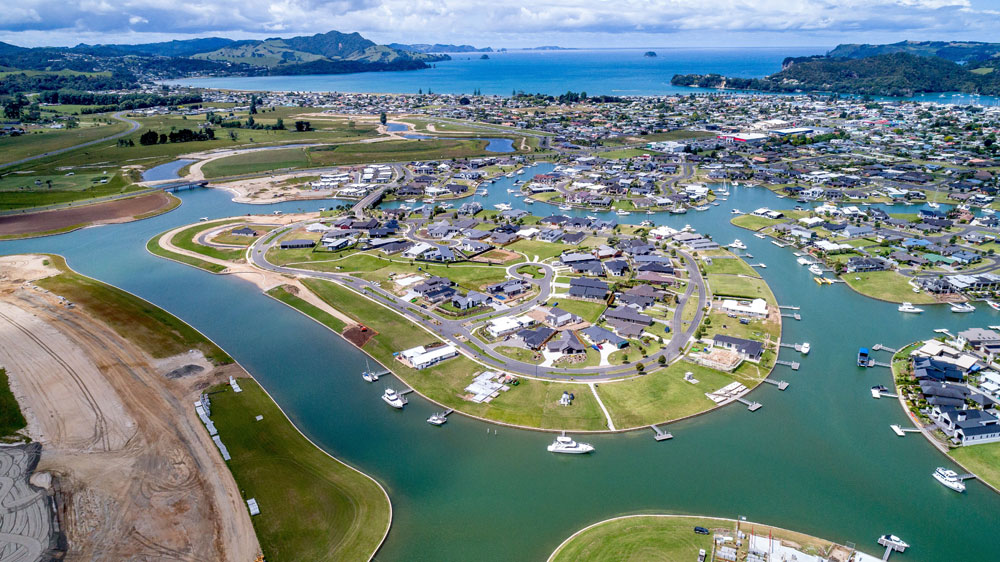 Whitianga Waterways is a unique marine-based urban development located in the heart of the scenic Mercury Bay and only a 30-minute scenic flight or 2.5hr drive from Auckland.
In 1996 Leigh Hopper flew over Whitianga on route to Pauanui and saw the opportunity to create a canal development that is now a 1/3 completed and home to New Zealand's first man-made island.
Endeavour Island the first of three Islands to be built within Whitianga Waterways, is accessed by a road bridge although residents often use the canals to visit friends and the nearby shops and amenities. The clean water in the canals means you can safely swim throughout the summer and enjoy on-water activities such as kayaking and paddleboarding.
The waterways over the last few years have seen an 80/20 percent mix of permanent versus non- permanent residents. Whitianga Waterways have a large works programme ahead. This year will see the addition of a major new extension to the canal network, releasing many of the prized sites in the development and realising water access to Marlin Waters, a 2ha waterfront hotel site, and the first stage of a waterfront retail area where residents and the public will be able to pull alongside in their boats.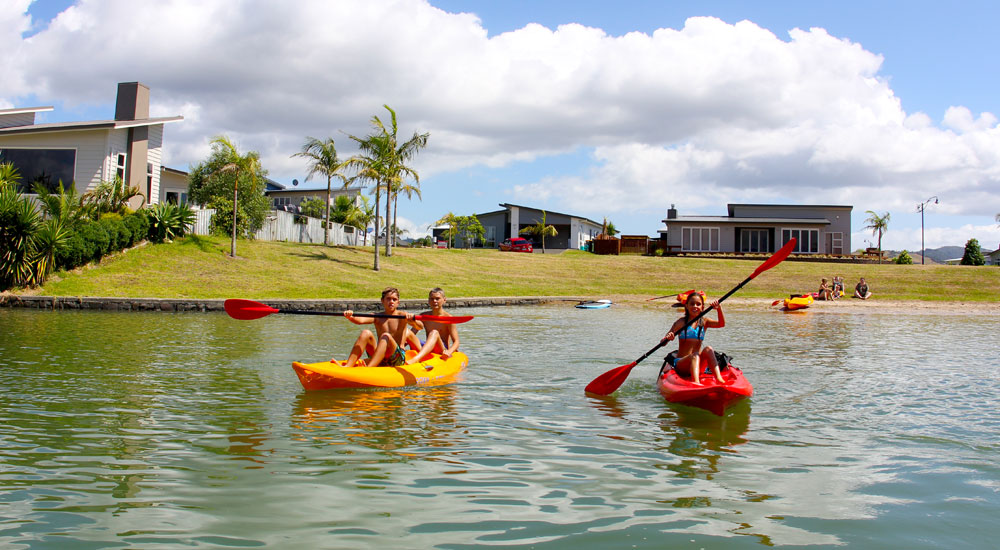 The canal system also reveals Endeavour Island, a new island address on New Zealand's coastline. Future components of the Master Plan include a marine services facility and a major waterfront retirement village. With the opening of the Grand Canal, this will enable the company to bring on some new exciting projects in the upcoming years, such as a commercial area to be named "the Dockside" encompassing a café, beach area and also a Hotel site.
Whitianga Waterways has a wide range of residential sections available, creating an array of exclusive lifestyle options for buyers. This includes waterfront and near-waterfront sites, and exceptional retirement options. Upon completion Whitianga Waterways will house 1000+ residential homes and multiple retirement options Marlin Waters, a freehold retirement villa complex is nearly halfway through completion and offers an exceptional lifestyle for the active retiree.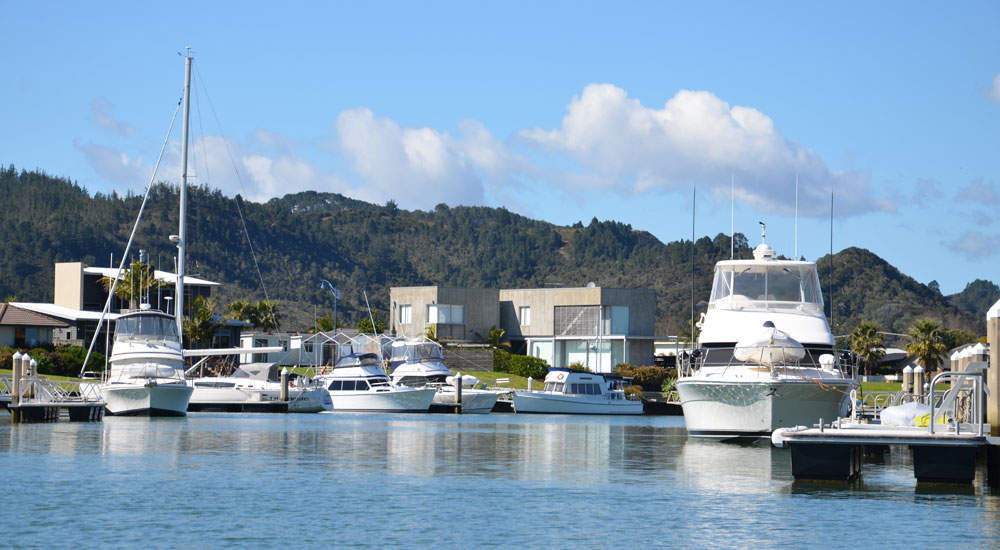 Whitianga is located near some stunning nearby attractions such as Hot Water Beach, Cathedral Cove, and the Great Mercury Islands. The captivating and diverse topography of the Coromandel East Coast means those with boats have an abundance of activities to pursue.
Some major future services are planned for Whitianga and will be located within the Waterways development. These will include a new state of the art Medical Centre, Boutique Hotel & Resort, The Mooring Retirement Village, Dockside waterfront mixed-use retail and commercial, Marina and small boat dry stack facilities.