In Predator, the owners were looking for a high-quality blue water fishing boat that delivered a comfortable interior for extended cruising.
When you talk to experienced boaties about a serious aluminium offshore alloy trailer boat, that's key motivation is to provide a fishing platform for the most demanding fishermen, then the first name that comes to mind is more often than not White Pointer.
Built in Gisborne by Rex Briant and his team, White Pointer Boats have been sold for more than 25 years and in that time, they have established an extremely loyal and experienced group of owners, not just in New Zealand, but also Australia and the Pacific Islands.
White Pointer certainly don't build the cheapest boat's in town, far from it, but the adage of 'You get what you pay for', has never been more appropriate when it comes to the brand. Interestingly, the owner commented that when he looked at what was on the market, White Pointer offered the best value for money.
The White Pointer website states that every boat built, over 500 in total, has added to the brand's reputation for producing ruthless fishing machines of supreme craftsmanship and performance. If you have ever been aboard a White Pointer, you know that's a statement that's hard to argue against. The quality, finish and overall presentation of every White Pointer that leaves the Gisborne factory is exemplary and sets the standards for what is now a hugely competitive market.
I have tested a number of White Pointers over the years, but until I went aboard the all new and very customised White Pointer 1050 Custom Cruiser, Predator, I felt I hadn't appreciated the depth of commitment that goes into the boats. Predator is not just another 1050 with a few frills. It's something special and very much a boat that has been owner driven right from the start. While Predator started as a basic 1050 hull, over the design and build stages it morphed into something extraordinary, that breaks new ground for White Pointer. The most obvious are the wide side decks, which was something the owner specified right from the start.
This has meant the cabin interior is slightly narrower, but it hasn't impeded on the space too much inside. The owner also wanted a flush cockpit sole, which meant a redesign of the floor. In Predator, the cockpit sole has been raised about 70mm and features an obvious crown in the centre. Special hinges were required to enable the rear section of the floor to open for access to the Volvo Penta D6 400 and also the forward underfloor wet locker. Rex commented that the engineering required to achieve the perfect deck shape and the deck to gunnel height ratio took some working out, but the result is an expansive one level floor that works perfectly.
A special feature of Predator is the teak decks, which not only extend down either side of the cabin, from bow to stern, but also from the cockpit to the wheelhouse and cabin. It took Auckland-based Firebird Marine over a month to install all the Burmese teak, with its black Sika corking. It looks amazing and lifts the quality image of the boat. A comfortable and somewhat traditional look that is convenient and practical.
Another fascinating feature on Predator is the transom cage. The stanchions are CNC milled from a billet for perfect accuracy, with fold down T-bars either side of the cage.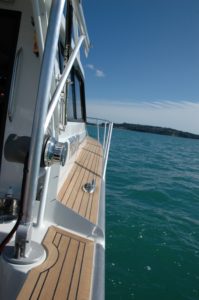 These are designed to drop well down into the water while still being at a functional height when secured up in place. This is the first time this new cage system has been used in White Pointer's 1050 series.
Another first for the 1050 is the game tower, something that is not common on a boat of this size. It's a very solid structure and built strong enough to stand on the roof, something the kids have already used as a diving platform.
A small toggle looks after your steering, plus there's an autopilot and an iPad is used to relay all the electronics to the driver. Not the place you would probably drive the boat at speed, but a great place for spotting marlin.
Having previously owned a White Pointer 850 Custom Cruiser, the owner had a fair idea of just how much you can put into the interior and with a lot more extended cruising in mind, he was after a layout that reflected those requirements. With the 1050, he got a far greater accommodation and wheelhouse area and then it was a matter of making everything fit.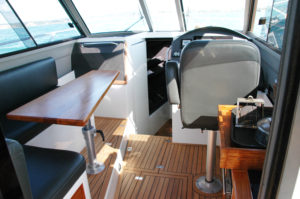 To start, the forward accommodation area was made into a four-berth cabin with the addition of pipe berths either side above the lower V-berth. There are triple tier storage trays either side and storage under the squabs, so there is plenty of areas for stowing gear.
Another requirement was a separate head/shower compartment, which is a reasonable size and works well. Opposite is a deep pantry/storage locker, which the owner tells me is also destined to become another rod storage area.
Step up one level and you are in the large wheelhouse space, with a starboard helm and galley, with an L-shape settee and dinette to port. The dinette table drops down, so you have another large sleeping area. Again all available areas that can be used have been used for storage.
While there's no doubt Predator will be used extensively for fishing, the owner also wanted the interior to be warm and appealing. He has plans to use the boat for extended cruising with four people, so the interior is plush with a stitched leather dash, helm chair and soft fabrics covering all alloy areas. Even the overhead grab rail is wrapped in leather. Ventilation is provided by overhead hatches, sliding side windows and an electric drop down rear bulkhead window. Close the bi-fold doors and you have a very warm and quiet wheelhouse when underway.
Predator's cockpit is big and open and obviously designed for fishing. There is a large custom made bait station aft, twin live bait tanks with LED lights, twin tuna tubes, a game chair mount in the cockpit sole, six-rod holders set into the teak coamings and dedicated rod storage above and in side lockers. There's even a pot hauler on the starboard side and sockets at hand to plug in your electric reels. Your catch can be kept on ice under the sole, in a huge lift out bin.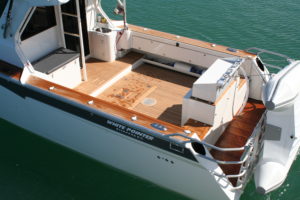 The forward section of the cockpit is slightly raised, with a sink and hand held shower one side and a very large fridge/freezer on the other. A vertical ladder gives access to the game tower and doubles as a handrail.
The lower trays either side have been shaped to stow dive bottles or fenders, which means you don't have to step around them in the cockpit. So you don't have to carry a bucket of water and it's too far to reach down to the water from the cockpit, White Pointer have installed a simple hand pump hand wash system on either side of the cockpit. Again, innovative, practical and another example of the extra effort White Pointer puts into its boats. The cockpit can also be covered with a clip-on sunshade.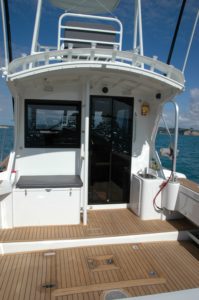 The owner was looking for a reasonably quick boat so he could get out to some of his favourite fishing spots as far away as the Mokohinau Islands and Great Barrier Island on a day trip. While twin outboards is an option, he went the diesel sterndrive way, with a single Volvo Penta D6-400. Having had a smaller Volvo D4-260 sterndrive in his White Pointer 860, he admitted to having a real liking for the brand and could see no reason to change.
The Volvo Penta D6-400, the world's most powerful diesel sterndrive, has a common rail fuel injection system, double overhead camshafts, four valves per cylinder, turbocharger, compressor, and aftercooler.
The interaction of these, the large swept volume, and the EVC system results in exceptional diesel performance combined with low emissions. Top speed in Predator is 32.2 knots @ 3600 rpm, with a fuel consumption of 81.0 lph. However high speed is not what this boat is all about, it's finding the best cruise speed.
The optimal cruise speed is around 16-22 knots where it is using 1.9 lpnm and giving a range of approximately 380nm with a 10% reserve fuel capacity.
Predator has been speced with an optional Webasto diesel heater to keep the interior warm during the winter and the condensation off the screen. To help to manoeuvre in the marina, there is a Lewmar bow thruster and anchoring duties are looked after by a Lewmar auto winch. A set of Mente Marine auto tabs are also fitted, but I found them slow in response. This can, however, be sorted with some adjustment to the system so they will react quicker.
Predator also has a 750w inverter, shore power, Fusion MS 750, GME EPIRB, ICOM VHF and a Furuno electronics pack made up of a Furuno TZT2 15" MFD and Furuno Navpilot 711C autopilot.
In recent years, there has been a move to larger trailer boats and White Pointer have been right at the front of the queue. Currently, there are two 10.5m White Pointers on the water, plus one in build and they are all different. Predator is a Custom Cruiser with walk around decks and the conventional transom set up with boarding platform and cage. ReBait, the first 1050 launched in 2015 is a Pro Sportsman with a curved transom and under construction is another 1050 to be powered by triple 250hp Hondas.
With Predator, they have reinvented the classic lines of the 1050 and produced an outstanding vessel that certainly has the wow factor!