Built for an Australian client, Qarnita is the first White Pointer 970 Custom Cruiser powered by twin Yamaha 425 V8s and what a beast. Barry Thompson checks out not just the boat, but also the sophisticated engine package.
The 'rough' water of Auckland Harbour wasn't rough enough to truly test the White Pointer 970 Custom Cruiser.
Of all the boats on the marina at the recent AOWBS, the White Pointer 970 Custom Cruiser, Qarnita was undoubtedly one of the star attractions. In a marina packed with big alloy boats, you needed something extra to stand out. White Pointer did that with a pair of Yamaha 425 XF V8 5.6 litre four strokes on the transom, packed with Yamaha's proprietary Helm Master. This impressive package was the result of a collaboration between the builders, White Pointer Boats of Gisborne, Yamaha Marine and the Melbourne based client.
A previous White Pointer owner, he had no hesitation in going back to Rex Briant and his team for his next boat. He wanted not only a bigger boat but also one with plenty of power, and he certainly got that with 850hp on the transom.
White Pointer liken their boats to the beast they've been named after and are created to be perfect predators. It' all about providing a balance of style and practicality with a boat that can switch from a sedate cruiser to an aggressive fishing machine in an instant.
White Pointers are manufactured in Gisborne, with the first built more than 25 years ago. Since then over 600 have been launched, and today the company offers thirteen models from 7.30m to 10.50m, in four styles. The 970 is one of seven models in the Custom Cruiser range that dates its heritage back to 2005. It was released as a more upmarket alloy boat and went away from the more no-frills boat designed for hardcore fishos. It was given "living aboard" features to make it more suitable to overnight stays and comfortable cruising. That premise has continued for more than fourteen years, with that on board living functionality improving with age. There are more options available, and the layouts have been tweaked every time a new model has been released. The latest 970 features some of the most innovative systems available today on a boat this size.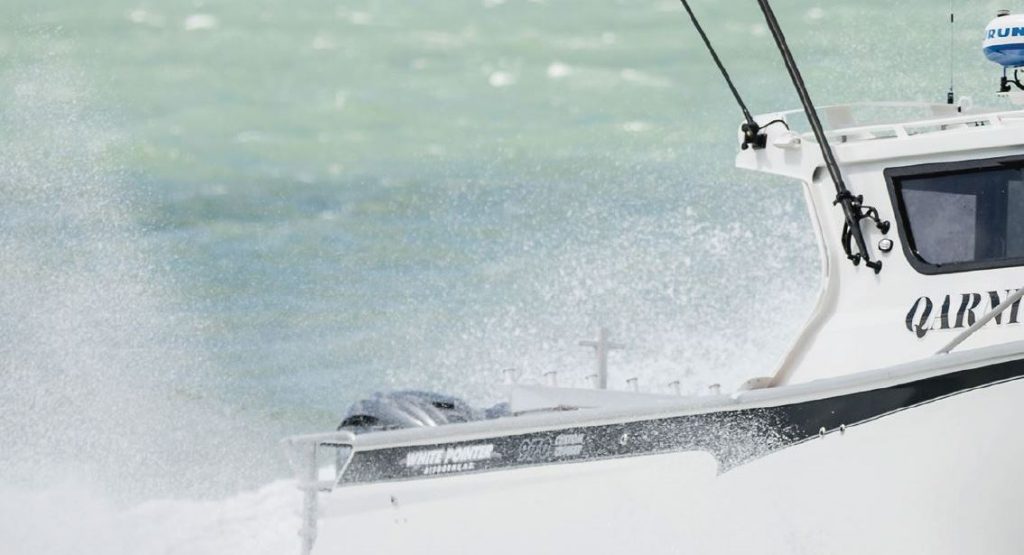 Externally, the 970 incorporates curves and soft edges giving it a look comparable to fibreglass boats combined with the ruggedness of an alloy boat. If you still want the no-nonsense model but with some cruising aspects, then there is the Sport Hardtop (SHT) and Sports Cruiser (SC) Styling version based on the same hull. The Pro Sportsman, the most dedicated fishing design the company have developed, incorporates an easy access walk around engine station (steren drive options only) with no obstacles on the floor to step over or trip on when engaged in a battle with a fighting fish.
The 970 Custom Cruiser, like every White Pointer, is still designed to cater for the serious fisherman who knows what they want in a boat. So right from the start of the buying process, the owner of the latest 970 Custom Cruiser had direct access to the builder, enabling personal input into his new craft. While the external styling remains unchanged from previous 970s, the layout and general equipment fit-out are all owner driven.
Rex says that one thing that never changes with the White Pointer product is the emphasis on quality construction, superior sea keeping shape and durability. The 970 Custom Cruiser delivers all that and more.
Qarnita has an overall length of 9.85m, a hull length of 9.30m and a wide beam of 2.9m. For garaging the rig needs more like 12m, including the optional trailer and outboards. The reverse chine deep vee running surfaces of the hull have been upgraded from 6mm to 8mm plate, with 5mm topsides. Displacement with the twin V8 Yamaha outboards is around 6000 kgs fully fuelled and watered.
Quality construction is something that has been a hallmark of White Pointer Boats and as Rex Briant says, "Fit-out and construction are the bones to longevity." With that in mind, they 'dry' fit all options and accessories to the bare hull before removing them again before painting. This ensures the elimination of any contaminants and reduces the risk of electrolysis. Also, every bolted feature is sealed with Lanolin and Duralack products to combat corrosion, while all other fixtures and fittings are insulated. The company's confidence in its build process extends to a 10-year construction warranty on all recreational hulls.
The 970 Custom Cruiser, like all the White Pointer models, begins with CAD design and CUT technology before the hull skin is shaped over a pre determined frame and girder type structure. Coupled with a unique weld sequence, the result is a rounded, compound curve hull shape that "squeezes" water out and provides an incredibly soft ride. The hulls are welded inside and out, which allows for high quality finishing of the external welds without compromising their strength. Even the gunnel cap or buffer rail that surrounds the boat is fully welded.
The cockpit has been left very open as you don't want things getting in the way fishing. Forward is a pair of bin seats with storage and freezer space. Beside the starboard seat is a pull-out shower, feed by a 12 volt hot freshwater system. The seats are well-positioned under the cabin overhang so afford some shade if you need to sit a spell when the fishing slow.
The cockpit sole and side coamings are covered in Marine Deck, which is soft underfoot and very durable. Should you get a load of water in the cockpit, then the boat comes with big scuppers which will drain excess water very quickly. There is soft lighting under the cockpit decks as well as a deck LED spotlight, which is perfect when fishing at night. I loved the on board salt water hand washers either side.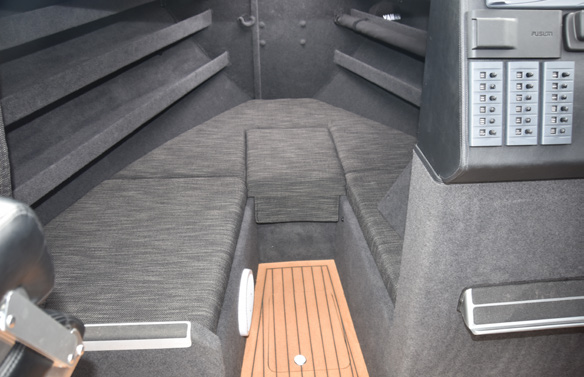 There is a serious bait station built into the top of the transom between the twin transom walkthroughs, both of which have built-in live bait tanks. The boarding platform had an optional cage either side with built in boarding ladders.
As the custom cruiser name suggests, the 970 is a boat to stay out overnight, so there are enough features to make longer overnight stays a comfortable pleasure. The cuddy has a low V berth and a rollaway starboard side bunk berth. LED lighting throughout is standard as is the deck hatch.
A removable cover behind the dash allows easy access to the tidy and meticulous wiring. One look and I understood straight away what Rex meant when he talked about the fit-out been one of the bones to the longevity of White Pointer Boats.
There is a dedicated rod storage system with clips for eight rods, either overhead or under the side parcel trays. Plus all available space is used for storage. There is an electric toilet under a side bunk, which is a must if you are going to call the boat a cruiser.
The lockable wheelhouse has a central bi-fold door and port and starboard electric cavity sliding windows in the rear bulkhead. Forward windows are all 6mm curved toughened glass with a pair of pantograph type wipers, Custom seating with Elite bolstered seats either side with fold-up armrests, and Soft-Rider pedestals have been fitted to Qarnita. Being a semi custom
design, the seating options are your choice.
The galley station behind the helm seat has a two burner stove and sink built into the custom cabinet with a 45-litre fridge and storage drawers. Opposite is a large bench seat against the rear bulkhead and a dinette table with a squab infill for the rise and fall rosewood dining table to make an extra berth.
There are plenty of grab rails everywhere, even in the roof. Ideal if you need to hang on during a rough trip home after a day's fishing. Roof hatches are fitted, and you have the option of a large single sliding sunroof if you want more.
Our dash had a pair of Furuno TZ Touch, 12.1" MFD screens, with thru-hull 1kW to 3 kW transducers. There is also a Furuno TZT 36 mm radar, Flir camera, plus a GME VHF. A Fusion MS770 provides all the music. There's also the controls to operate the Zip wake dynamic trim tabs, a Lewmar bow thruster and the Stress free Maxi free fall drum winch.
What I loved about the boat was the Yamaha Helm Master, which brings a whole new dimension to how you drive the boat. In a few words, the Helm Master does a lot of the thinking for you. For example, in the Trim Assist mode, you can program trim angles to specific RPMs, setting five points throughout the full RPM range. This automates engine trim as you accelerate or decelerate.
This fully integrated boat control system includes an enhanced binnacle control, a streamlined digital display, push-button start/stop witches, a remote key fob and an innovative joystick. It's the joystick that moves the large craft in surprisingly agile ways. This makes navigating crowded marinas and docking in tight slips much less intimidating. Plus if you are out somewhere deep and don't want to anchor, then using the Set Point mode, allows you to lock in your position automatically, so you can fish directly below the boat.
Yamaha Helm Master can be installed with DEC outboards from F150 through to the XF425 with twin, triple or quad engine applications, so was the  perfect match for the dual setup.
The 970 Custom Cruiser is available with single or twin outboards or a single diesel stern drive. While the diesel stern drive has certainly been favoured in recent years, the arrival of the big horsepower V8 outboards has certainly seen a swing back towards outboards. During trials on Auckland Harbour, I saw 51 knots @ 6000 rpm on the GPS, with a fuel burn of 288 lph. Drop that back to around 40 knots @ 4500 rpm on the fuel usage dropped to a more conservative 170 lph. Based on the 1800 litre (upgraded from 500 litres) fuel capacity that gave us a range at 4500 rpm of around 360 mm, leaving a 10% margin.
However, if you are doing a lot of trolling at around 6-7 knots, the range increases to around an impressive 600 mm. My time in the boat on Auckland Harbour did not do the 970 Custom Cruiser justice. It's a boat that needs to be used in more challenging conditions to show just how good it is. It's big, it's heavy, and it runs on rails. The ride is faultless, and I am sure that anyone who owns a White Pointer around the size of 970 will back me up.
There's no doubt the White Pointer 970 Custom Cruiser is the Perfect Predator and anyone looking for a seriously tough, blue water capable, exceptionally well built maximum size trailored fishing machine, then you would have to go along way to find anything better than this. My only regret was I only got to review it on a calm Auckland Harbour, maybe it could be the Ranfurly Banks
next time Rex.
There is a custom Rosewood timber galley behind the
helm.
Staying overnight has been well catered for.
The raised dinette converts to another short berth.
The serious bait station is certain to get well blooded.
The Australian owner has set the boat up for serious fishing.