Text by Barry Thompson
Images: by Ryan Hanson
You never actually know what to expect when you see the premiere model of a completely new brand for the first time. In the case of the Whitehaven 6000, I was certainly not disappointed and in fact, it would be fair to say I was extremely impressed.  
Keith Hanson, the man behind the new Whitehaven range of flybridge and sedan cruisers, is a man with a passion for perfection. His first boat under the Whitehaven brand unequivocally reflects that, however there is more to the Whitehaven 6000 Enclosed Hardtop than what you see, or for that matter what you don't see, it's also about what you get. This is a boat that offers more, 'bang for your buck' than any of its competitors.
Keith sums it up quite simply by saying to sell a new brand against a well established existing one requires a point of difference. "Without that you've got nothing and while most other brands in our field tend to offer less for more, with Whitehaven the philosophy is the most for the least.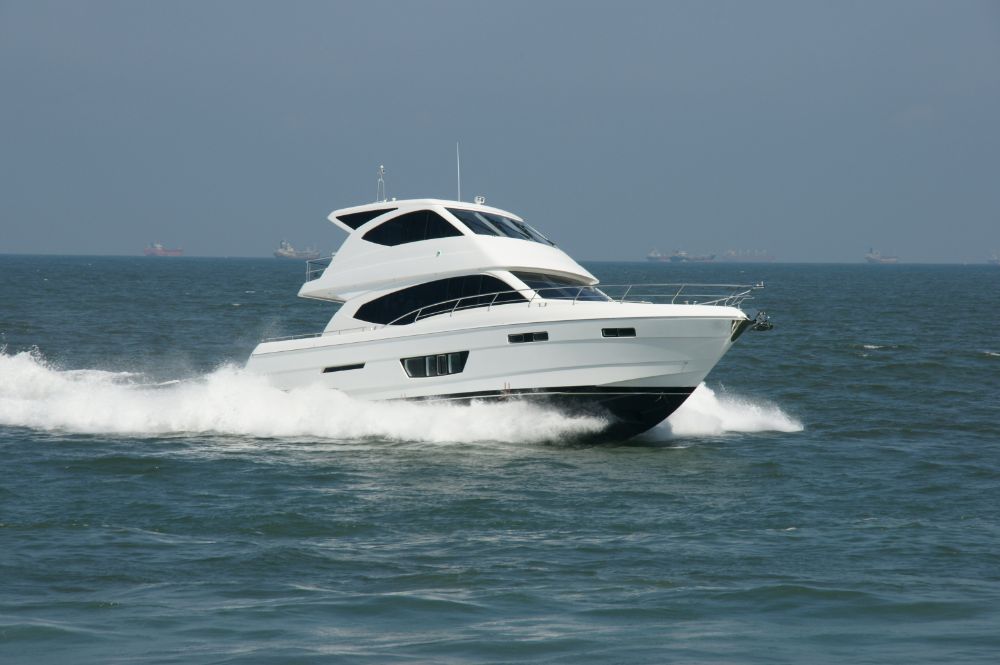 "No one comes close to our value for money base package, which if you compare a similar sized competitors boat with the same inventory and power, you will be paying hundreds of thousands of dollars more," says Keith.
Built in Taiwan at the Kaohsiung based yard of New Ocean Yachts, the Whitehaven 6000 Enclosed is a superbly finished and presented craft that takes that same high level onto the water. During my initial trials with the Whitehaven 6000 in the waters off Kaohsiung, it didn't take long to understand why Keith and son Ryan, who manages the boat building projects in Taiwan for Whitehaven Motor Yachts, are so passionate about their new toy. Keith's smile and vocal enthusiasm after a reasonably successful first trial was infectious and soon it was thumbs up all round and congratulations to the builders for a job well done. I say reasonably successful, because the only down side was the new Veem props were too big, with the 33″ x 39″ five bladders only allowing for a maximum 2220 rpm, well short of the optimum 2360 rpm. With shipping deadlines looming and timing issues, the decision was made to have a new set fitted when the boat arrived in Australia, in time for the Gold Coast Marine Expo, the boats first official showing.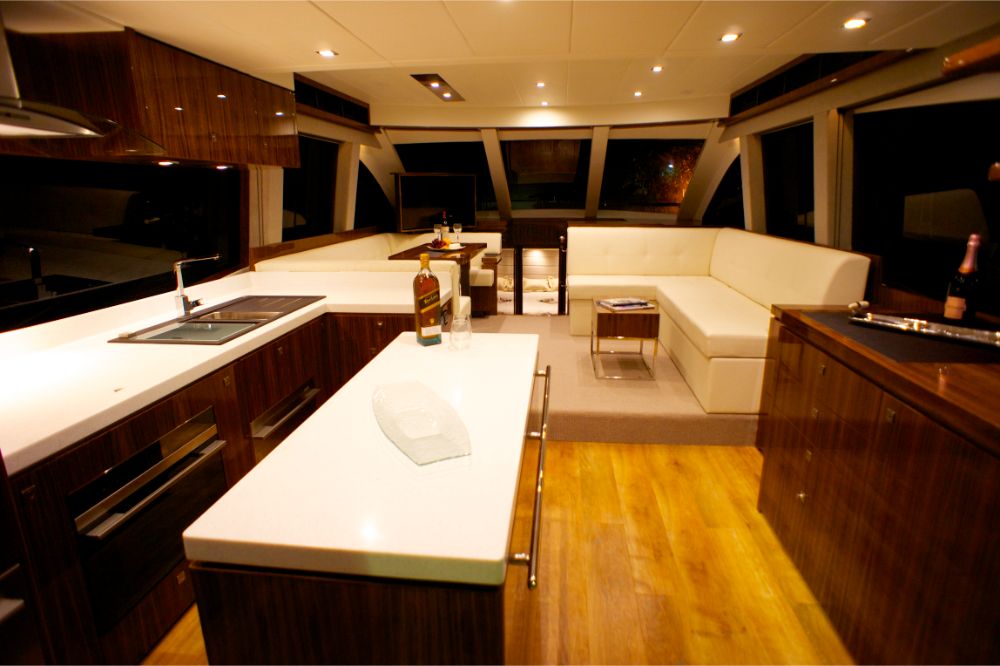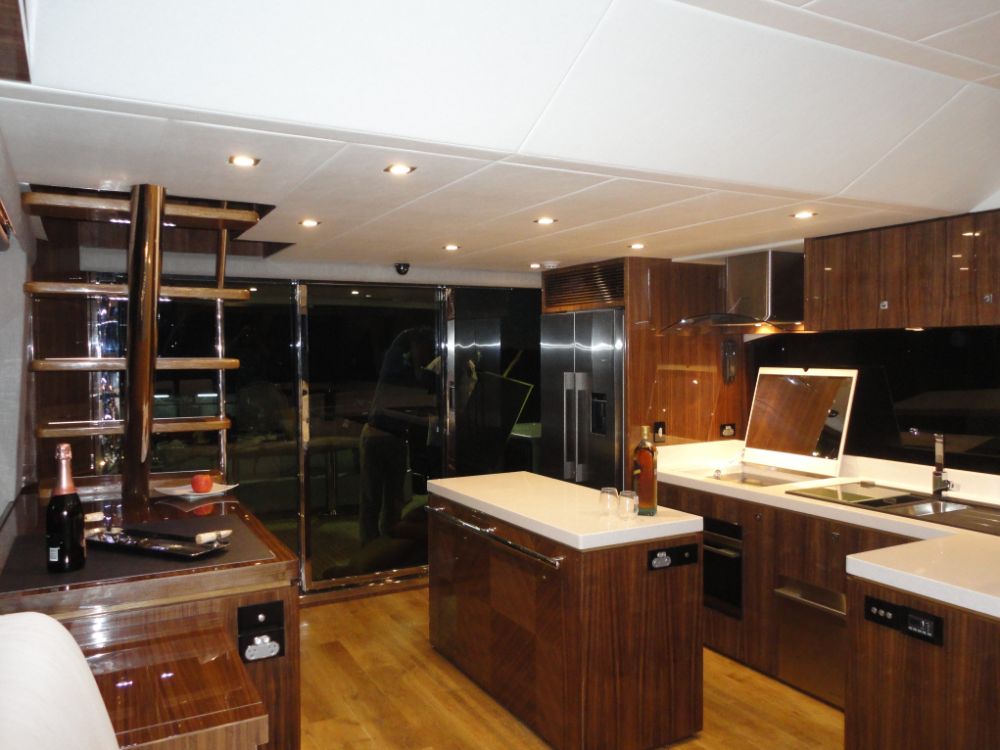 With speed predictions around 30-32 knots, the fact we achieved 29 knots @ 2200 rpm was a great result and the magic 30 knot target will easily be achieved and then some, once a new set of Veem propellers are fitted. Based on the data we recorded on the day, the fuel figures were also very impressive and should only get better. At 1600 rpm, the gauges showed a burn of ??? LPG from the pair of C18 ACERT Caterpillar engines, ?? Kph @ 1800 rpm and ?? Lph @ 2000 rpm and ??lph at our test day maximum of 2200 rpm.
While the sea conditions off Kaohsiung were reasonably smooth, the total opposite from when I ran the Horizon PC60 powercat last year, I quickly got the feeling that the hull under the 6000 is something a little special. Keith explains that one of the main criteria for the hull was to have a particularly 'dry' boat when underway at speed. "This was something that impressed me about our previous model, New Ocean 68, so we utilised some of that hull design, such as the deep forefoot, wide planing strikes and a warped chine," adds Keith.
The 6000 a quite achiever in many ways, very easily to plane, with little bow attitude and is exceptionally quiet inside when underway. In the light sea conditions for the test, the boat ran best in natural trim with no tab. We did have an issue with spray coming back in over the transom, being injected up from the extended high/low stern platform, but it's something that Keith assures me will be fixed with some strategically placed deflectors. How nothing's perfect first time out, but the Whitehaven 6000 came bloody close!
While the 68 is a deep vee boat right to the transom, the 6000 has been softened at the stern sections to help make it an easily driven hull. The 6000 retains the same 5.33m beam of the New Ocean 68, which makes it wider on the waterline than any of its competitors. The extra wide chines alter from a reverse angle forward to almost flat aft and help keep the boat level in fast lock to lock turns. The hull design and styling of the Whitehaven 6000 is a collaboration of ideas by Keith and son Ryan, in association with New Ocean Yachts resident naval architect, Jason Cao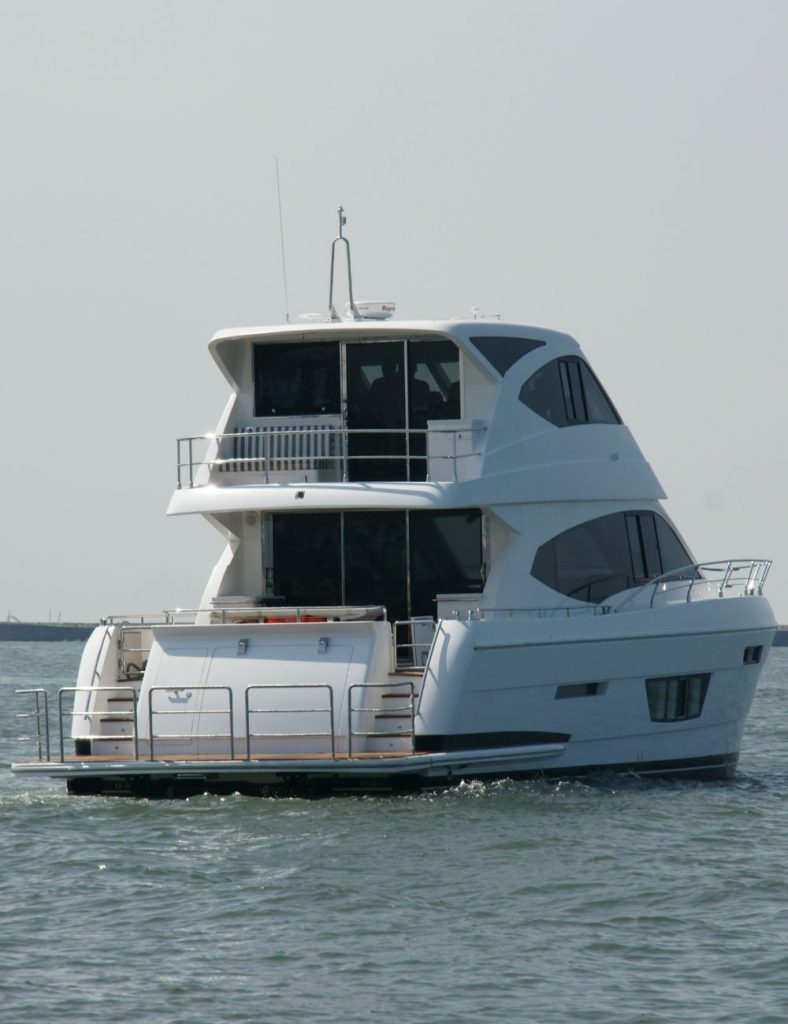 The DNA of the Whitehaven 6000 evolved from the New Ocean 64 and 68, a brand that Keith has been marketing in Australia for the past five years. In the 6000, Keith was looking for a boat in the 18-19m range that addressed the needs and wants of customers looking for a fully enclosed fly bridge cruiser, running shaft drives and yet still able to offer a full beam generous size master cabin and finished to an exceptional high standard.
The Whitehaven 6000 is the smallest boat built by the New Ocean yard, that have built their enviable reputation for boats in the 20-30m area. The offshoot of that experience is portrayed in the 6000 with construction and engineering a lot stronger, tougher and more robust that you might expect to find in a boat of this size. There is a lot about this boat that is over engineered.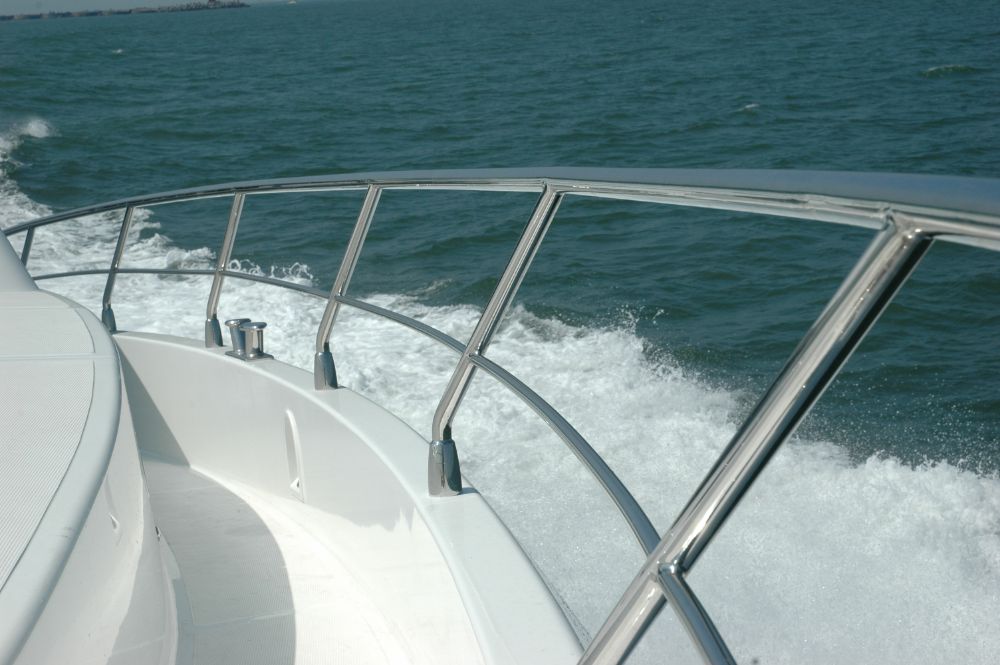 Spacious, airy dimensions of total comfort would be the best way to describe the saloon and mezzanine cockpit layouts of the 6000 Enclosed Flybridge. A large sliding door and hopper window bring the indoor and outdoor living together, making it feel like one exceptionally large space.
There's an aft bench seat with teak table at the rear of the outer deck, with units either side forward, for a bbq, fridge/freezer and another set of Yacht Controller controls. Stainless hinged doors open to a full width rise & fall platform (optional) and access through to both the engine room and dinghy garage. There is also plenty of space on the platform if you are into fishing.
Perceptively the galley is in the centre of the saloon/cockpit and not compartmentalised as in some boats. It caters beautifully to the saloon and cockpit, with a lack of separation between all the individual component areas. Being a boat that is destined to host more cocktail functions than fishing trips, Keith made the galley a serious element in the saloon layout with an emphasis on usable bench space. The four burner hob is concealed under a Corian cover when not in use and along with the galley island provides an oversupply of space for the chef. Keith reckons it's the longest bench top of any boat its size by far. The black Franke graphite sink unit is also a nice touch
Underneath, cupboards and drawers provide places for storage, plus a dish drawer, convection microwave oven and trash receptacles and alongside a house size double door fridge. Any cooking fumes are sucked out by the stylish range hood. You'll find an Intec wine cooler and a serious liquor cabinet opposite the galley in a unit under the fly bridge stairs, complete with a textured leather surface infill, so you don't scratch the high gloss timber finish.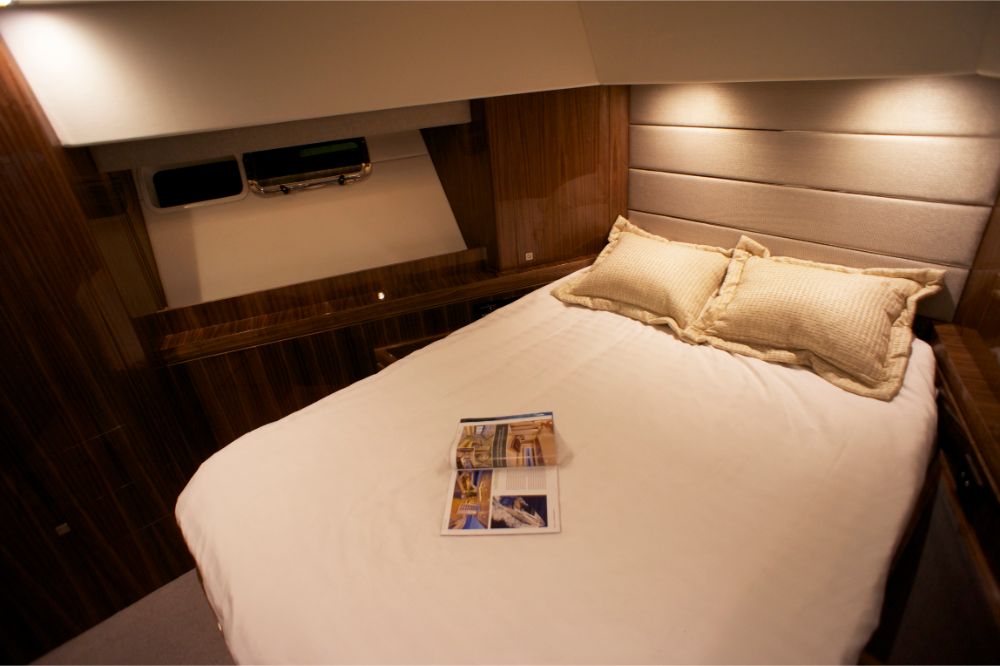 Forward are two Ivory coloured leather loungers – port side for dining/starboard for relaxing- that blend well with the tasteful use of Majilite black pearl textured leather inserts in the tables and dark timbers. Subtle and classy. A 40" LED TV is raised when required from forward of the port side dinette and can be swivelled, so it's viewable anywhere in the saloon area.
Around 100 sheets of Walnut veneer are used in the Whitehaven 6000, all of which goes through a nine-step process of sanding, spraying and finally buffing and polishing, until the desired high gloss finish is achieved. The results are simply outstanding and to superyacht class. What you can't see is as good as what you can!  If Walnut's not your choice, then there are plenty of other options for interior timbers, such as Oak, Beech plus some very interesting blends exclusive to New Ocean.
The enclosed fly bridge is designed as another dedicated living space and not just somewhere to drive the boat from. There's a settee that converts to a double berth, Corian top wet bar, icemaker, fridge and drop down TV neatly concealed in the roof. The helm dash and twin Besenzoni helm seats are finished with Chilewich fabric inserts. The same material as found in high-performance supercars, this again reflects the extra lengths Keith and his team have gone to, to emphasis the high-quality aspect of the 6000. The electronics package is owner's choice. We had a pair of Raymarine E 120 Hybrid touch screens surrounded by all the necessary instrumentation, controls and navigational displays. Standard in the stock boat package is a three situation Yacht Controller complete with remote, plus fore and aft Vetus thrusters, and Twin Disc Quick Shift gearboxes. Docking and slow speed manoeuvring are effortless. A 48000 btu air conditioning system helps control the fly bridge temperature just as you like it. If you still want some natural air, the sliding side windows, overhead hatches, plus a rear hopper window and sliding door can be opened. The rear deck comes with a double settee, a Yacht Controller station built into another Corian surfaced unit complete with BBQ.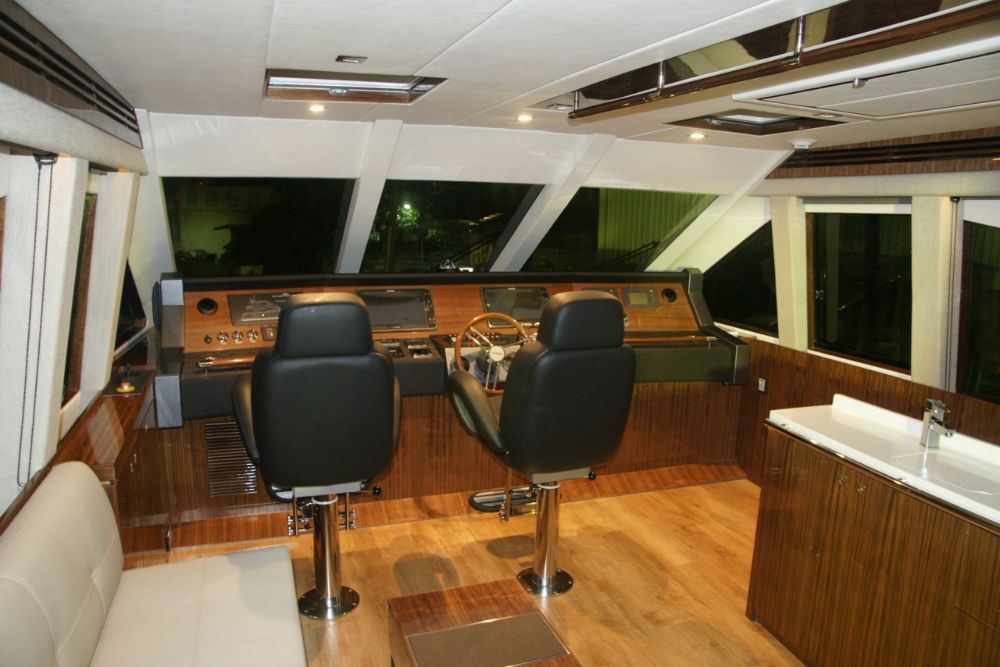 The 6000 is a three cabin, two bathroom design, which offers some variants in layout to suit the owner's requirements. One option is for two cabins, with the third being converted to a utility room for additional storage. Natural light radiates down into the atrium, with concealed strip lighting under the Oak treads, providing some added security at night.
The master stateroom exemplifies the versatile use of available space, with a king size island berth, (arguably the biggest in any production boat of this size in Australia), flush mount TV, walk-in wardrobe with Corian floor, lounge and full length bureau with lift-up case and mirror. There is extra storage in bedside drawer units, under the bed and hanging lockers. Large signature side windows with open ports while providing natural light and ventilation, also give a panoramic view and are a feature of all Whitehaven models.
The port stateroom comes standard with two extra large single hi/lo bunks, but with the option of a third drop-down berth should you need more space for young children. There's a generous size hanging locker, opening port and like all the cabins has individualised air con.
Forward, the guest VIP has a queen size centre berth which thanks to the fullness of the bow means the berth doesn't have to be raised to maintain its full width at the head. Storage is provided under the berth and in various hanging lockers and shelves throughout the cabin. Twin opening ports and an overhead hatch offer plenty of light.
The two bathrooms, the forward one being shared by the guest cabins, feature a similar Italian tiled décor and arrangement, which reflects the continuity and understated elegance of the design. Shower stalls with glass frameless doors and teak floors, rain showers, Corian vanity surfaces and raised porcelain bowls feature in both the private master and VIP en-suites.
Flying all the way to Taiwan to review a brand new boat on its first trial days can be wrought with danger, more so for the builders than me. And so it seemed was the case when on the first day, within the first hour, we had major fuel issues, which saw us return to port after only a very short time on the water. However, while it looked like the trip may be wasted, it all turned out fine, when next morning, with clean tanks and new fuel we spent a few trouble free hours at sea. Despite having oversized propellers for our tests, I am certain that once the smaller props are fitted the boat will be a thoroughbred.
If I were to describe the Whitehaven 6000 Enclosed Flybridge in a few words, I would call it, vintage contemporary. Plus I would also have to agree with Keith's early statement that this is a boat that gives you more for less. It's robust, unquestionably overbuilt, performs as good, if not better than it's competitors and is finished to the highest standards.
Too easy!
Boat Design Name: Whitehaven 6000
Year Launched: 2014
Designer: Jason Cao
Interior Designer: ??
Builder: New Ocean Yachts
LOA: 18.48m
Beam: 5.33m
Draft: 1.47m
Displacement (dry): 36 tonne
Max Speed: 32 knots (est)
Cruise Speed: 22 knots
Construction: GRP/Balsa/Foam
Fuel Cap: 5500 litres
Water Cap: 800 litres
Engines Make: Caterpillar C18 ACERTS @ 1100hp
Gearboxes: Twin Disc Quick Shift
Drive Train: Shaft
Propeller: Veem
Generator: Onan 22.5kW
Inverter/Charger: Victron Quattro
Electrical: 240 volt Aus Cert
Air Conditioning: CruiseAir
Stabilisers: NA
​Anchor Winch: Muir 4000
Anchors: Bruce S/S
Steering: Seastar
Engine Controls: Twin Disc
Remote: Yacht Controller
Lighting: Cantalupi
Paint (Antifouling): International Micron 66
Hatches: Manship
Wipers: Exalto
Windows: In House
Porthole Hatches: Manship
Heads: Tecma
Woodwork: Walnut (Optional)
Tender: AB Mares 3.2m/ Honda 15
Stainless Steel Fab: In House
Saloon Doors: Aritex
Rise & Fall: Aritex
Trim Tabs: Bennett
BBQ: Southern Stainless
Helm Chairs: Besenzoni
Upholstery: Leather
Searchlight: ITT Jabsco
Autopilot: Raymarine Evo 1
GPS/Plotter/Sounder: Raymarine E165
VHF: Raymarine 218E
Entertainment Sys: Bose
Base Price of Boat: AUD$2.13m
Price As Tested: AUD$2.40m