The finish, décor and interior styling of the all new Whitehaven 7500 Sports Yacht has set precedents in design and engineering that other builders will see as a benchmark for achievement.                         
Every boat builder likes to have repeat business. It shows they have fulfilled their clients wish list and produced an outstanding product that they are proud to call their own and are happy to replicate. For Darwin based, Ray & Denise David while they loved their Whitehaven 6400 Sports Yacht, they have owned for a number of years, they had a desire for something bigger. Not only did it need to be capable of longer range cruising, it also needed to be big enough to carry a larger tender! While the 6400 SY formed the template for the new boat, the increased volume allowed for a different layout.
"We had no hesitation in going back to Keith and his team at Whitehaven for our next vessel and the new boat certainly fullfills all our wishes, and then some", says Ray.
Finito was, like all Whitehaven Yachts built by craftsman at New Ocean Yachts in Taiwan and reflects the high quality workmanship that this yard has a reputation for.
"We have built a number of boats with the yard now and I am more than pleased with everyone they have delivered. Even though they are getting bigger and more complex, the yard manages to produce each to an incredibly high standard every time and Finito is certainly testimony to that", says Whitehaven's Keith Hanson.
While the Whitehaven boats are all built in Taiwan, most of the electrical installations are done in Australia and Keith adds that he scources as much of the componentry and equipment as he can locally and then ships it all up to the factory to install.
"Not only do I like to support the local distributors, if we have any service or warranty issues after the boat arrives, we can call on them to fix it", says Keith.
Finito continues the very recognised Whitehaven styling, but comes with a somewhat daring interior. The request was for a traditional but ethnic look – different from the usual concepts – that included large spaces for entertaining family and friends. It's a simple style, not too elaborate, yet presents a new approach to saloon design. "The art of a good design is simplicity and that's what we have tried to reflect in Finito" says Keith.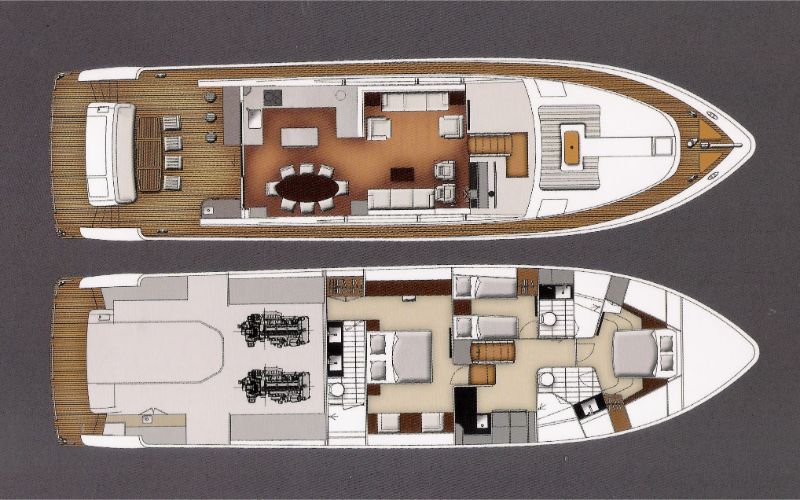 Dramatic windows surround the saloon and allow natural light to radiate through the main deck area and via the atrium to the accommodation companionway. There is not one area of the single level saloon, dining area, galley or helm that doesn't have 360 deg views.
The moment you press the button that automatically opens the rear sliding door, you can't help but be in awe of the spaciousness that lays before you. The openness is perfectly matched by the luxurious summer-feeling interior, which features dark flooring, pale leathers and light fabrics accompanied by sand blasted and lime washed oak furniture. A perfect combination.
To port aft is the extensive U shape galley with island counter. Beneath the Corian surface are the customary drawers and storage spaces, plus a convection microwave and dish-drawer. While there is some overhead cabinetry, it is high enough so not to be obstructive when looking outside from the galley. So as to maintain this superior visual impact, the owners have relocated the full size fridge/freezer elsewhere. This also allows for a larger rear drop down window and massive indoor-outdoor servery.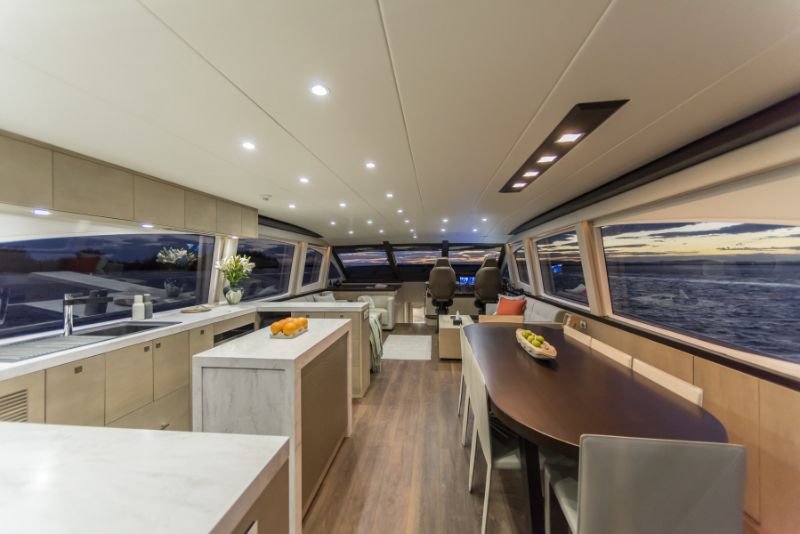 While you might expect to see a built-in dining unit in a boat this size, not so in Finito. A free standing eight seating dining table and chairs takes up the area opposite the galley. It's extremely practical and really accentuates the spaciousness of the saloon. It reminded me of the dining arrangement you would find in a small super yacht.
The lack of built-in cabinetry and furniture is carried through to the forward areas, where Denise chose twin loungers and two tub chairs. Whilst they look like they may have been purchased from a high-end furniture store, they were in fact hand made by the boat yard specifically for Finito. Two custom made coffee tables come with storage drawers and shelves and like the rest of the furniture in the boat were hand  crafted by the yard. There's also a pop-up TV concealed in the forward port side storage cabinet.
A trio of Garmin 7416 screens are spread across the wide helm facia, which is serviced by a pair of full adjustable Besenzoni helm seats. The seats were stitched and covered with an Italian leather picked by Denise, which is duplicated for the spacious helm console. All controls, instruments and switches are easily at hand and there is ample space for just about every extra you want.
Twin C18 ACERT Caterpillar engines power Finito to around 24 knots. However, when I enquired about some fuel/performance data, Keith pointed out that it wasn't available as the owner was not that interested in top speed, but rather the economy at low to mid range cruising.
My driving experience was confined to the shelter of the Broadwater and at 7 knots we recorded a total of just 20 lph (both) on the gauge, which computes to around a 2200 nm range. At 10 knots that dropped to about 1550 nm. "It's not about top end speed, it's more about how far I can cruise on the 10,000 litres we now carry", says Ray.
With plans are for trips from Darwin to the Kimberleys, Tiwi Islands (Bathurst & Melville) and even as far as the Bandar Islands in Indonesia, the requirement for good range is important. With full tanks and a moderate cruise speed, Finito is more than capable of going the distances required.
When I arrived at Runaway Bay to board Finito, they had just finished topping up the 10,000 litre tanks full for the first time. Question was, how would the boat perform under maximum displacement of around 60 tonnes? Keith and Ray both had a smile on their faces when Finito easily slipped up onto the plane with very little bow attitude and maintained a cruising speed that was only marginally less than when under half load. We got to see over 22 knots on the gps, so the extra weight made little difference to the overall performance of the obviously very slippery and efficient hull.
If you are looking for a bit more top speed, then the Whitehaven 7500 is designed to handle much larger horsepower engines up to 2600hp per side. A pair of MTU 2000 Series V12 engines would give the 7500 a speed in excess of 36 knots.
A wide open atrium leads down via an open Oak tread stainless steel staircase, to the forward and mid section accommodation, where there are three cabins, including two staterooms and a custom designed breakfast room. While you could utilise the breakfast room space as a utility room or even a smaller fourth cabin, the owners of Finito wanted something a little different.
"If I decide to get up early and make a coffee or a piece of toast in the morning, I don't have to go upstairs to the saloon and it's also proven a perfect place for our full size fridge/freezer units. They are out of the way, but still handy enough when on a long trip", says Denise.
This area is also equipped with a washing machine/dryer and ironing board, so it's very versatile and extremely practical. There are no cooking facilities, but it's certainly an option.
The three cabin layout is very similar to their previous Whitehaven 6400, but with more space. Each cabin has a TV with Foxtel, which includes 2000 movies and a superb sound system to listen in comfort to your favourite tracks.
Executed in American Majelite panelling with Wenge accents, and Italian handcrafted leather bedheads, the interior typifies the timeless and sophisticated simplicity that the owners wanted to achieve. The sandblasted Oak gives an organic natural feel, while opposing grain panelling divines the doors. It is a very personalised décor, picked by the owners and it works incredibly well. Being a custom boat, the choice of décor is totally your decision.
Storage spaces are plentiful throughout with hanging lockers, under bed drawers and shelfs. Another aspect of keeping the boat cool, are the blinds, which have sisalation inbetween the outer layers designed to keep the heat out and the coolness in the cabins. According to Denise, they work perfectly. Also the side ports are fixed, as she pointed out they have the aircon on most of the time anyway.
The two forward cabins are each unique, one with a king size double, the other with twin berths. Both have en-suite bathrooms, with the port side one doubling as the day head. Rain Cloud Corian surfaces feature concealed basins, with wave-pattern Versace tiles, glass doors and teak slatted soles in the shower stalls. Luxurious but not ostentatious.
It is not surprising to find a full beam master in Finite as that's very much the norm these days. The difference is there is a dressing room ensuite and shower behind the headboard of the 'Australian' kingside bed. The entryway is off to the port side where there's also a vanity and storage drawers. A day bed and small office is built into the starboard side.
Together with his and hers concealed basins set into the Corian vanity, there's also a very large shower stall and wardrobe with full height mirror alongside. The same timbers and styling are carried right throughout accommodation spaces, maintaining a continuity throughout Finito.
Finito is set up for boating in hit climates, so there is a big emphasis on keeping cool, both inside and on deck. With summer temperatures hovering around 40 deg, there is obviously a requirement for a good aircon system. Finito is fitted with five separate Marine Air, air conditioning handlers and even the engine room has its own aircon. The windows around the saloon are all tinted and there is an extra large overhang above the cockpit for sun protection. This area can also be closed in with clears. It's all about keeping cool and out of the harsh sun and excessive heat that is all part of boating around the top of Australia.
Finito's cockpit is set up for entertaining, with a servery area off the rear of the galley that comes with three bar stools, an icemaker, wine cooler and large bar fridge. There's a built-in barbeque to starboard and a second set of ZF docking controls. A central transom settee serves as seating for eight around the Corian and teak table. Fishing is all done from the lower boarding deck, which has access both sides from the upper deck. A special feature is the lift up transom door that opens to a spacious tender garage. Alongside is the access to the air conditioned engine room.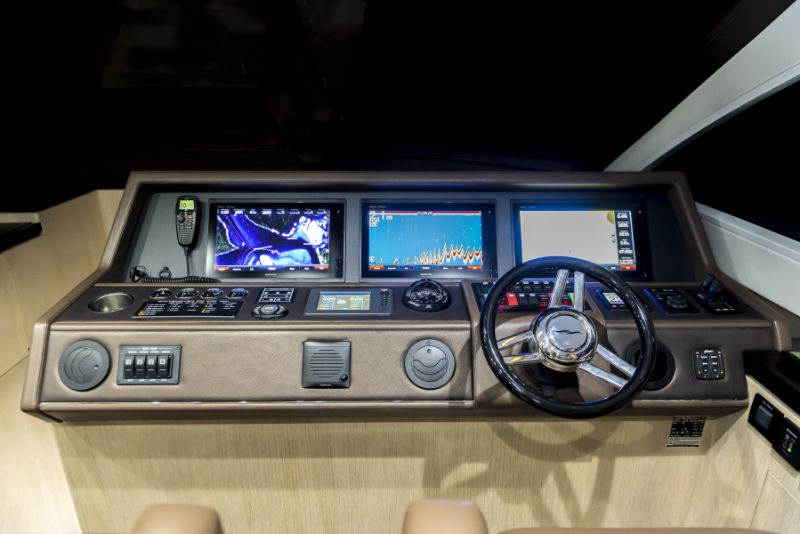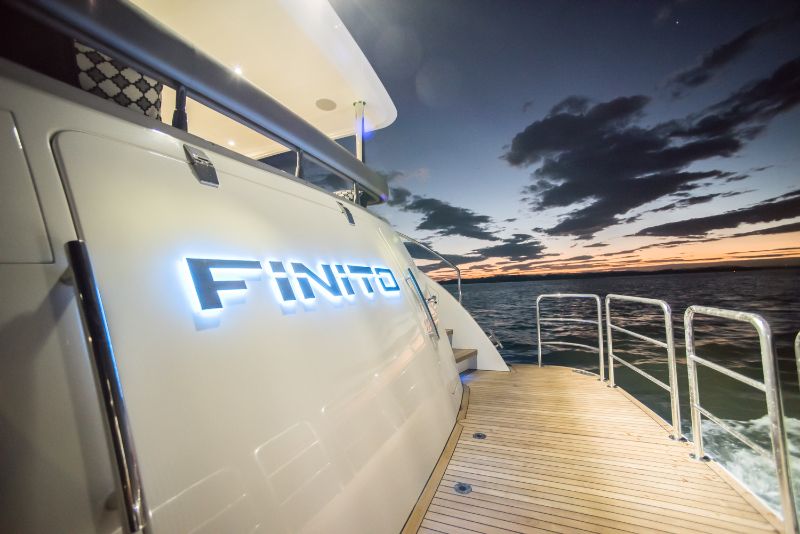 Anyone who has boated around the Top End will understand why RIB tenders are a no-no. Locals call then croc-fodder. Finito has an extra large dinghy garage and inside there's a 4m fibreglass Haines Hunter tender. Hopefully tough enough to survive a croc attack.
Will there be a bigger Finito? Not according to Ray, who says this is the biggest boat he can moor at the end of his section in Darwin. Interestingly, the Whitehaven 7500 sits on a Dock Pro sea pen berth, the largest the company has ever built.
For those that don't favour the saloon styling, the 7500 is also available as a fully enclosed flybridge model. This features much the same layout in the accommodation area, but with some changes aft to accept the internal staircase. Plus there is no lower helm station. According to Keith, there is a lot of interest in the flybridge model, especially form some Kiwi clients. While the enclosed flybridge model certainly increases the space and opportunities for the 7500, I personally like the sport yacht layout as it keeps your daytime and entertaining spaces all on one level. The Whitehaven 7500 is certainly an outstanding evolution of this popular style.
Boat Design Name: Whitehaven 7500 Sport Yachts
Year Launched: 2016
Builder: Whitehaven Motor Yachts
Interior Designer: Whitehaven Motor Yachts
LOA: 23.5m
Beam: 5.9m                           
Draft: 1.6m                           
Displ (Dry): 49 tonnes (light)                  
Max Speed: 24 knots (light ship mode)
Construction: GRP / Foam Core
Fuel Cap: 10,000 litres             
Water Cap: 1000 litres                
Engines Make: 2 x Caterpillar ACERT C18 @ 1136hp       
Drive Train: Shafts
Engine Controls: Twin Disc EJS Quick Shift
Propellers: ZF 
Generators: 2 x Kohler 28kW
Stabilisers: Sidepower Vector Fins
Thrusters: Sidepower Hydraulic
Night Vision: Flir
Trim Tabs: Bennett
Searchlight: Jabsco
Watermaker: Bluewater
Anchor Winch: Muir 4000 Hydraulic           
Anchor: Rocna
MFD: 3 x Garmin 7416
Autopilot: Garmin            
Base Price of Boat: $AU4.8m
Price As Tested: $AU5.2m        
Contact: www.wmy.com.au