Just when you thought Kiwi's ruled the world of amphibious boats, along comes the Pagurus.
We have the Sealegs, Orion and Tectrax amphibious systems on various boats in New Zealand and worldwide, but there is nothing like the Pagurus. Italian design studio, Lazzarini has taken the concept a whole leap or perhaps giant stride further with their ambitious concept 25m mini-superyacht.

Pagurus—Latin for crab—is a catamaran with four, 6.4m-long steel cylinders, each featuring a helical spiral flange that looks like the thread of some giant screw – two in each hull. Pull up to a beach and, at the touch of a button, all four cylinders drop down out of the hulls. With each powered by their own 440 hp diesel engine, the screws turn, biting into the sand, dragging the catamaran on to land.
This superyacht has treads that let it leave the water and crawl on to the shore. Lazzarini's original idea was for a military version of the catamaran. But seeing a considerable uptake in luxury yacht buyers looking to "go off the grid" the designer felt there was a new market in the recreational sector.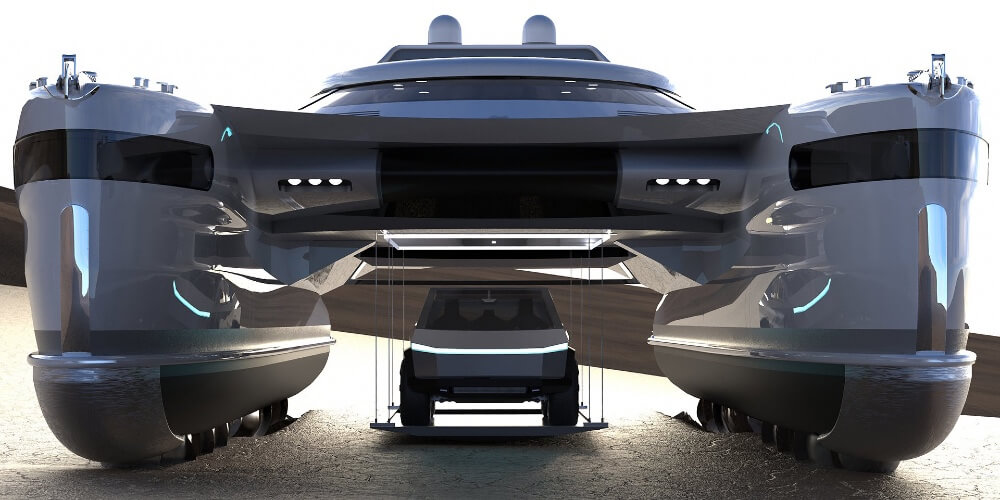 Just so you have the matching toys for your ultra-extreme vessel, the plan is to house "a couple of electric Tesla Cyberquad ATVs, or snowmobiles and a Tesla Cybertruck between the hulls. Pagurus would be powered with a pair of 900 hp Caterpillar diesels coupled to sterndrives, giving a top speed of 25 knots. An abundance of solar panels would be used to help power up all the on board and vehicle electrics. Those underwater helical screws could turn under silent electric power to push the yacht at a stealthy five knots.
This superyacht has treads that let it leave the water and crawl on to the shore. Besides its multi-terrain capabilities, Pagurus is a modern mini-explorer design, with features like solar panels to provide energy.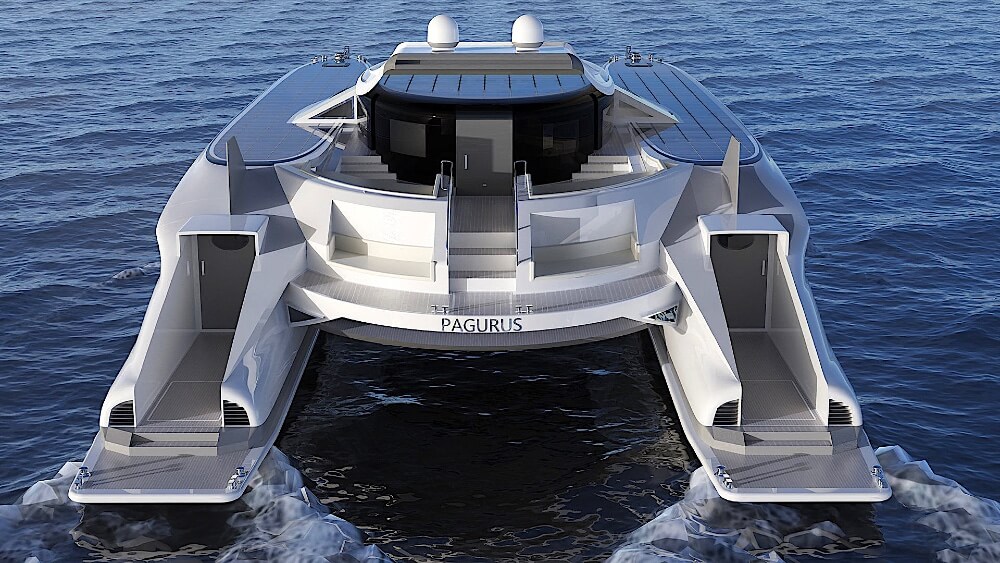 Courtesy Lazzarini Design Studi
Lazzarini says his inspiration came from a giant crab from which the yacht gets its name. You see it in the high-sided hulls and low, low carbon fibre superstructure with its distinctive, slim semicircle of glass. Echoing a crab's hard shell, Pagurus's steel hull would be up to an inch thick with extra reinforcement around the bow for safe and effective ice-crushing.
The Pagurus concept could be turned into reality for around $30 million.