Zero Expectations 
Text by Ron Czerniak 
Up until recently nearly all water jet engines have been powered by fossil (petrol or diesel) fuels. However, proving that electrically powered jet boats are no longer a thing of the future, ZeroJet, partnering with Offshore Cruising Tenders, demonstrates that these electric propulsion units and vessels are here and now.
When Editor Barry Thompson approached me to conduct a sea trial of the Zerojet System fitted to an OCT 3.5 metre tender, I jumped at the chance, as I have been following the evolution of modern day electric automobiles since I first stumbled across a copy of Elon Musk's autobiography almost a decade ago. Having recently written an article on electric outboard motors (Pacific Powerboat September/October 2021) I was very curious and excited to experience this iteration of electrically powered boats.
ZeroJet's story began in 2014 when co-founders Bex Rempel and Neil Mans moved to Perth and opened the world's first Jetsurf Experience Centre. Through buying, selling and renting out these Czech-made boards, they simultaneously realised a) how big the market was, and b) the negative impact these petrol powered, two-stroke motorised surfboards were having on the environment.
So Bex and Neil decided to serve up something a bit greener; something to counteract the petrol powered Jetboards' carbon footprint. In 2015 they moved back to New Zealand and founded Voltaic Jetboards. After assembling a team of four engineers the crew started work on a more environmentally-friendly alternative, and they spent the next two years developing high-performance electric Jetboards.
By 2018 the team had carried out significant Research & Development on a bespoke jet pump design paired with electric motor and custom hull design using their hydrodynamic expertise and produced a finalised design and a high-performing prototype: the world's fastest electric Jetboard, hitting speeds of 70km/hr!
During the next two years, it was the interest from boat builders that ultimately influenced the team to pivot their business and focus purely on electric jet systems for boats. During this time the first prototype electric jet tender was designed and built.
2020 was a year of exponential growth and after rebranding to ZeroJet and raising seed capital from investors, the world's lightest electric jet tender was built utilising their in-house developed, highly efficient jetpod system specifically designed for 3m to 4m boats, culminating in an ongoing partnership with Offshore Cruising Tenders. Sales to a very interested marine industry inevitably followed. 
Although I did some initial research on the ZeroJet company and its products prior to the actual on water sea trials, I really went out with zero expectations. Having experienced conventional jet boats of numerous sizes over the years, my only belief was that it should behave like any other jet boat.
After almost a week of strong NE winds and rough sea conditions in the Auckland region,  a fortuitous weather window opened on the Friday before the Waitangi Day long weekend, allowing us to launch and sea trial a 3.5m OC tender fitted with ZeroJet's electric, jet propulsion system. But, before getting into the actual 'out on the ocean' review of the propulsion unit and tender, a bit of background regarding the ZeroJet electric jet system is definitely in order.
Researched, designed and developed in New Zealand, the jet systems are specifically designed and tuned for an electric motor equating to unbeatable performance. Compact and lightweight, it's perfect for tenders as small as 3m where traditional heavy combustion outboard or inboard engines won't cut it. It also means you have more space inside the boat and with no prop you can manoeuvre across shallow beach and reef ecosystems easily. The turnkey electric jet propulsion system is designed for easy installation into any suitable tender or RIB.
ZeroJet teamed up with Offshore Cruising Tenders to produce the world's lightest electric jet tender. But rather than being involved in boat production the main aim was to specialise in supplying the electric jet system to boat builder partners around the world who will utilise it in their designs. Having successfully integrated their system into the OCTender range and being able to offer superior manoeuvrability and capable of reaching speeds of up to 20 knots, the ZeroJet/OCTender package is a more fun, more convenient, and a greener solution than the traditional internal combustion engine. Although pitched as a yacht/launch tender, it makes for a great little eco-friendly runabout as well.  The ZeroJet 48 Volt (safe low voltage system) is equivalent to a 20 Hp fossil fuel motor and weighs only 40 kg. To gauge the impact of traditional petrol-powered outboard motors on the marine environment, taking one 20hp four-stroke outboard off the water is the equivalent of taking 150 cars off the road!
ZeroJet have worked hard to retain maximum internal space in the OC Tenders, with the system and batteries neatly packaged to ensure there is still lots of space for toys/food/people, etc. inside. The carbon construction and hull shape make for a fantastic combo with the highly efficient electric jet system installed. Able to turn on the spot, these vessels are highly manoeuvrable, light and easy to handle for beach landings. It is the world's lightest electric jet tender, providing 50% more propulsion than a conventional outboard motor of the same power level. ZeroJet OCT tenders can plane at as little as 10 knots. 
ZEROJET SYSTEM
But how does the ZeroJet System actually work in lay terms. Well, quite simply as it turns out.
Two battery boxes sitting under the gunwales of the OC Tender house either 5 or 10kWh batteries, these SuperB Nomada 12V 105Ah batteries provide enough power to the highly efficient quiet jet for up to 50 min – 1hr 20 min of run time at full throttle or up to 27 nautical miles. Operating the system is as simple as pressing the on switch then turning the throttle for propulsion. A display is located on the master battery bank which displays the SOC (State Of Charge) as well as other information including current draw and voltage. A repeating display is also located on the tiller arm for ease of viewing whilst underway. A kill cord is located on the tiller arm which will instantly shut the system down should someone fall overboard. Operating in reserve is as simple as pulling the reverse lever located on the port side of the pod, allowing for extremely good manoeuvrability. 
IMPRESSIVE ON THE WATER
So, that's the background. What about the actual sea trials? In a word, impressive! In terms of being able to test this craft and its electrical propulsion system, it was almost the perfect day. Flat seas close to shore, but further out in the bay. a significant short chop on the water surface – typically what any boat owner might experience having anchored his boat offshore for the day and having taken the tender ashore for provisions, or a day on the beach or whatever and then having to return to the mother ship later and finding the weather and sea conditions have changed from the early morning excursion into shore.
As the OTC hull is a relatively "flat bottom" design, I expected a fair bit of slap on the water under speed. As it turned out, with the highly manoeuvrable jet engine quickly getting the craft up on the plane, the boat handled the conditions admirably. I asked Nick how far I could push the boat to see what it was capable of. His reply? "Go for it". So, as we both hung on to the convenient grab straps, I powered the tender through some pretty hairy turns expecting us to fish tail out of control. Not so! The boat spun on its stern like a ballerina with nary a hint of uncontrollability. In addition it was a remarkably dry boat with just the two of us on board and considering the dead rise of the hull is only about half a metre.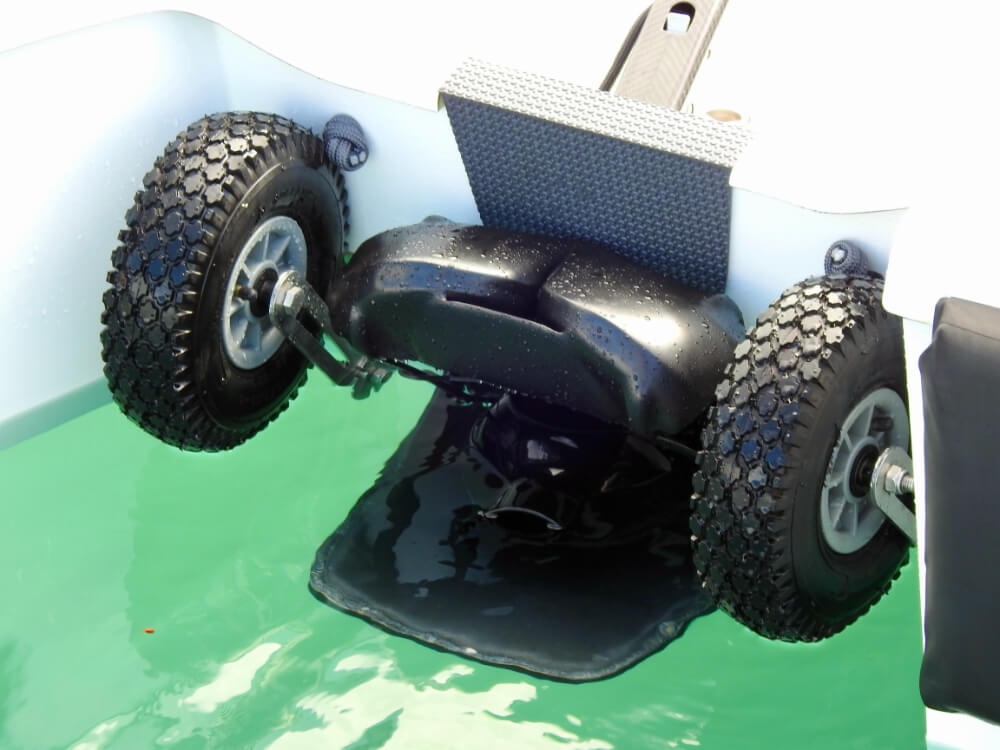 Switching from forward to reverse is as simple as unlatching and pulling up the lever on the port side of the engine cowling. Be careful with the throttle however, as it is easy to reverse a bit too quickly with these jet propulsion units and you will find water slopping over the stern. No serious worries with a bit of water as ZeroJet have installed a small bilge pump close to the propulsion unit with an automatic float switch.
Although most of the testing was done with just Nick and I on board, we did take the time to have Declan and Zane climb aboard to see how the OTC handled a load of approximately 350 kg. Although not able to get up on the plane, we scooted along at a respectable 7 or 8 knots, and probably would have been able to push it a little faster, but with the wave chop, we started getting a bit of water over the bow, so throttled back. However, as noted previously, with just two of us on board, the boat was remarkably dry on the plane.
Should you decide you want to haul the boat ashore for a few hours or load it onto a trailer to take home for whatever reason, the craft is fitted with two, easy to engage, drop down wheels on the stern of the boat, making it a piece of cake to haul the boat up a ramp or beach with the two straps fitted to the bow.
The fully retracted and secured wheels in place straddle the jet unit and ride plate which also functions as a cooling plate for the electric motor coolant.
Trolley wheels can be quickly and easily "locked down" to enable the tender to be hauled up a boat ramp or beach.
FUN BOAT
Combining cutting edge green technology with the proven durability and lightweight nature of the OC Tenders results in a fantastic fun little boat. ZeroJet customers are reporting that although they have been underwhelmed with the performance of a typical electric outboard motor, when it comes to the ZeroJet/OC tender package, things step outside this norm, providing a fun, efficient machine. Once you're finished for the day or returning to the mothership, charging is as simple as plugging an EV style plug into the battery bank located on the starboard side of the STB battery.
ZeroJet have experienced a lot of demand over the last few months with build slots now 6-8 months away and growing fast. They are encouraging customers to secure a build slot with a $500 NZD refundable deposit. Starting price for the ZeroJet OC tender package is $34,000 + GST 
No pollution, no noise. Just you, the ocean, and a rechargeable battery. I like that!
There is little doubt in my mind that ZeroJet and OC Tenders will soon see a massive international interest in their innovative Kiwi products. Watch this space.
 Make/Model: Zerojet OC350 Tender
Builder: Zerojet & OCTenders
LOA: 3.51m
Beam: 1.60m
Weight Overall: 139kgs            
Max load:448 kg
Power: 14kW/20hp ZeroJet drive
Max speed: 20 knots
Battery: 5kWh or 10kWh battery pack
Run Time: Up to 1hr 15mins
Price of Boat: NZD $34000 plus gst