Yamaha Waverunner New Products, Innovations & Technology
Yamaha has introduced its 2015 line of WaveRunner personal watercraft highlighted by Yamaha's new RiDE dual throttle handlebar controls for forward and reverse; the first complete rework of the best selling VX Series neutral. The right and left throttle levers can work together at speed to let the driver dial in maximum control over their ride.
RiDE utilises a patented bucket design that forces water out the sides of the bucket, whereby acting as a virtual rudder that keeps the watercraft tracking in the direction the driver intended. The throttle system is controlled by a Boat Control Unit, or BCU that is specifically tuned at the factory to account for the power and weight of each model. This ensures a completely smooth experience whether riding around a dock in close quarters or taking a turn at full speed. The BCU is also programmed to understand driver input and intention when both levers are pulled simultaneously, applying the appropriate level of acceleration or deceleration to maximize control.
For 2015, the Waverunner watercraft line gets its first complete rework in a decade. This all-new platform for the VX, VX Deluxe includes features and technologies, including RiDE, which have never been seen before on a value priced watercraft. The high-performance VXR also get a new platform redesign and RiDE.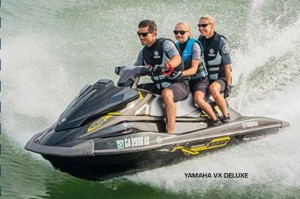 The redesign of the VX models includes a new hull and deck design that takes styling cues from Yamaha's flagship FX Series. The striking new deck with masculine hard-edged lines now includes integrated mirrors, refined cockpit ergonomics, a two-piece seat design and a larger stern platform.
Under the water line has also been redesigned, with modified hull strakes, softer bow chines, and a new keel shape. The new NanoXcel in a decade, and Yamaha's next generation NanoXcel material for its SVHO models. RiDE is an ultra-intuitive dual throttle control system now available on Yamaha FX and VX Series WaveRunners. Pull the right-hand throttle lever to go forward, pull the left-hand throttle lever to slow down and go in reverse. Let go of both levers and the watercraft is in hull design works exceptionally well with the higher displacement 1.8L Yamaha marine engine that powers the high-performance VXR.
For 2015, Yamaha also introduces NanoXcel 2, a nanotechnology-engineered material that is even lighter than the previous version while maintaining the structural integrity the material has come to be recognised for. NanoXcel 2 reduces the weight of the 2015 Yamaha FZ and FX SVHO models by 35 and 46 lbs respectively, making NanoXcel 2 hulls, decks and liners the lightest in the industry.
SEA DOO Customisation, Colours & Accessories
For 2015, BRP has launched a vibrant line of 2015 Sea-Doo watercraft, introducing several new accessories and colours while providing greater customisation for the popular Sea-Doo Spark model.
"In 2014, BRP's Sea-Doo line had one of its strongest years in over a decade with the introduction of the Sea-Doo Spark watercraft, marking one of BRP's most successful product launches," said Chris Dawson, vice-president and general manager, Global Sales and Consumer Experience division.
In 2015, BRP's Sea-Doo line-up continues to offer a watercraft for every type of rider beginning with the multiple-award winning Sea-Doo Spark model. The Sea-Doo Spark model comes in five colours and offers six new graphic kits, bringing the number of combinations to a total of 26.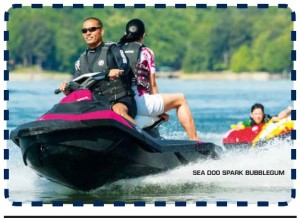 A new Radio Frequency (RF) key that offers a more precise connection in addition to the Digitally Encoded Security System (RF D.E.S.S.) is now standard on all full-sized Sea-Doo models and optional on the Sea-Doo Spark. This key allows for faster starts and better security measures. According to Sea-Doo, the new DESS key, "features radio frequency technology and a new ball-in-socket design." This new design allows for "more precise connection" that instantly activates upon attachment, allowing for instant starting at all times. The digitally- encoded key replaces the previous encoded lanyard and is standard on all 2015 models and optional on Sparks, and is the brand's theft deterrent standard.
Although much of the standard technology is carried over from previous models, it doesn't detract from their importance. Sea-Doo's commitment to innovation and technology, is evident in the brand's only functioning suspension system (available in three forms: S, aS and iS, on the GTX S 155, RXT-X 260 aS, and GTX Limited 260 iS, respectively). Sea-Doo's iTC (Intelligent Throttle Control) and of course, iBR, the first functioning brake system on a PWC (particularly relevant in the wake of Yamaha's RiDE system). Additional features include Sea-Doo's VTS trim, cruise control and watertight bow storage (available as an option).
The recreation segment with the GTI models also receives fun new colours. All equipped with the iBR system, the Sea-Doo GTI watercraft will easily be identified with their new Manta green or Maldives blue colours. For tow sports, the 2015 Sea-Doo Wake 155 and Wake Pro 215 models remain the only watercraft specifically designed for tow sports and will again be the exclusive tow vehicle of the Nike Wake team.
In the luxury segment, the Sea-Doo GTX Limited 215 and 260 packages come with more than ten special accessories as standard and a new Manta green colour accent. And in the performance segment, the racing-championship-winning Sea-Doo RXP-X 260 model will stand out even more than before as Sunburst Yellow becomes the signature look across all five models.
www.sea-doo.com
Kawasaki King of Horsepower
Last year, Kawasaki released the super powerful Ultra 310 series models (the multi-use 310X, the 310 SE Special Edition, the lightweight production race 310R and a luxury 310 LX) They came with a completely reworked powertrain, which reduced internal engine temperatures by improving semi-dry sump oiling, cooling and fuel consumption, all of which freed up an additional 10 horsepower over the previous model's 300 ponies.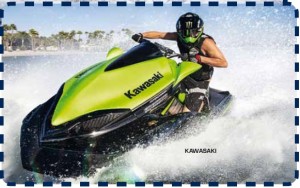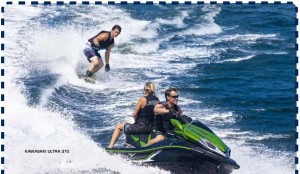 No other manufacturer nears such a colossal power output. All models come full and low power keys for new rider safety. For the Flagship Ultra 310 series, 2015 won't be bringing anything to new apart from a few new colours and some new decals.
Carryovers from the previous year include the same paint for the 310R, with only new bold new graphics and the odd addition of iridescent green sponsons for the 310R model only. The sponsons are otherwise identical to all other 310 models apart from their eye-scorching hue. The 310R also keeps its two-tone hood and cowling paint scheme with a silver belt-line replacing last year's blue. The KX motocross-style electro-polished stainless steel handlebars mated to an adjustable solid handlebar mount remain unchanged as well. As for the opulent 310LX, it too retains its Ebony and Candy Lime Green livery and popular Jet sounds system as well. The aforementioned seat is both thickly bolstered and a wide and supple saddle that staves off heat thanks to its proprietary heat resistant material.
The remaining four units received entirely new colour arrangements for 2015, namely the 310X, 310X Special Edition, LX and STX-15F. The all-new Ebony and Metallic Phantom Silver scheme for the 310X are very attractive,
but it's the Ebony and Candy Burnt Orange paint on the 310X Special Edition that will certainly draw attention most.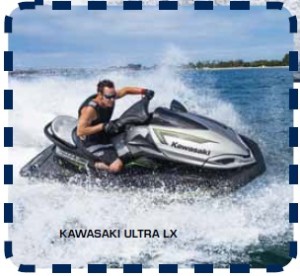 Other than some technical improvements since 2011's revision, the Ultra LX shares the same Phantom Silver paint as the 310X, and even features the same shape of the LXury seat (without the heat resistant material), but uses
the normally aspirated 160 hp power-plant from the STX15 to make it a lower cost family JET Ski. The once flagship STX-15F is now is now considered a budget family Jet Ski and this is reflected in the lower price. This year it returns to Lime Green.
This year is a testament to Kawasaki's leap forward with the 2014 Ultra 310 series that for 2015, it needs no boost in power and the efficient Ultra hull design requires no changes. Kawasaki still claims this is still the best handling and driest production hull on the market. www.kawasaki.com
Belassi (previously HSR Benelli) has announced an exciting new beginning in Australia and New Zealand with its range of personal watercraft, including two of the most powerful jet skis in the world, the stand up B3S ski and the B3R Sports muscle craft.
The Austrian based company has ignited a new era of design, performance and reliability in jet skis with the B3S and B3R range.
Each model has been meticulously engineered with premium components and optional racing extras to make Belassi jet skis the preferred choice over traditional brands.
Fitted to the lightweight jet skis is the Belassi patented three cylinder 4-stroke I3C16engine, with power outputs starting from the 180 hp stand up ski and going up to the range-topping turbocharged 315 hp muscle craft. Italian forged pistons, con rods and crankshaft are used amongst other high-end components such as the inter-cooler used in the BMW M5 and Bosch electronics. Even the jet propulsion is handled by robust Belgian made actuators for forward thrust, reverse and braking.
Other technical features of the range include Dynamic Brake System, Variable Trim, Electronic Reverse, Compression Molded High Performance Composite hull, adjustable sponson, splash deflector and much more. Belassi finish quality and ergonomics are also exceptionally high for each model with a focus on rider comfort and performance. Ergal handlebars with co-molded comfort grips are used across the range and the B3R models include five angle settings to accommodate different driver styles. The B3R ride is one of the best in class helped
by Italian designed race contoured seats featuring watertight seams and aluminium handles, and an integrated front splash deflector to keep riders dry.
The contemporary and organised multifunctional backlit LCM dashboard perfectly compliments the sophisticated B3R models. It gives direct control of the jet ski functions such as the Sport/Wake/Eco power modes, trim position and cruise control. A GPS system also comes standard providing reliable speed and position information, which is great for setting locations for friends to meet whilst out on the water From November 2014, Belassi will offer the B3S, B3R Pure, B3R Dynamic and the B3R Sport in various colour options in Australia and New Zealand. Belassi Australia & New Zealand is currently establishing a dealer network and welcome expressions of interest from dealers to join its team.