In 1970 a 'big' trailerboat was anything around 6m with a maximum beam of 2.5m. Cabin boats were popular, hardtops as we know them today didn't really exist and there were no production trailer boats over 9m in either fibreglass or aluminium. How times have changed and as our boating styles have become more diverse and our ability to move big rigs around has become so much easier and safer with larger diesel 4WDs and efficient braking systems for our trailers.
In the mid '70s your choice of trailer boats in New Zealand over 8m was minimal and outboards had only just got to around 200hp. OMC had its new Evinrude and Johnson 200hp V6 models and Mercury its 175hp Black Max. Costs for new engines were getting up and a new V6 in 1976 would set you back over $5000!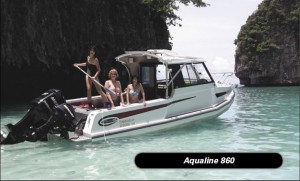 If you wanted a big trailer boat in the early 1970s you had a choice of three and they were all fibreglass….there were no production alloy boats over 7m. By the end of the 1970s, there were about a dozen grp offerings but still nothing in alloy. How times have changed. One of the first to get into seriously large aluminium trailer boats was Lazercraft, followed sometime later by brands such as Ramco, and soon just about everyone who had a welder was making big trailerboats.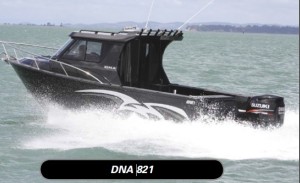 Today we are spoiled for choice with dozens of models from dozens of builders scattered right throughout the country.
Towing A Big Rig
The big boat trailerboat market has changed from being mostly all fibreglass, to now being totally dominated by alloy, from local manufacturers anyway. There are currently only around 12 fibreglass brands offering 25 models from 8.0m to 10.7m. When it comes to aluminium you have a huge choice with 28 brands and over 50 models.
So when does a trailer boat go from being a trailer boat to a non-trailerable boat? You can tow a trailer that's up to 2.5m wide, 4.25m high when loaded, and 11.5m long, as long as the combined car and trailer length does not exceed 20m. However, you can go as wide as 3.10m and still tow your boat around the country without the need for overwidth flags, warning panels or a pilot vehicle.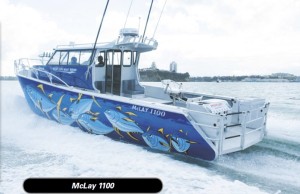 There are some time and date restrictions as to when you can be on the road, and you must not go on some cities' CBD roads. Don't forget that if you are driving a total vehicle mass (tow vehicle, passengers, boat and trailer) exceeding 4500kg, you are required to have a heavy vehicle driver licence. Check out the NZTA website for information concerning permits and vehicle and trailer requirements, especially if you are towing a particularly large boat/trailer combo.
Of the models we listed, the variation in styles is quite diverse and what suits someone for serious fishing isn't going to be what you may be looking for if you are into weekending. The vast majority of alloy hardtop boats are targeted towards the serious fisherman, but still offer all the necessary amenities for weekends away.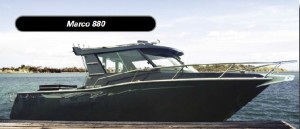 At last year's NZ Boat Show, Extreme Boats released its biggest trailerboat to date, the 1100 Gameking, which has a beam of 3.10m – right out to the limit. Also offering full beam boats to 3.10m are brands such as McLay with the Walk Round 1100, Senator's Offshore 1020, White Pointer's 1050 Pro Sportsman and Aqualine with the 1080HT pontoon boat. Marco's 880 is another wide beam boat at 2.90m, Dickey has its Custom 900 with a 2.83m beam. Many of the alloy boat builders will build you a boat with a wide-beam hull.
Most alloy boat manufacturers that produce larger aluminium boats offer weekender and full cruising models. They have the ability to customise their boats to suit your requirements, so just about anything is possible.
Weekender or Fishing Machine
If you are really after a true weekender then you certainly need to have the right equipment and set up aboard.
Firstly, it has to have accommodation for at least two and in some cases in the boats listed, they can sleep four or even six people. It must have a galley or at least some reasonable cooking area to prepare a meal for all aboard and it must have a head/toilet. A true weekender that has been purpose designed for the job will also have a shower, although in some cases this is now just
a hand-held in the cockpit. That does the job and there's usually hot water on tap to service your needs.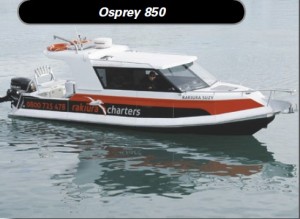 American mid-cabin cruisers have developed into an art form and in recent years we have seen a big influx into this country of mid cabin weekenders that really do the job well. They have interior layouts that make maximum use of space and somehow manage to pack enclosed heads/showers and twin double berths in the smallest areas. Power options are almost 100% sterndrive and they come on very sophisticated trailers. Local weekenders tend to follow similar lines of larger sport cruisers, but utilise the popularity of the hardtop to extend the overall use of the cockpit. Add a full set of clears around the outside and you can transform a large day boat into a cosy weekender.
If you are into your fishing more than having all the home comforts, then the only real difference is a big cockpit that offers a big working space for serious fishing. There needs to be good rod and tackle stowage areas, be it overhead or in side trays and lockers, one of even two deep live bait and kill tanks and maybe a couple of tuna tubes. There are a myriad of fishing accessories you can add, it's just a matter of how serious you want to get.
Sterndrive or outboard, either option is available on most boats and in the case of the inboard it's a matter of diesel or petrol and 99% of the time a sterndrive power train. Diesels today are extremely fuel efficient, clean burning, light weight, compact and being common rail design they don't rattle and knock like the diesels of the past. Diesel sterndrives are now offered by a number of manufacturers who bolt on the MerCruiser leg to their own engine. Volvo Penta offers its own packages from 140-370hp as does Mercury Marine with its Mercury Diesel QSD and TDI range from 90-350hp.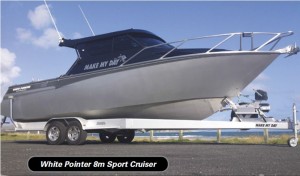 If you are into petrol engines then there is plenty of choice from both Volvo Penta and Mercury Marine, with standard power packages to over 600hp. Outboards have come a long way in a short time and the last decade has seen a major turn from 2-strokes to 4-strokes. Yamaha, Mercury, Honda, Suzuki and ETEC (and later this year Tohatsu) all offer a wide range of big outboards over 200hp and some go right up to 350hp.
With trailer boats getting bigger and heavier these days, the need to be able to stop what you are towing is vitally important. Once your only choice was override brakes, which are still very popular on boats under 2 tonne, but over that you need something more substantial, so you need to be looking at other options.
Today there are a number of electrohydraulic and electro-mechanical systems available that are suitable for the biggest of trailer boats. Towing your rig, be it from home to the local ramp or away for your holidays, means you are still subject to the same dangers such as wet roads or the need to stop in a hurry. Having the right stopping power is just as an important safety consideration as having lifejackets on board! So what are the rules set down by the LTSA for New Zealand roads?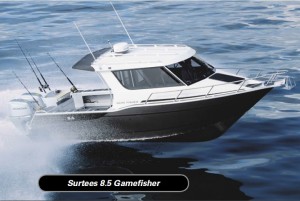 Firstly if the gross laden weight of the trailer is 2,000 kg or less no braking is required., provided that the combination of vehicles can be safely brought to a standstill within 7m, from 30kph. If the gross laden weight of trailer is more than 2,000 kg but less than 2,500 kg brakes are required and may be either direct or indirect. If the gross laden weight is more than 2,500 kg and up to 3,500 kg a direct brake system, with a breakaway facility must be installed..
At present, trailers with a gross mass of over 2500kg are required to have braking systems that are driver controlled and must be operated proportionally to the towing vehicle's brakes. The present regulations also require that "every trailer with a gross weight exceeding 2500kg is safely and securely attached to the vehicle in front of it by an adequate coupling and is fitted with brakes in efficient working order.
Obviously if you are going to trail a boat that will weigh anywhere between 2500kg and 4000kg, you are going to need a good trailer. Braking is mandatory and it will either be twin or even triple axle, with an electric winch, heavy duty tyres and suspension and will set you back at least $25,000.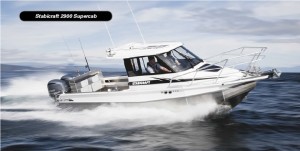 Then there's the tow vehicle to consider and this will most likely be a big 4WD, such as the many crew cab utes that are now available. The Isuzu D-Max, Holden Colorado, Jeep Commander, Ford Ranger, Toyota Land Cruiser, Range Rover Discovery are all rated to 3500kg with a braked trailer. 
The Dodge Ram 150 is good for 4000kg and if you are going to be into anything bigger then there are plenty of big GM and Ford crew cabs that are rated more than double that. Now that's one big trailer boat.
Overall, you are spoiled for choice in big allou trailerboats and it's really a matter of finding something that not only you like the look of, but also offers a layout and amenites that are going to suit your needs. While there is now no shortage of tow vehicles offering plenty of tow capacity, big trailer boats really suit dry stacks. Dry stacking means you have no beam restriction to consider, and you don't need to invest in a very expensive trailer or tow vehicle. It seems the perfect way to go if you have one near you.