When it comes to Diesel Sterndrive brands the market is dominated by two – Volvo Penta from Sweden and MerCruiser from the USA. The only other brand that has managed to make any impact on the market is Konrad, also made in the USA. However, Yanmar, has in the last few years introduced a new sterndrive, the ZT370. Boaters are spoiled for choice.
Since the introduction in 1959 of the Aquamatic sterndrive, Volvo Penta had continued to develop the sterndrive concept, albeit with petrol power plants. That all changed in 1977 when the classic MD40 series of diesel engines was matched to the Aquamatic sterndrive, taking the boating world by storm. The original unit had a crankshaft power output of just 165mhp. Diesel power in combination with the Aquamatic sterndrive created a totally new market on which Volvo Penta has been arguably the undisputed leader since that time. The only other brand that now comes close as far as numbers are concerned is MerCruiser, which in recent times has stepped up its activity in the diesel sterndrive market, especially with the formation of Mercury Diesel and the new TDI range.
In 1982 Volvo Penta introduced the Duoprop, an Aquamatic sterndrive with co-axial, counter-rotating propellers. The Duoprop represented a major development, with fantastic performance, sure grip in the water and improved steering. It is still a major part of Volvo Penta's sterndrive business nearly 30 years later.
The MerCruiser sterndrive was introduced in 1961. At first, the actual legs were painted white. Years later, the colour black was suggested to make the large engine look smaller, and the colour quickly became a brand trademark. Over the years, the power output of diesel sterndrives has increased dramatically from the 165mhp (at the crankshaft) of the original Volvo Penta Aquamatic of 1977. One reason for this is the introduction of electronically controlled fuel injection. This has enabled engineers to design fuel injection sequences that break up the supply of fuel into several distinct phases, flattening out the very high pressure peaks caused by the old mechanical 'one-shot' fuel injection systems, which were the cause of much of the harshness for which diesel engines were previously notorious. These combustion pressure peaks were the major reason that torque ratings for sternlegs were considerably lower for diesels than for petrol engines. With the introduction of electronically controlled fuel injection, the ratings for diesels can now be closer to those for petrol engines. Improvements in metallurgy and manufacturing technology have also helped to increase the torque ratings for sternlegs, and in addition, as the market has increased, bigger and bigger sternlegs have been designed and manufactured.Tech. Ed's note about quoted power outputs: bhp means brake horsepower; mhp means metric horsepower. They are not the same! 100bhp = 101.387mhp = 74.57kW. So, to convert mhp to bhp, divide by 1.01387. The unit that many marine diesel engines have their peak power outputs quoted in is mhp, not bhp, and most are quoted at the crankshaft, not the propeller shaft (smhp, or for some, sbhp) as is the case for outboards. However, several manufacturers omit to inform buyers that the horsepower they quote as simply "hp" is actually mhp, not bhp, which is a smaller number. Obviously, they want their "hp" number to be as big as possible! Typically, the power lost to heat through the two sets of bevel gears in a sterndrive is around 5%, which shows why sterndrives really do need their lubricating oil and upper gear housing to be water cooled! In alphabetical order then, so as to deliberately remove any hint of bias, the following is a list of the diesel engine and sterndrive combinations.
FNM marine diesel engines are known to have high specific power and specific torque with low fuel consumption, and the range includes best in class power-to-weight ratio models. The FNM HPEP series engines are based on Alfa Romeo diesel engine technology offering four or five cylinder models within extremely compact dimensions.
The stern drive engine range incorporates three different models starting with the HPEP 205 which produces 200hp @ 4100rpm; and topped off by the HPEP 300 delivering 295hp at 4000rpm. The HPEP 300 model is a twin-cam, 16-valve four cylinder model based on the industry-acclaimed Alfa Romeo 2.998-litre common rail turbo inter-cooled diesel engine and weighs in at just 335kg excluding leg.
Mid range in the line up is the popular HPEP 250 producing 250hp @4200rpm. This five cylinder 2.387-litre common rail turbo intercooled diesel engine offers outstanding fuel efficiency and performance with state-of-theart multi-jet system contributing to reduced exhaust emissions (RCD compliant) and clean running. Weighing is at just 290kg excluding leg this model provides unequalled power to weight performance.
The HPEP stern drive range relies solely on MerCruiser drives, with Bravo X-1, Bravo II, and Bravo III sterndrives offered in the engine/drive = package. The FNM HPEP 250 delivers high torque (460Nm at 2600 rpm) and its compact, lightweight design makes it eminently suitable for 6-8m trailerboats. All engines feature panel instrumentation with VDO gauges that monitor oil pressure, engine and battery voltage. www.leesgroup.com / www.fnm-marine.com
FPT/IVECO Diesel Sterndrive
Diesels in the FPT/IVECO range are available in the sterndrive application in two models, the S30 ENT M230SD and the N60 370 SD. FPT/IVECO originally earned a reputation for reliability in the trucking industry and it is this dependability factor that attracts people to these engines in the marine sector. Marry this engine to the equally dependable MerCruiser Bravo I, II or III sterndrive leg in the case of the S30 range and the Konrad Extra Heavy Duty sterndrive leg in the N60 Series, and many consider this the ultimate pleasure &/or commercial 'power' package.
In each instance the turbocharged and intercooled FPT/IVECO engines offer an electrical (EDC) engine management and common rail fuel system which offers performance, economy and high specific power, as well as high torque at low rpm. Its high power to weight ratio and general compactness endears them to owners of smaller cruisers. Special features include engine control, protection and diagnostics, environmentally friendly noise and gas emissions and vibration reduction.
The smaller S30 230SD engine is a high-tech 3L, 16-valve, 4-cylinder in-line aluminium engine weighing just 330kg, producing 230hp at 4000rpm. The larger NEF N60 370 engine, is a 5.9-litre, 24-valve, 6-cylinder in-line cast iron block, aluminium head engine weighing 595kg (again engine weight only), and produces 370hp at the maximum 2800rpm. Larger horsepower stern drive configurations up to 420hp utilising the 6.7litre NEF N67 450 engine and Konrad leg can be made available depending on application.
HYUNDAI Diesel Sterndrive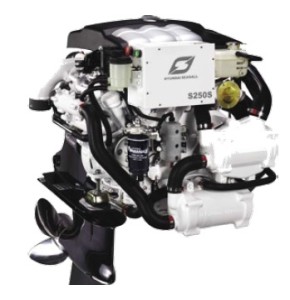 Hyundai SeasAll marine engines are developed strictly for marine application, with three engines in the recreational range and two commercial models from the 125hp 4 cylinder U125 through to the V6, 250hp S250. As well as the above average fuel efficiency, compactness and weight attributes, generic special features of this range include a wide range of flat torque characteristics for ease of operation, Hyundai's third generation common rail systems, compacted graphite iron (CGI) cylinder blocks, electronic variable- geometry turbochargers and advanced engine-control units.
Hyundai SeasAll diesel marine engines are available in sterndrive, shaft-drive and water-jet configurations, with the sterndrive engines packaged with Mercruiser MerCruiser Bravo I, II, or III stern-legs. The basis of the D150 (commercial rated) and D170 engines are an inline 4-cylinder, 2.2 litre turbocharged common rail direct injection engine which boasts special features such as aluminium head, a CAN engine information read-out, oil-cooled pistons, adjustable engine mounts, electric fuel pump, 120A alternator, seawater-cooled intercooler heat exchanger and thermal insulated exhaust manifold.
The S-Series engine is available in 220hp (commercial rating) and 250hp with these models based on a 3.0 litre V6 turbocharged common rail direct-injection engine which delivers 250hp and a maximum torque of 490Nm. Special features are akin in every detail, to the D-Series engines.
LOMBARDINI Diesel Sterndrive
Lombardini's JMT common rail diesels feature high quality marinisation of Alfa Romeo engines and is available in as a sterndrivededicated models, as the LDW 245 JMT PP. This is a 4-stroke liquid-cooled engine, with 4 valves per cylinder, and turbocharged with intercooler. The 220hp 5-cylinder LDW 245 JMT PP version has a displacement of 2.4 litres.
These engines feature the latest in technology with double overhead cams, common rail multi stage fuel injection, charge air cooling, waste-gated turbocharging plus electronic governing and monitoring for optimum engine performance and protection. The blocks and heads are aluminium, minimising weight, which is very important for good balance in sterndrive trailerboats.
A high pressure fuel pump feeds the common rail injection system. High pressure multiple fuel injection (at up to 140MPa injection pressure) gives a very fine fuel atomisation that leads to excellent fuel efficiency and low exhaust emissions.
MERCURY Diesel Sterndrive
Mercury Diesel offer two diesel platforms or model ranges, the new era TDI and the very dependale QSD from 115-350hp. Mercury Diesel's TDI range has proven extremely popular and now offers a very broad range from the 4 cylinder 1.9 to the 4.2 V8. Mercury's TDI engines are lightweight, and compact offering an excellent horsepower to weight ratio.
The compact and lightweight 3-litre V6 TDI 3.0 Series is available in two models at 230hp and 260hp and offer features such as IMO, RCD and EPA Tier III emission control, common rail fuel injection, 180A alternator, VGT Turbocharger, water-jacketed exhaust manifolds and water-cooled gear and engine oil, and steering fluids. Dual turbochargers, rather than a supercharger/ turbocharger combination, create forced induction and feed air to the TDI 4.2 335 & 370 models. The beauty of the TDI series is that the dual turbos are vacuumcontrolled and feature a variable geometry that allows for excellent forced induction without the whistle, and little of the whine, typically associated with supercharged/turbocharged marine diesels. The T in TDI stands for "turbo." The DI refers to the common-rail direct fuel injection. Common-rail fuel delivery systems use a high-pressure rail to feed individual piezoelectric injectors and helps lower engine noise as well. Of course the benefits of such a system on your boat's range and economy of operation are huge.
Mercury Diesel QSD common rail or electronic injection fuel systems provide increased power-toweight ratios, in three engine variants, based on a 4 cylinder 2.0 litre and 2.8 litre engine platform and an in-line 6 cylinder 4.2 litre. Horsepower's range from 115-220hp from the QSD2.0L and QSD 2.8L to 270-350hp from the QSD 4.2L.
QSD and TDI engines are compatible with SmartCraft electronics and have options such as SeaCore corrosion protection, Axius joystick control systems and Mercury's DTS (Digital Throttle & Shift) systems. And of course when it comes to drives, this entire MerCruiser Diesel range offers real versatility, with Alpha, Bravo X and XR Drive sternlegs available. Combining well with the QSD and TDI engines, the Mercury Diesel range offers solutions for every boating application, from coastal fishing, to cruisers and small runabouts. The Bravo X series features an improved hydrodynamic profile, precision-forged gears for longer life and a redesigned clutch assembly for effortless shifting. Bravo X sterndrives also support the Axius system which maximises performance and manoeuvrability.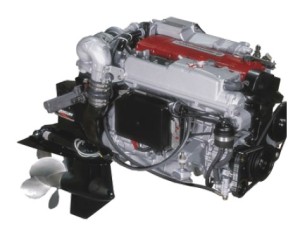 Steyr Marine of Austria is another manufacturer of diesel engines, and is perhaps better known for its range of commercial military marine engines than for its sterndrive models for pleasure applications. Steyr has an arrangement with Mercury Marine, whereby Steyr packages its engines with MerCruiser Bravo I, II, or Bravo III sterndrive legs.
Monoblock is Steyr's term for the fact that its engines have their blocks and cylinder heads cast as one piece, eliminating the need for gaskets with their inherent life and leakage problems. Steyr engines offer special design features such as robust cooling, a 'free' cylinder liner, valve seats from stellite, an alloy of cobalt, nickel and iron, inserted valve guides, a high pressure mechanical Steyr unit injector, an oil pan as a lower sound encapsulation, and the lowest weight and compactness in its class. Steyr has a range of four-cylinder and sixcylinder engines in the sterndrive category; the four-cylinder model, the MO174V40, is a turbocharged, intercooled and directinjected, inline 4-cylinder, 2133cc that develops 170hp at its maximum 4000rpm. There are six sterndrive models available in the inline 6-cylinder range, the 190 hp SE196E40 230hp SE236E40 or SE236S36, 260hp SE266E40 or SE266S36 and the 280hp SE286E40. In all instances the engine is the 3200cc version and all are 4-stroke, turbocharged, intercooled, direct injected and offer freshwater cooling.
This sterndrive range also offers a standard 120 amp alternator, CAN diagnostic system, glow plugs for cold starting, an instrument panel for monitoring engine systems and the optional Steyr Control Centre. Options include an additional key switch for governed speed, cable for secondary helm, front power takeoff, hot water system, fuel pre-filter and water separator.
VOLVO-PENTA Diesel Sterndrive
Volvo-Penta has a broad range of diesel sterndrive engines available in 4-, 5- and 6-cylinder configurations. The smallest diesel sterndrive in Volvo-Penta's range is the D3 Series, which has models in 140 (D3-140 DPS), 170p (D3-170 DPS), 200 (D3-200 DPS) and 220 (D3-220 DPS) and all are available as Duoprops. These all-aluminium engines are extremely light and compact, with high performance. The basic design is an in-line, 5-cylinder diesel engine with turbocharger and charge-air cooler. The five-cylinder design generates uniform and smooth propulsion without the need for balance shafts.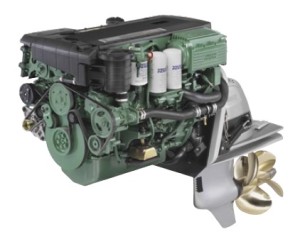 The D3-140/170, can be matched to a single-prop SX drive which weighs only 358kg, considerably less than a saltwater cooled cast iron V6 petrol sterndrive. Volvo Penta's 2.4-litre, 4-valve, D3 range has been developed using the latest available engine technology with features such as Volvo Penta's EVC-EC system for electronic shift & throttle control, an 1800-bar common rail fuel injection system with piezo-electric injectors, a 'variable geometry' turbocharger (VGT), 180A alternator, cast-in grey iron cylinder liners, integrated freshwater pump, and a re-designed marinisation system Volvo Penta's four-cylinder range features three models, the D4-225 DPH (225hp), the D4-260 DPH (260hp), and D4-300 DPH (300hp) These particular diesel engines have the technical features of the larger D6 and delivering exceptionally low noise, vibrations and exhaust emissions. The 260 and 300 are also supercharged as well as turbocharged. The D4-300 is one of the world's most powerful four cylinder marine diesel pleasurecraft engines and is a remarkably compact package.
In addition, the D4-300 DPH takes a step up into a power output class that was previously the exclusive domain of 6-cylinder engines. The compact outer dimensions should appeal to many boatbuilders and boat owners, for it is possible to install more power in a limited space, thus freeing up more space for passengers or stowage. At the bigger end of the scale and truly targeted at the 8m+ market is the D6 range, based on a 5.5 litre 6-cylinder block. Four options are available here, the 300hp (D6-300 DPH), 330hp (D6-330 DPH, the 370hp (D6-370 DPH), and the 400hp D6-400 DPH, claimed by Volvo Penta to be "the world's most powerful diesel sterndrive". All four have all the aforementioned features and benefits of the smaller models.
Yanmar's 8LV is a light-weight, twin turbo V8 producing 320hp or 370-hp and can only be used with the ZT drive. It also comes with the Yanmar JCS joystick system. Weighing in at only 450 kg the new 8LV is the lightest diesel engine in class, and has the best power-to-weight ratio. It is even lighter than gas engines of similar horsepower. All the components are within easy reach, and CAN-Bus technology includes an electronic CAN-bus controlhead, versatile multifunction color display with NMEA2000 or J1939 gauge output, and an optional second station. The Yanmar BY Series, is a common-rail fuel-injected four-cylinder diesel offered at 150hp (4BY2-150Z), the 240hp, (4LHA STZP), 180hp (4BY2-180Z), plus six-cylinder models at 315hp (6LPA-STZP), 220hp (6BY2-220Z) and 260hp (6BY2-260Z), all crankshaft rated at 4,000 rpm. The engines are available for both shaft drives and sterndrives.
Developed in close association with car manufacturer BMW and offered in two litres and three litre ranges, they are lighter, more fuel efficient, more compact and cleaner than the previous models they replaced. Ideally these engines are the perfect marriage with Yanmar's own ZT370(E) stern-legs, but they can also just as easily be mated with Bravo series drives. The BY engines are proving increasingly popular as a repower for petrol engined boats. These Yanmar diesels are similar in weight to petrol engines of equivalent power, and produce a similar rate of acceleration.
Electronic control is by second-generation common rail with electromagnetic injectors and the engines include a CAN bus system with NMEA 2000 protocol. In the rare event of an electronic malfunction the engine management computer will calculate a 'work around' solution that will keep the engine running, mostly at full operational revs.