Hailing from Colombia, comes the AB Oceanus 15 VST, a compact and immensely popular little RIB. Freddy Foote checks it out.
 I was quite surprised to find out that the AB brand originates in Colombia. It's not exactly a country that you would immediately connect with boat building, but the company has been building boats for over 50 years and doing it very well. Much like another industry Colombia is known for.
The company has a number of configurations in varying sizes ranging from 3.35m through to  8.33m. Our test boat is from the Oceanus VST range and is labeled as a 15 VST.
The tubes are constructed from a 5-ply Orca Chlorosulfonated Polyethylene (CSM) coated fabric that is specifically manufactured to resist scratches and UV damage, while retaining its durability. This fabric comes with a ten year limited warranty, the longest available in the industry. The tubes feature three air chambers, that are divided by a special baffle system that equalizes the pressure in all chambers. This results in an additional measure of safety. The hull of the Oceanus 15 VST is double-moulded, hand-laid fiberglass.
The AB Oceanus line of console tenders was designed for professionals and cruisers who depend on serious performance and comfort. The boats feature AB's unique forward hull design, making them one of the most spacious console tenders on the market. The extra-deep V-hull and innovative tube design allows the Oceanus to cut through the water for a dry cruising experience.
I've always been a fan of smaller boats, and the Oceanus 15 VST is no different. Overall it's quite a roomy boat for one that is just under 5m in length. Storage is plentiful throughout and AB have done a good job to make sure they make use off all the space available.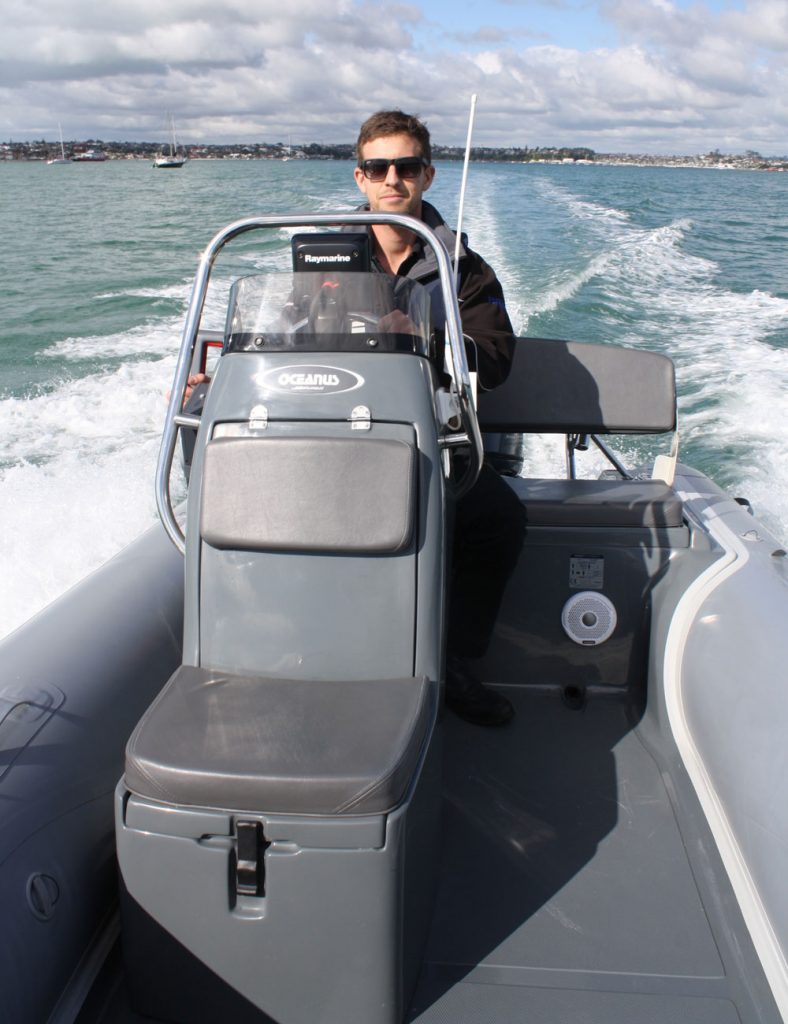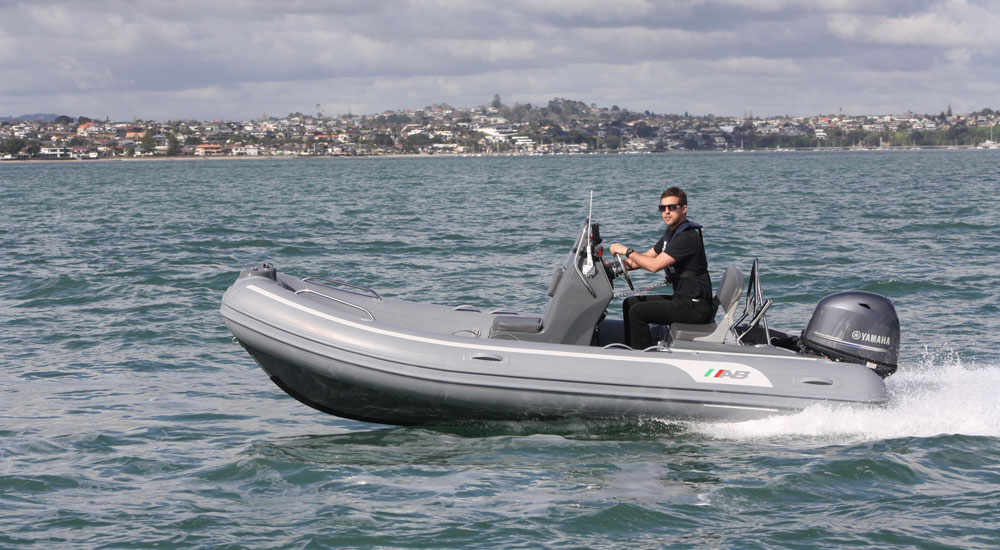 The Oceanus range is a very popular option as a tender for a larger vessel, so with that, the 15 VST comes with davit points already fitted. Two in the bow, and one on each side of the transom.
The helm bench seat complete with backrest is big enough to accommodate a skipper and a passenger.  Aft you have a moulded outboard well, with a small ski arch above, complete with two rod holders.
The bench seat has plenty of storage underneath to store any gear you want to keep dry. What was cool was the boat had a stereo system fitted with the speakers mounted into the seat base below. 
The centre console helm consists of a large stainless steering wheel, with the engine throttle to the right. Below is mounted a Raymarine VHF radio and a stereo control unit and above are the Yamaha engine instruments. Our test boat also had a small Raymarine chart plotter and fishfinder, all protected by a small curved Perspex windshield.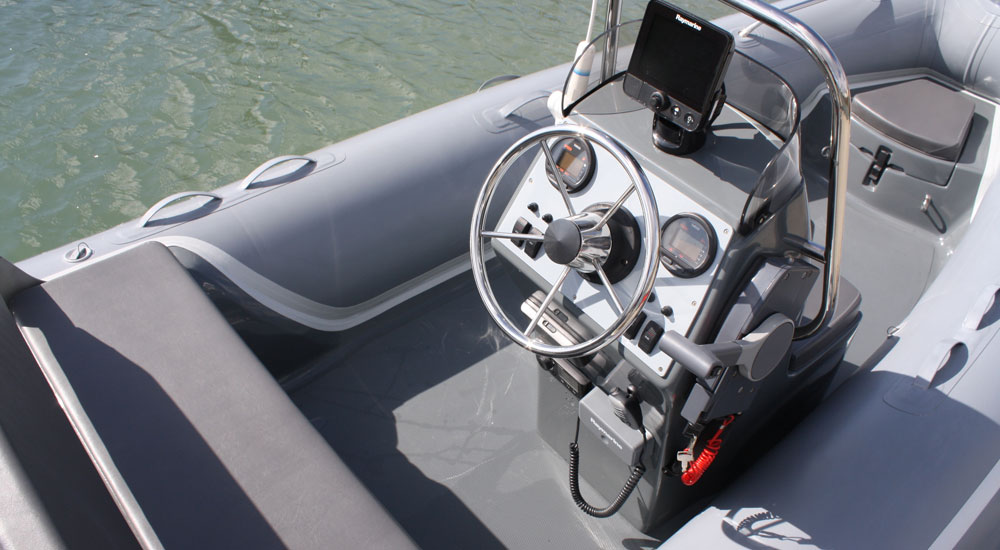 The forward section of the console with a front facing seat with backrest, lifts up and further provides storage access underneath.
Additionally there is a seat in the bow with storage for the anchor tackle.
Total seating will accommodate four people although the manufacturer states the boat can accommodate nine, with extra passengers seated on the pontoons. That might be fine if the boat is a tender for a larger boat and you are ferrying passengers from the mother ship to land, but I can't see the 15 VST getting up on the plane with that load.
The fuel filler is located aft, built into the fiberglass transom section, meaning that any fuel spillage can easily be cleaned up. One huge feature of the 15 VST is its 95-litre fuel tank, which is very generous considering the overall length of the boat at just 4.27m.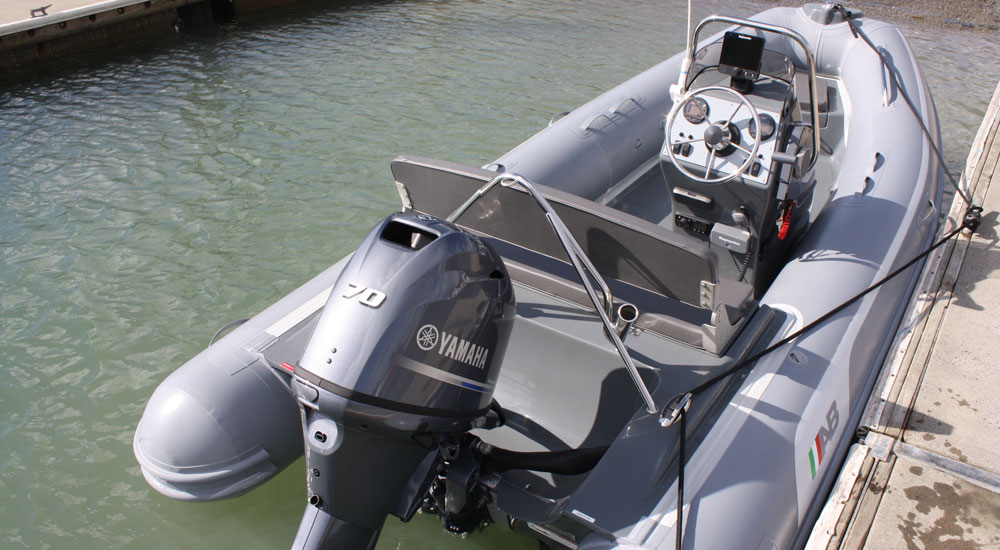 At the helm itself, there is good visibility forward; a low windscreen does give reasonable protection from the wind.  There are also some grab handles are positioned around the boat for passenger comfort.
The cockpit is self-draining making it an ideal dive boat, and scuppers are built into each of the aft corners.
Rated from 60hp through to 75hp outboards, our test boat was rigged with a 70hp Yamaha four-stroke outboard. Once up on the plane, it achieved a top speed of 32 knots @ 5700rpm.
The 70hp will be adequate for a variety of boating activities. However, you may have to vary your passenger positioning inside the boat, particularly when getting up on the plane.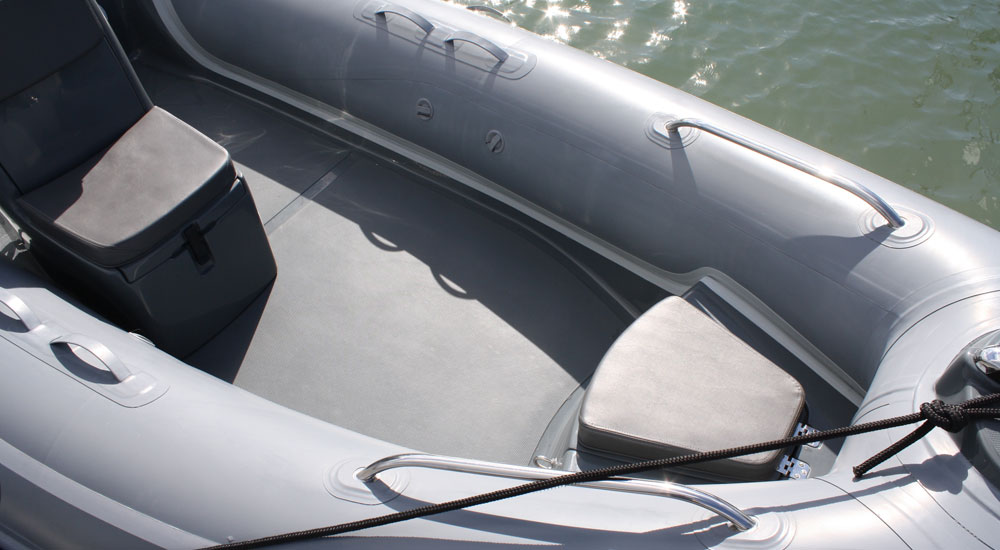 We threw the Oceanus 15 VST into some wakes and a little chop and it handled it very well, delivering a very dry and comfortable ride – not getting a single drop of spray onto us.
The Oceanus 15 VST comes on a single axle multi-roller trailer, complete with fully submersible lights and has a towing weight of around 550kg. Beach launching is also certainly an option.
What to say, what a great little boat! I was really quite impressed. The 15 VST allows for a variety of boating options, from watersports with the kids, or something to be used as a tender for a much bigger vessel.
Packages for an Oceanus 15 VST start from $??,??? with this particular rig priced at $??,??? as tested.
Model & Model: AB Oceanus 15 VST
Priced from:   ????
Price as tested: ????
Type:  RIB
Construction: Fibreglass
LOA: 4.57m
Beam:1.99m
Deadrise:  ????
Height on trailer:      
Trailerable weight:   550kg
Test Power: 70Hp
Propeller: ????
Power options: Outboard
HP Range: 60-75hp
Fuel capacity: 95L
Trailer: Single axle
Diamond shape non skid deck, draining splash well, stainless steel fold down cleats.
Notable Options on Test Boat
Raymarine VHF, Stereo, GPS/Fishfinder, Yamaha 70hp four-stroke outboard.
| rpm | knots |
| --- | --- |
| 1000 | 3.2 |
| 1500 | 5.0 |
| 2000 | 6.0 |
| 2500 | 6.5 |
| 3000 | 12.0 |
| 3500 | 16.5 |
| rpm | knots |
| --- | --- |
| 4000 | 22.5 |
| 4500 | 23.5 |
| 5000 | 26.0 |
| 5500 | 29.5 |
| 5700 | 32.0 |